Does your Labrador retriever deserve the very best place to rest their head? Of course! Labs are known for their friendly, energetic personalities, but they need a comfortable dog bed where they can wind down too. That's why our deluxe orthopedic lab dog beds stand out from the rest. Made with top-quality materials like memory foam and soft faux fur fabric, these beds cradle your Lab's joints and muscles for maximum relaxation. With ample space for your large dog to sprawl out, as well as durable construction, this best lab dog bed will become your Lab's favorite retreat.
Bestseller No. 1
Bestseller No. 2
Sale
Bestseller No. 3
The Big Barker Orthopedic Dog Beds with headrest is the ultimate solution for providing your large canine companion with a comfortable sleeping space.
This 7-inch elevated foam dog bed is made in the USA and offers exceptional durability. No wonder we've picked this product as number one on our list!
This orthopedic dog bed features a clinically proven design that reduces joint pain and improves mobility. It comes equipped with an intuitive zippered construction and washable microsuede cover. 
The sleek tucked-in zipper ensures your pup's maximum comfort while making it easy to remove the cover for stain cleaning, shrink-free washing, or quick replacement. 
The soft yet durable fabric can withstand rubbing, digging, and nesting. It offers unparalleled support for large dogs prone to joint discomfort
So why settle for anything less than top-of-the-line foam support backed by a 10-Year Warranty?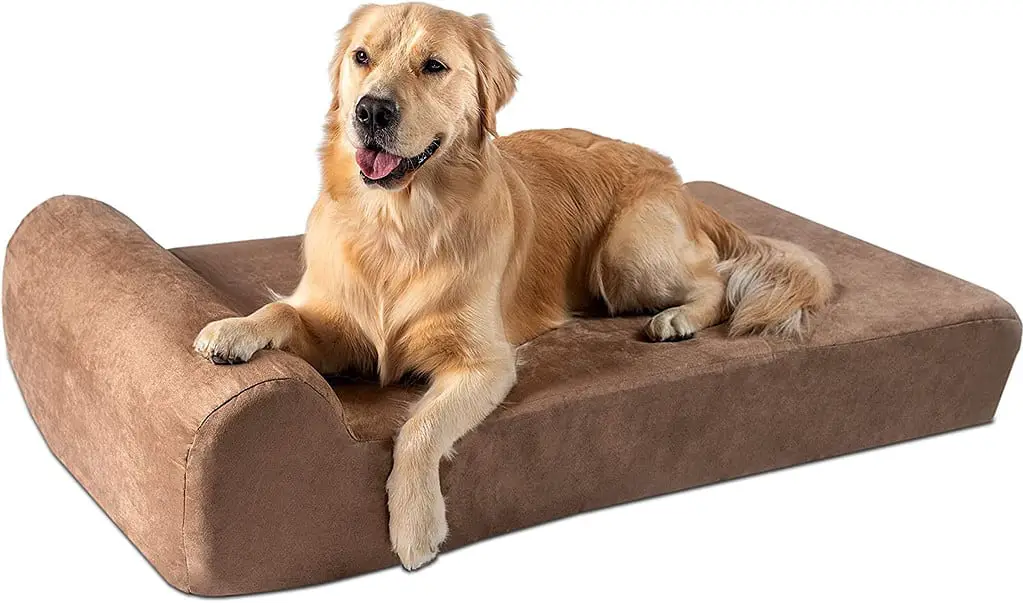 Pros
Elevated design made in the USA with quality-assured foam and backed by a 10-Year Warranty
Intuitive, stylish zippered design with durably woven microfiber material that is machine washable
Clinically shown to reduce joint pain and improve mobility in large dogs
Provides a comfortable resting space for big furry friends to stretch out, curl up, and rest comfortably
Cons
Higher price point compared to other dog beds in the market
Only available in one color (khaki)
May not be suitable for smaller dogs or those who prefer a lower bed
The Bedsure Waterproof Orthopedic Dog Bed is an excellent choice for dog owners. As the No. 2 pick on our list, this dog bed perfectly balances affordability and quality features.
Crafted from CertiPUR-US-certified foam flannel, it creates a perfect haven for your furry friend. One of the standout features is its waterproof lining, which protects the mattress from spills or accidents.
At the same time, making cleanup simple with its removable zippered cover suitable for machine washing. The non-skid bottom ensures stability for energetic dogs who tend to move around on their beds during sleep or playtime. 
Also, the high-density egg-crate foam provides superior joint support that makes it ideal for older or arthritic dogs in need of pressure relief.
Not only does this Bedsure offer all these fantastic benefits, but user reviews also rave about its comfortability – boasting over 15,000 5-star ratings!
With its four-sided bolster design supporting your pet's head and neck during sleep, you can be confident that your loyal companion will enjoy many cozy nights with this bed for labs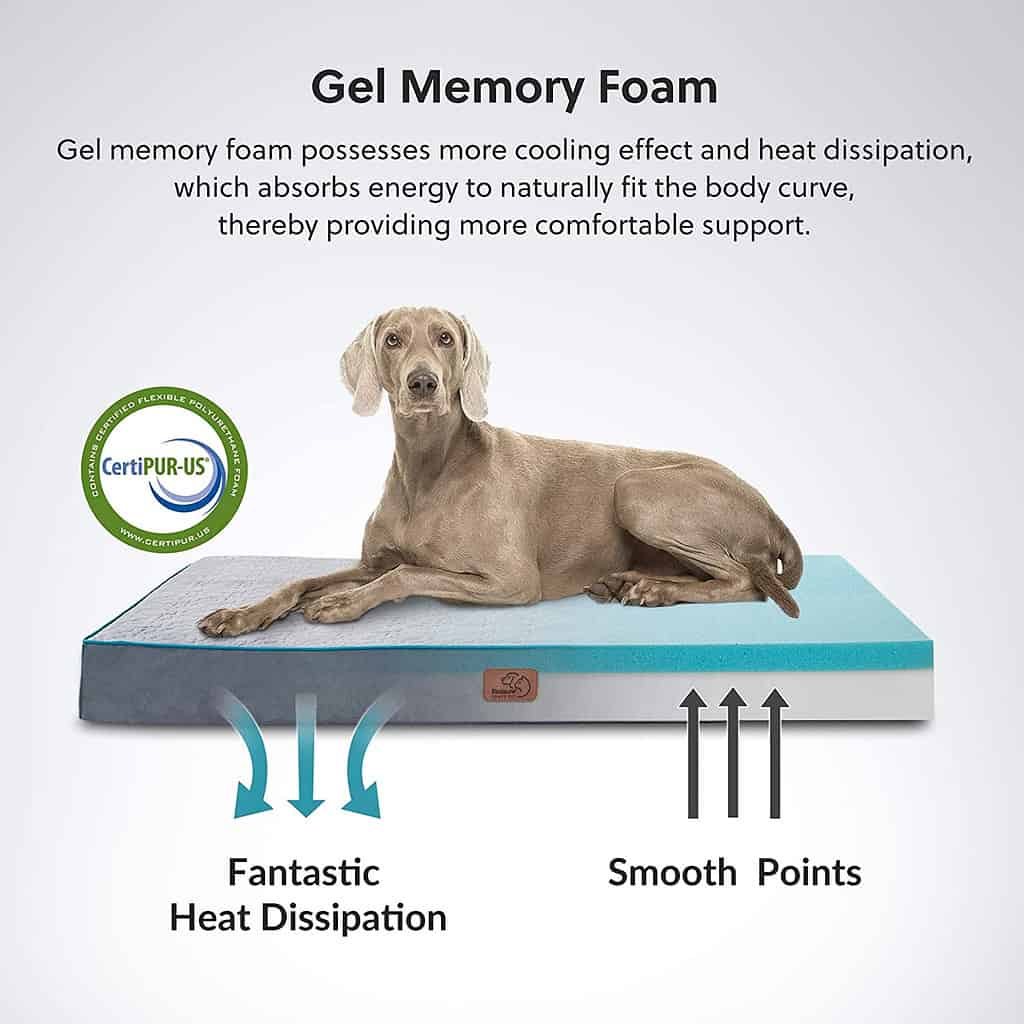 Pros
Pet – safe materials certified for safety and comfort
Waterproof liner and removable cover for easy cleaning
Bolster design and orthopedic support promote restful sleep
Non – skid bottom protects against slips and accidents
Cons
The flannel cover may attract pet hair and require frequent washing
The waterproof liner may make the bed slightly noisy when pets move around on it
The K&H Pet Products Ortho Bolster Dog Bed offers your labrador comfort, support, and durability. This orthopedic dog bed features an overfilled bolster design that surrounds your pet with a cozy embrace. 
Ranked as our No. 3 pick in the list due to its plush premium grade orthopedic foam mattress and soft upholstery-grade velvet.
Additionally, this small-sized bed is designed with easy care in mind. The removable cover can be machine-washed. Not only does K&H boast 20 years of experience, but it also ensures users' satisfaction by including a recyclable box brown feature among its offerings. 
Experience just how soothing the K&H Pet Bed Brown can be on your precious dog's joints.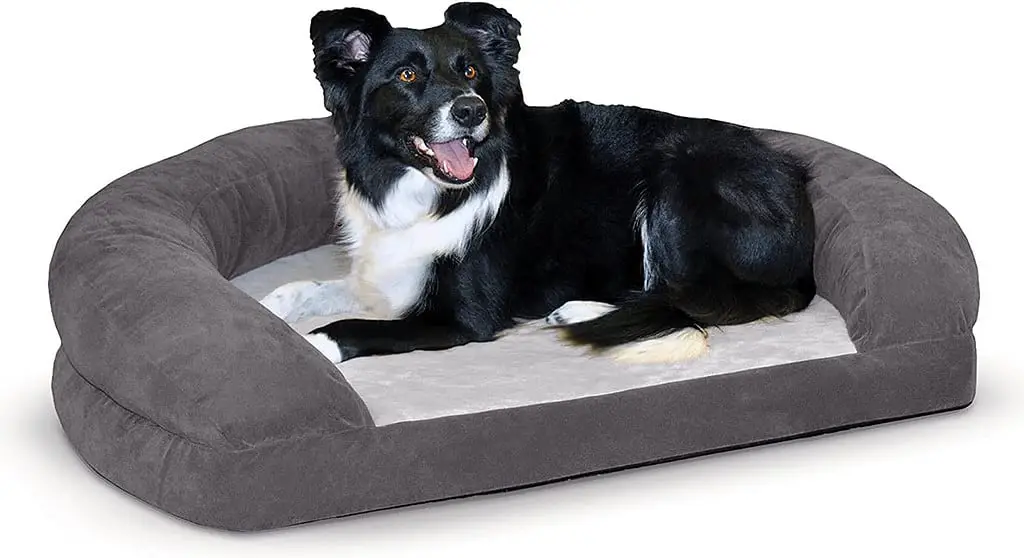 Pros
Provides ultimate comfort and support for your dog's neck and head with overfilled bolsters
Soothes your pet's joints with plush premium-grade orthopedic foam mattress
Easy to clean with a removable cover that is machine washable
Made with soft, high-quality materials such as upholstery grade velvet and super-soft micro-fleece for all-day cozy comfort
Cons
Some customers have reported that the bed loses its shape over time with extended use.
The price point may be higher than other dog bed options.
The PetFusion Ultimate Dog Bed and Lounge provides superior comfort for your furry friend. This dog bed is made with orthopedic memory foam and offers support and relief to dogs suffering from joint pain or arthritis. 
The medium firmness pillow, with a waterproof liner and a non-skid bottom, ensures stability even on slippery surfaces. Available in multiple sizes and colors, this pet bed is perfect for medium to large dogs or multiple smaller ones.
One of the standout features is its smart design. The base and bolsters provide optimal security, while the water-resistant, tear-resistant cover protects it from spills or accidents. CLEANING IS HASSLE-FREE with YKK zippers and a breathable 35% cotton cover. 
Simply remove the cover and machine wash it when needed. Also comes with a 1-year warranty against any manufacturing defects. Pet owners will appreciate the health benefits and its eco-friendly components, such as recycled 'green' support bolsters. 
Plus, the calming nature of this bed can help ease anxiety. With premium materials used throughout, giving durability and comfort, investing in this luxurious dog bed is worth every penny!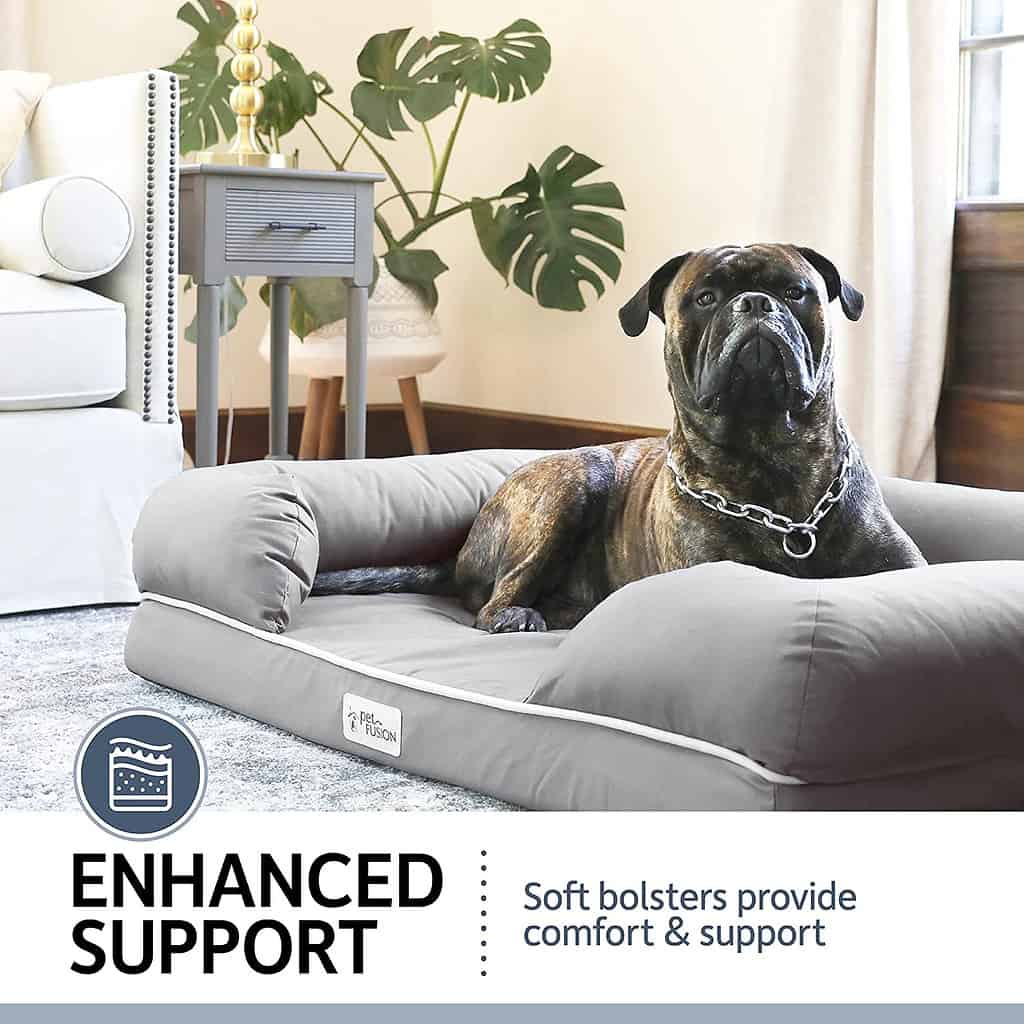 Pros
Orthopedic memory foam reduces joint pain and improves overall health, mobility, and energy.
The Water-resistant and tear-resistant cover is easy to clean and machine washable.
Generously filled recycled bolsters provide optimal support and security
Solid 4-inch memory foam base can hold over 100 pounds, making it ideal for medium/large or multiple smaller dogs
Cons
The large size may take up a lot of space in smaller homes or apartments.
Replacement covers are sold separately, adding cost if needed.
The BarksBar Gray Orthopedic Dog Bed is designed to provide comfort and support for your furry friend. This large, 40″ x 30″ orthopedic sleeper is perfect for medium to large-sized dogs and can easily hold up to 100 lbs.
Made from an ultra-soft polyester cover with a luxurious quilted design, solid orthopedic foam base, and extra-comfy cotton-padded rim cushion, this bed has everything needed.
One of the standout features is the built-in nonslip rubber backing on the bottom side of the cover that prevents sliding on wooden or tiled floors. This ensures stability while your pet rests. With an inner sleeping space measuring 36″ x 24″, it's crafted with top-of-the-line workmanship tailored for optimal comfort, perfect for dogs of all ages.
The removable cover can be machine washed on a gentle/delicate cycle or spot cleaned when necessary. Overall, this well-rounded orthopedic dog bed delivers superior comfort, reduced joint pain relief, and improved health & mobility support.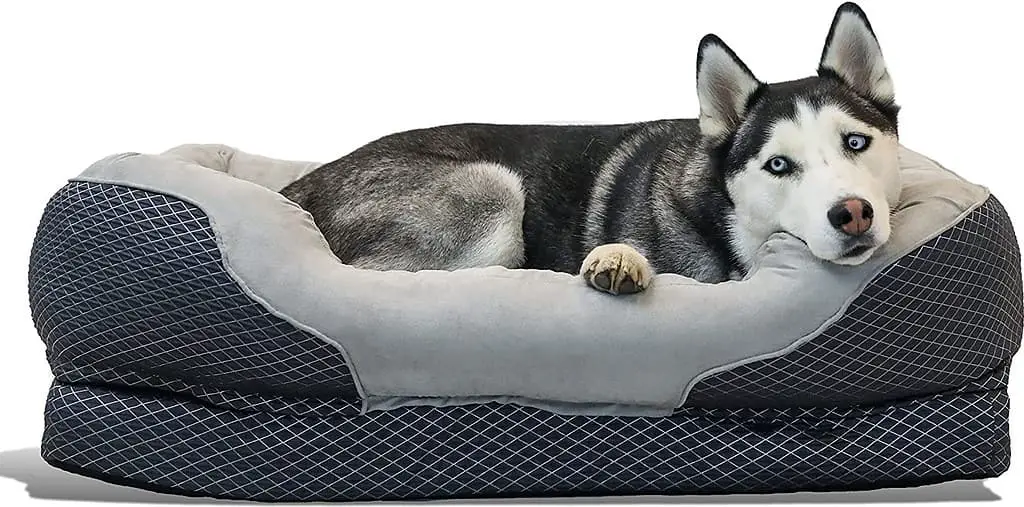 Pros
Provides optimal comfort and joint pain relief for dogs with 3.5″ of solid orthopedic foam
Easy to clean and machine-washable cover, making maintenance hassle-free
Luxurious quilted design complements any home decor while a built-in nonslip rubber backing prevents sliding on floors
Extra comfy cotton-padded rim cushion provides support and decompression for ailing necks and heads
Cons
May not be suitable for dogs who prefer firm sleeping surfaces
The cotton bolster may attract pet hair and require frequent cleaning
The Furhaven XL Orthopedic Dog Bed Two-Tone is a functional pet bed that will give your labrador the ultimate comfort and support they need. It boasts an L-shaped chaise design with a luxurious faux fur cover on the sleep surface.  Also It comes with thick, fluffy bolsters wrapped in easy-care suede cover for proper neck alignment. 
Combining an egg crate orthopedic foam base and raised rounded bolster ends provides soothing relief to pressure points. This dog bed's removable, washable cover makes maintenance hassle-free. Additionally, its two-tone design helps disguise dirt and pet dander better.
Your purchase comes backed by Furhaven's 90-day limited coverage against material defects and potential eligibility for their 60-day worry-free program. With multiple stylish colors and diverse sizing options, your canine companion can experience maximum luxury tailored to their needs!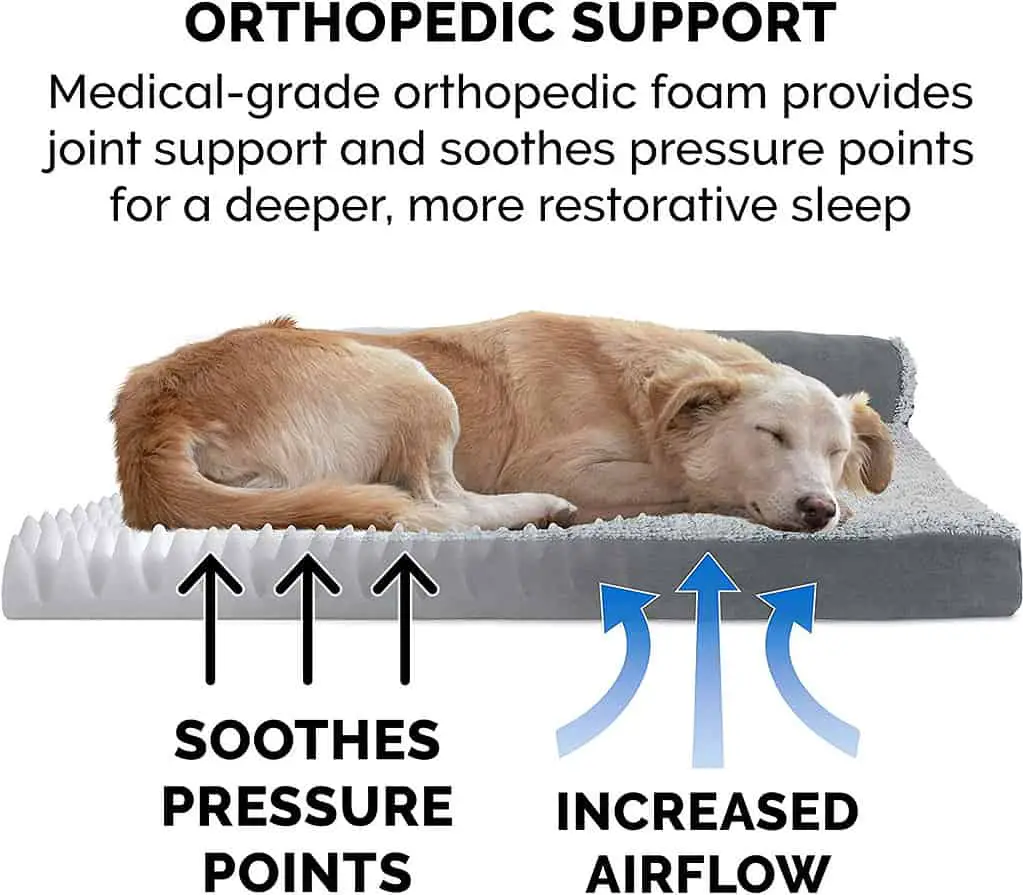 Pros
Provides comfortable and secure rest for dogs
Cushions pressure point and promotes air circulation for better joint health.
Easy to care for with removable, machine-washable cover
Comes with customer assurance warranty coverage
Cons
Not recommended for pets with excessive teething or destructive chewing behavior
May not be covered by Furhaven's warranty if purchased from unauthorized 3rd party resellers
The Furhaven Large Orthopedic Dog Bed delivers exceptional comfort for your beloved pet. Boasting a silver-gray quilted polyester sleep surface, this dog bed is gentle on noses and paws.
The sofa-style design with supportive bolsters on three sides allows dogs to rest their heads in various positions.Thanks to its egg crate orthopedic foam base, the Furhaven dog bed helps alleviate pressure points and improve air circulation.
The Jumbo Plus option adds solid slab orthopedic foam for larger breeds requiring more substantial support. Easy care is guaranteed with the removable machine washable cover. This luxurious orthopedic couch ensures that dogs have their own comfortable space without compromising quality rest time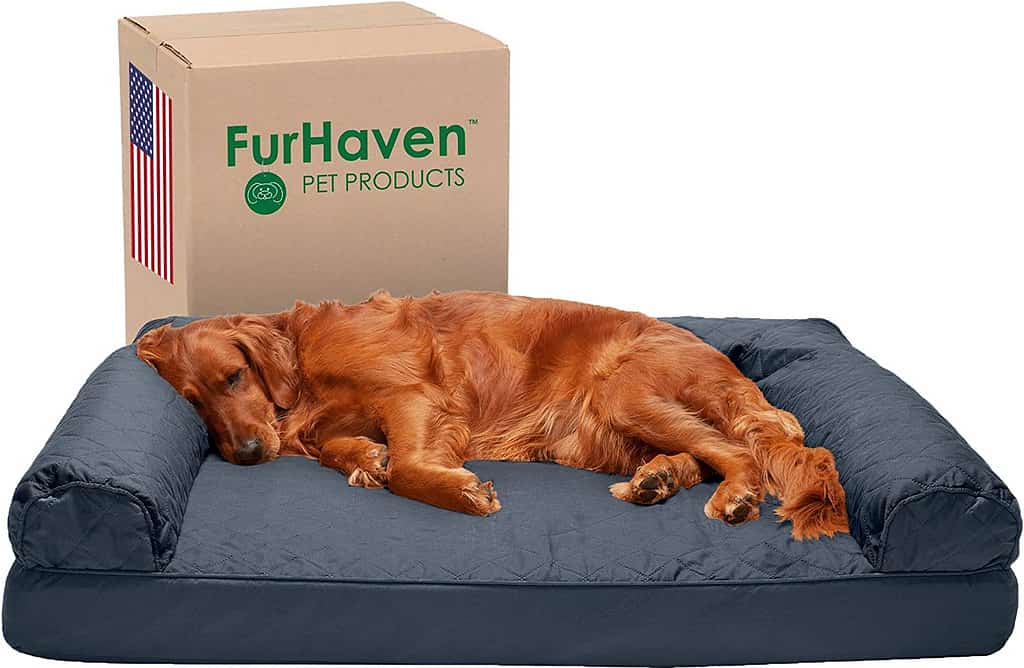 Pros
Provides orthopedic support that eases discomfort and promotes restful sleep
Easy to clean with a removable, machine-washable cover
Offers an inviting space for dogs to lounge and feel secure with sofa-style design and supportive bolsters
Comes with customer assurance through limited coverage against material defects and a worry-free program
Cons
It may have a chemical odor upon initial opening due to packaging and shipping
The Bedsure Memory orthopedic dog bed boasts a dual-layer, high-density memory foam crate mat that offers optimal support for your pet. The soft bed top layer distributes weight evenly while relieving pressure on dog's joints, making it perfect for older or arthritic pets.
One standout feature is its easy-to-remove waterproof cover. This zippered cover is made from durable and stain-resistant materials, ensuring deep cleaning is a breeze.
It is available in four sizes to accommodate various breeds and includes a non-skid bottom to reduce potential slips and accidents. This versatile orthopedic dog bed can be used at home or as a travel companion for you and your pup. Use it as a crate bed or portable pillow in cars, hotels, or any other location life takes you.
Its minimalist design that fits seamlessly into any decor style combines form and function in one irresistible package!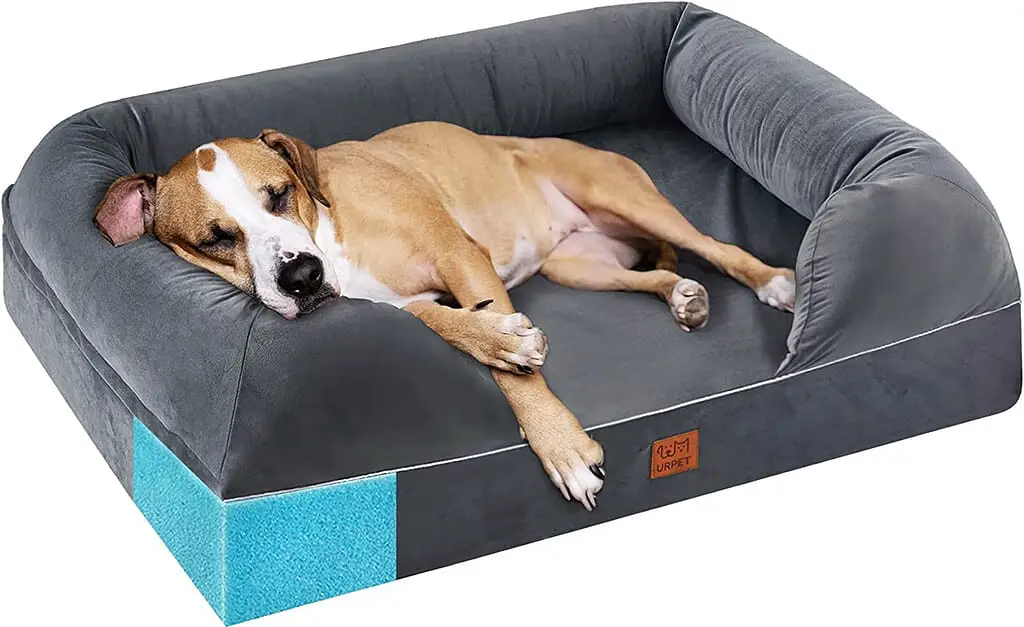 Pros
Versatile design fits seamlessly into any decor and can be used at home or on the go.
Available in 4 sizes to accommodate all dog breeds, providing orthopedic support for optimal comfort.
CertiPUR – US-certified foam and luxurious flannel combine to create a safe, comfortable sleeping surface for your pet.
Easy-to-remove waterproof cover makes cleaning a breeze, ensuring long-lasting durability.
Cons
May not be suitable for dogs who prefer firmer beds
Cover may shrink slightly after washing and drying
The Importance Of Choosing The Right Lab Dog Bed
Promoting Comfort And Privacy
Providing a comfortable and private space for your Lab is crucial. A high-quality lab dog bed ensures your canine companion can retreat to a haven when they need rest or downtime.
The right pet bed offers ample support, softness, and cushioning that contours to the shape of your dog's body for optimal relaxation.
Privacy is just as important when creating a serene environment in which your Lab can unwind without disturbances from external stimuli such as noise or bright lights.
A donut-shaped bed with raised sides can offer this sense of seclusion and security while allowing larger dogs, like Labs, room to stretch out comfortably.
Supporting Joints And Bones
Like all large dog breeds, Labrador Retrievers are prone to developing joint issues such as arthritis and hip dysplasia over time. 
Orthopedic beds or those featuring memory foam are an excellent choice for Labrador owners. 
These beds conform to your dog's body, offering customized support evenly distributing weight across the entire surface area.
This helps reduce stress on vulnerable areas like hips, shoulders, and elbows while promoting restful sleep.
Additionally, elevated beds are beneficial in preventing contact with hard floors that could worsen joint discomfort or cause pressure sores.
Regulating Body Temperature
Labradors are known for their thick coats and high energy levels, which can make them prone to overheating.
For example, on hot summer days or warmer climates, a cooling bed specially designed for large breeds like Labs can be invaluable in preventing overheating.
These beds feature breathable materials and temperature-regulating technologies that keep your furry friend cool and comfortable overnight.
Ensuring Durability And Chew-Resistance
Labrador retrievers, known for their strong jaws and playful nature, can quickly destroy a regular pet bed.
One example of an ideal option for labs is a tough elevated dog bed made with sturdy frames and durable fabric. 
These beds resist damage from chewing while providing proper support and comfort for your canine companion.
Also, they often feature non-skid bottoms that prevent slipping on hard floors, ensuring safety and stability.
Types Of Lab Dog Beds
Orthopedic Beds For Joint Support
Orthopedic dog beds are designed to provide optimal joint support, making them an ideal choice for Labradors with hip dysplasia or arthritis.
One example of an excellent orthopedic bed for labs is the Big Barker Orthopedic Dog Bed.
It has solid orthopedic foam that does not compress over time. With a tear-resistant cover that resists stains and scratches, this bed provides durability and comfort at a reasonable price point.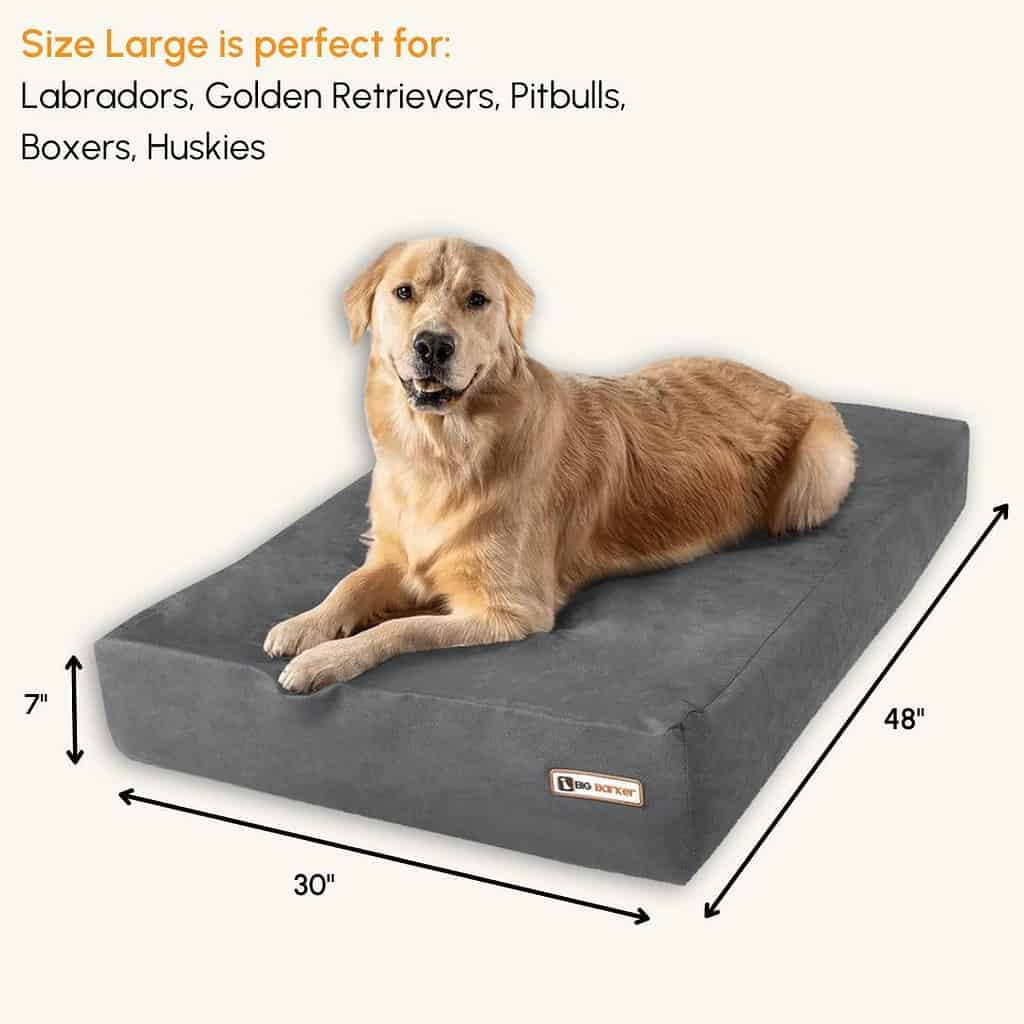 Raised Beds For Ventilation And Comfort
Raised dog beds offer a unique bedding solution for Labradors. These beds are elevated off the ground and offer several benefits, including improved ventilation and comfort.
The raised design ensures that air can flow under the bed, which helps regulate your Lab's body temperature, especially during hot weather.
Raised dog beds feature tautness rather than stuffing, making them more comfortable for Labs that love to unstuff their toys and beds. 
This also makes it ideal for dogs with allergies because they won't be breathing in allergens trapped within the stuffing of other types of bedding.
Moreover, elevated dog beds tend to stay cleaner longer as there is less opportunity for debris to accumulate.
Cooling Beds For Hot Weather
Cooling beds are designed to keep dogs cool and prevent heat-related illnesses. Several types of cooling beds are available on the market, including mesh, cot-style elevated beds, and cooling pads.
Mesh cooling beds have breathable fabric that allows air to circulate beneath the bed.
Cot-style elevated beds provide a more comfortable sleeping surface and promote air circulation beneath the bed.
One excellent option for owners looking for a quality pet bed is the Coolaroo Elevated Pet Bed.
This breathable option is mildew-resistant, which makes it perfect for outdoor use in hot climates.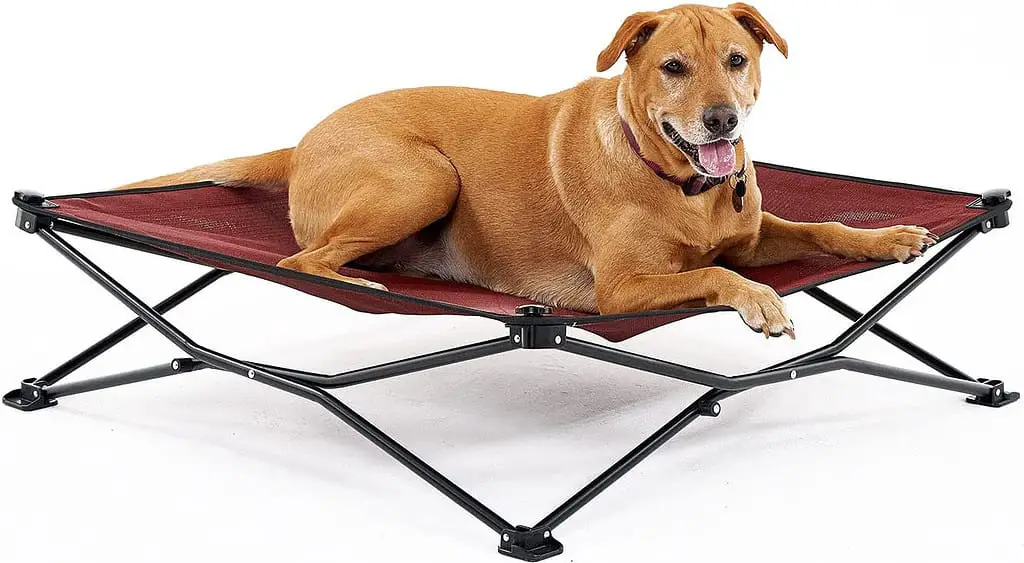 Donut Beds For A Cozy Space
The shape of the bed is perfect for dogs who like to curl up or lean against something while they rest.
Not only do donut beds provide comfort and support, but they also come in various sizes and materials.
One highly-rated option is the Best Friends by Sheri OrthoComfort Deep Dish Cuddler, which features high-quality faux fur and an extra-tall wall around the bed.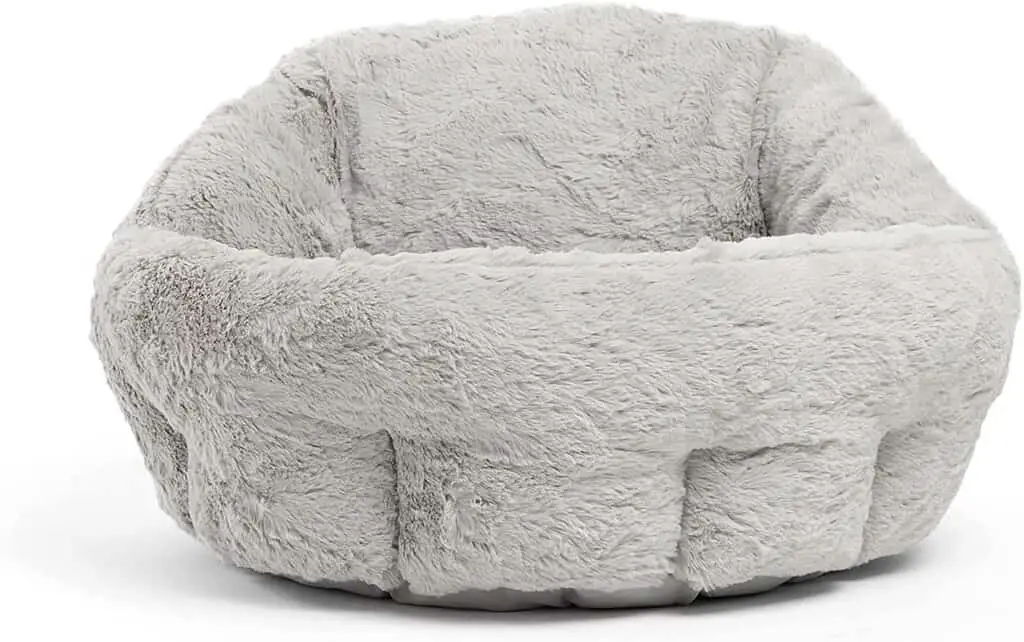 Crate Beds For Travel And Confinement
Crate training is an excellent option, especially regarding travel and confinement. A crate keeps your dog safe and provides a cozy den-like relaxing space.
The Hero Dog crate bed provides a soft, comfy surface for your Labrador to rest on during long car rides or flights.
Its durable design ensures that it won't flatten out over time, giving your pet reliable support wherever their travels take them.
Other options include the MidWest Dog Bed, which adds a plush upgrade to the hard floor of Labradors' crates with its tufted design.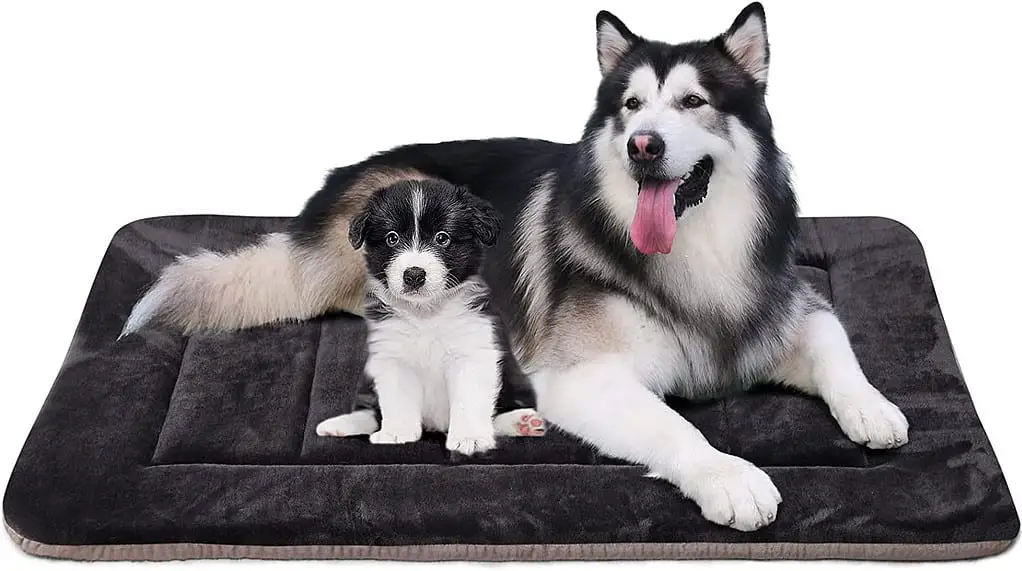 Other Factors To Consider When Choosing A Best Dog Beds
Lab owners should also consider factors like washability and durability when selecting the best lab dog beds. Noise reduction and anxiety relief are also essential factors to keep in mind.
Washability And Maintenance
Washability and maintenance are crucial factors when selecting a lab dog bed. It's essential to have a dog bed that is easy to clean, particularly for those who suffer from allergies.
A removable, washable cover makes it simple to keep your dog's bed hygienic, safeguarding them against ticks while keeping your home odor-free. This consideration should be critical when considering options for orthopedic dog beds made of memory foam materials known for retaining odors.
Choosing waterproof covers can prevent spills from seeping into the foam, extending the lifespan of an elevated or raised bed designed primarily for ventilating airflow under warm weather conditions.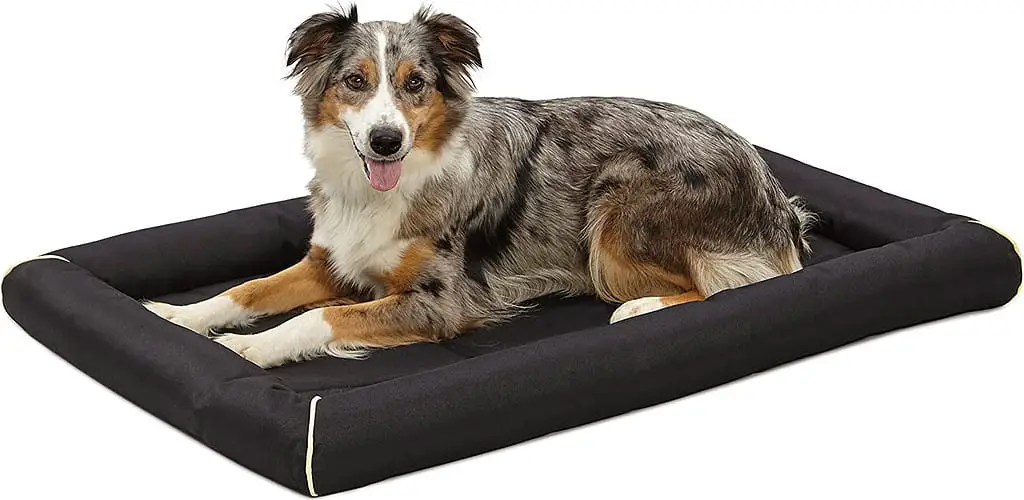 Temperature Control And Breathability
Temperature control and breathability are essential when choosing a lab dog bed. Labs have thick coats, making them prone to overheating. Moreover, beds with thick padding or heavy fabrics should be avoided because they trap heat.
Opting for a bed with non-skid bottom also allows airflow underneath the bed and keeps your pup cool while sleeping.
Another way you can help regulate temperature is by selecting an elevated dog bed, allowing airflow around the sleeping area, which promotes better ventilation of body heat.
Noise Reduction And Anxiety Relief
The perfect dog bed can give your lab a sense of security and calmness for restful sleep. Some beds have noise-reducing features such as soft padding or sound-absorbing foam layering to help relax the pups.
Also, dogs who suffer from anxiety may benefit from an anti-anxiety dog bed; these beds are designed to mimic the sensation of being held.
For instance, seniors may experience increased vocalization due to pain, cognitive problems, or hearing loss, so choosing the right dog bed is imperative.
Travel And Outdoor Use
Labs are adventurous and love to explore the great outdoors, so choosing a travel-friendly dog bed is essential.
For instance, a roll-up travel mat can be an excellent option for those who love road trips or camping.
Lightweight and portable beds like Lightspeed Outdoors Travel Mat provide comfortable support while on the go.
Also, elevated beds with non-skid bottoms can be perfect for outdoor use and prevent them from getting dirty in wet conditions.
One of the key considerations when picking out a travel-friendly dog bed is its weight and size. Opting for lighter materials will ensure that carrying it around is manageable.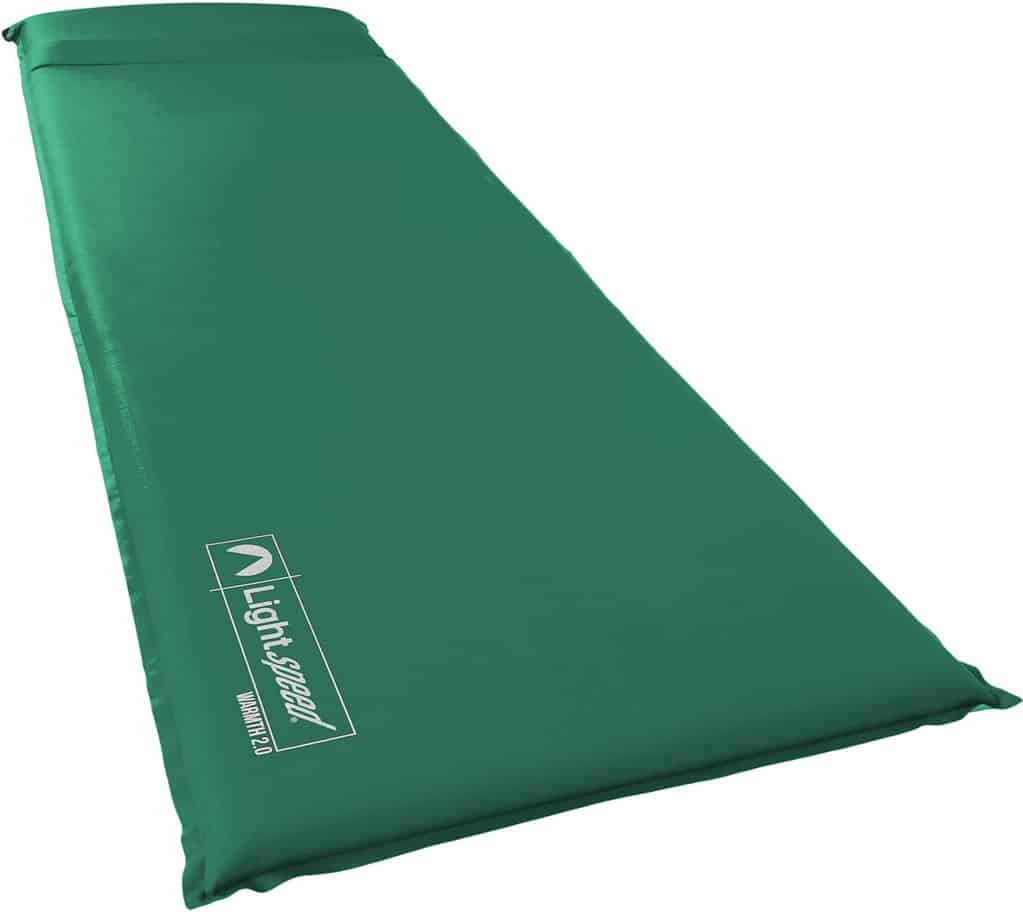 Lab Dog Bed Accessories And Add-Ons
Lab owners can enhance the comfort and functionality of their dog's bed with accessories such as crate pads, elevated beds, heating/cooling pads, and covers.
Crate Pads And Mats
Crate pads and mats are essential accessories for your lab dog's crate. They provide comfort and protect the crate from wear and tear. Here are some important points to consider:
Choose a chew-resistant and waterproof pad to last longer and clean easily.
Cooling gel-infused memory foam or breathable mesh mats can help regulate your dog's body temperature during hot weather.
Orthopedic foam pads can provide extra cushioning support for dogs with joint problems such as hip and elbow dysplasia.
Ensure the pad or mat fits perfectly in the crate, leaving no gaps at the edges.
Non-skid bottom layers will prevent slipping and sliding on and off the mat.
Machine washable covers, removable covers, or waterproof liners make cleaning more manageable and can extend their overall lifespan.
Remove any loose threads on the mat to avoid them being swallowed by your dog.
Elevated Dog Bed And Cots
Elevated beds and cots are a great option for lab owners who want to promote their dog's comfort and support their joints.
These beds offer firm, even support across your pet's body, which can help reduce pressure on their joints.
Here are some key benefits of elevated beds and cots:
Better air circulation: Elevated beds and cots keep your pet off the ground, which allows air to circulate their bodies.
Improved mobility: Elevated beds and cots provide an easy-to-reach surface that dogs can step onto without exerting too much energy or strain on their joints.
Resistant to chewing: Many elevated beds and cots are constructed with durable materials like metal or chew-resistant fabrics. This makes them an excellent choice for strong chewers.
Easy assembly and portability: Elevated beds and cots are designed for easy assembly and carrying. They often come with lightweight frames that can be quickly assembled, disassembled, and packed into a backpack or travel bag.
One excellent example is the Chew Proof Elevated Dog Bed. This bed features a sturdy metal frame resistant to damage from even the strongest chewers.
Also, it provides ample ventilation underneath the sleeping surface, ensuring your dog stays cool. 
Heating And Cooling Pads
Heating and cooling pads are a great accessory to consider when looking for a dog bed.
They can help regulate your dog's body temperature, ensuring they sleep comfortably all year round.  Here are some options to consider:
Self-heating pads: These pads reflect your dog's body heat at them, providing warmth without electricity. 
Electric heating pads: These pads work by plugging them into an outlet and adjusting the temperature to your liking. They're perfect for dogs that suffer from arthritis or joint pain.
Gel cooling pads: These beds contain a cooling gel that provides a cool surface perfect for hot summer nights. 
Water-filled cooling mats: Similar to the gel cooling pad option, these mats provide a cool surface for sleeping on hot summer days. However, they require filling with water beforehand.
Electric cooling pads: These pads work similarly to electric heating pads but provide a cool surface instead of warmth.
Covers And Protector Sheets
Lab dog beds can benefit from covers and protector sheets to keep them clean and comfortable. Here are some options to consider:
Waterproof Liner: A waterproof liner can protect the bed from accidents and spills, keeping it fresh and dry.
Removable Cover: Many dog beds have a removable cover that can be easily washed or replaced.
Machine Washable Cover: Look for machine washable covers that are easy to clean and maintain, like those offered by Molecule pet beds.
Replacement Covers: Some brands, such as Casper Dog Bed, offer replacement covers so you can easily refresh your dog's bed without buying a new one.
Tear-Resistant Cover: If your lab is prone to chewing or scratching their bed, consider a tear-resistant cover like the one offered by Friends Forever premium memory foam bed for dogs.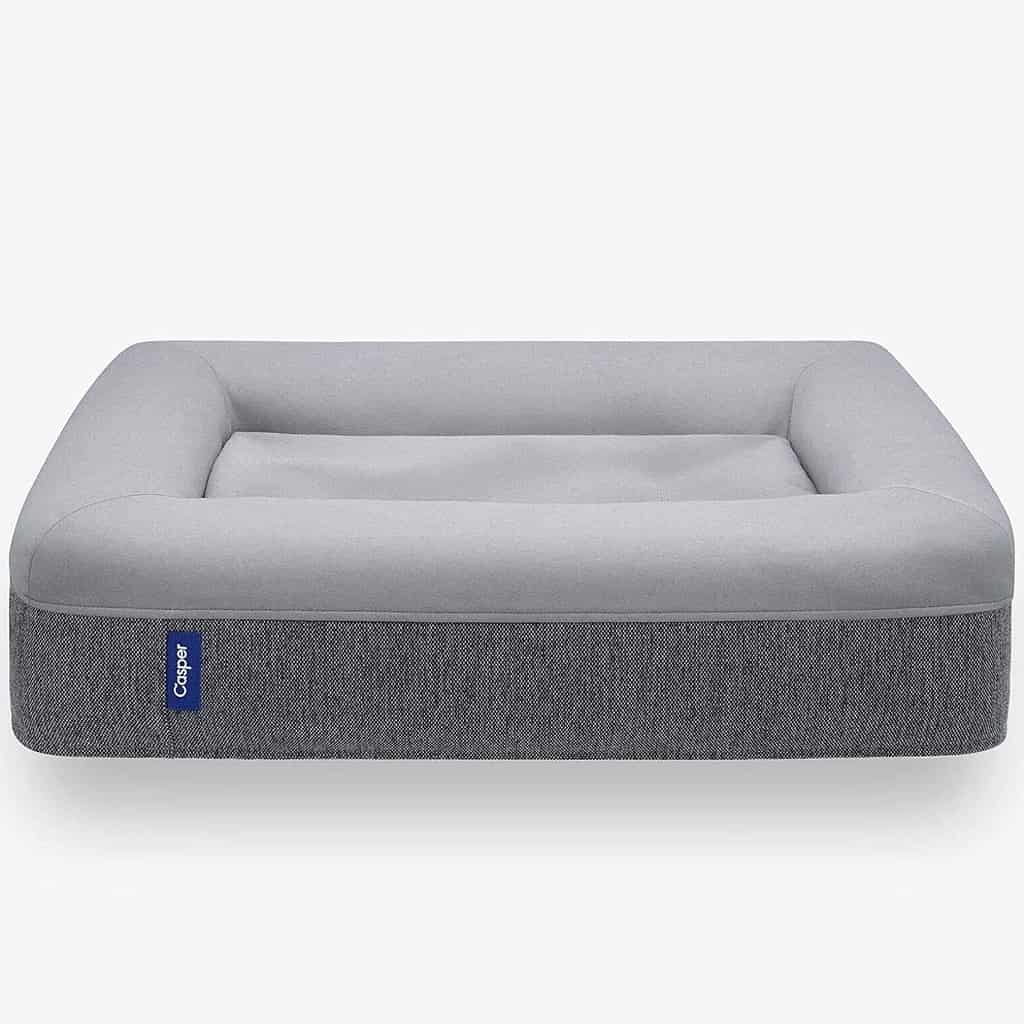 Caring for Your Lab Dog Bed
Proper maintenance ensures the bed stays clean and hygienic and lasts longer. This guide'll walk you through the crucial steps for preserving your Lab dog bed, from regular washing to addressing stains and odors.
Regularly Washing the Bed Cover and Bedding
Dogs can be messy. The bed cover and bedding of your lab bed should be cleaned regularly. Look for a dog bed with a removable, machine-washable cover for easy cleaning.
Before washing, check the washing instructions on the tag to prevent any damage. Most bed covers can be washed in cold water on a gentle cycle with mild detergent.
To maintain the bed's structure, it's best to air dry it. If it is dryer-safe, use the lowest heat setting to prevent shrinking. The bedding, if washable, should be cleaned following the same precautions.
Vacuuming the Bed to Remove Hair and Debris
Vacuuming is an effective method to keep the bed clean between washing intervals. Labradors are known for shedding; a quick vacuuming session can reduce hair on the bed.
Besides hair, it also helps remove debris or dirt your Lab may have brought in from outside.
Use a handheld vacuum or a pet hair attachment for the best results. Remember to vacuum all parts of the bed, including the corners and underneath.
Addressing Any Odors or Stains Promptly
Odors and stains are inevitable when you have a dog. Prompt action can prevent these from setting in and becoming harder to remove.
For odors, consider using a pet-friendly odor remover. These are designed to neutralize the smell instead of merely masking it, leaving the bed fresh for your Lab to enjoy.
If you prefer a DIY solution, lightly sprinkling baking soda on the bed, letting it sit for a few hours, and then vacuuming, it can also help remove odors.
Stains should be treated as soon as they're noticed. Use a mild, pet-safe cleaner and a soft cloth to blot the stain.
Avoid rubbing; it can spread or push the stain deeper into the fabric. If the stain persists, washing the entire bed cover may be necessary.
FAQ: Best Lab Dog Bed
What kind of bed is best for a Labrador?
A Labrador is a large breed dog, so you'll need a large enough bed for them to stretch out comfortably. You'll also want to choose a bed made from durable materials that can withstand the wear and tear of a playful Labrador.
Do Labradors need bed?
While Labradors don't necessarily need a bed, most dogs prefer their space. A bed can provide your Labrador with a sense of security and help prevent them from sleeping on furniture
Where do labs sleep at night?
Most Labradors will sleep in their bed, either in your bedroom or another designated area. However, some prefer to sleep on the couch, in their bed, or even on the floor.
Do dogs prefer elevated dog beds?
Some dogs do prefer elevated dog beds, while others don't. Elevated beds can be helpful for dogs with joint problems, as they can help to reduce stress on their joints.
They can also be helpful for dogs that are prone to getting hot, as they allow for better airflow.
Where should a Lab puppy sleep?
A Lab puppy can sleep in their bed, in a crate, or even in your bed. Start crate training your puppy from a young age to be comfortable sleeping in a crate.
If you don't want your puppy to sleep in your bed, create an inviting space for them in their bed or crate.
Can my Lab puppy sleep in my bed?
Whether or not you allow your Lab puppy to sleep in your bed is a personal decision. Some people believe that it's important for puppies to learn to sleep in their own bed, while others enjoy having their puppy cuddle up with them at night.
If you choose to let your puppy sleep in your bed, it's important to ensure they don't become too dependent on it. You can do this by gradually moving their bed to a different location in your home over time.
What type of dog beds do dogs like best?
Dogs like beds that are soft, comfortable, and durable. Some popular types of dog beds include:
Orthopedic beds: These beds are designed to provide support for dogs with joint problems.
Memory foam beds: These beds conform to the shape of your dog's body, providing maximum comfort.
Raised beds: These beds can help to keep your dog cool and comfortable, especially in hot weather.
Crate beds: These beds are designed to fit inside a crate, providing your dog with a comfortable place to sleep.
Sale
Bestseller No. 1
Sale
Bestseller No. 1
Where do Labs sleep at night?
Most Labs will sleep in their own bed, either in your bedroom or another designated area. However, some Labs may prefer to sleep on the couch, in your bed, or even on the floor.
If you're unsure where your Labrador prefers to sleep, you can try putting their bed in different places and see where they gravitate towards.
Should Labrador sleep in my bed?
Whether or not you allow your Labrador to sleep in your bed is a personal decision. Some people believe that it's important for dogs to learn to sleep in their beds, while others enjoy having their dogs cuddle up with them at night.
If you let your Labrador sleep in your bed, it's important to ensure they don't become too dependent on it. You can do this by gradually moving their bed to a different location in your home over time.
Author Profile
Aritra, the founder of Labradorandyou.com, is a lifelong dog lover whose passion ignited for Labradors for their loyalty and intelligence. With extensive research and personal experiences, Aritra has become a Labrador expert, offering a rich resource on the breed. Labradorandyou.com provides reliable, timely, and evidence-based information, including Labrador-specific product reviews, training techniques, and care tips.

Labradorandyou.com was born out of Aritra's passion and his desire to share his profound knowledge about the breed. The site serves as a comprehensive resource, offering a wealth of up-to-date information for Labrador owners and enthusiasts alike