The best dog houses for Labradors provide warmth, protection, and comfort for these large, energetic dogs. Given their size, Labradors need a spacious house, preferably with a wide door and high ceiling. The house should be sturdy and durable, made of treated wood or hard plastic to withstand the weather and your Lab's activity.
Proper insulation, like a layer of straw on the floor, helps regulate temperature. An elevated floor prevents dampness. Making sure the house is large enough for your Lab to stand and turn around but small enough to retain body heat is key.
A covered porch or overhang provides shade and keeps rain off the entrance. Considering your climate and your Lab's needs will ensure you find the ideal dog house for your pet.
PRECISION PET PRODUCTS Extreme Outback Log Cabin Dog House,…
Petmate Indigo Dog House (Igloo Dog House, Made in USA with…
Petsfit Wooden Dog House Extreme Outback Log Cabin…
PUKAMI Plastic Dog House Outdoor Indoor,Durable Dog House…
BestPet 32Inch Large Dog House Insulated Kennel Durable…
PUKAMI Plastic Dog House Outdoor Indoor,Durable Dog House…
BestPet 32Inch Large Dog House Insulated Kennel Durable…
1. Petmate– Best lab dog house
As a pet owner, I can fully vouch for the Petmate Precision Extreme. It is designed to offer protection from the elements and provide a comfortable dog shelter all year round. My dog loves it!
The cabin is made with solid wood and stainless-steel hardware, making it strong and sturdy yet stylish at the same time. Its traditional design features an off-center entrance allowing pets to escape wind and rain.
At the same time, its weather-resistant construction ensures they stay dry inside whatever the forecast throws their way. These features make Petmate Precision stand out amongst competitors in this space, so we chose it as No.1 on our list without hesitation!
The adjustable feet balance easily on various surfaces, so the setup was simple. I am impressed with how well this product has been thought out – right down to details, such as the raised floor, which helps keep moisture away, reducing mess.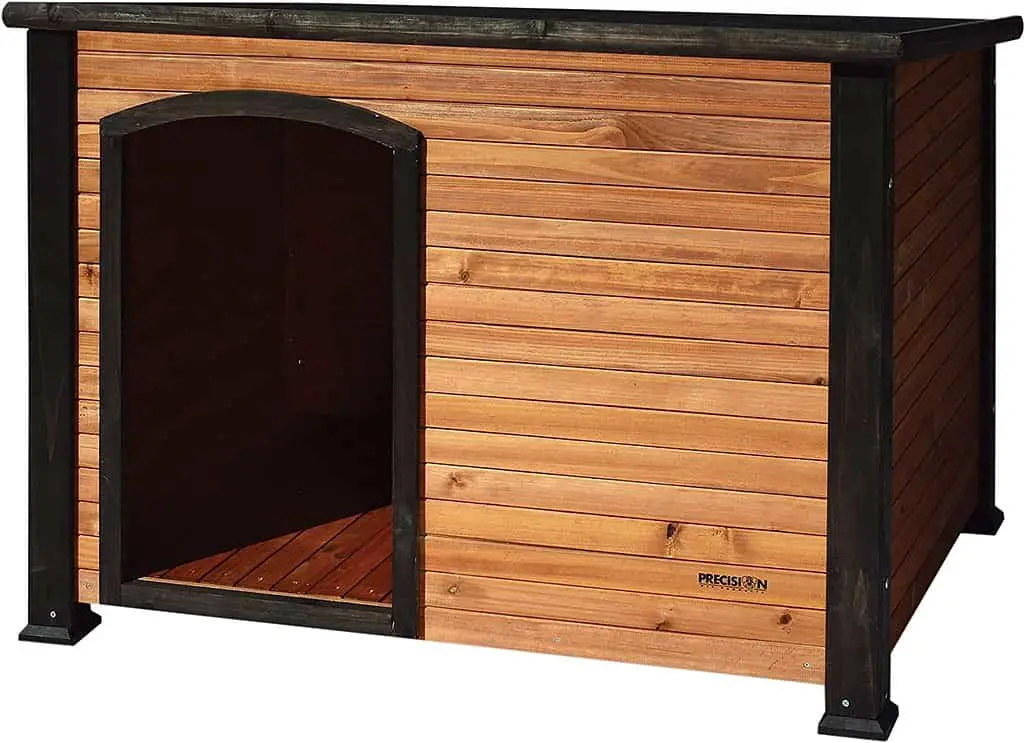 Pros
Provides durable and long-lasting protection for large dog breeds
Offers a cozy and safe place for dogs to rest, nest, and feed
Protects from the elements with its sealed protective coating, raised floor, and slanted asphalt roof
Easy to assemble in just 3 steps
Cons
It may require additional weatherproofing for extreme climates
Not suitable for very small or toy-breed dogs
The Petmate Indigo Igloo Dog House provides the perfect all-weather protection dog shelter. This heavy-duty dog house is made in America with 90% recycled materials and a patented dome design. Highly stable in high winds.
The elevated floor and side moats allow moisture to drain off, keeping your labrador dry, while the vented top of the igloo circulates fresh air inside, keeping the dog cool in hot weather and warm during cold days. 
It's no wonder we ranked this dog house as number two on our list. Its quality construction provides superior durability and comes at an affordable price point.
Accessories such as the Petmate Indigo Door or Petmate Indigo Pad are available separately so that you can customize them further. These practical yet stylish crate houses are highly recommended due to its reliable weatherproofing capabilities, and ample space for your four-legged friend!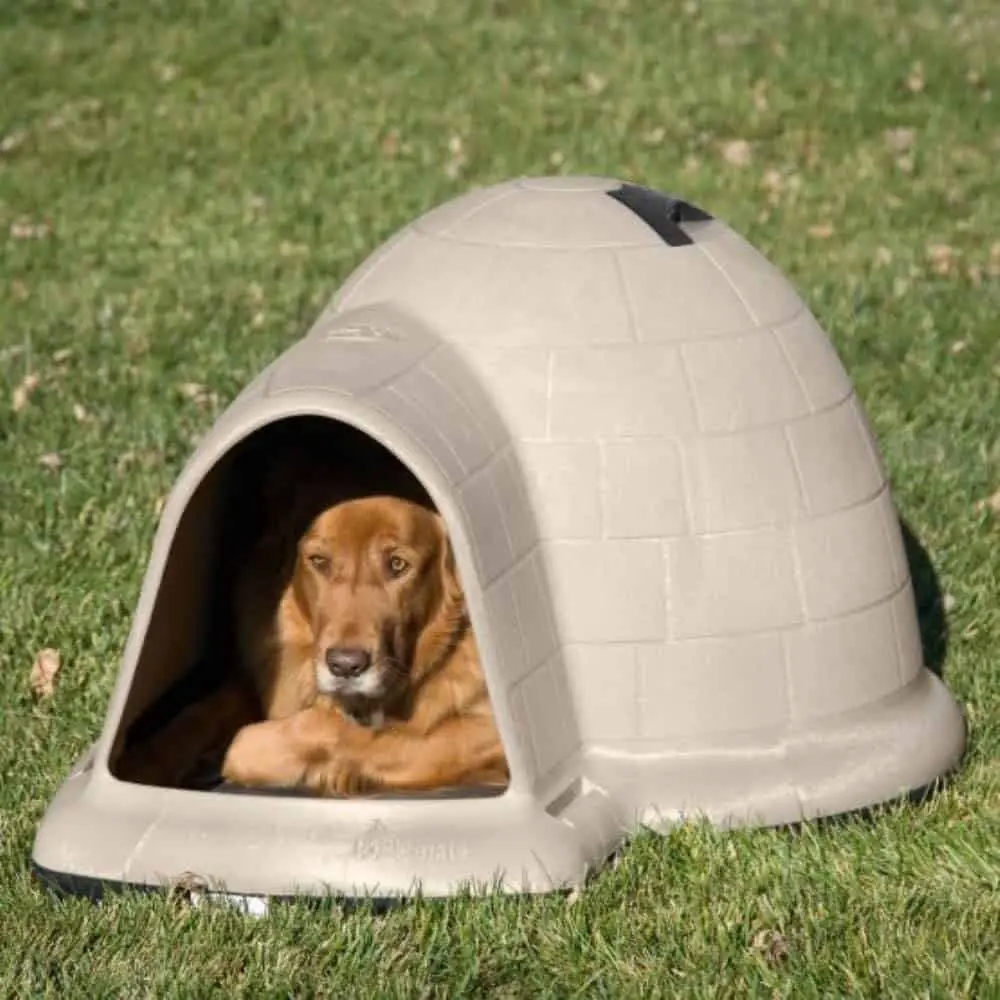 Pros
Made in the USA with 90% recycled materials
Provides all weather protection for dogs weighing 50 to 90 pounds
Features raised floors and side moats to keep pets dry and shed snow and debris from the top
A heavy-duty dog house that offers insulation in hot and cold weather, with a unique offset doorway that shields pets from rain.
Cons
Bulky and heavy, making it difficult to move or transport.
Not suitable for small dogs or puppies.
3. Petsfit lab dog house
If you're seeking an outdoor pet structure with superior weatherproof protection, comfort, and durability, then the Petsfit Dog House is a great option. This dog house kennel is made of high-quality Finnish spruce panels and stainless steel hardware, which can withstand the harshest elements. 
It can support adult dog weight up to 80 pounds. Hence a ton of space for your labrador. An adjustable foot ensures the platform remains level, providing excellent air circulation. A removable floor makes cleaning easy too!
The design stands out from other doghouses' log cabins to look, and the slanted asphalt roof & door flap feature helps keep the interior dry and protected.
For added convenience, its open-up roof also provides easy access for maintenance. And last but not least, this product comes complete with pre-drilled holes for quick assembly.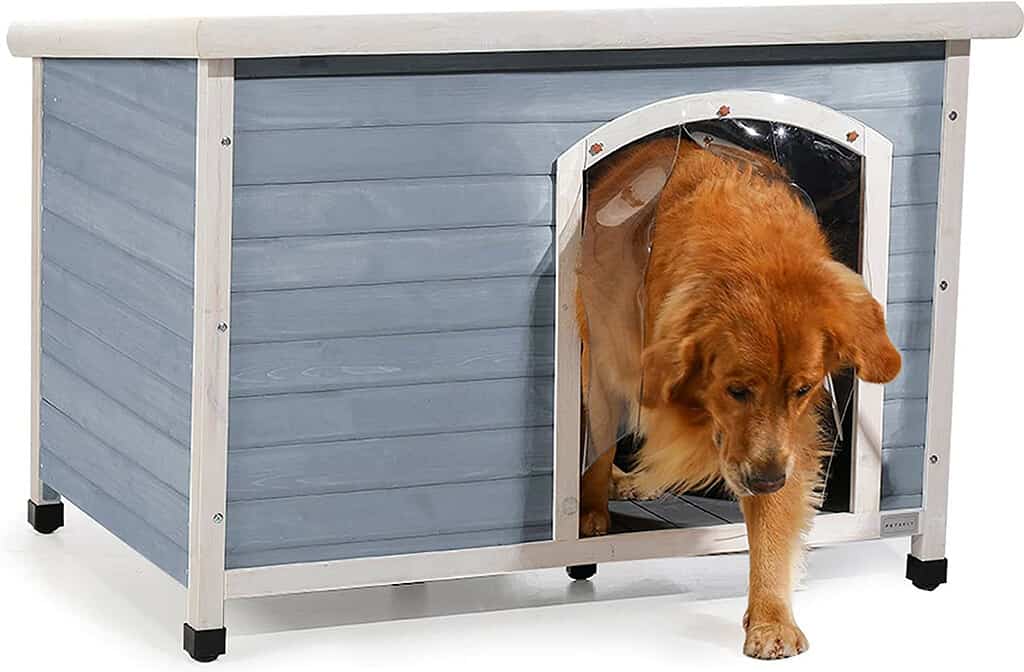 Pros
Raised floor with adjustable feet keeps your pet dry and increases ventilation.
Removable floor and additional support rails make cleaning and holding pets inside easier.
The protective design with an open-up roof provides easy access for cleaning, airing out the interior, and keeping the cabin comfortable & dry.
Durable construction made of Finnish spruce panels, stainless steel hardware & strong asphalt shingles provide long-lasting protection for medium to large dog breeds up to 80 pounds.
Cons
Relatively expensive compared to other dog houses on the market
It may require additional insulation for extremely cold climates
My brother-in-law recently purchased PUKAMI and is very pleased. It looks great in his backyard, and his dog loves it!  The construction is solid and made of high-quality PP material that's durable, weatherproof, and corrosion-resistant.
Cleaning up is just as fast thanks to its detachable roof: loosen two screws and take off the roof for easy access to every corner. Indeed the best indoor dog house. The ventilation design keeps the interior temperature stable throughout the year. The setup was a breeze too).
In terms of size, this house is perfect for dogs up to 50 pounds. Its elevated floor helps keep dirt out, while its waterproof sloped roof prevents rain or snow.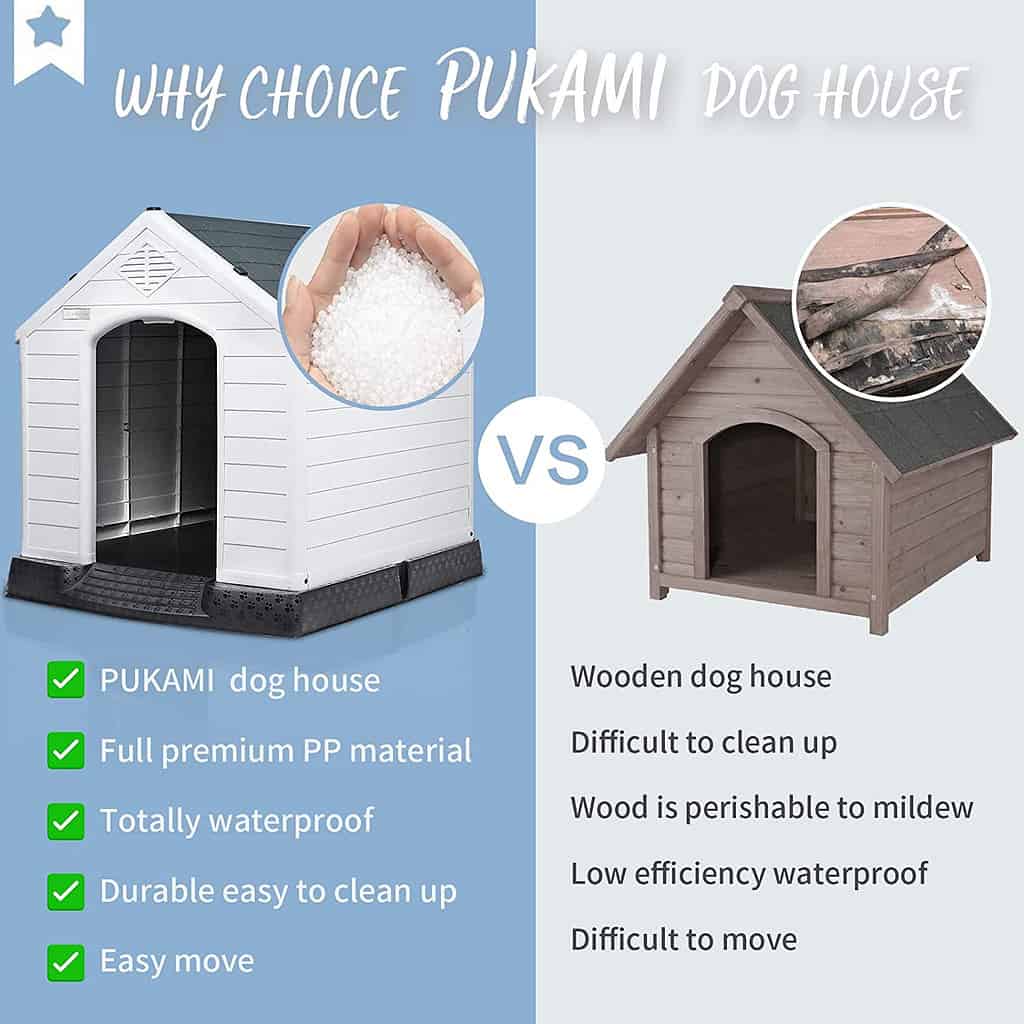 Pros
Adequate ventilation and thermal balance for pet comfort
Easy to clean and install with all necessary accessories included
Airtight, weatherproof structural design to protect from elements such as rain, snow, and dirt
Durable and stable structure made of high-quality PP material with added safety features like fixing nails.
Cons
Large sizes may not be suitable for smaller dogs or living spaces
Plastic material may not be as aesthetically pleasing as other materials, such as wood
The BestPet large dog house insulated kennel is a durable and reliable dog house for all dogs. The weather-resistant roof protects your dog from rain, while the elevated floor prevents flooding.
The air vents provide plenty of ventilation, maintaining a stable temperature inside the kennel. The easy installation process takes half an hour with simple tools.
If you wish, two nails are included to fix this kennel dog house on the ground. This spacious yet practical design makes it perfect for backyards, patios, decks, and more, especially since you can detach its roof quickly for cleaning.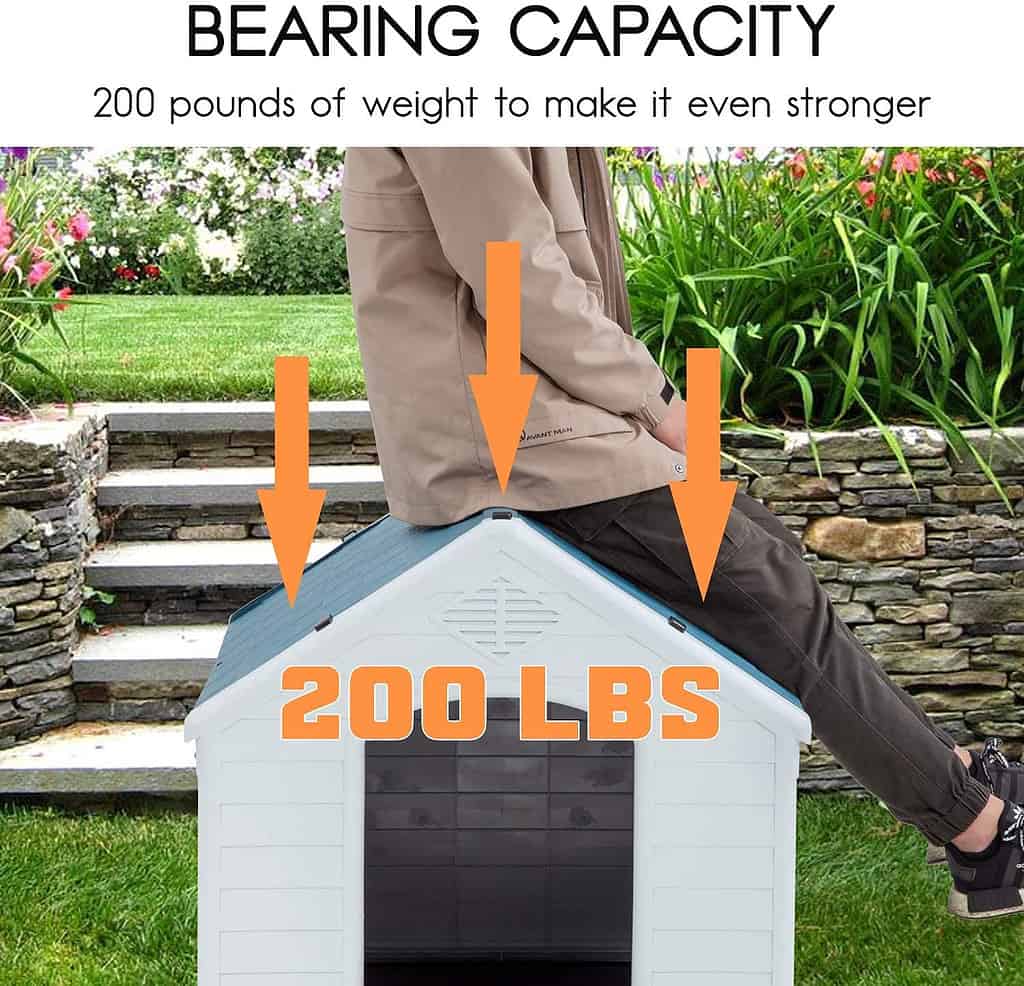 Pros
Waterproof and easy-to-clean design keeps your pet dry and comfortable
Simple assembly with tools provided for hassle-free setup
Strong and durable construction ensures stability and long-lasting use
Perfect for outdoor use with its weather-resistant features, air vents, and insulation capabilities.
Cons
May not be suitable for extremely large-sized dogs over 100 pounds
The DEStar Durable Waterproof Plastic Pet Dog House has an elevated floor, air vents, and a waterproof roof. Installation of the dog house is a breeze – everything you need comes in one box, so buying additional parts is unnecessary. 
 It's anti-corrosive, water and rust-proof. The 2 air vents at the front and back ensure good circulation while maintaining a constant temperature. Remove the detachable roof quickly secured by a few screws for cleaning.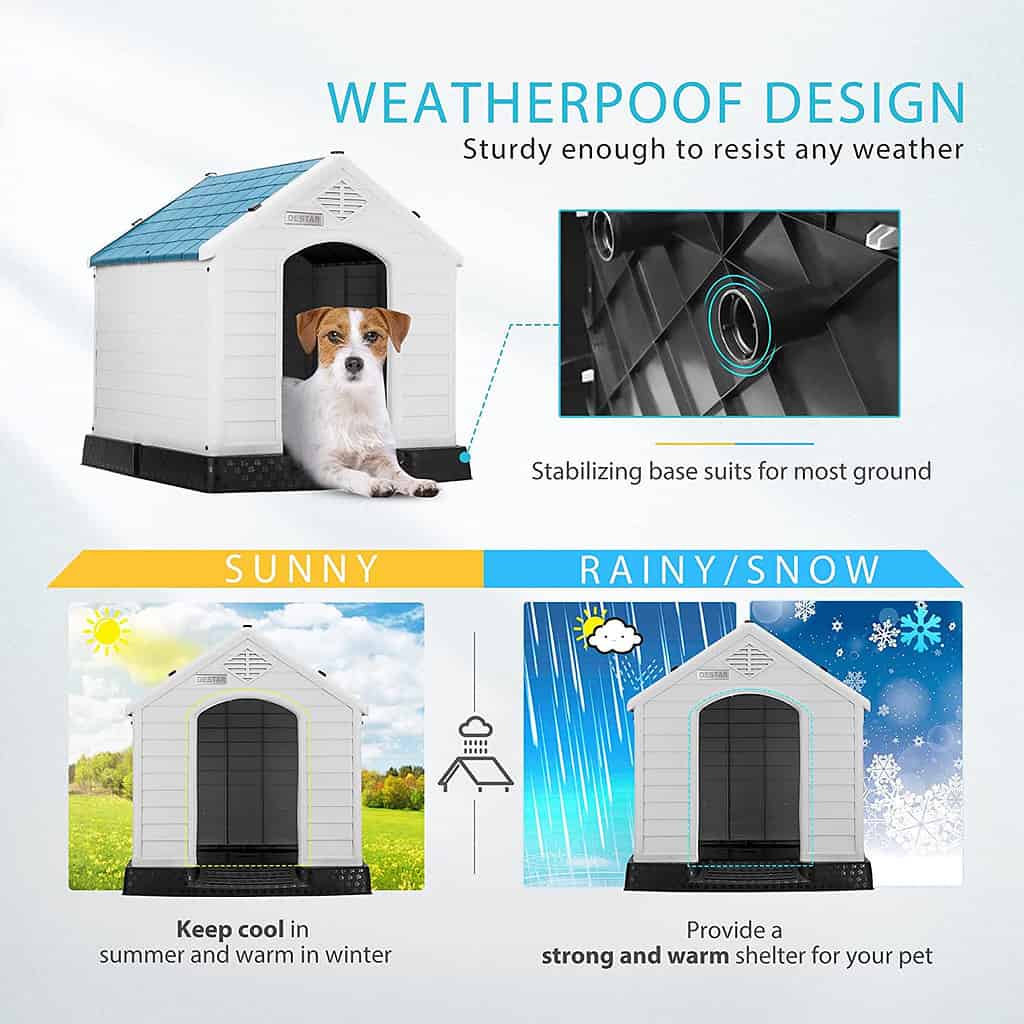 Pros
Easy installation and cleaning
Detachable and waterproof roof
Elevated base for protection from dirty water and harsh weather
Ventilation design for constant temperature control
Cons
May not be suitable for extra large-sized dogs (check dimensions before purchasing)
Plastic material may not provide as much insulation. 
This LEMBERI Durable Waterproof Plastic Dog House is an amazing buy. An adult can install it in just 20 minutes. This dog house is made of PP material, ensuring your pet stays safe, warm, and dry. It's durable and long-lasting.
This doghouse has a sloping roof, so the dog beds doesn't get wet! Elevated floors help prevent flooding in heavy rains. The integrated ventilation system at the top of this dog kennel helps circulate fresh air. This extra large dog kennel has ground nails so strong winds can't blow it away.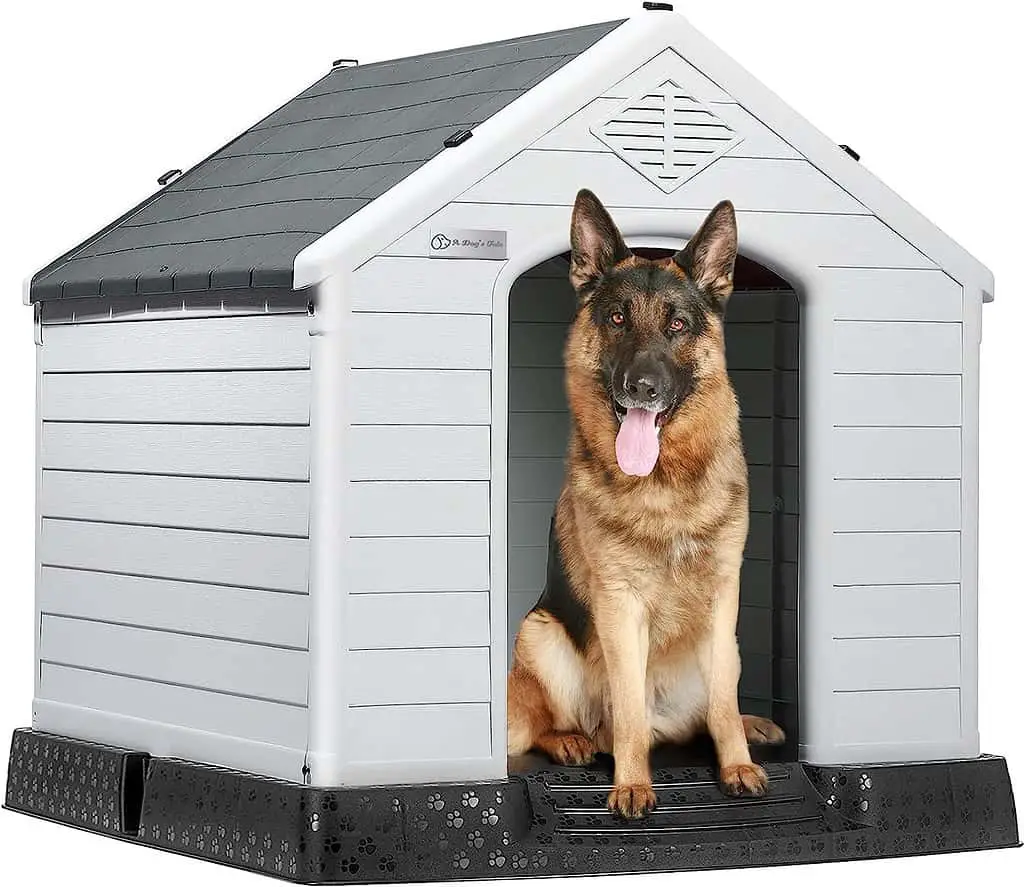 Pros
Easy and fast installation, requiring only 20 minutes to assemble
Durable structure made of safe, non-toxic materials that resist corrosion and weather conditions
Ventilated design with thermal balancing properties keeps pets comfortable in all weather
Suitable for both indoor and outdoor use, featuring an elevated floor and sloping roof to prevent flooding
Cons
Some customers have reported difficulty in aligning the screws during assembly.
The 28 Inch Dog House Indoor Outdoor Pet Kennel features an elevated floor and air vents that promote circulation. The waterproof plastic construction can withstand any weather, so you don't have to worry about it breaking down over time. 
Assembly takes around half an hour, thanks to easy-to-follow instructions and snap-together parts. It also comes with two nails, so you can easily secure this dog house on the ground.
During cold months the thermal insulation helps keep them warm despite frigid temperatures outside!  Plus, it's lightweight (only about 12 pounds) and compact enough to fit almost anywhere, making it a great product for smaller spaces. Cleaning up after each use is a breeze due to its detachable roof, which gives you easy access inside the kennel.
Pros
Easy to assemble with simple tools and screw fixation
Waterproof and easy to clean with a detachable roof
Double air vents for fresh air circulation and insulation for warmth in winter
The strong and durable structure that can hold up to 160 pounds and is suitable for small dogs.
Cons
Limited size range only suitable for small dogs
May require additional insulation in extreme weather conditions
What's the Difference Between Indoor and Outdoor Dog Houses?
| Feature | Indoor Dog Houses | Outdoor Dog Houses |
| --- | --- | --- |
| Size | Smaller | Larger |
| Material | Soft blankets or pillows | Wood or plastic |
| Durability | Less durable | More durable |
| Security | More secure | Less secure |
| Ventilation | Good ventilation | Less ventilation |
| Insulation | Less insulated | More insulated |
| Cost | Less expensive | More expensive |
| Ideal for | Dogs who spend most of their time indoors | Dogs who spend most of their time outdoors |
Factors To Consider When Choosing lab dog house
Size And Space
One of the most crucial factors to consider when searching for the best dog house for your Labrador Retriever is the size and space. As a proud owner of a large breed like Labrador Retrievers, it is to provide them plenty of room to move around comfortably.
To ensure they feel safe, you should choose a doghouse that leaves enough space for them to stand up, turn around, and stretch out without feeling cramped or confined.
For example, selecting an outdoor doghouse like Petsfit Wooden Dog House or Ferplast Dogvilla Dog House that has ample interior dimensions can create a comfortable shelter.
Remember that Labradors are energetic dogs with sufficient backyard area surrounding the doghouse to easily engage in physical activities such as running and playing fetch. Besides, take note of other elements like adjustable feet for uneven ground maintenance and pest resistance features which contribute to optimal living conditions.
Durability And Material
Durability and material are critical when choosing the best dog house for your Labrador Retriever. You want to ensure your furry friend has a comfortable and long-lasting shelter.
Wooden dog houses like the Petsfit Wooden Dog House offer durability and insulation for hot or cold weather. Insulated dog houses also provide extra protection against wet and cold weather. 
Another durable option is plastic dog houses such as Petmate Indigo Dog House. These require less maintenance than wooden ones but might not provide as much insulation against extreme temperatures.  Also, consider factors such as:-
air circulation
ventilation options (like rear ventilation), 
raised flooring for your dog's paws, 
non-toxic finishes (look out for pest-resistant wood construction),
adjustable feet to suit uneven ground conditions
Always remember that investing in a high-quality outdoor dog house will save you money in the long run.
Insulation And Ventilation
As a dog owner, know that a house that offers insulation and ventilation for your Labrador Retriever is key. Insulation helps regulate the temperature inside the house, keeping your pup warm in colder weather and cool in hot temperatures. 
Look for houses with insulated walls, floors, or roofs. For example, Petsfit Sturdy Wood Dog House has an insulated roof to keep heat out during the scorching sun, while Ferplast Dogvilla Dog House maintains internal warmth during cold temperatures.
Ventilation provides fresh cool air flow and prevents humidity buildup inside the dog house. Some even get a cooled dog house or an air-conditioned dog house for their dog. Houses with front doors and rear ventilation will create natural airflow throughout the day.
The Petmate Indigo Dog House has a microban antimicrobial protection system that helps reduce stain odors caused by bacteria, plus adjustable vents to provide air circulation on all sides of the kennel.
Design And Style
A well-designed dog house can enhance your backyard's appearance while providing your furry friend with much-needed shelter. Various designs and styles, such as log cabins or igloo-shaped houses, are available in the market. 
One popular option is the Petsfit Dog House, which features an elevated floor that ensures excellent air circulation to keep your pup cool during hot temperatures. 
It also has a slanted roof to prevent rainwater from accumulating on top. Another consideration when it comes to design and style is color options. For instance, Ferplast Dogvilla Dog House comes in several colors, like blue and green, so you can match them with outdoor furniture or decor.
How To Build a Doghouse for a Lab By Yourself?
Here are the steps on how to build a doghouse for a lab:
Gather your materials.
You will need the following materials:
2x4s
Plywood
Nails or screws
Roofing material
Insulation
Paint or stain (optional)
Build the frame
The frame of the doghouse should be made from 2x4s. The size of the frame will depend on the size of your dog. Once the frame is built, attach the plywood to the frame.
Add the roof
The roof of the doghouse can be made from plywood, roofing material, or even a tarp. If using plywood, seal the seams with caulk to prevent water from leaking.
Add insulation
Adding insulation to the doghouse is important if you live in a cold climate. You can use fiberglass insulation or even old blankets.
Add a door
The door of the doghouse should be large enough for your dog to enter and exit comfortably. You can use hinges or a sliding door.
Add a ramp
Adding a ramp to the doghouse is a good idea if you have a senior dog or a dog with mobility issues. This will make it easier for them to get in and out of the house.
Paint or stain the doghouse (optional)
You can paint or stain the doghouse to protect the wood from the elements.
Place the doghouse in a shady spot
The doghouse should be placed in a shady spot to protect your dog from the sun. You can also use a tarp or shade cloth to create shade.
Add some bedding
Your dog will appreciate some soft bedding in their new doghouse. You can use blankets, towels, or even old clothes.
Introduce your dog to their new home
Let your dog explore their new doghouse and get used to it. You may want to leave the door open first so your dog can come and go as they please.
FAQs
How big should a dog house be for a Labrador?
The size of a dog house for a Labrador should be at least 36 inches wide, 38 inches deep, and 32 inches high.
This will provide ample space for your dog's length enabling them to move around, stretch their legs, and comfortably rest inside the house.
What environment is best for a Labrador?
Labradors thrive in environments with ample space to run and play, such as a large backyard or a spacious indoor area.
They also enjoy spending time with their owners and require plenty of exercises and mental stimulation to stay healthy and happy. Nowadays air conditioned dog houses are in the trend.
Where is a lab's favorite place to be pet?
Labradors are social and affectionate dogs that enjoy being petted and touched all over their body. However, some of their favorite spots include the base of their tail, chest, and ears.
Can Labradors be house dogs?
Labradors can make excellent house dogs with enough exercise and attention. They are known for their friendly and loyal nature, making them great family companions.
Ensure they have enough space to move around and engage in physical activity to prevent boredom and destructive behavior.
Are igloo dog houses cool in the summer?
Yes, igloo dog houses can be cool in the summer. The curved walls of an igloo help to reflect heat away from the house, and the small opening helps to prevent hot air from getting inside.
Additionally, many igloo dog houses are made with insulated materials that help to keep the heat out.
Best dog houses for warm weather
The best dog houses for warm weather are made from materials that insulate well and allow for good air circulation. Some good options include:
Igloo dog houses: Igloo dog houses are made from durable plastic that is resistant to heat and moisture. They also have a rounded shape that helps to reflect sunlight and heat away.
Wooden dog houses with insulation: Wooden dog houses can be insulated with foam or other materials to help keep them cool in the summer. It is important to make sure that there is also good ventilation in the dog house, so that hot air can escape.
Elevated dog beds: Elevated dog beds can help to keep your dog cool by raising them off the hot ground and allowing air to circulate around them.
Are igloo dog houses cool in the summer?
Yes, igloo dog houses can be cool in the summer. They are made from durable plastic that is resistant to heat and moisture, and their rounded shape helps to reflect sunlight and heat away. Additionally, igloo dog houses often have ventilation vents that allow for good air circulation.
Are labs indoor or outdoor dogs?
Labrador Retrievers are adaptable dogs that can live indoors or outdoors, but they are best suited for a home with a large yard where they can get plenty of exercise.
If you choose to keep your Lab outdoors, it is important to provide them with a well-insulated dog house that is cool in the summer and warm in the winter.
Conclusion: What size of dog house for labradors is best?
Our top picks are the Petmate Precision Extreme and the Petmate Indigo Igloo Dog House. These premium quality dog houses provide ample space for larger breeds of dogs while keeping them warm during winter months with their unique insulation features. 
If you want air conditioning, consider premium versions of these 2 brands.
They also come with easy assembly options to save time on setup and maintenance. Don't let your furry friend stay exposed to harsh weather outside; invest in one of these high-quality dog houses today! 
With free delivery options and a 30-day return policy, you cannot go wrong with purchasing a Petmate Precision Extreme or Petmate Indigo Igloo Dog House from trusted brands like Precision Pet Products!
Author Profile
Aritra, the founder of Labradorandyou.com, is a lifelong dog lover whose passion ignited for Labradors for their loyalty and intelligence. With extensive research and personal experiences, Aritra has become a Labrador expert, offering a rich resource on the breed. Labradorandyou.com provides reliable, timely, and evidence-based information, including Labrador-specific product reviews, training techniques, and care tips.

Labradorandyou.com was born out of Aritra's passion and his desire to share his profound knowledge about the breed. The site serves as a comprehensive resource, offering a wealth of up-to-date information for Labrador owners and enthusiasts alike