Is finding a secure, easy-to-install pet door for your furry friends challenging? It's estimated that in America alone, 67% of households own a pet. Many of which could benefit from electronic doors.
This review will guide you through the best available options in 2023. We will detail their unique features and benefits.
 Ready to help your pet gain some independence? Let's dive in!
The PlexiDor Performance PDE Electronic Pet Door for Dogs and Cats ranks number one on our list. It is backed by its highly innovative features and exceptional built quality. 
The door is engineered with hardened aluminum frames with a baked-on powder coating. This pet door ensures durability and resistance against scratches. 
It also boasts an electronic mechanism where the ABS panel slides up and down like a mini garage door – functional yet stylish.
It's easy to install in walls made of stud, brick, block, or cement up to 12 inches thick. The cement walls of the door accept dogs weighing up to 125 pounds. 
Another great feature is the secure locking system. When not in use, an ¼ inch stainless steel deadbolt locks the door, providing extra security.
The added advantage is the inclusion of two PDE collar keys. They are waterproof and lightweight. Interestingly, these keys require no batteries. 
But you can add or change thousands of codes with just one-touch programming.
You can set timings for how long the door stays open. Safety features ensuring it won't close if obstructed set it apart from other pet doors. 
This product will not interfere with your underground fences or home security systems. Manufactured in the U.S.A., this wall-mount dog door stands out among competitors.
Its superior technology-infused performance and being child-safe earn its top spot on our list.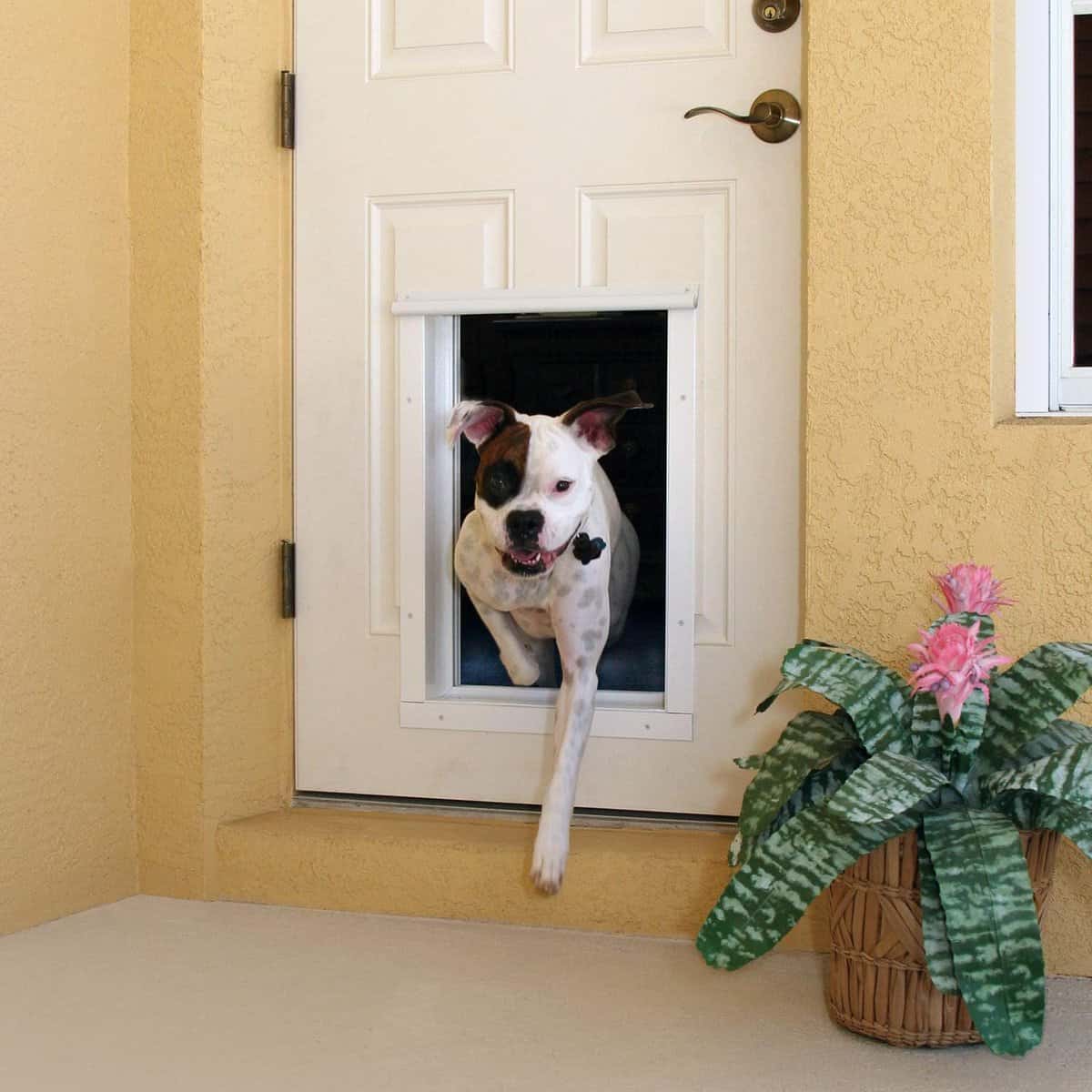 The PetSafe Electronic SmartDoor is a game-changer for pet parents with its intelligent and convenient features. It ingeniously uses an Electronic Pet Door Key.
Your pet can wear it on their programmable collar tags for selective pet access. It unlocks it when it detects the key within an adjustable range of up to 3 feet. 
This innovative device ensures that only authorized pets can enter or leave the house. Its battery-operated (4 D-Cell Batteries required) mechanism guarantees efficient operation.
The door offers ease of installation in both interior/exterior doors. Purchasing a separate Wall Install Kit is also an option for wall installations.
What sets this product apart is its ability to accommodate multiple pets. It has programmable modes for up to 5 Electronic Pet Door Keys, making it ideal for multi-pet households. 
Homeowners can customize pet access for each. Giving them control over entry, exit, and auto-locking options based on individual needs. 
The automatic locking feature securing behind your pet after they pass through is great at keeping unwanted animals out. As part of the trusted global leader brand in pet lifestyle innovations since 1998, you can count on the quality of PetSafe.
These rust-free Never Rust Automatic Dog doors suit large pets up to 100lb. It does not compromise the safety or comfort of your furry friends.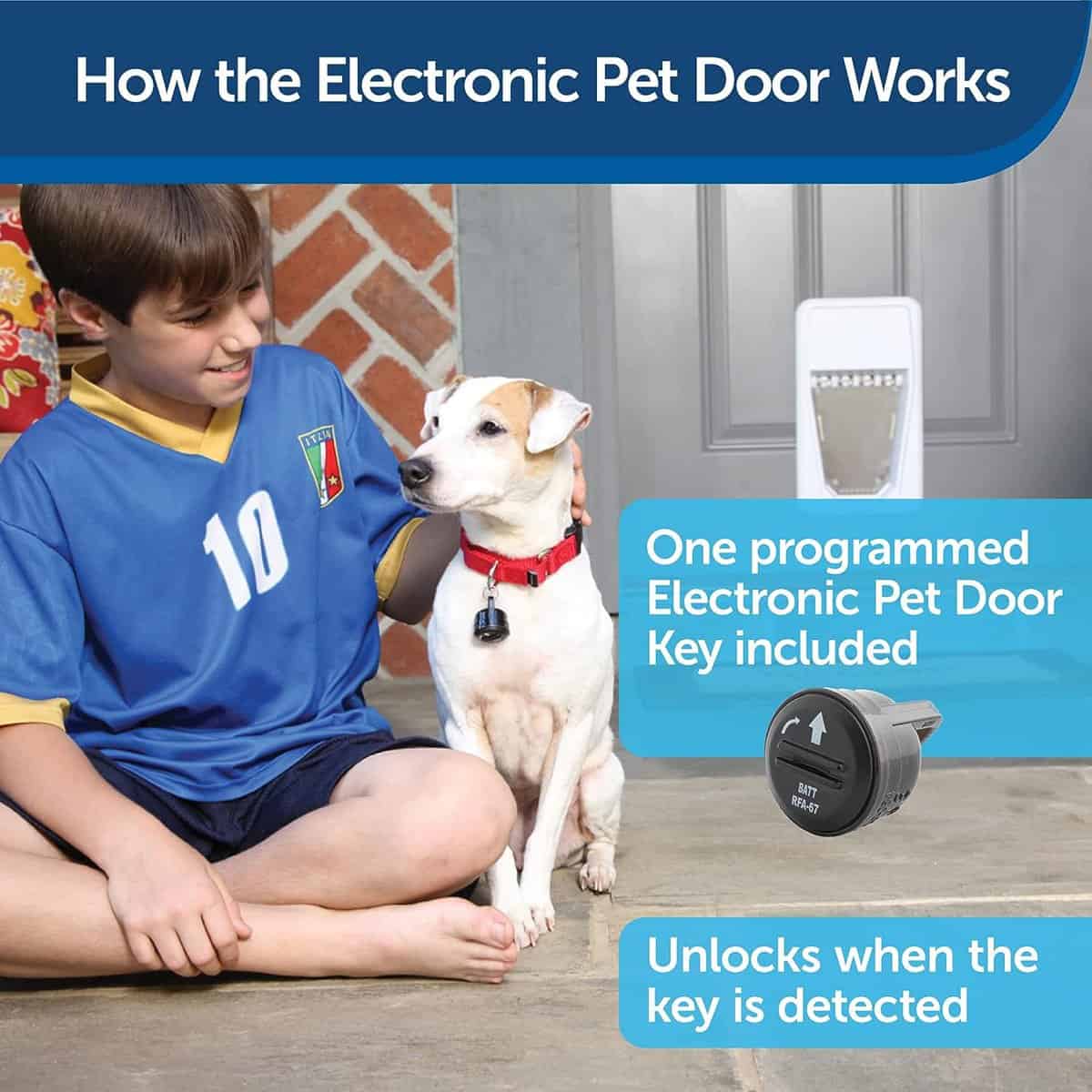 The High Tech Pet Power electronic pet door PX-1 is a marvel of innovation and convenience for pet owners. This motor-driven, ultrasonic collar door offers your pets the power to come and go without discomfort. 
The patented design allows the translucent door panel. It is made from bulletproof resin, silently gliding upward when your pet approaches it. 
This unique vertical movement and hermetically sealed grooves provide an airtight seal. It is completely wind and weather-proof, ideal for extreme weather conditions.
This innovative pet door's key strengths lie in its security features and directional sensing system. A standout attribute is its automatic deadbolt locking feature.
This enhances home safety against wild animals or stray animals. The directional sensing system only opens when your beloved pet approaches directly.
It excludes accidental openings due to proximity wandering or sleeping next to the door. It includes convenient 4-way access control settings: In Only, Out Only, Full Access, or Closed & Locked modes.
With all these exciting attributes, High Tech Electronic Pet Door PX-1 makes us rank it at No.3.
It is ahead of many available options regarding technology integration and user-friendliness.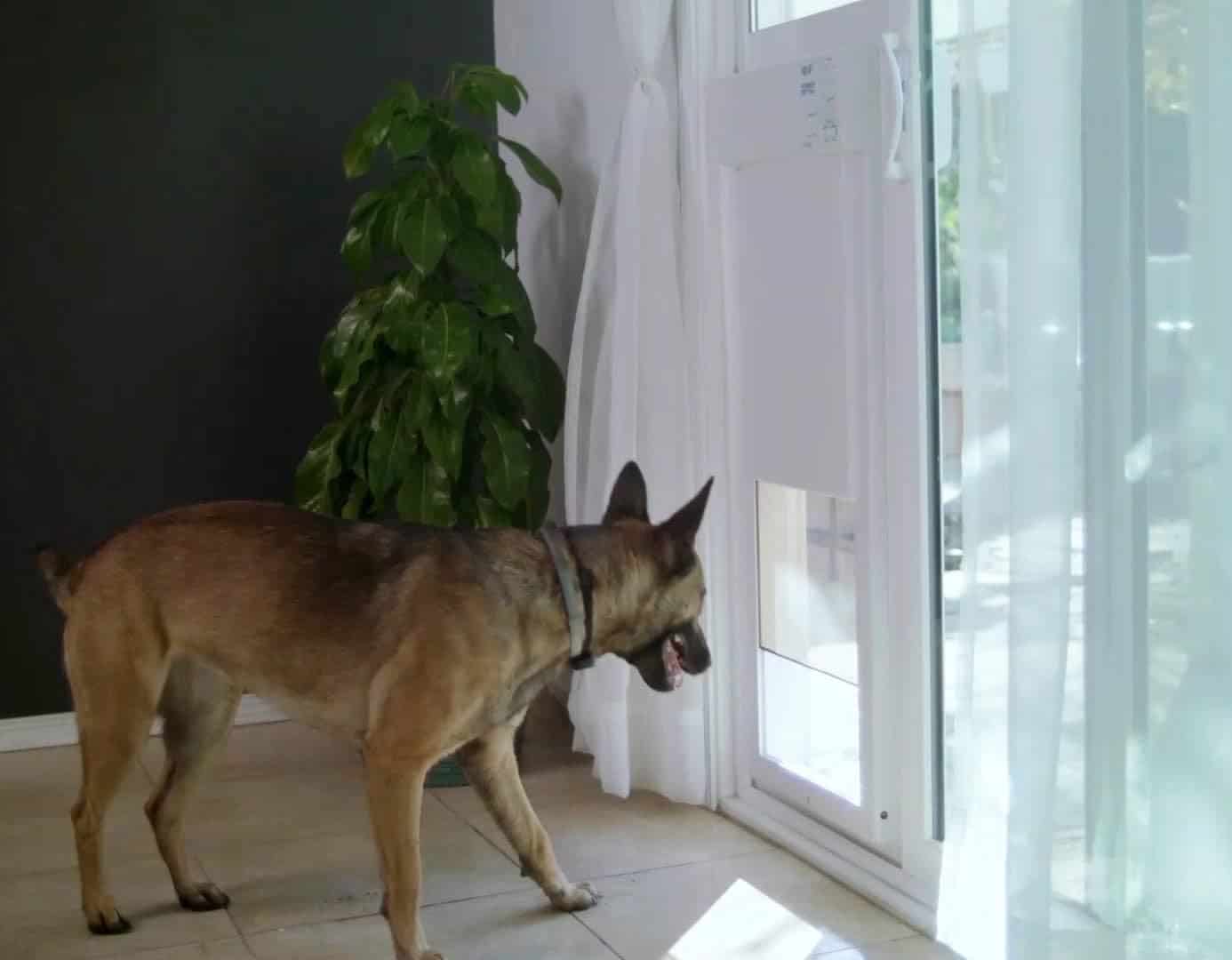 The Power Pet Large Electronic Pet Door PX-2 enhances your pet's freedom and home security. Unlike traditional pet doors, it is motor-driven and activated by an ultrasonic collar. 
This means the door opens only for your pet, keeping unwanted visitors out of your home. The directional sensing system ensures the door operates solely when your pet approaches it.
These electric dog doors boast design choices tailored not just for convenience but also for enhanced functionality. It has a 12-1/4 by 16-inch panel size for pets up to 100 pounds.
This weatherproof device features four-way access control — Only, Out Only, Full Access, or Closed and locked. It gives you full control over accessibility based on different situations. 
Also worth mentioning is its automatic deadbolt locking feature. It hikes the level of security in case any intruder animals try to tamper with it.
The High Tech Power PX2 Electronic Dog Door uses advanced technology to streamline everyday doggy routines. 
Its thoughtful design elements, like the air-tight sealing system and excellent durability, make this more than just a novelty item. The door is a valuable addition to homes with pets.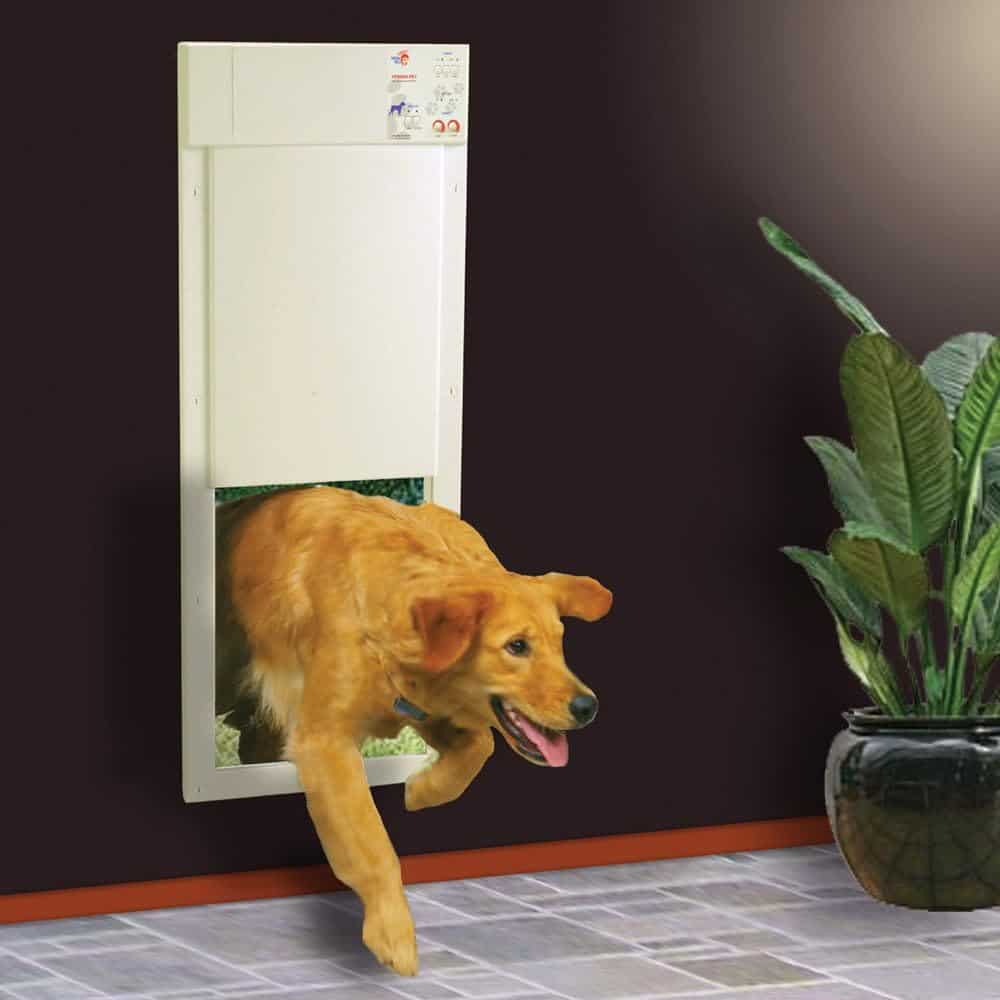 The PetSafe PPA11 Electronic Smart Dog Door perfectly balances innovation and practicality. This state-of-the-art pet door facilitates controlled pet access.
It ensures their safety while granting them freedom to roam indoors and outdoors. This is worth considering if you are a pet owner searching for solutions that give you peace of mind.
One admirable element about this PetSafe door is its focus on quality assurance. It's made in the USA, promising trustworthy construction resilience against rust. 
The operation requires four D-Cell batteries, which means no tricky wiring woes for you. It's designed with modern households in mind.
If yours has multiple pets, know each can have a programmable electronic pet door key. You can have up to five keys at once! 
Another pathbreaking feature is "programmable modes," letting you customize your pet's access according to need.
They offer staunch customer care support from the U.S., ready to serve any assistance needed during installation or more. 
Whether your furry friends weigh merely a few pounds or measure up to 100 lb giants, they will enjoy streamlined passage. These automatic dog doors by PetSafe bring both relief and joy!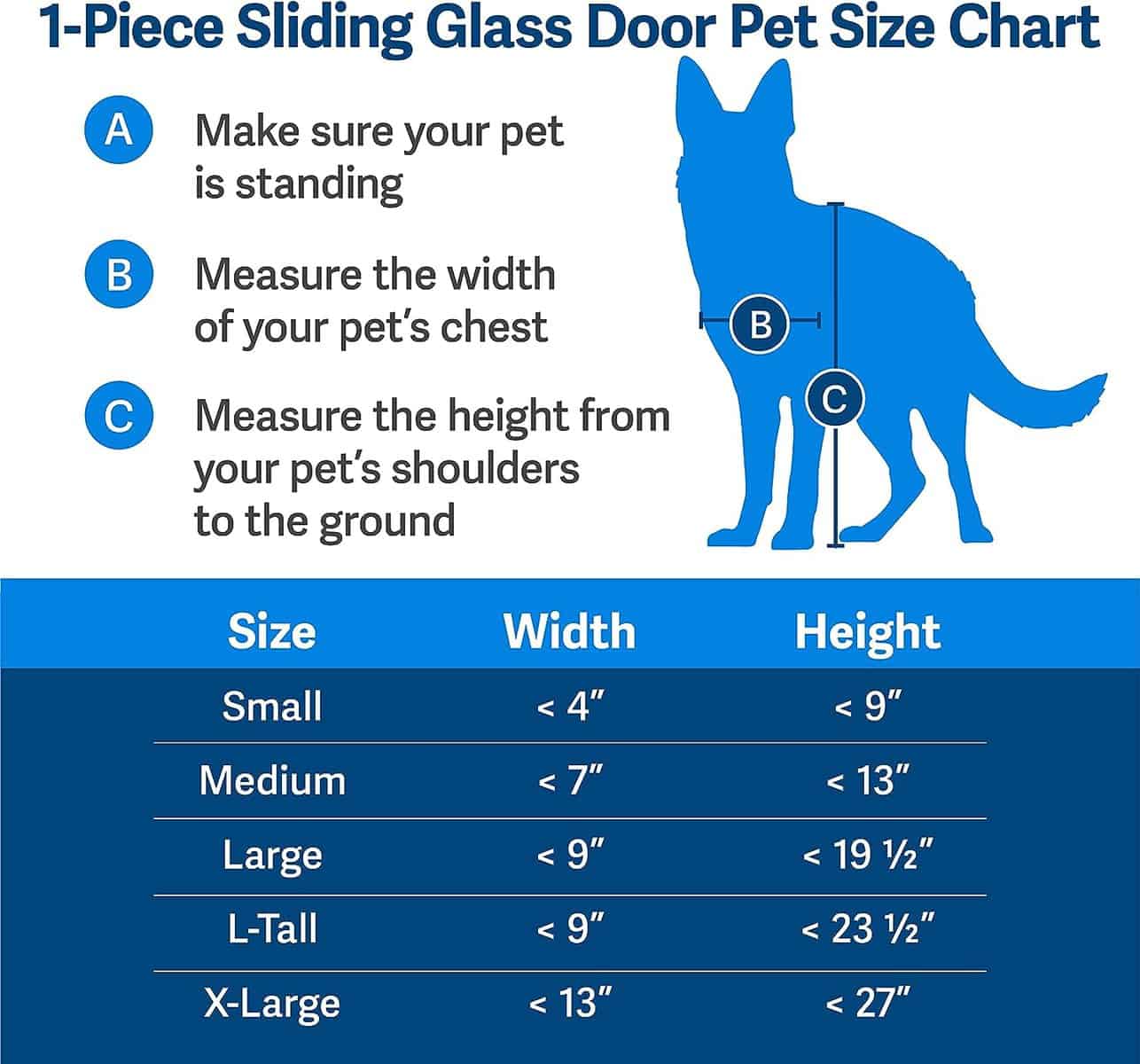 The PetSafe PPA00 Magnetic Dog Door is an ingenious solution for pet owners. It delivers convenience without compromising safety. 
A standout feature of this door is its magnetic strips. It ensures it closes securely after your pet has passed through it, keeping unwanted critters out. 
It has a durable plastic frame that can be painted to match your home's aesthetic appeal, the PetSafe Dog Door is versatile. This dog door's design is specifically for pets up to 15 pounds.
It has a correct size range for small-breed dogs and cats. The flap opening measures 5 1/8″ x 8 1/4″, providing ample space for your pet. 
A snap-on closing panel allows you additional control over accessibility when needed. It is an ideal feature if you want to restrict movement during certain times.
Frame dimensions are at a modest 7 1/2 " x 11", and the cutout size is just slightly smaller than the frame itself (6 3/8" x10-1/8"). Implementing your new PetSafe PPA00 door into your current setup is straightforward. 
This Small White Pet Door is perfect for a curious cat or a perpetually perky pup. It offers great value and functionality rolled into one package.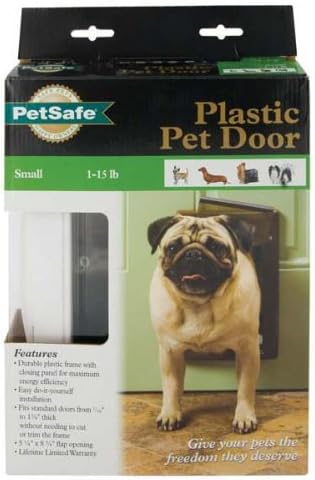 The Avid Secure Electronic Dog Door stands out in the market of pet doors. Its innovative use of technology and a high level of security make it a game changer.
Integrating RFID microchip recognition simplifies your daily tasks as a pet owner and ensures safety. It prevents stray or intruder animals from entering your home. 
Its compatibility with most common microchip types provides an additional layer of convenience. You don't need to worry about whether or not it will work with your pet's existing implant.
Crafted thoughtfully for small dog breeds and cats, this pet door boasts practical design choices. The selective entry mechanism allows pets to leave freely while keeping unwanted visitors out. 
Curfew modes enable users to program door lock times. Battery-powered and portable, these electric dog doors offer flexibility, allowing installation anywhere around the house.
The SureFlap-Sure Petcare Microchip Pet Door is more than just an entrance exit point. It assures your furry friends are safe even when you're away from home.
Investing in this product means investing in peace of mind, knowing our beloved companions have the freedom they crave.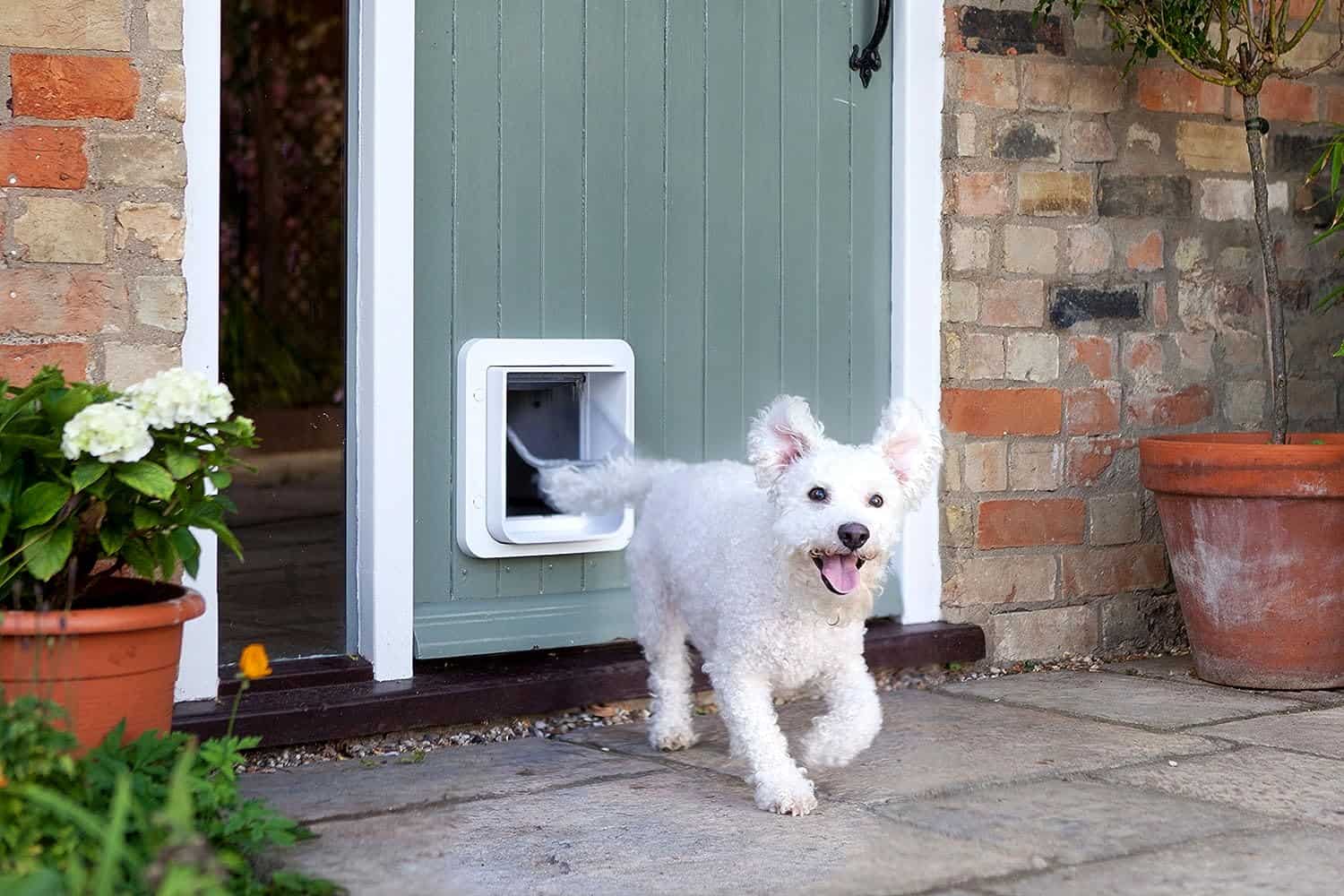 Factors to Consider When Choosing an Electronic Dog Door
When choosing electric dog doors, consider your pet's size options and compatibility. Focus on installation options, security features, maximum energy efficiency, and customer reviews and ratings.
Size and Compatibility
One of the first considerations for purchasing electric dog doors is understanding the size and compatibility. Measuring your canine companion from shoulder to paw is important.
A too-small door could cause discomfort or injury, while a larger one may be unnecessary and take up extra space. 
Similarly, compatibility matters as well. Certain pet doors are designed for specific wall types or doorway sizes. Others work with sliding glass doors, and some provide standalone installations.
Also noteworthy is whether the electronic mechanism in the pet door easily works with your home's existing technology setup.
Installation Options
Electronic smart dog doors can be installed in different areas of your home. This allows you to determine the most convenient location according to your pet's habits and your home's setup.
Choose from wall-entry pet doors, sliding glass dog doors, and standard door mounts. Wall entry options are ideal if you prefer not to alter existing doors or don't have suitable ones for installation. 
Specific electronic dog door modules fit into the tracks for homes with glass patio or balcony access via sliding glass doors.
These offer easy in-and-out access for pets without requiring major modifications. Traditional door-mounted units remain popular as they can easily be installed in interior and exterior doors.
Security Features
Electronic smart dog doors have high-tech security features to protect your home from unwanted intruders.
Many models, like the Avid Secure and PetSafe PPA11 Electronic Smart Dog Door, utilize smart technologies.
They have a digit microchip or RFID collar tags that only allow access to your pets. Some advanced pet doors have timed lock settings and can be controlled remotely via smartphone apps or WiFi. 
These added layers of protection ensure peace of mind. Only your furry friends have authorized access through the electronic pet flap.
Energy Efficiency
Choosing an energy-efficient electronic dog door is essential. It reduces your home's energy consumption and saves money on your electricity bill. 
Look for features like insulated double flaps and automatic timers to minimize heat loss during colder months. Opt for dog and cat doors with sensor technology that detects when your pet is near.
It prevents unnecessary drafts. Select an energy-efficient electronic dog door to provide convenience for your furry friend while being mindful of the environment.
Customer Reviews and Ratings
Customers play a crucial role in determining the quality of electronic dog doors. Their reviews and ratings provide valuable insights into these products' performance, durability, and user-friendliness.
By reading customer feedback, you can better understand whether an electronic dog door is worth investing in. Look for doggy doors with consistently positive reviews and high ratings.
Features and Benefits of Electronic Doggy Doors
Electronic smart dog doors have various features and benefits, making them a convenient addition to any home. One key feature is the ability to lock or unlock the door remotely.
It gives you control over when your pet can go in and out. This is especially useful if you're at work or away from home for extended periods. 
Another benefit is maximum energy efficiency. Electronic dog doors often have maximum insulation and sealing features.
This prevents drafts and keeps your home cool in summer and warm in winter.
Some models offer adjustable sizing options, allowing you to accommodate dogs of different sizes. You can provide your furry friend the freedom they need with an electronic dog door.
Pros and Cons of Each Electronic Dog Door
When selecting an electronic dog door, weighing their pros and cons is important. This can help determine which best fits your and your pet's needs. Here's a quick comparison:
Conclusion
Several factors must be considered when choosing the best electronic dog door in 2023. Find a door that meets your pet's needs, from size and compatibility to security features.
A highly recommended option includes the PlexiDor Performance PDE Electronic Pet Door for Dogs and Cats. It has a durable aluminum construction and easy installation.
The PetSafe Electronic Smart Pet Door offers added security with its lock closure type.
With these top-rated options, you can provide convenience and freedom for your furry friend while keeping your home secure.
FAQs
1. How Does An Electronic Dog Door Work?
An electronic dog door uses sensors or a microchip to recognize your dog's unique identification. It allows access in and out of the house automatically.
2. Can Multiple Dogs Use The Same Electronic Dog Door?
Yes, multiple dogs can use the same electronic dog door. They must be programmed into the system with their individual identification information.
3. Are Electronic Dog Doors Safe For My Pet?
Yes, electronic dog doors are safe for pets. They are designed with safety features like sensors. It prevents them from closing on your pet while entering or exiting.
4. Do I Need Professional Installation For An Electronic Dog Door?
It depends on the specific model and your comfort level with DIY projects. Some electronic dog doors can be easily installed by following installation instructions. Others may require professional installation.
5. Can I Control When My Pet Uses The Electronic Dog Door?
Yes, many modern electronic dog doors offer programmable timers. You can set specific times when your pet is allowed access through the door and restrict it at other times if desired.