Does your dog's coat get tangled and matted? Detangling by hand can be frustrating and even painful for your pup. That's why investing in a quality dematting tool is essential for any dog owner. Our premium dematting combs use gentle, rounded teeth to smooth out knots and tangles without pulling or scratching your dog's skin. The ergonomic handles provide comfort while working through tough mats.
For long or thick coats, our dematting rakes feature rows of stainless steel blades to cut through clumps quickly and safely. With the right dematting tool, you can keep your dog's coat healthy and knot-free. Say goodbye to stressful brushing sessions and give effective, pain-free grooming a try!
The FURminator Adjustable Dematting Tool has been my go-to solution for removing matted hair from dogs and cats. Its unique features, such as the fur-extender button that adjusts the edges, make this tool suitable for all coat types and lengths.
The ergonomic handle gives me maximum control while using this versatile dematter, ensuring that even those hard-to-reach areas are dealt with efficiently. Moreover, the curved cutting edges add an extra layer of safety when working through tough mats on my pets' fur. 
With a durable design meant to last, I confidently recommend this product as No. 1 because it makes grooming sessions much easier and enjoyable for me and my pets. Investing in the FURminator Adjustable Dematting Tool is a decision you won't regret as a pet owner.
Pros
Safely and easily removes matted hair
Adjustable edges to work on all coat types and lengths
Ergonomic non-slip handle for maximum control
Curved edges ensure the safe and efficient removal of mats
Cons
Not suitable for use on wet fur
The adjustable edges require some manual effort to change position.
With its undercoat rake design and safety edges, this de-shedding tool works great for cutting and removing dead, matted, or knotted hair without causing discomfort. This dematting comb's ergonomic inline design ensures it is comfortable during grooming sessions.
Its anti-slip rubber grip and additional metal thumb grip help prevent hand & wrist strain while you navigate through different fur types, especially those prone to tangles and mats. 
The rust-resistant stainless steel teeth are durable and easy to clean after use. Moreover, the rounded tips protect your hands and your pet's skin from harm. This effective tool features 2.5-inch serrated teeth that quickly cut through tough mats without painful pulling – proof that it deserves its No. 2 spot on our list!
I have experienced how challenging it can be to remove stubborn mats and tangled fur from my dogs' coats. However, with this double-sided comb at my disposal, keeping their grooming woes at bay has become a breeze!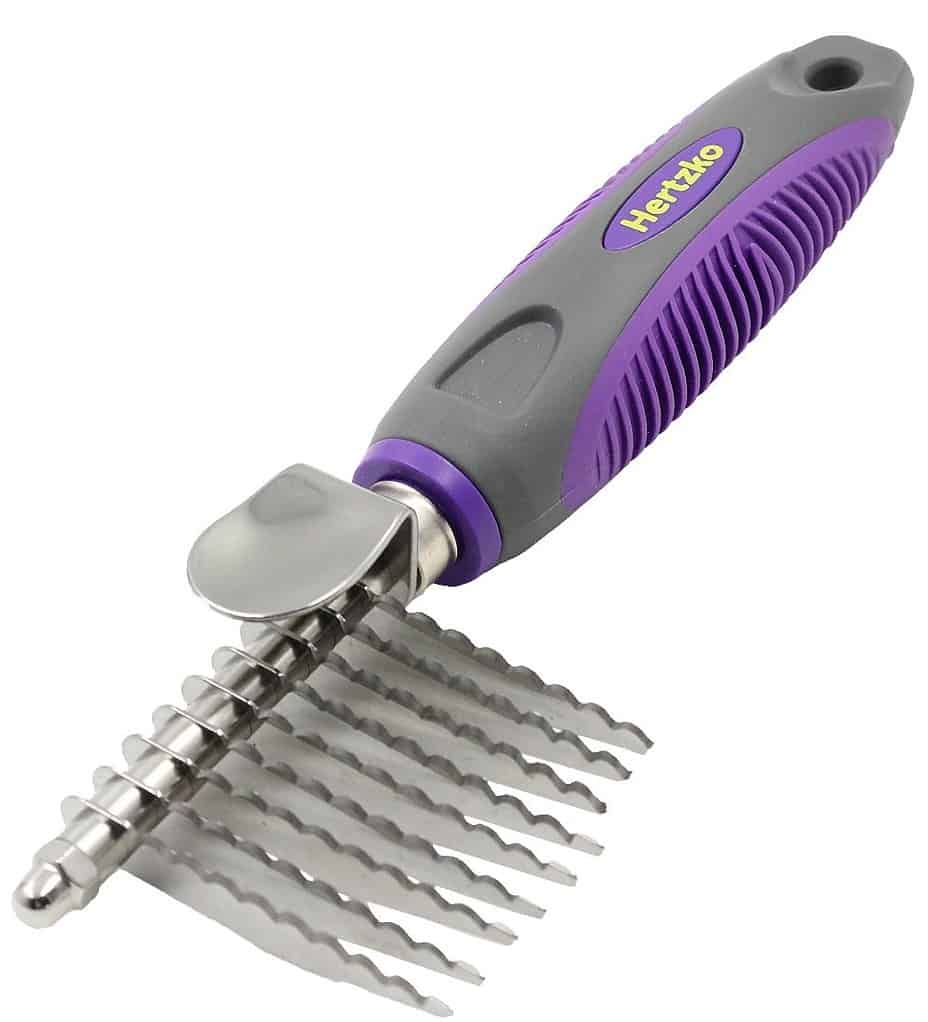 Pros
Prevents hand and wrist strain during grooming sessions
Suitable for all fur types, including those prone to tangles and mats
Features rust-resistant stainless steel teeth for durability and easy cleaning
Rounded tips protect your hands and pet's skin while cutting through tough mats.
Cons
Can be too sharp for pets with sensitive skin, requiring extra care during use.
The comb teeth may become clogged with hair and require frequent cleaning.
The GoPets Dematting Comb has become an essential tool in my grooming kit. This 2-sided professional dematting rake is designed for cats and dogs, effectively cutting through tangles without causing discomfort. The sharp stainless steel blades ensure a painless experience.
One feature that sets this comb apart is its non-slip silicone gel-filled handle, which adapts to any grip style for maximum comfort. The dual-purpose design of this comb allows it to function as a dematting brush or detangling comb on one side and an undercoat comb or de-shedding rake on the other. 
As our No.3 pick in our list of top grooming tools, over 18,000 satisfied users agree that the GoPets Dematting Comb delivers professional results with minimal effort from you.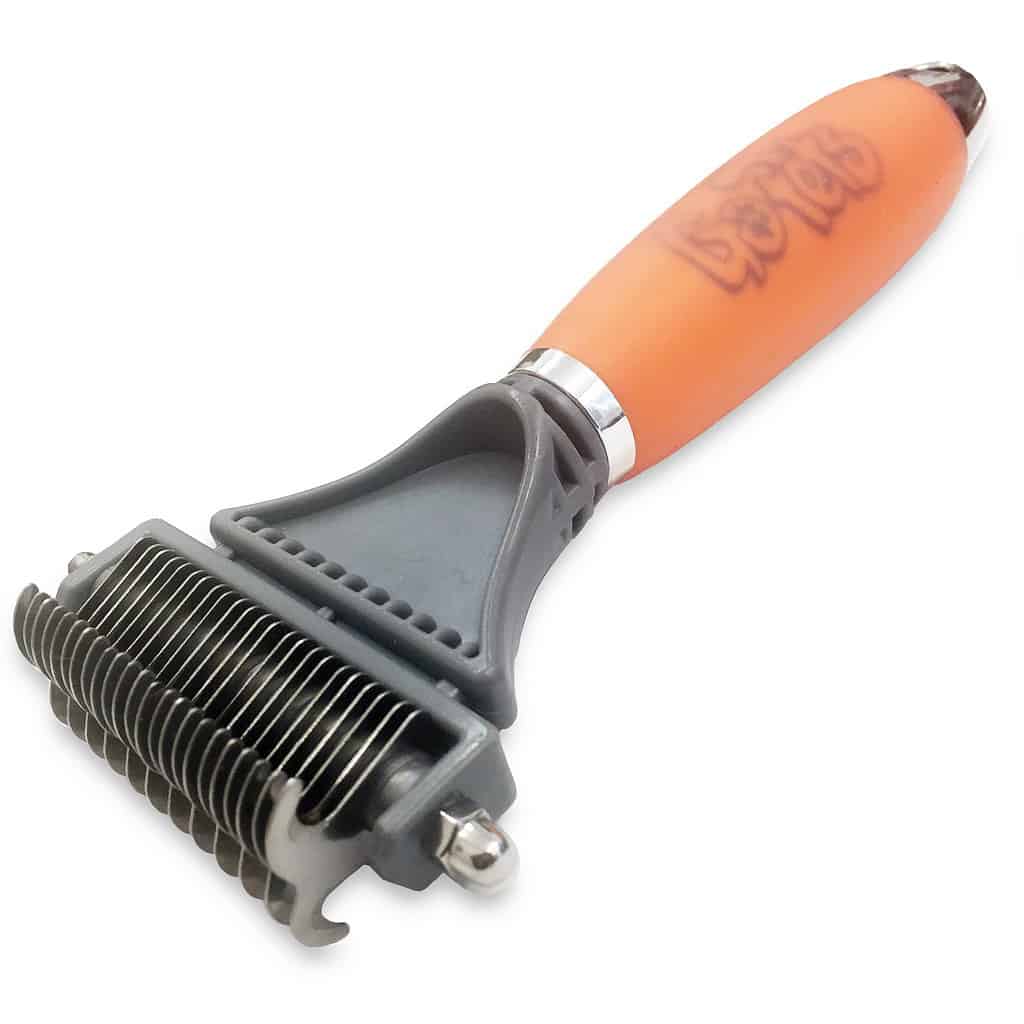 Pros
Stop hurting pets with sharp stainless steel blades that cut through mats and tangles instead of pulling hair out.
Rounded ends make it safer on sensitive skin, providing a more comfortable experience for pets.
The non-slip silicone gel handle conforms to your hand, allowing for easier comb use.
Multiple uses as a dematting brush or detangling comb, undercoat comb or de-shedding rake.
Cons
May need to work more effectively on extremely thick or curly hair.
The sharp blades require caution and may pose a risk to pets if misused.
This dematting tool has been designed for dogs with longer hair and effectively removes knots, matted patches, and tangles from their coats without causing pain or discomfort. The rake features 10 sharp, rounded blades that cut through mats and prevent scratches on your pet's skin.
In addition to making grooming sessions more enjoyable for you and your pet, it promotes healthy skin and coat by clearing away dead fur and brushing out dirt or debris. This tool has a rubber handle with ridges for a secure grip during grooming sessions. It helps prevent slips and accidents, even with wet hair.
I've noticed significantly less shedding around my home after consistently using it on my pets. If you're looking for an effective solution, look no further than the Andis Dematting Rake 66050 de-matting grooming brush. This product caters to dog grooming sessions with top-notch materials like stainless steel blades and ergonomic design elements.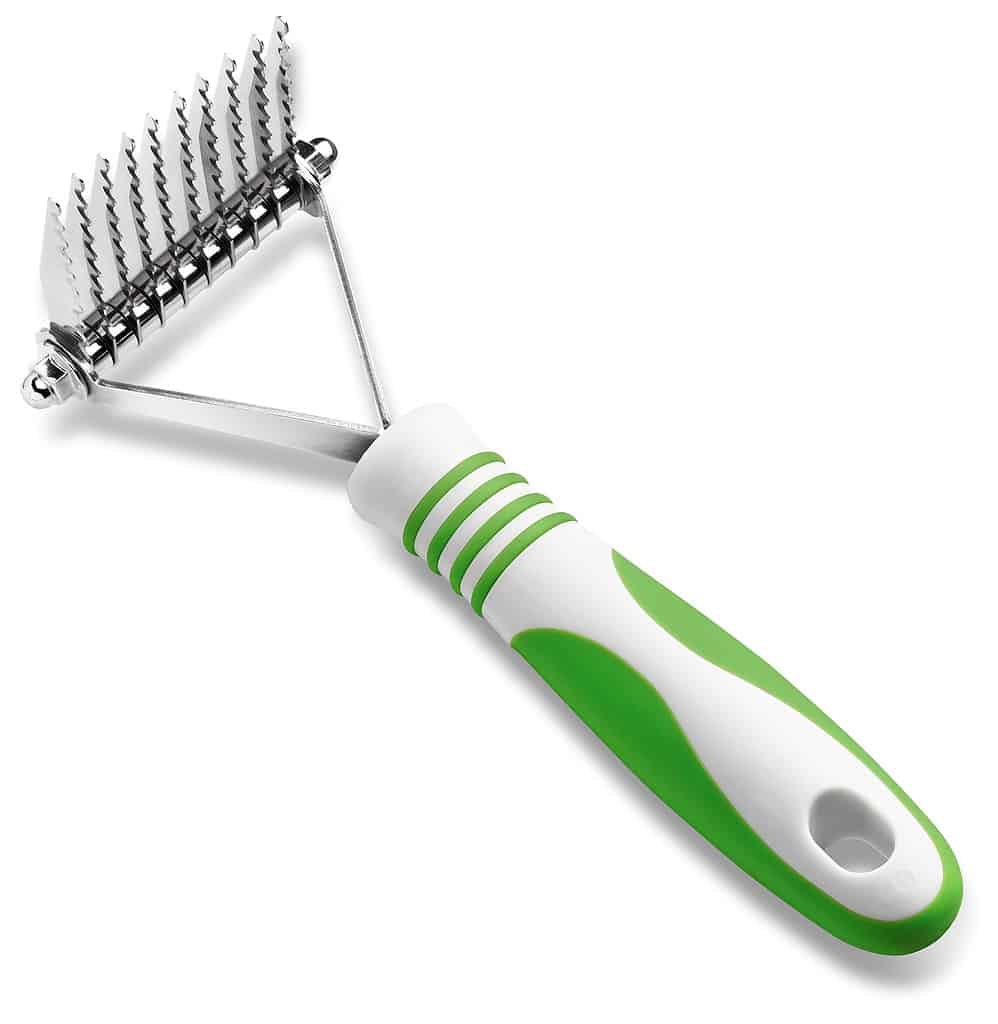 Pros
Effective at gently removing knots, tangles, and matted patches from long-haired breeds
Features a non-slip handle for secure and safe grooming on wet or dry pet hair
Promotes healthy skin and coat with its ability to massage, groom, and de-shed pets
Comes with 10 sharp blades that cut through mats while preventing scratching of the pet's skin
Cons
May be challenging to use on dogs or cats with sensitive skin
Only one size is available, which may not work well for very large or small pets
The all-in-one tool makes detangling, de-shedding and brushing a breeze, offering an enjoyable grooming experience for you and your furry friend. Owning breeds like Golden Retrievers, Poodles, Goldendoodles, Collies, or German Shepherds can be challenging.
However, the RUBOLD Dematting Tool ensures this process becomes hassle-free. This undercoat rake has nine teeth on one side for tackling stubborn mats and tangles and 17 teeth on the other side to thin out or deshed faster, making this undercoat rake one of the best options available. 
No more worrying about dog hair scattered around your home – a simple five-minute brushing session will remove tons of dead undercoats from your canine companion. 
Moreover, this fine tooth comb has rounded edges outside to prevent any scratching or discomfort during grooming while remaining sharp inside to clear out unwanted matting effectively. The ergonomic design and solid non-slip grip provide ease of use during grooming routines.
You'll have more playtime with your pup after achieving excellent coat maintenance with the RUBOLD Dematting Tool! It keeps your pet looking fabulous and ensures they stay comfortable by eliminating scratchy tools that can irritate sensitive skin areas.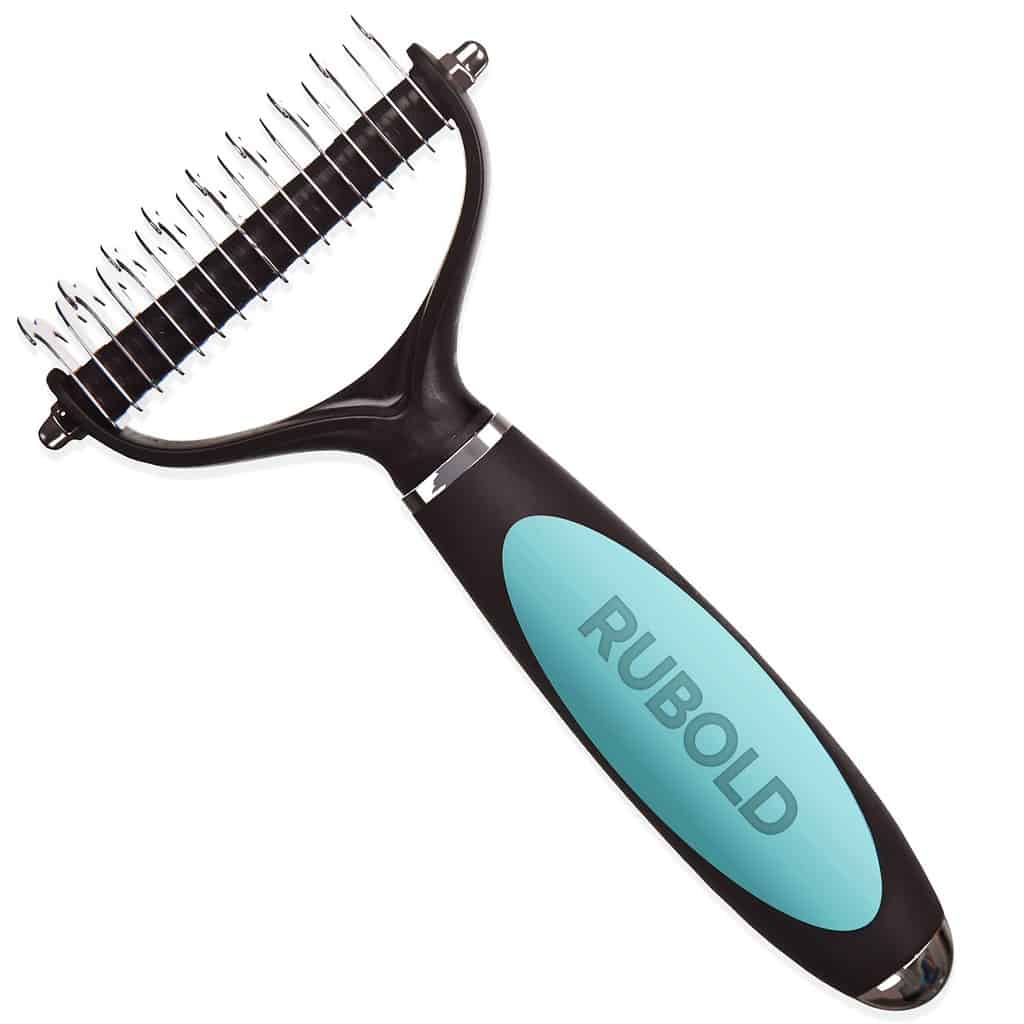 Pros
3,6-inch wide grooming tool for detangling, de-shedding and brushing simultaneously.
Ergonomic, strong, non-slip handle for easy and pleasant use.
Can be used on medium to long hair coats of all breeds without scratching or hurting sensitive skin.
Removes tons of unnecessary dead undercoats from your furry friend in just 5 minutes.
Cons
May not be suitable for short-haired dogs
Some users may find the tool a bit heavy or bulky
May require some skill and practice to use effectively on a very thick mat
The dual-sided 12+23 teeth design is nothing short of genius. The 12-teeth side tackles those pesky tangles, while the 23-teeth side works wonders in thinning out hair or speeding up de-shedding. 
One of this tool's standout features is its sharp stainless steel teeth, making quick work of even the densest fur. Yet their rounded outer edges ensure your pet remains unharmed during grooming sessions. 
With an ergonomic non-slip handle allowing easy control and precise handling, it's no wonder this dematting tool has become a go-to solution. Apart from delivering high-quality performance at a great value, Pet Republique donates 15% of profits to the American Animal Rescue Society.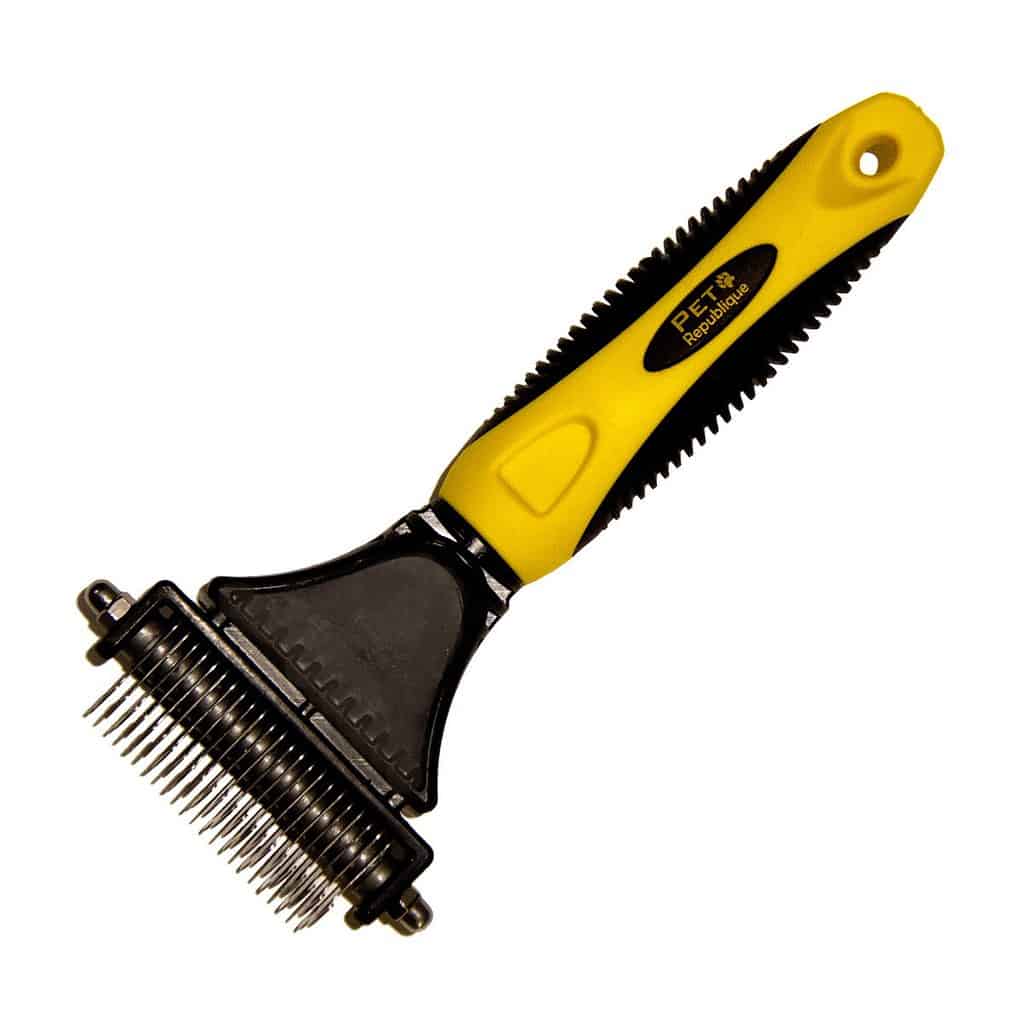 Pros
High-quality stainless steel teeth that are strong and durable
15% of profits donated to the American Animal Rescue Society
30-day money-back guarantee and one-year warranty for customer satisfaction
Safe, dual-sided design with sharp but rounded blades for effective de-matting and tangle removal
Cons
May not be suitable for pets with very short hair
Some users may find the tool too sharp or aggressive on their pet's skin.
This fantastic comb is specially designed for smaller dogs and puppies, ensuring that our petite pals get the same level of care as their larger counterparts. The stainless steel serrated blades efficiently break apart mats and tangles without touching your dog's skin.
One of the standout features of this de-matting comb is its ergonomic handle, designed for both right- and left-handed users. The Coastal Pet Li'l Pals Dog Dematting Comb is a gentle and effective option for maintaining your small dog or puppy's coat. Many responsible pet owners have found it reliable in promoting their pet's well-being.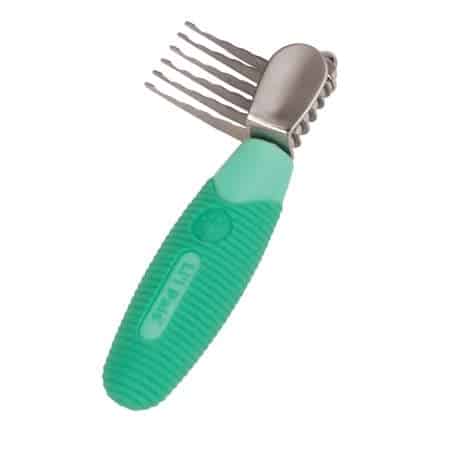 Pros
Improves emotional bond between pet and owner through grooming
Comfortable to use with an ergonomic handle for effective results
Scaled down for petite pets and can be used with both left and right hand
Breaks apart mats using stainless steel blades, promoting early adoption of proper grooming habits
Cons
May not be suitable for larger dogs with thick coats
Stainless steel blades may require frequent cleaning to prevent rusting
This dematting tool with a stainless steel shedding comb gently remove loose hair from your pet's undercoat. Designed for pets with short, medium, or long hair – dogs, cats, rabbits or even equestrian horses.
This rake is perfect for maintaining a healthy coat and reducing shedding by up to 90% after just one session! The Poodle Pet Dog Grooming Rake features two rows of precision tapered pins that delicately remove mats, loose hair and undercoats without damaging other hair.
Its rounded pins ensure effective removal and gently massage the skin, which can help loosen dandruff flakes. Suitable for wet or dry coats alike, this dematting tool caters to various coat types, including double-coated breeds, heavy coats, and rustic coat types.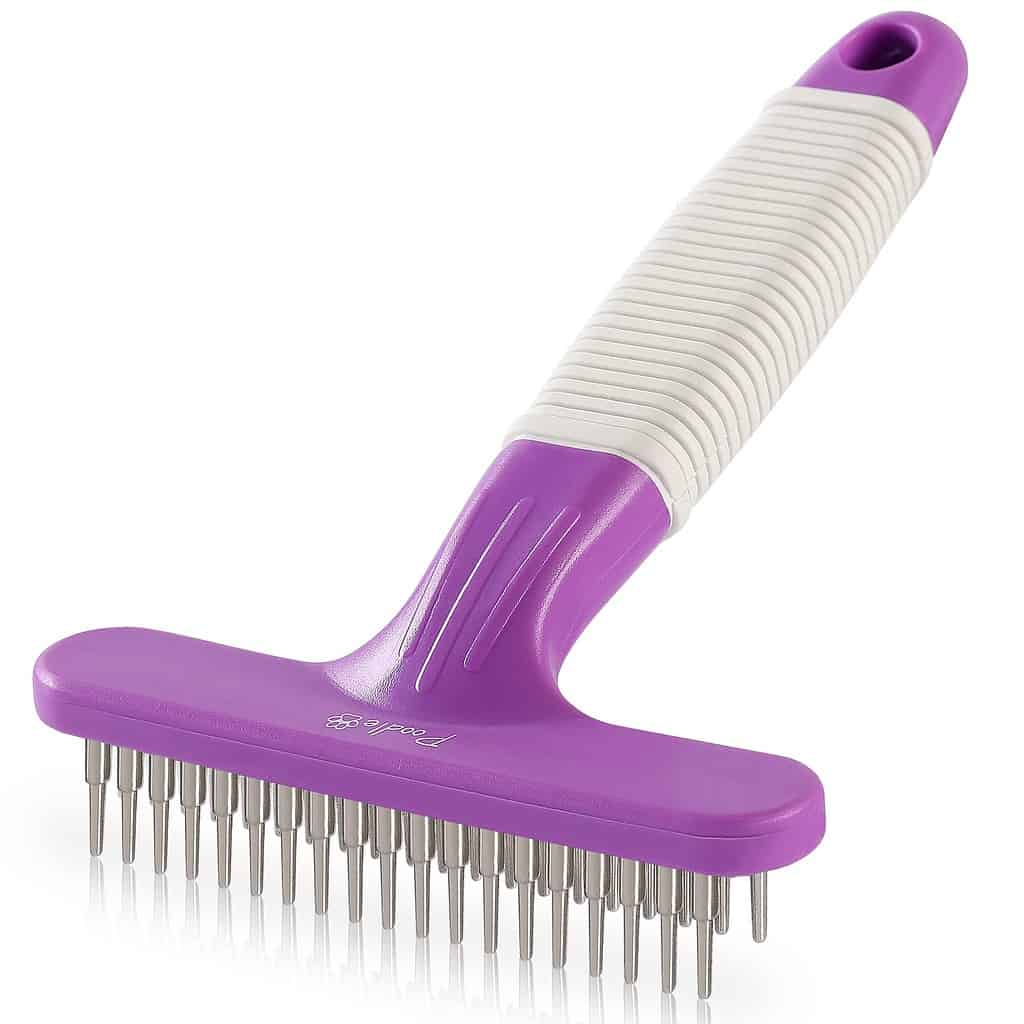 Pros
Removes up to 90% of loose undercoat in one session
Suitable for dogs, cats, rabbits or equestrian horses with short, medium or long hair
Can be used on wet or dry coats without hurting the pet
Mimics hand-stripped look quickly and easily for harsh-coated dogs
Cons
May not be suitable for dogs with very sensitive skin
Can take some time and practice to use it effectively
This versatile tool works wonders on dogs and is suitable for cats and horses. Its dual-head design featuring 9-teeth and 17-teeth sides ensures smooth de-matting and quick coat thinning without causing discomfort to your pet.
Safety is always at the forefront with this de-shedding brush, as it has rounded teeth designed to protect your pet's skin while brushing. The non-slip handle provides an easy grip, making those dreaded grooming sessions much more manageable.  Take it from me; my once-unruly retriever now sports a beautifully maintained coat thanks to this fantastic tool!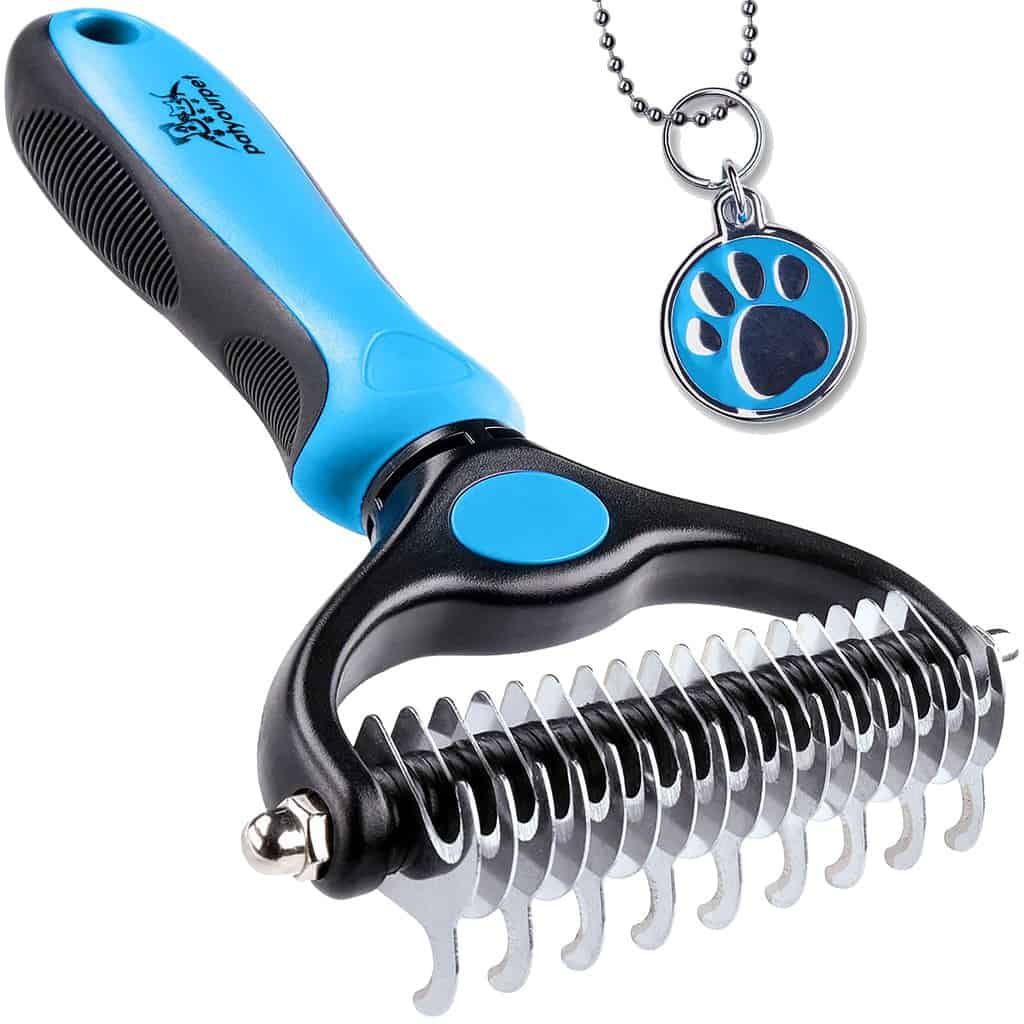 Pros
Easily removes even the toughest knots and tangles from your pet's coat
Non – slip handle provides added comfort and control during grooming sessions
Rounded teeth ensure that your pet's skin stays protected while using the brush
Dual – head design makes it easier to demat, thin out, and deshed your pet's coat in one go
Cons
Not suitable for pets with very short hair.
It can be heavy to hold for longer grooming sessions.
The dual-sided design of this grooming brush makes it perfect for your pet's coat. It has 9-teeth sides to tacket the most stubborn mat and tangles. Once done with the heavy cleansing, switch to the 17 sides for de-shedding your pet's hair nicely.
It is an effective tool that removes dead hair and dander, knots, and dirt. If you have a pet with a dense fur or double coat, this can be beneficial. It allows you to clean their fur without any irritation or scratching easily.
Besides, the lightweight nature and rubber handle enhance its convenience. Groom your dog at home like never before with Maxpower Planet Pet Grooming Brush. 
Pros 
Offers a dual-sided design for versatile use.
Has finely rounded teeth that help with reducing shedding. 
Provide effective results in dogs with thick fur.
Has a non-slip rubber handle for comfortable use.
Can be given as a gift to cat lovers.
Cons 
The hair from the brush flies everywhere.
This de-matting comb from Coastal can be a complete game changer for your dog's grooming needs. From an ergonomic design to ease of use, it offers ample benefits. It has robust stainless steel blades that remove the toughest mats and tangles. 
You can use this comb for dogs with medium and long hair. The grip handle is easy to use and gives you a comfortable experience. It comes in a single size but is an exceptional grooming tool. This innovative grooming comb can keep your dog and home clean.
Pros
Easily removes stubborn mats.
It can be used for any dog breed and hair type.
Has stainless steel blades for effective grooming. 
Does not cause irritation or discomfort after hair removal
Cons 
Some pet owners found it effective only on medium mats and tangles
Blades are far to hold the small knots
Here is another double-sided de-matting comb and de-shedding rake. This professional grooming tool from Malsipree removes dead hair by up to 95%. It effectively controls sheddings and provides a healthy and clean dog coat.
If your dog has dense fur that requires undercoat care, this brush gently penetrates beneath the top coat. It is an ideal tool for dogs with double coats. 
The brush has smooth edges, ensuring optimum comfort for your pets. It can be used for both small-haired and long-haired dogs, making it an ideal option. So, get this versatile grooming tool and say goodbye to matting and shedding. 
Pros
Suitable for all types of coats, including double coats, wiry coats, and long coats.
It is a professional-grade tool that provides effective results.
The brush offers gentle undercoat care by sliding under the topcoat
Gives a gentle skin massage to your dog and boosts circulation.
Has a comfortable design that prevents discomfort or irritation.
Cons 
A Pomeranian owner said their dog could not tolerate the tool.
Techniques For Properly Using Best Dematting Tool For Dogs
To use a dematting tool properly, start working at the base of the mat with gentle and short strokes. Avoid pulling on the skin; reward your dog for good behavior. Consider using a detangling spray or conditioning treatment.
Start At The Base Of The Mat
When dealing with matted dog hair, it's essential to start at the base of the mat. This ensures you don't tug or pull on your dog's skin and cause discomfort or pain. Here are some steps to follow when starting at the base of the mat:
Gently separate the matted fur with your fingers if possible
Position your dematting tool (such as a slicker brush, undercoat rake, or dematting comb) at the base of the mat
Use gentle pressure to work through the tangles and mats, moving slowly from base to tip
Always work in short strokes and avoid pulling too hard on any one section
If you encounter resistance, stop and try to gently loosen the mat further before continuing
Remember to reward your dog for good behavior during grooming sessions
Use Gentle, Short Strokes
A de-matting tool on your dog can effectively remove tangles and mats from their coat. However, it is vital to use the tool correctly to avoid injuring your pet. Here are some tips for using a de-matting tool safely and effectively:
Start by identifying the area of your dog's coat that needs attention.
Begin at the base of the mat or tangle and work your way outwards.
Use short strokes with medium pressure, careful not to pull too hard or snag the skin.
If you encounter a particularly stubborn mat, try working on it in small sections rather than completely removing it.
Remember to reward your dog for good behavior during grooming sessions, such as staying still or remaining calm.
Consider using a detangling spray or conditioning treatment to make the process easier and more comfortable for your dog.
Avoid The Skin
Avoiding the skin when using a de-matting tool on your dog is essential, as this can cause discomfort and potential injury. Here are some tips for avoiding the skin:
Start at the base of the mat and work your way outwards with gentle, short strokes.
Use caution around sensitive areas such as the ears, tail, or belly.
Don't pull too hard or aggressively; this can cause pain and harm your dog's skin.
Be aware of any signs of discomfort or pain from your dog and adjust accordingly.
Use a detangling spray or conditioning treatment to make it easier to brush through matted fur without harming the skin.
Regular brushing and grooming can help keep mats from forming in the first place, reducing the need for de-matting tools.
Reward Your Dog For Good Behavior
As a dog owner, I understand how important it is to maintain good behavior during grooming sessions. Here are some tips for rewarding your dog for good behavior:
Use treats: Treats are an effective way to reinforce good dog behavior while grooming positively. Choose high-quality treats that your dog loves and give them as a reward after each successful brushing session.
Praise: Dogs love praise and attention from their owners. Use positive reinforcement techniques such as verbal praise, smiles or patting on the head whenever they do well during grooming sessions.
Toys: Some dogs may be more motivated by play than food rewards. Consider using their favorite toy as a reward for good behavior during grooming time.
Short sessions: Start with short grooming sessions and gradually increase the duration. This helps to prevent boredom and frustration in your dog.
Consistency: Be consistent in your rewards so your dog learns what behaviors lead to a reward. Consistent rewards will help your dog associate good behavior with positive outcomes.
Use A Detangling Spray Or Conditioning Treatment
Detangling sprays or conditioning treatments can make a big difference when removing mats and knots from your dog's coat. Here are some benefits of using these products:
They help to smooth the hair, making it easier to brush and detangle.
They can reduce breakage and damage to the coat while brushing.
Some sprays contain natural ingredients like aloe vera or chamomile, which can soothe the skin and prevent irritation.
Leave – in conditioners add extra moisture to dry or damaged coats, leaving them looking shiny, healthy, and smelling great.
A detangling spray before brushing can help avoid painful tugging on mats and knots in your dog's fur.
Detangling sprays also prevent static, making combing easier for you and your dog.
When choosing a detangling spray or conditioning treatment for your dog, look for products with natural ingredients that won't harm their skin. With regular use, matting becomes less of an issue.
Some recommended brands are:-
Best Dematting Tool For Dogs: An Overview
Dematting tools for dogs come in various types, including slicker brush, undercoat rakes, mat splitters, and dematting comb, all essential to maintaining your dog's health and comfort.
Types Of Dematting Tools
As a dog owner, it's crucial to familiarise yourself with the various types of de-matting tools available for effectively grooming your canine companion. These tools include:
Slicker Brush: Designed with fine, short wires close together, these brushes are ideal for removing loose fur and helping to break apart smaller mats in dogs with long or curly hair.
Undercoat Rakes: Featuring long, thin teeth that can reach deep into your dog's coat, these rakes work well on dogs with thick double coats or heavy undercoats by removing loose hair and preventing mat formation.
Mat Splitters: These sharp, single-bladed tools are used to cut through severe mats safely while minimizing potential damage to the dog's skin.
Dematting Comb: With two sets of rotating teeth – one shorter and one longer – these combs glide through tangled fur without pulling on the skin, making them suitable for moderate matting in many dog breeds.
The Importance Of Dematting For Your Dog's Coat
Properly de-matting your dog's fur is essential for maintaining its health and well-being. A matted coat can lead to various issues, such as skin irritation, infections, and parasites. Imagine how uncomfortable it would be to wear a heavy sweater that constantly pulls at your skin. This is similar to what a dog feels when their coat becomes matted.
Regular de-matting is important to help our furry friends stay comfortable and healthy. We can achieve this by using appropriate shedding tools such as an undercoat rake or slicker brush.
What To Check Before Choosing the Best Dematting Tool For Dogs?
Consider your dog's breed, fur thickness and length, matting type, blade and teeth quality, ergonomic design, and safety features when choosing a de-matting tool.
The Size And Breed Of Your Dog
Understanding your dog's size and breed is crucial in choosing the right de-matting tool for their unique grooming needs. Different breeds have varying coat types, meaning some dematting tools explicitly designed for one coat type may not be suitable for another.
On the other hand, smaller breeds, such as Poodles or Bichons, often have curly coats that require special attention when it comes to de-matting. Curly-coated dogs need pin dematting brush, combs, dematting tools, and sprays to maintain their luxurious locks.
Thickness And Length Of The Dog's Fur
As a dog owner, it is important to consider the thickness and length of your dog's coat when choosing a de-matting tool. Some tools are designed for short-haired breeds with fine fur, while others are better suited for long-haired dogs with thicker coats.
For instance, if you have a Poodle or Bichon Frise with curly hair, using a slicker brush can help remove mats from their coat without causing discomfort. On the other hand, if you have an Alaskan Malamute or Siberian Husky with thick undercoats, an undercoat rake will work best to remove dead hair and prevent matting.
Matting on Dog's skin
Different types of mats require different de-matting techniques and tools. Mats can range from small tangles to large, dense mats that cover a significant area of your dog's coat.
A slicker brush or detangling comb may be sufficient for smaller tangles or knots. Identify the type of matting before starting the de-matting process as using the wrong tool could lead to discomfort.
If you are unsure about identifying the type of mat on your dog, consult a professional groomer who can guide you in choosing the right de-matting tool.
Quality Of Blades And Teeth
As a dog owner, choosing a de-matting tool with high-quality blades and teeth is important. This ensures the tool can effectively remove mats and tangles without causing discomfort or harm to your furry friend. Look for blades made of durable materials such as stainless steel, which will last longer and prevent rusting and corrosion.
For instance, the RUBOLD RUB001 de-matting tool has extra wide-rounded blades that speed up grooming while being gentle on your pet's skin. A good de-matting tool should also have angled teeth that easily detangle knots and reach deep into your dog's coat.
Ergonomic Design And Safety Features
Look for tools with ergonomic designs that will reduce strain on your wrist and arm during grooming sessions. Some dematting tools come with rubber handles or anti-slip grips to prevent them from slipping out of your hand.
Safety features are equally essential when choosing a de-matting tool. Ensure the blades and teeth are sharp enough to cut through mats without harming your furry friend's skin.
Hertzko Self Cleaning Slicker Brush has bent wires that prevent scratching. Furminator Tool has safety edges to ensure blades do not accidentally cause injury while brushing different parts of your dog's body.
Brand Reputation
Brand reputation is an important factor to consider when choosing a de-matting tool for your furry friend. You want to ensure that you invest in a product from a reputable brand with a proven track record of producing quality grooming tools.
One top-rated brand for dog grooming tools is FURminator, known for its deShedding Tool, which removes loose hair, fur and undercoats quickly and easily. Another reputable brand is Pet Republique, offering de-matting combs made from durable materials that last longer while being gentle on your pet's skin.
FAQs on Best Dematting Tool For Dogs
which tool is best for removing mats?
The best tool for the job will depend on the severity of the mat and the type of hair your dog has. Some of the most popular tools for removing mats include Dematting combs, Deshedding brushes, Slicker brushes, and Mat splitters
How do you untangle severely matted hair on a dog?
If your dog has severely matted hair, take them to a professional groomer. Removing the mats yourself could cause pain and injury to your dog.
Do de-matting brushes work?
Yes, de-matting brushes can be effective in removing mats. However, use them cautiously, as they can easily pull out hair if not used properly.
Does coconut oil help de-matting dogs?
Coconut oil can help prevent mats from forming in the first place. It can also help to loosen mats that have already formed. Massage a small amount of oil into their coat. Then, brush their hair thoroughly.
What do groomers use to remove mats?
Groomers use de-matting combs, de-shedding brushes, slicker brushes, and mat splitters. They may also use a blow dryer to help loosen mats.
Do vets remove matted hair?
Yes, vets can remove matted hair. However, taking your dog to a professional groomer is often best, as vets may not have the time or expertise.
Does olive oil remove mats from dogs?
Olive oil can help loosen mats but is less effective than coconut oil.
What is the best brush for a matted dog's hair?
Hertzko Self-Cleaning Slicker Brush is the best brush to remove loose hair. Perfect for your dog's hair to stay free from tangles and mats
Are Pet Brushes Used For All Animals?
No, all pet brushes are suitable for all animals. Some brushes are explicitly designed for pets like dogs and cats while others for smaller pets like rabbits. It is recommended to opt for a brush based on your pet's coat type, size, and grooming requirements.
How Often Should One Use A Grooming Tool?
A grooming tool like a brush must be used at least once a week. Use it more frequently if your pet has a longer and thicker coat type. Proper grooming ensures a mat-free and healthy pet coat.
Author Profile
Aritra, the founder of Labradorandyou.com, is a lifelong dog lover whose passion ignited for Labradors for their loyalty and intelligence. With extensive research and personal experiences, Aritra has become a Labrador expert, offering a rich resource on the breed. Labradorandyou.com provides reliable, timely, and evidence-based information, including Labrador-specific product reviews, training techniques, and care tips.

Labradorandyou.com was born out of Aritra's passion and his desire to share his profound knowledge about the breed. The site serves as a comprehensive resource, offering a wealth of up-to-date information for Labrador owners and enthusiasts alike