Labrador puppies are known for their boundless energy, playfulness, and chewing tendencies. The right toys are essential for growth, training, socialization, mental stimulation, and dental health. This comprehensive guide presents a collection of the best puppy toys for Labs, carefully curated to keep your furry friend entertained, stimulated, and happy.
Best
KONG – Classic Dog Toy, Durable Natural Rubber- Fun to Chew,…
Nylabone Power Chew Textured Dog Chew Ring Toy – Tough and…
GOCooper Dog Toys, Cotton Dental Teaser Rope Chew Teeth…
Outward Hound Hide A Squirrel Plush Dog Toy Puzzle, XL
iFetch Frenzy Fetch Toy for Dogs – Non-Electronic Brain…
PetSafe Automatic Tennis Ball Launcher – Interactive Dog…
GOCooper Dog Toys, Cotton Dental Teaser Rope Chew Teeth…
1. Kong Dog Toy: Hands Down Best Puppy Toys For Labs
The Kong Classic Dog Toy is made from durable and natural rubber materials. It is designed for hours of fun and to satisfy their instinctual needs. Its unique shape creates an unpredictable bounce that adds excitement to fetch games.
You can stuff it with treats for added fun. Veterinarians and trainers worldwide recommend this product as one of the best pet toys. It also addresses common canine problems like chewing, separation anxiety and teething.
The Kong Classic Dog Toy is No. 1 on our list. It is due to its proven effectiveness in keeping pets engaged. This American-made treat-dispensing puzzle toy is easy to clean (dishwasher-safe). The KONG toy is fun to Chew, Chase, and Fetch!
Highlights
Built to Last: This Kong toy is durable rubber and can withstand even the toughest chewers.
Provides Mental Stimulation: Filled with tasty treats or peanut butter, this toy keeps your dog mentally stimulated while they play.
Promotes Dental Health: The toy's unique shape helps clean the lab's teeth and massage gums as they chew and play.
Great for Large Breeds: Designed specifically for larger breeds, this toy is tough enough to entertain any big pup.
Animal-Inspired Design: With its animal-like shape and texture, the Kong Classic appeals to a dog's natural hunting instincts.
Versatile Toy: Perfect for games of fetch, solo playtime, or simply chewing away boredom.
Pros
Durable and long-lasting
Provides mental exercise and satisfies instinctual needs
It can be stuffed with treats for added excitement
Dishwasher safe for easy cleanup, freezable for a greater challenge
Cons
May not hold up as well with aggressive chewers
The Nylabone Dura Chew Textured Ring is designed for aggressive pets. Even with my strong-jawed Lab, it has proven highly reliable, making it our No. 2 pick. This uniquely shaped ring is made of tough nylon and includes engaging ridges and nubs. They satisfy dogs' urge to chew. It also prevents plaque and tartar buildup. Nylabone Dura Chew Textured Ring will keep your large dog entertained while benefiting their dental health.
Highlights
Made in the USA with high-quality materials for durability
Textured ring design massages gums and cleans teeth
Suitable for large breed dogs to satisfy their chewing needs
Helps prevent destructive chewing behavior and boredom
The animal theme adds a fun element
Lightweight at 0.8 ounces, making it easy to toss or carry around
Pros
Promotes dental hygiene by preventing plaque and tartar buildup
Made of durable nylon, perfect for aggressive chewers
Unique textured ring shape satisfies dogs' natural urge to chew
Irresistible flavor medley combines all of your dog's favorite tastes in one toy
Cons
May be too hard for a dog's baby teeth
Can become worn down over time and need to be replaced
This cotton rope toy is a fantastic chew and effective dental cleaning tool. The Dental Teaser Chew Rope satisfies your dogs' instinctual chewing needs. The vibrant colors are sure to catch your dog's attention, making playtime even more enjoyable.
Regular play with this chew rope promotes proper chewing behavior and redirects bad biting habits. Dental Teaser Chew Rope is No. 3 because of its multifunctionality and suitability for small to medium-sized breeds. If you're looking for an affordable yet efficient chew rope, look no further than the GOCooper Dental Teaser Rope!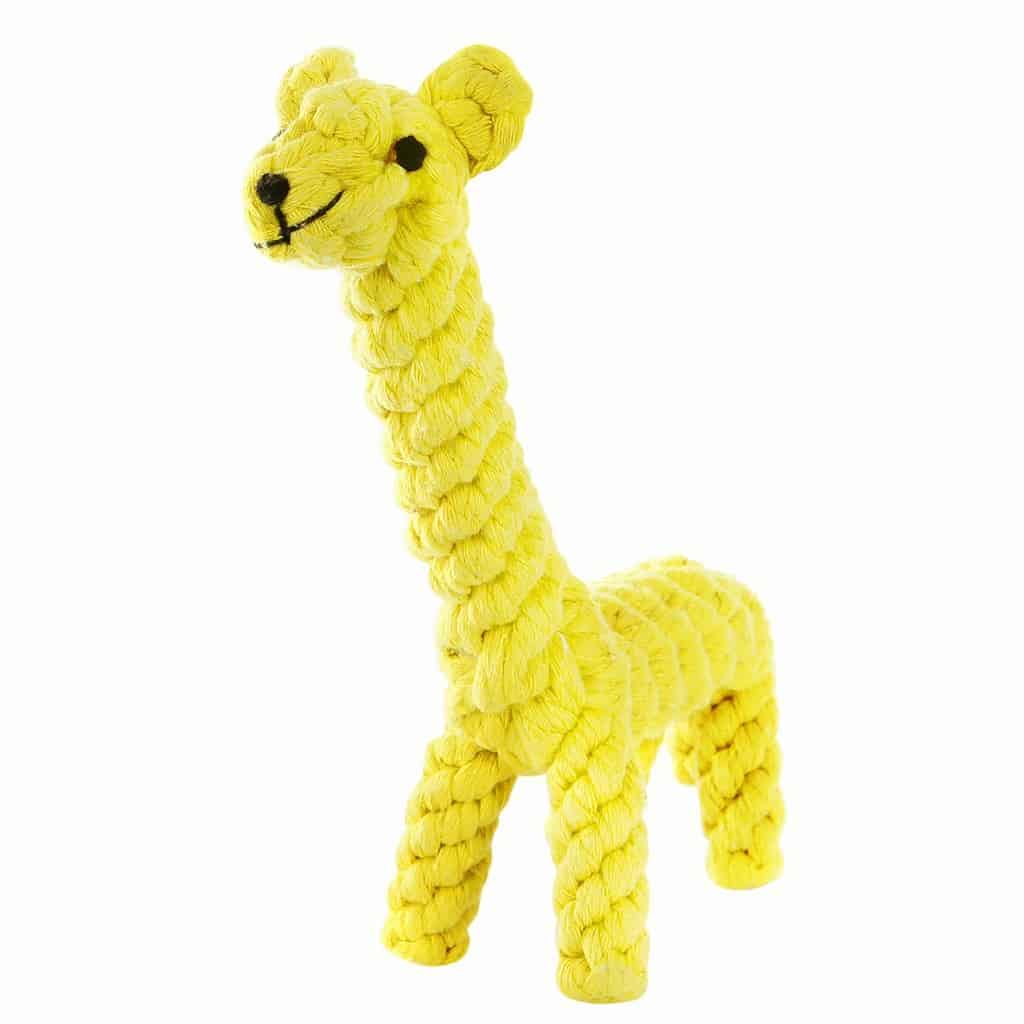 Highlights
Dental Teaser Chew Rope improves dental health.
Suitable for all dog breeds – small, medium, and large.
Made of high-quality materials that are durable and safe.
The rope is designed with animal-themed shapes.
It comes in a convenient size of 5.12 x 0.98 x 1.97 inches.
Pros
Portable with a reusable bag for easy carrying and storage
Satisfies dogs' instinctual needs, cleans teeth, and promotes proper chewing behavior
Made of high-quality cotton that's washable and environmentally friendly
Perfect for small to medium-breed dogs
Cons
It may not last as long as some other chew toys
Some dogs may lose interest in this toy quickly
Outward Hound Hide-A-Squirrel Toy is an excellent addition to your Labrador's playtime routine. This interactive puzzle toy keeps boredom at bay. The XL-size tree trunk has six squeaky plush squirrels to grab your dog's attention. It caters to their love for hunting and fetching.
The stuffed plush toys texture is gentle on the dog's teeth and gums. Its 2-in-1 design allows you to toss the squirrel-filled trunk or launch individual squeaky toys as a game of fetch. Try hiding the squirrels around your house or backyard for an added challenge. Encourage your pet to use their keen sense of smell.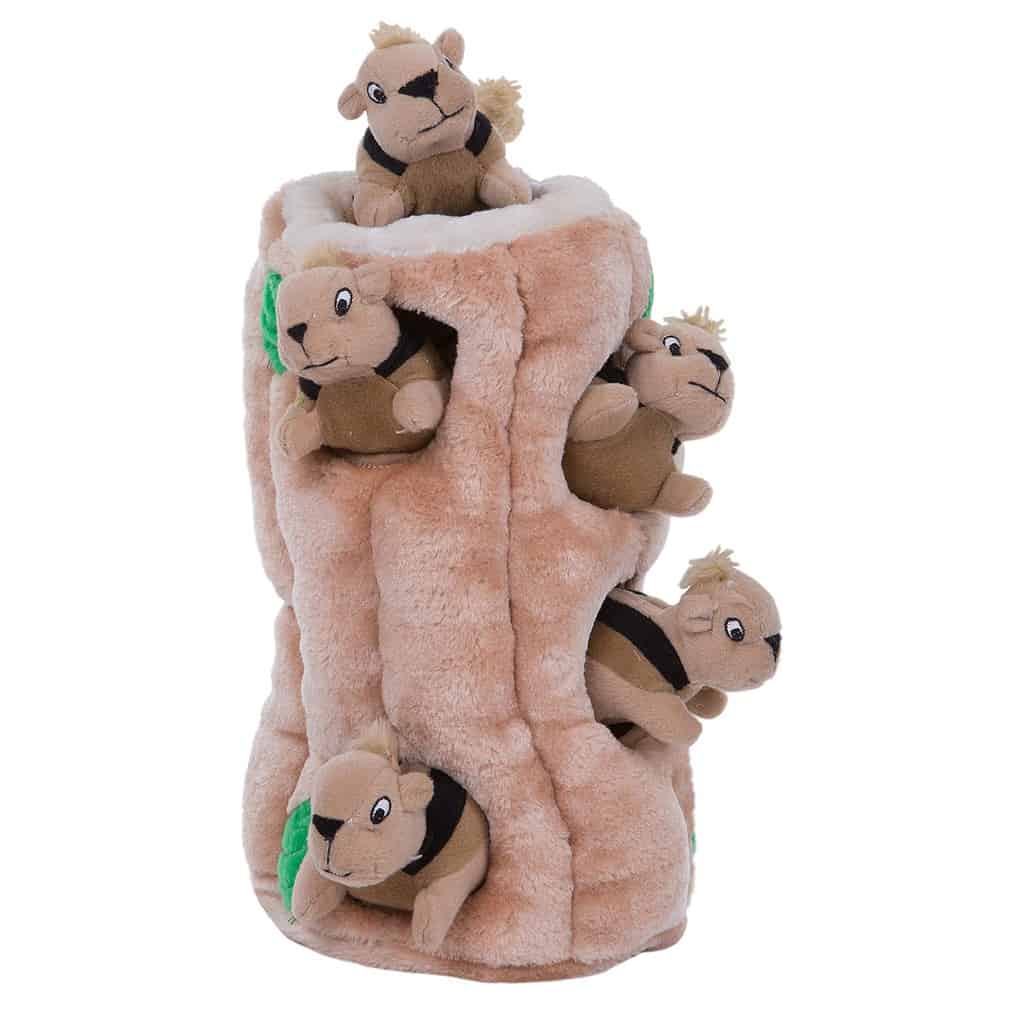 Highlights
Engaging puzzle that keeps dogs mentally fit and entertained.
Designed to look like a tree trunk with plush squirrels hidden inside for your dog to find.
Comes in multiple sizes, making it suitable for all dog breeds.
Durable construction made to withstand tough playtime sessions.
Ideal for solo play or interactive games.
Pros
Keeps dogs mentally stimulated and engaged
Encourages natural hunting instincts in dogs
Gentle on teeth and gums
Provides hours of fun with 2-in-1 interactive play options
Cons
Not indestructible and should not be left with unsupervised pets
Squirrels may become easily lost or misplaced
The iFetch Frenzy Fetch Toy is a non-electronic brain teaser. It uses mini tennis balls, providing physical and mental exercise for your dog. One of the standout features is its whisper-quiet operation. It is perfect for sound-sensitive dogs or indoor playtime. My Labrador loves dropping the ball into the top and excitedly trying to guess which of the three chutes at the bottom will release it.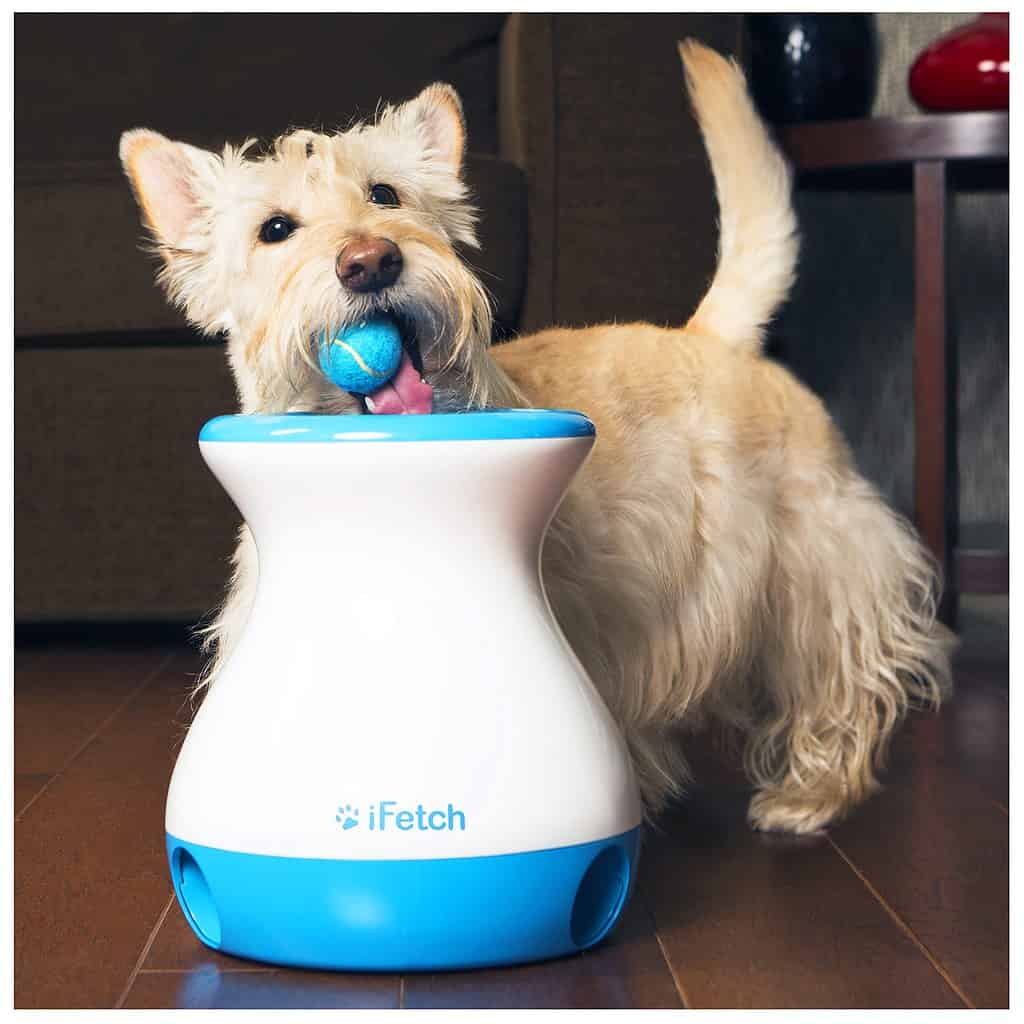 Highlights
Suitable for dogs 4 months and up
Requires only 1 battery (type not specified)
Can be used both indoors and outdoors
Helps to provide exercise and stimulation for pets
Designed to launch balls up to 20 feet away for interactive playtime
Pros
Whisper, quiet design soothes sound-sensitive dogs
Great for training your dog's brain
Provides mental stimulation for clever pets, puppies, and older animals
The ball reward system keeps pets active without the need for treats or diets
Comes with miniature balls and a hidden storage compartment for added convenience.
Cons
Not suitable for larger dogs due to the small size of the balls.
It may not provide enough physical exercise for high-energy dogs.
Can become repetitive for some dogs who quickly figure out the game.
The PetSafe Automatic Tennis Ball Launcher keeps up with your dog's enthusiasm for fetching. This interactive ball thrower is built with flexibility as it works indoors and outdoors.
The key features include an adjustable range, motion sensor technology, and automatic sleep mode after 30 minutes of playtime. It has nine distance settings ranging from 8-30 feet, six angle options, and a front motion sensor.
Being water-resistant means taking it along on all your outdoor adventures! Imagine the fun your Labrador will have to chase after balls at varying distances without straining yourself.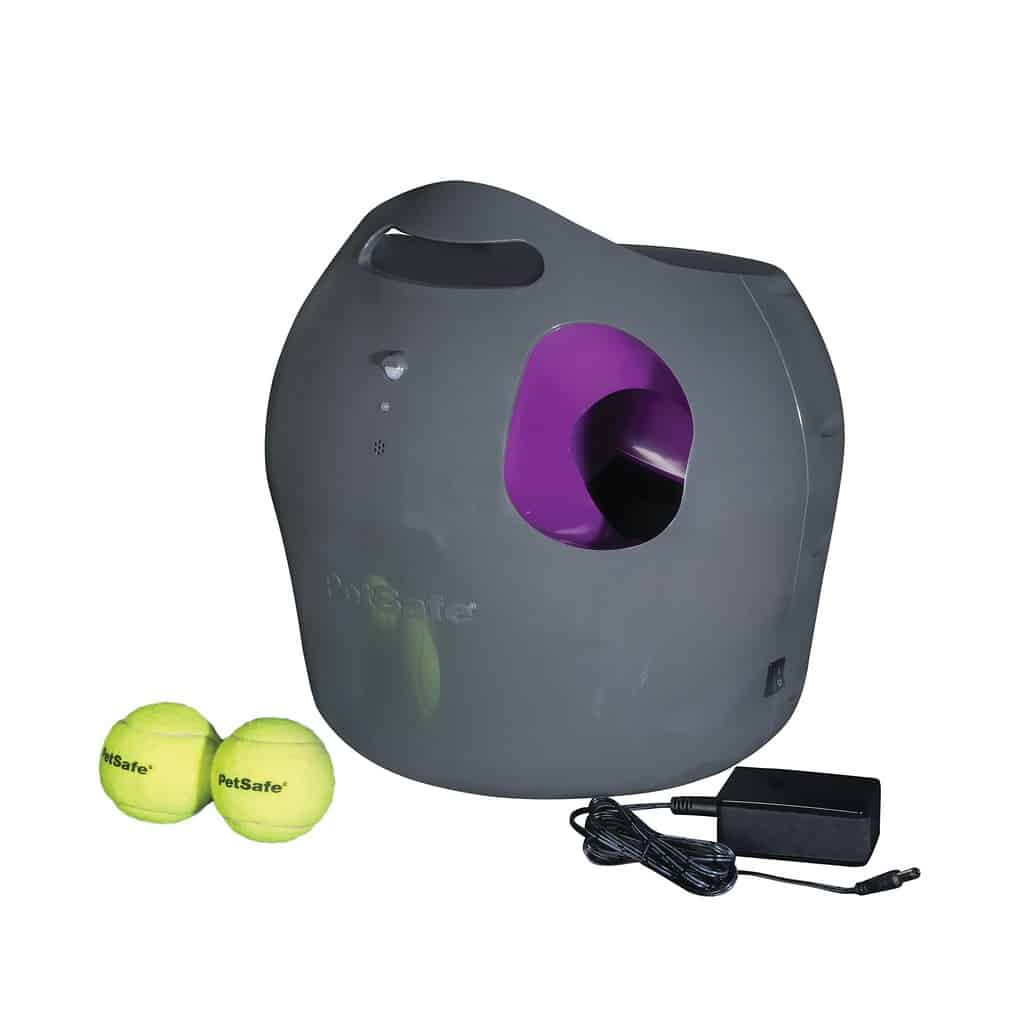 Highlights
It saves time and energy while keeping your dog entertained.
It works for large and small breeds.
Aesthetically pleasing and on-theme with an active lifestyle.
Just load the balls, choose your distance setting, and let it do the rest.
Requires D batteries (not included).
Pros
Keep dogs entertained and exercised indoors or outdoors
Adjustable range with 9 distance settings and 6 angle settings
Multiple sensors for safety
Easy to use with audible tones alerting when the ball is detected
Cons
Requires standard-size tennis balls, which can be expensive for frequent use
Batteries are not included and need to be purchased separately
May not work well with dogs who are afraid of loud noises or the launching motion
Nylabone Dura Chew Wishbone is a lifesaver for my furniture and my pup's dental health. Made of durable nylon with an irresistible original flavor, it is designed for medium-sized dogs.
The unique wishbone shape makes it easy for your dog to grip. The ridges and nubs clean their teeth by preventing plaque and tartar buildup. Nylabone's Wishbone is a long-lasting solution to destructive chewing without sacrificing quality or safety standards.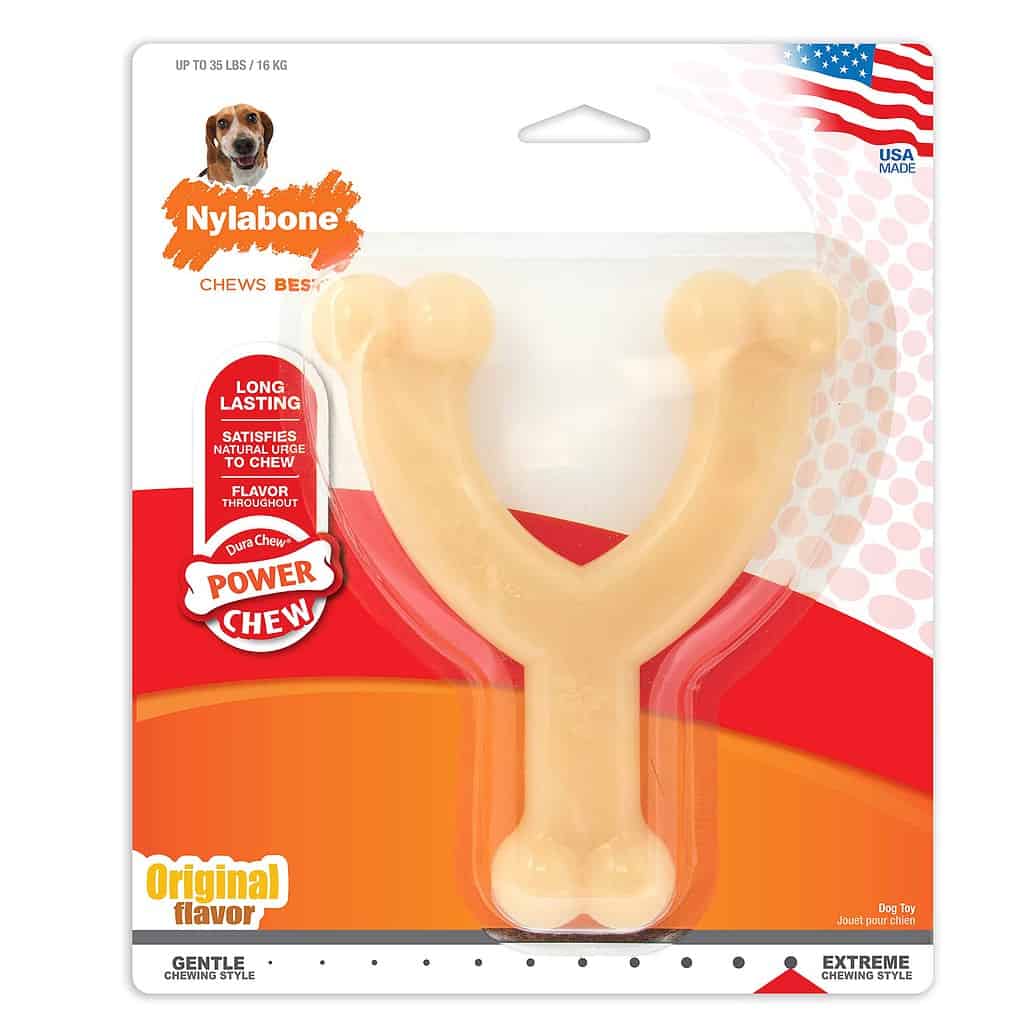 Highlights
Durable toy for heavy chewing from medium-sized dogs.
Wishbone shape satisfies natural urges to chew.
Made in the USA with high-quality materials for long-lasting use.
Helps clean the dog's teeth and freshen breath.
The animal-themed design adds fun to playtime and encourages active engagement.
Pros
Helps promote dental health
Made of durable nylon to withstand destructive chewing
Infused with savory original flavor
Perfectly sized for medium-sized dogs up to 35 pounds
Cons
May not be suitable for dogs over 35 pounds
Some dogs may not be interested in the original flavor
This interactive dog toy helps eliminate boredom and improves your dog's IQ. They work to find hidden treats in this well-designed puzzle. Made with eco-friendly materials, this 10 x 10 x 1.6-inch wooden training device provides endless entertainment.
The Flip N Flap Bone Toy is invaluable for curbing negative behaviors associated with boredom or lack of mental activity. My Labrador strategically uses his nose and paws to flip open compartments and reveal tasty rewards through this puzzle.
And as a bonus, it teaches patience. Dogs quickly learn that mindless attempts won't yield results, so they begin strategizing their moves. Flip 'N Flap Bone Dog Toy represents more than just playtime; it enhances essential cognitive skills. This interactive dog toy keeps your beloved pet happy and challenged while reinforcing positive behaviors.

Highlights
Interactive puzzle for dogs
Features a flip and flap design
Suitable for all dog breeds and sizes
Durable construction for long-lasting playtime
Helps improve cognitive skills and mental stimulation
Designed with animal-themed graphics
Pros
Eliminates boredom and prevents negative behavior
Strengthens cognitive abilities and improves IQ
Requires dogs to think and problem-solve for training treats
Made with eco-friendly, sturdy wooden construction
Cons
Some dogs may lose interest in the toy after a few uses
Can be challenging to clean thoroughly, particularly if used with wet treats
Cool Rope Dog Toy is a heavy-duty twisted rope toy with 5 knots. Whether your dog is an aggressive chewer or loves tug-of-war, this rope toy can withstand the test. Its tough design and quality materials set this rope apart from others.
The close-knit twisted structure ensures sturdiness and durability besides safety. When playing tug-of-war with my Labrador, I noticed this rope remained strong even during intense pulling.
The Cool Rope Dog Chew Toy has become essential for daily playtime routine and obedience training. Not only does it help release energy and anxiety but also offers mental stimulation through problem-solving.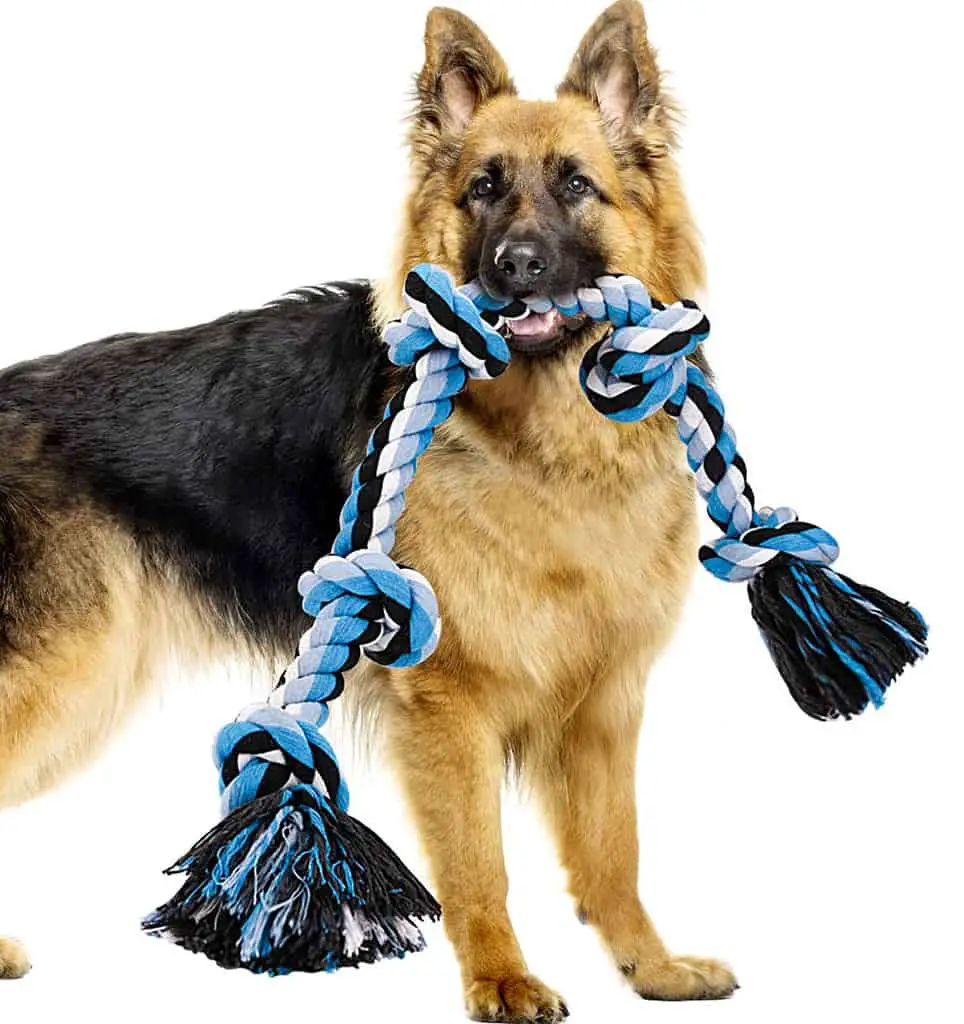 Highlights
Great toy for medium-breed dogs
Animal themed design
Satisfies your dog's urge to chew
High-quality, durable rope material that can withstand gnawing and tugging
Specially crafted by BMAG for optimal performance
Measures 10.2 x 7.01 x 3.94 inches and weighs 1.59 pounds
Pros
One of the most fun and interactive toys
Helps with dog training by keeping them occupied
Heavy-duty design withstands aggressive chewers
Safe and sturdy rope toy for worry-free playtime
Cons
May not be suitable for small dogs
Can get dirty easily if used outdoors
Planet Dog Orbee-Tuff Planet Balls are designed with TPE rubber that is BPA, lead, and phthalate-free. These balls come in various sizes and colors. It is a treat-dispensing dog toy that combines fun and function. You can stuff your pet's favorite treats through the hole for a rewarding experience.
These balls contain natural mint oil to freshen dog breath as they play. Whether played alone, with other pups or with you by their side, this versatile toy ensures hours of enjoyment.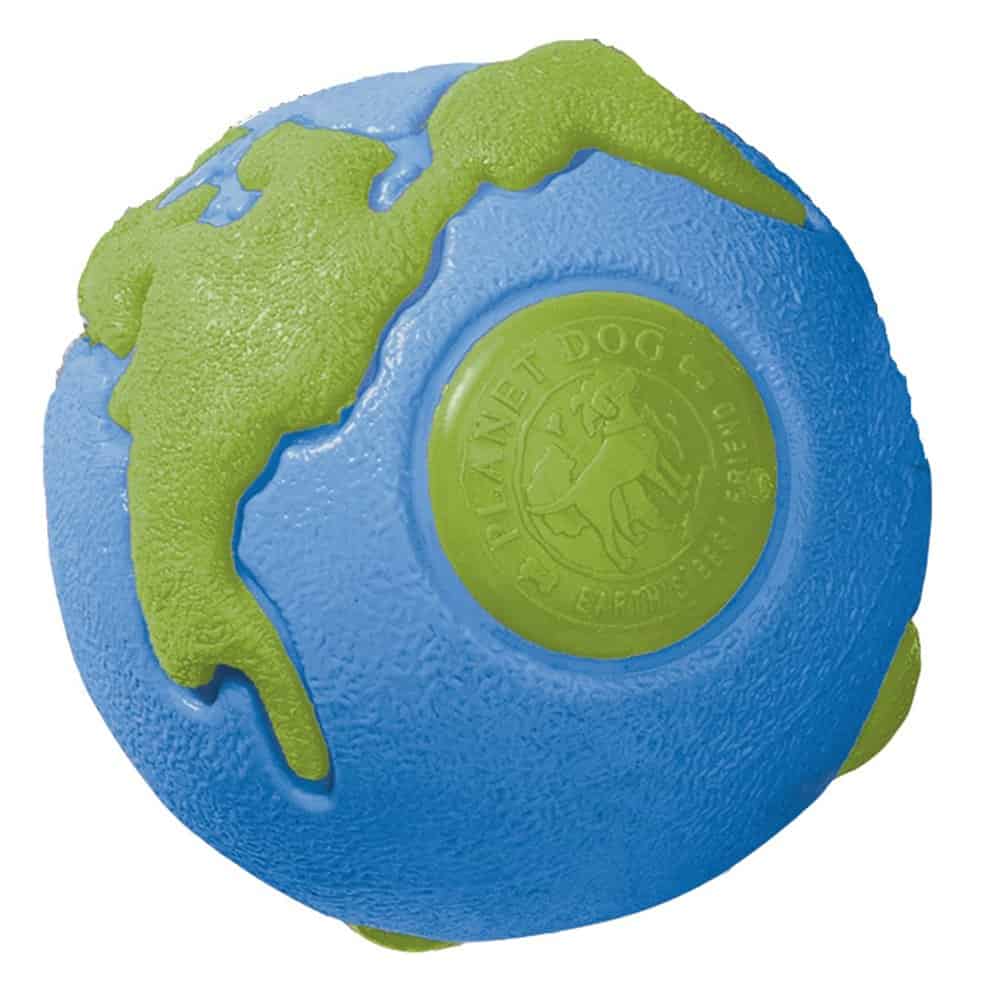 Highlights
Made with durable Orbee-Tuff material for long-lasting usage
Treat dispenser design keeps dogs engaged and entertained
Space-themed design
Suitable for all dog breeds and sizes
Manufactured in the USA with high-quality materials
Shippable to selected countries outside of the US
Pros
Safe and durable dog toy
Available in multiple sizes and colors
Made in the USA with natural ingredients
Treat-dispensing feature
Cons
Not indestructible, so it may not be suitable for extremely strong chewers.
May not dispense treats as easily or effectively as other treat-dispensing toys.
The Kong Floppy Knots toy satisfies their innate need to chew and play. This versatile toy is made for medium/large dogs. It incorporates internal knotted ropes with minimal stuffing for less mess.
One of my favorite features is its varied textures and squeakers that entice my dog to play. The floppy design ensures it remains soft enough for snuggles while not being overly stuffed.
It is durable and easy to clean, ticking all the boxes when selecting a puppy toy. KONG's Floppy Knots is valuable to any interactive dog toy collection. It is a unique combination of internal knotted ropes, minimal stuffing, enticing textures, and squeakers.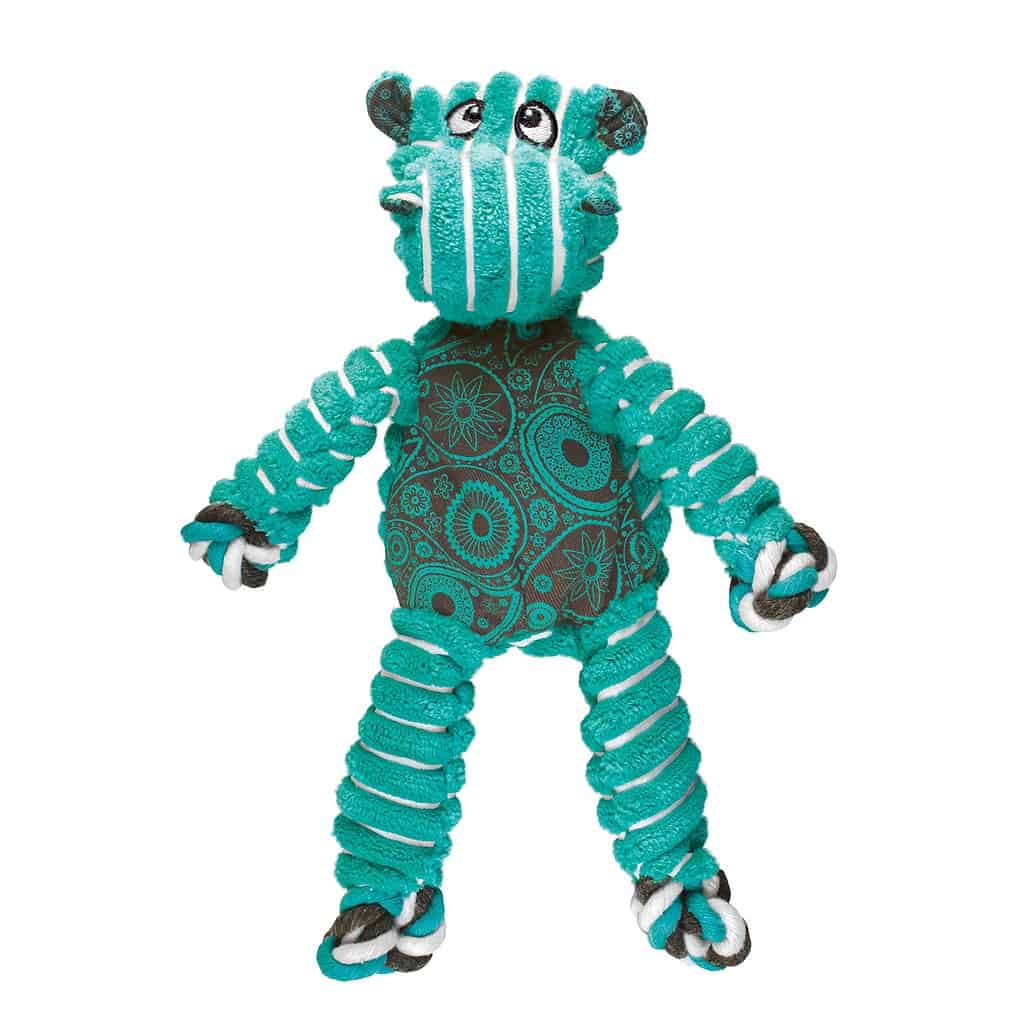 Highlights
Kong Floppy Knots is a high-quality dog toy perfect for medium breeds.
This toy features a fun, animal-themed design.
The unique knotting and floppy texture provide an engaging play experience.
With durable construction, this toy can withstand hours of playtime.
Pros
Mess-free playtime thanks to minimal stuffing
Satisfies your dog's instincts with internal knotted rope and floppy design
Entices play with varied textures and squeakers
Provides a great snuggle buddy for medium/large dogs without being chewed up
Cons
Strong chewers can easily rip out squeakers
Limited size options only suitable for medium/large pets
Dogit Mind Games is a 3-in-1 interactive smart toy. It not only caters to their natural hunting instincts but also challenges both physical and mental abilities. It is one of my Labrador's favorite toys, and I'm thrilled that it keeps my pup entertained and focused.
This innovative toy includes three engaging games: Hide & Seek, Spin-A-Whirl, and Sliding Puzzle. With these games, my Lab's attention is fully captured. The suction cups at the base ensure that playtime doesn't end in frustration or damaged floors!
Dogit Mind Games has become an essential accessory for any Labrador owner to curb excessive energy levels. We all know how curious and intelligent Labrador retrievers are. So why not channel that enthusiasm into a healthy outlet like Dogit Mind Games?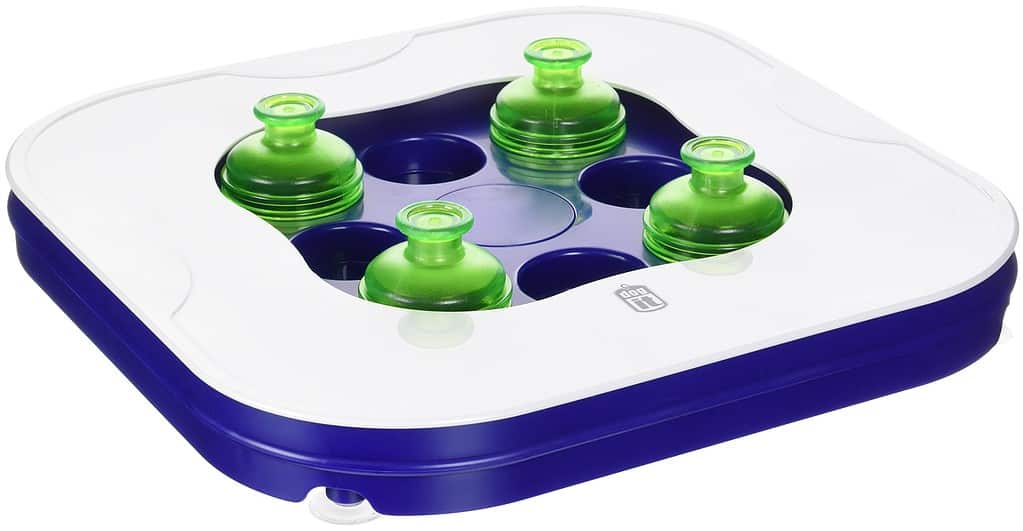 Highlights
Interactive toy mentally stimulates dogs
Suitable for medium and small breed dogs
Animal-themed design appeals to dogs' natural instincts
Easy-to-clean and durable construction
Provides hours of entertainment for both owner and pet
Pros
Provides mental stimulation and reduces hyperactivity in dogs
Encourages focus and attention through interactive play
Suction cups keep the toy in place
Cons
Treats not included
May not be suitable for extremely hyperactive dogs
The large Omega Paw Tricky Treat Ball is a 5-inch diameter treat-dispensing toy. It is made from a soft, pliable textured vinyl surface designed for easy gripping. Simply fill it with treats or kibble, and watch as your Lab enthusiastically rolls the ball around in pursuit of its reward.
The large size is perfect for our big-breed Labrador friends who crave more challenge in their playtime. As the treats gradually fall out during playtime, it encourages problem-solving skills. In my experience using the Treat Ball for my Labrador, I have observed improvements in his overall mood and well-being.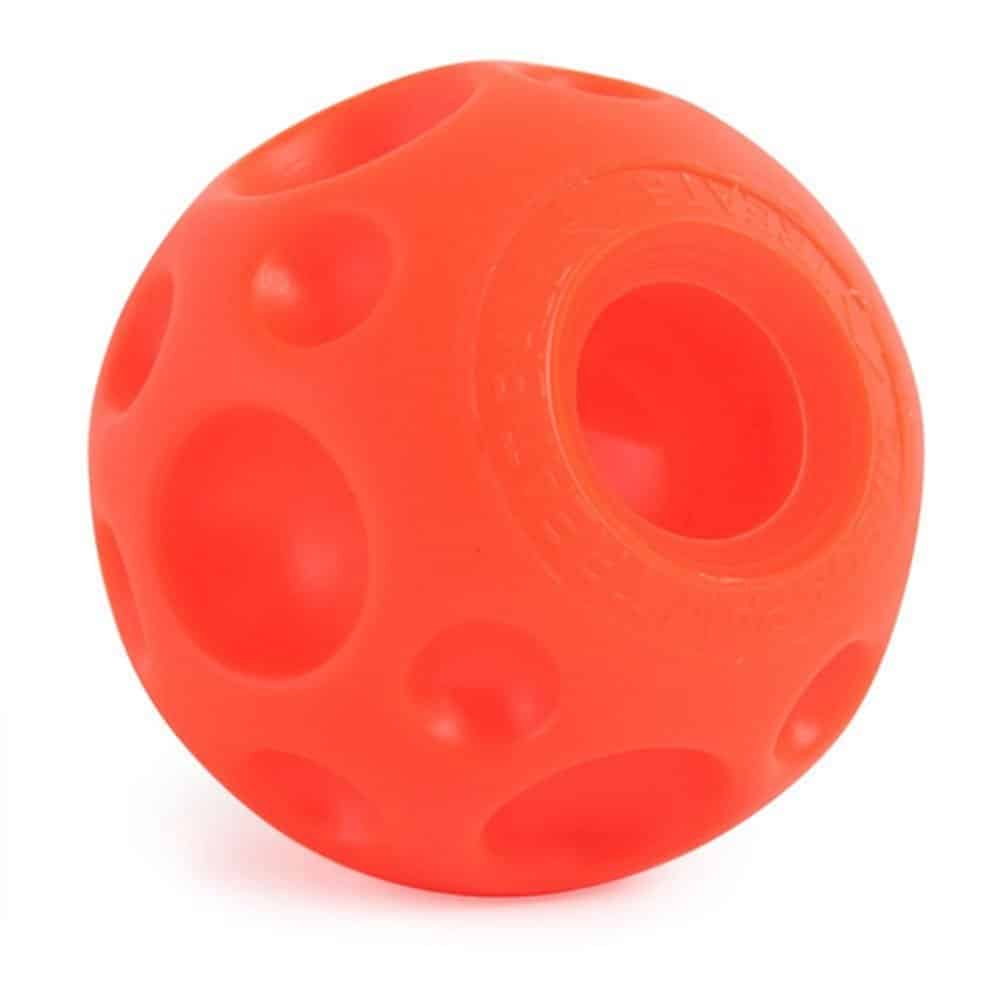 Highlights
Interactive treat-dispensing ball
Engages your dog's natural hunting and playing instincts
Easy to fill with treats or kibble
Durable construction withstands rough play
Suitable for dogs of all sizes
Pros
Keeps your dog entertained for hours
Provides mental stimulation and exercise during playtime
Encourages interactive play
Allows for easy filling and treat dispensing
Cons
Not suitable for small dogs
Some treats may get stuck inside the toy
Dogs may chew on and damage the vinyl surface over time
Wants no mess while your dogs play, chew, and tug? This stuffing-free squeaky dog toy can be a complete game changer. With this 2-in-1 toy, you will keep your dog intrigued and happy. 
You can also hide a delightful treat inside this toy for more fun. It comes with a self-fastener that opens up. You can place a bottle there with a treat inside. The animal design makes the toy look unique and appealing for dogs. It is available in fox, wild raccoon, duck, hare, and snow leopard styles.
Each design comes in small, medium, and large sizes for a versatile experience. Besides increasing activity, it is also safe for your pet. Do not miss the interactive sound feature that makes it an all-rounder.
Highlights
It is a stuff-free toy with an animal design.
It is a 2-in-1 toy with interactive features.
Has three sizes to choose from – small, medium and large. 
The toy is ideal for dog breeds and sizes.
You can stuff a bottle inside to hide treats.
Pros 
Helps you make playtime exciting.
It is safe for chewing.
Comes with high-quality stitching.
Has interactive sound for an enhanced experience.
Cons
Presenting ADSDIS's tough, durable chew toy for aggressive pets. It is sturdy for medium to large dogs with robust chewing habits. However, made from durable material, it can handle chewing for months. Chewing helps reduce boredom and anxiety. 
Made from natural rubber, this toy can withstand the most aggressive pets. Besides, it has a milk flavor, making it more attractive to dogs. It will enhance their chewing ability and keep their teeth healthy.
If you have been tired of dog toys getting dirty within a few days, this easy-to-clean toy can be a great option. All you need is some warm water and soap to make this toy shine just like a new one. So, get this excellent toy and help your dog play, chew and reduce boredom.
Highlights
Tough dog toy made from natural rubber and nylon
Comes with an appealing milk flavor taste
It is ideal for medium-large dogs ( 20 lb-100 lb )
Significantly reduces anxiety and boredom in dogs
It can be easily cleaned with warm water and soap
Pros 
Extremely durable and sturdy
Can withstand the most aggressive chewers
Has a yummy flavor that is enticing for dogs
Help dogs to keep their teeth clean
Cons
Some owners report the ends are a bit hard.
A few pet owners found it destructible.
Buyer's Guide: Selecting The Best Puppy Toys For Labs
Not all toys for labs are made equal. To ensure your Lab puppy has the best playtime experience, consider the toys' type, material, safety, durability, quality, and price.
Type And Materials
The material used to make dog toys affects their safety and durability. For instance, TUFFY Elephant Stuffed Toy has multiple layers of fabric with double stitching around its edges. It makes it long-lasting enough even for rough play.
Always check labels on stuffed toys to ensure they meet safety standards and do not contain dangerous fillings. Opt for nontoxic rubber or silicon-based chewable items like Monster K9 Durable Football Chew Toys. It provides a gentle chewing experience promoting dental health without choking.
Safety And Durability
Labs are powerful chewers. Find toys made from high-quality materials like durable nylon bones or sturdy rubber. The best dog toys will stand up to their strong jaws without breaking into small pieces.
Teething chew toys should be gentle on their developing gums but tough enough to endure the constant gnawing. Avoid thin rubber squeaky-type toys because they can easily break apart or get swallowed.
Quality And Price
As a devoted dog owner, you might be tempted to buy the most affordable dog toys. However, balance quality and price when choosing toys for your labrador retriever.
Investing in top-notch Lab puppy toys ensures you get long-lasting products. Durable items save money in the long run because you won't need to replace them frequently.
Tips For Choosing The Best Puppy Toys For Labs
Consider the puppy's size and age. Choose toys with different textures and shapes, as the same toy can become boring. Pick toys that are easy to clean and avoid toys with small parts.
Consider The Dog's Size And Age
Consider dog size and age when selecting a new toy. Puppies have different chew strengths than adult dogs. Therefore, teething toys will work well for puppies. Durable rope or tug toys are also appropriate for young adult dogs.
Pay attention to the toy's size concerning your dog's mouth and chewing habits. Soft durable rubber balls or puzzle treat dispensers cater to mental and physical stimulation. They keep the puppy entertained in safe ways.
Choose Toys With Different Textures And Shapes
Labs love to chew on things. If they don't have enough interactive toys, they may end up chewing on items around the house.
Invest in rope and woven toys with knotted ends perfect for tug-of-war games. They offer interesting textures to chew on and keep the pet busy. Besides, textures like ribbed rubber or bumpy surfaces can stimulate their senses.
Pick Toys That Are Easy To Clean
As a labrador owner, you know the importance of keeping your dog's toys and accessories clean. Opt for machine-washable toys that can easily be wiped down with soap and water.
An easy-to-clean toy is the Kong Classic Dog Toy. Made of durable rubber, it can be hand-washed or placed in the dishwasher for hassle-free cleaning. Another option is rope toys. They can be thrown into the washing machine and dried afterward.
Avoid Toys With Small Parts
Avoid toys with small parts that can be chewed off. Lab pups are instinctive to chew on things, so choose appropriate toys.
One example of the danger posed by small parts is when my friend's lab puppy choked on a rubber ball. It had a small hole in the surface.
The toy got stuck in his throat, and thankfully, they could remove it before any serious harm. Select dog toys that don't come apart easily or have detachable pieces.
Interactive And Mental Stimulation Toys For Lab Puppies
Labrador puppies need interactive and mental stimulation toys to keep them entertained and engaged. A few toys include Kibble Drop Dog Puzzle, Sensory Ball, Hol-ee Roller, IQ Treat Ball, Kong Squeezz, and Jolly Pets Soccer Ball.
The Kibble Drop Dog Toy provides mental exercise and engagement. It satisfies your Lab's natural instinct to hunt for food.
But the best part? It is made from durable materials and is a safe puppy toy. Not only will your growing puppy be entertained, but also improve their cognitive abilities! My own Lab puppy loves this toy – it has become his go-to whenever he wants some fun playtime.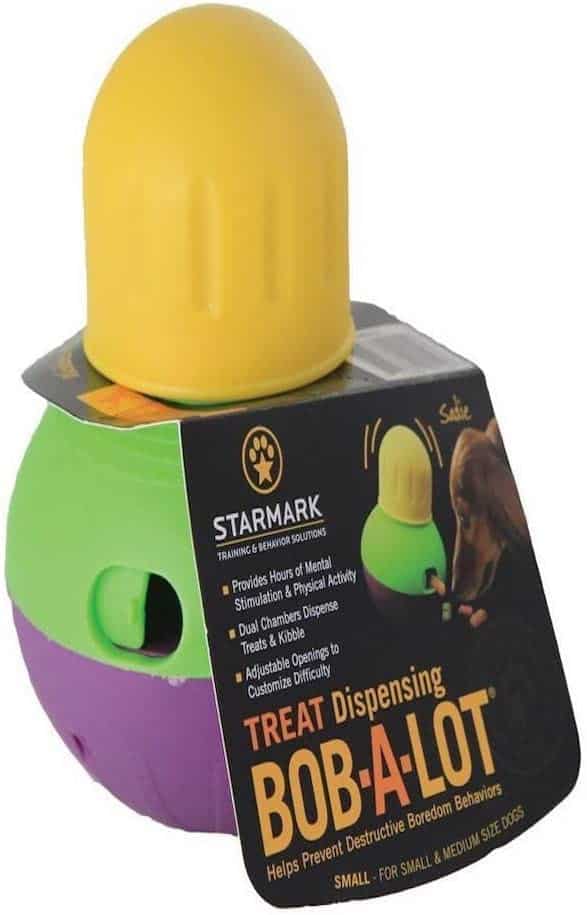 Labrador puppies love to play and chew. The Sensory Ball Toy is a popular toy used for sensory stimulation. This interactive toy keeps your puppy interested with different textures, colors, scents and tastes.
This ball promotes physical activity while improving mental health. Its chew-resistant design and high-quality materials can withstand even aggressive dog chews.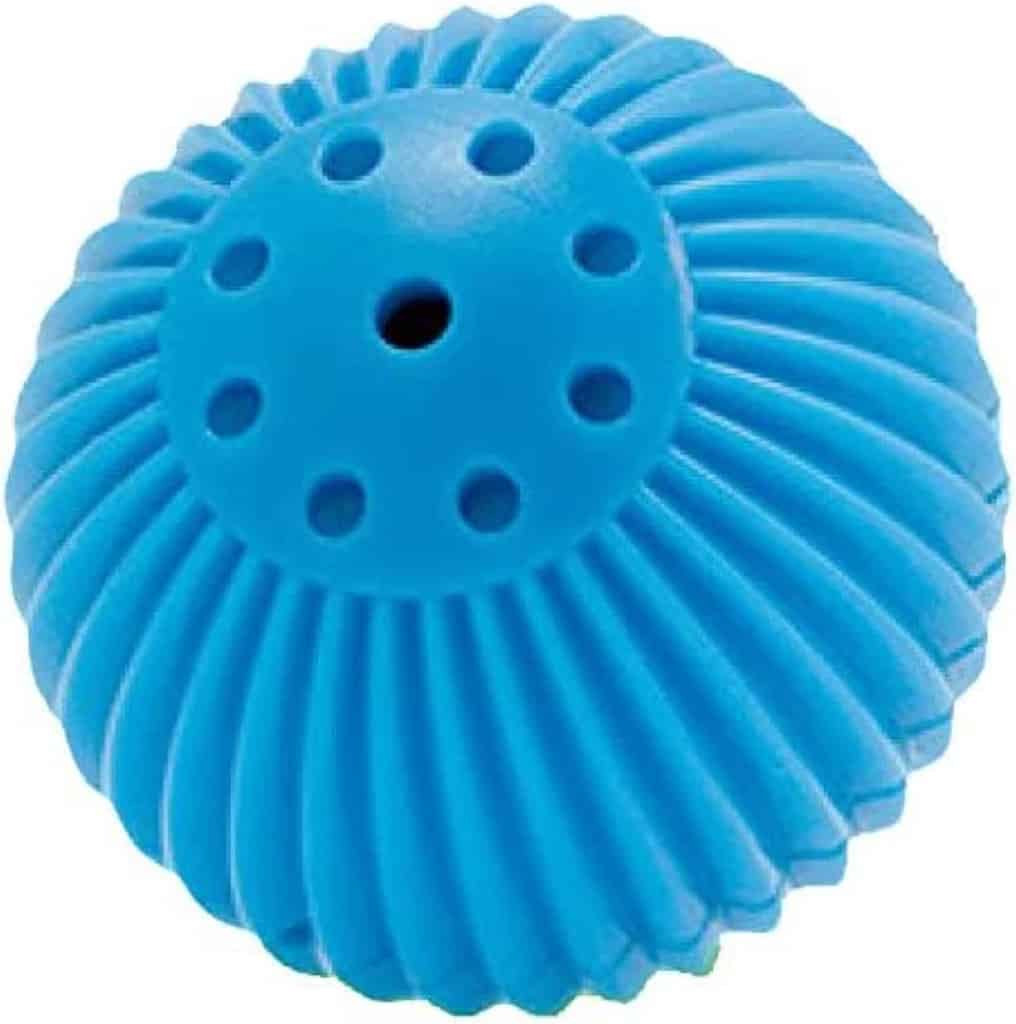 It is one of the best puppy toys. Hol-ee Roller can also be used as a treat dispenser puzzle ball. It provides extra entertainment and mental fitness for your pup. And with different sizes available, you can find the right toy for your lab puppy's breed and age.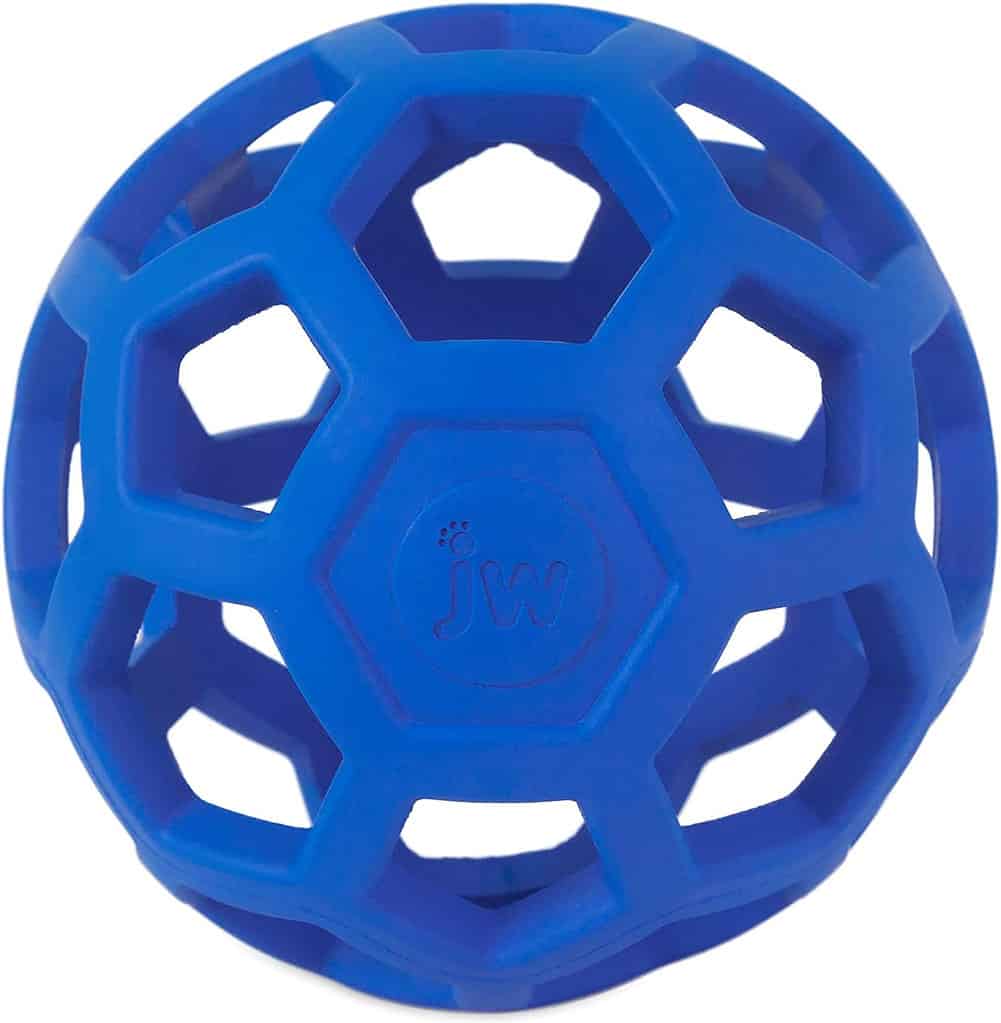 I highly recommend the OurPets IQ Treat Ball for lab puppies. This dog treats dispensing ball provides mental stimulation and rewards during playtime. This innovative toy is included in the 29 best interactive dog toys list. While providing a mix of mental stimulation and rewards, note that this may not be suitable for all puppies.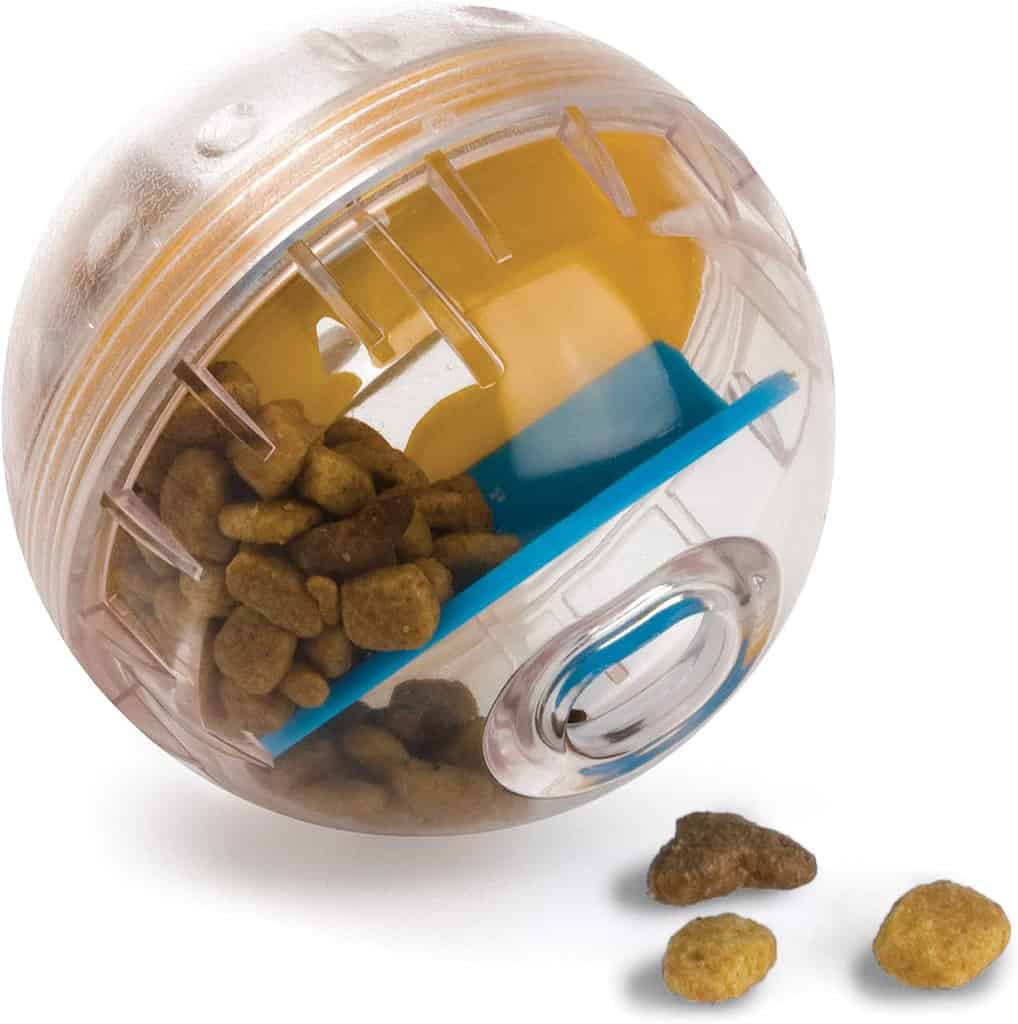 Kong Squeezz is a durable, interactive, and mentally stimulating toy providing endless playtime. The squeaky feature will keep your dog entertained and engaged as they figure out how to access it.
Kong is world-renowned for its best dog toys, providing natural enrichment and play. One popular option among pet parents is filling Kong toys with peanut butter as a happy distraction for their dogs.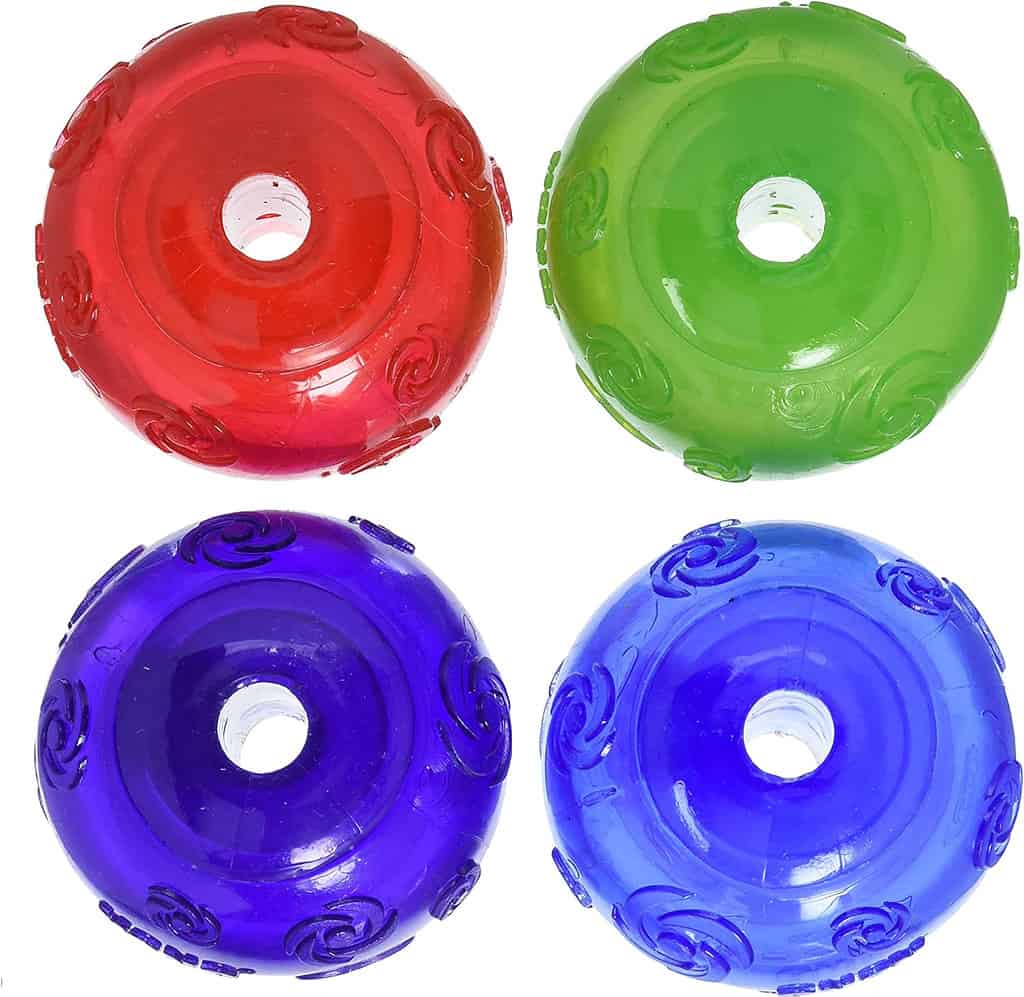 Jolly Pets Soccer Ball is one of my favorites for Labrador retrievers among so many dog toys. This ball is made from a tough and flexible material, making it perfect for a game of dog soccer. Since balls are versatile, they also provide opportunities for fetching, gnawing, bouncing, pawing, and chasing fun!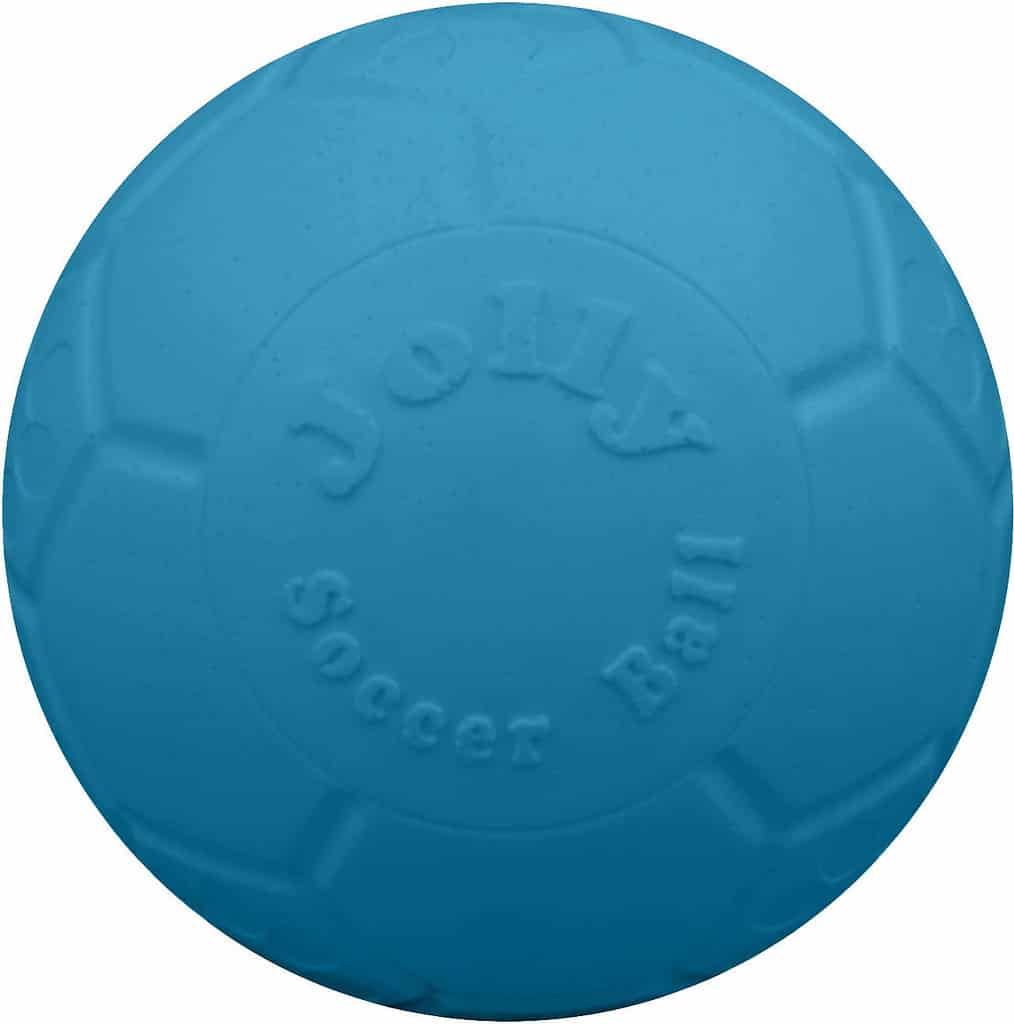 Get this fun Outward Hound's puzzle treat toy for your dog to help them learn how a few combined actions can lead to a reward. It is great to challenge their mind and reduce boredom. Moreover, it is built to last long with a non-slip base and plastic and wood materials. It is BPA, PVC, and Phthalate free, making it a safe choice for your lovable pet. 
Here is another entertaining game from Joansan that will challenge your dog's brain. You can hide treats in the sleek parts of this puzzle toy and enhance their sense of smell. It is an excellent slow feeder that will encourage digestion. Made from non-toxic PVC material, it is safe and durable. It will teach your dog problem-solving skills and help reduce boredom.
Best Puppy Toys For Labs Based On Age
Lab puppies have different needs and preferences based on their age. We have curated a list of the best puppy toys for Lab at 8-12 weeks old, 3-5 months old, and 6-9 months old.
8 To 12 Weeks Old
Are you wondering about appropriate toys for your new puppy between 8 to 12 weeks old? No puppy teething toys are needed as the puppy's teeth haven't started falling out yet.
Puppies at this age explore the world through their mouths and chew on anything they can access. Providing them with specific puppy toys that cater to their chewing instincts soothes their gums and provides mental stimulation.
Safety is key during this stage, so avoid small parts or loose threads that may pose choking hazards. Encourage socialization through interactive ball play or gentle tug-of-war games with a teething toy.
Your Lab puppy is becoming more active and curious about their surroundings. They may also start teething heavily during this time. It's time to get the best puppy teething toys that can withstand all the chewing and biting.
Puzzle treat toys keeps them occupied and mentally stimulated while promoting healthy teeth growth. The KONG Classic Dog Toy, IQ Treat Ball, Rawhide Chews, or Nylabone Puppy Toys are excellent options.
Sensory balls like the Chuckit! Ultra Ball or Hol-ee Roller can provide both physical exercise and mental stimulation. They add different shapes and textures to playtime.
During this phase, Lab puppies are usually more energetic and active. They may have a higher play drive and require many toys that can withstand rougher play sessions.
Ropes are a great option. Interactive puzzle games will be highly beneficial as your Lab becomes more intelligent. Toys such as the Kibble Drop Dog Toy Puzzle or the IQ Treat Ball can be filled with treats to encourage problem-solving skills.
During the 6-9 month-old stage, continue supervising chew toy usage as adult teeth start replacing puppy ones between 7-8 months old.
FAQ on best puppy toys for labs
What can 8-week-old puppies chew on?
At 8 weeks old, puppies are teething and need safe chew toys to relieve discomfort. Soft rubber, nylon, and rope toys are good options for your chewing puppy. Avoid giving them anything that can break into small pieces and pose a choking hazard.
What do Labradors like the most?
Labradors are known for their love of food and play. They enjoy activities like retrieving, swimming, and playing fetch. They also love spending time with their humans and receiving attention and affection.
At what age do Labrador puppies calm down?
Labrador puppies can be high-energy and excitable, but they typically start to calm down around 2-3 years. However, every dog is different; some may remain energetic well into their senior years.
What toy should I give to my puppy?
Choose something safe and durable that they can chew on and play with. Soft rubber puppy toys, chew bones, and puzzle and interactive dog toys are good options.
What should I get my puppy to chew on?
Puppies need safe and durable chew toys to satisfy their natural urge to chew. Look for soft rubber or nylon toys, specifically for teething puppies.
How do you stimulate a Labrador puppy?
Labrador puppies are intelligent and energetic. They need plenty of physical and mental stimulation to stay happy and healthy. Activities like playing fetch, walking, and learning new tricks keep them engaged and stimulated.
How do you entertain a lab puppy?
Labrador puppies need plenty of physical and mental stimulation to stay entertained. Activities like playing fetch, walking, and learning new tricks can help keep them engaged and stimulated.
Are Labs clingy dogs?
Labradors are known for their friendly and sociable nature. They often form strong bonds with their humans. While they may enjoy spending time with their dog owners, they are generally not considered clingy dogs.
Author Profile
Aritra, the founder of Labradorandyou.com, is a lifelong dog lover whose passion ignited for Labradors for their loyalty and intelligence. With extensive research and personal experiences, Aritra has become a Labrador expert, offering a rich resource on the breed. Labradorandyou.com provides reliable, timely, and evidence-based information, including Labrador-specific product reviews, training techniques, and care tips.

Labradorandyou.com was born out of Aritra's passion and his desire to share his profound knowledge about the breed. The site serves as a comprehensive resource, offering a wealth of up-to-date information for Labrador owners and enthusiasts alike