Having trouble finding a leash that's best for running with your dog? There's no one-size-fits-all, as the perfect running leash depends on your and your furry friend's needs. Even my wife and I were in fits on which one's gonna fit well with our lab and retriever, but after much woe, we finally found our match with Ruffwear.
This review will guide you to pick the best dog leash for running, helping you find the perfect fit based on various criteria such as comfort, control, and safety.
Different Styles of Hands-Free Dog Leashes for Running
Waist Belt + Bungee Combo
The Waist Belt + Bungee Combo hands-free leash is a game-changer for running enthusiasts with canine companions. This design boasts an adjustable waist belt, allowing runners to customize their fit for maximum comfort.
An added bungee feature provides extra give, ensuring safety if your furry friend decides to pull or you must halt unexpectedly. Small and large dogs can benefit from this arrangement, making it exceedingly versatile.
Notably popular among dog owners is the Ruffwear bungee leash that's part of this combo due to its excellent hands-free functionality. Some models also come equipped with a waist belt storage pouch – a handy element for storing essentials while moving.
Bungee Leash
A bungee leash offers a unique blend of flexibility and control, making it an ideal choice for runners. This type of leash is designed with elasticity, helping absorb the shock from sudden movements your dog makes.
If you have an active pup who enjoys running ahead or suddenly changing direction, a bungee leash can mitigate this issue by providing cushioning between you and your canine companion.
The Roamer Bungee Dog Leash and the Hands Free Bungee Dog Running Leash are two exceptional designs in the market that perfectly cater to medium to large-sized dogs. The built-in elasticity these leashes offer makes them stand out among others.
They allow natural movement while running, reducing stress on both owner's shoulder and the dog's neck. Even during colder weather or warmer conditions, these leashes ensure maximum control over your pet's movements without compromising comfort.
Leash Handle
The leash handle plays a significant role in controlling your pet during runs. It lets dog owners have a firm grip and steer them away from potential dangers or distractions. Some leashes feature additional handles close to the collar attachment, known as quick-grab handles, for maximum control.
High-quality materials ensure these are comfortable, resisting wear and tear from daily walks or rigorous running sessions. For heightened comfort, certain innovative designs include padded brake handles where the leash attaches to the sling, reducing strain on the handler's hand during sudden tugs and jerks.
Opting for a leash with built-in shock absorbers in its lower grab handle also alleviates pressure off your arm—perfect for long treks with your furry friend!
The RUFFWEAR, Trail Runner System, Granite Gray is a standout product that perfectly combines function and comfort for you and your canine companion. It features a user-friendly hip belt design that distributes weight evenly across your hips to facilitate comfortable walking or running for hours. 
This unique system also incorporates a zippered water-resistant pocket, so you do not have to worry about where to safely store essentials such as keys, ID cards, and poop bags during your outdoor adventures. One of the critical decision-making factors why we picked this product as No.1 in our list was its dog-focused considerations.
The Ridgeline Leash included in this trail runner system is designed with shock-absorbent material that affords your dog unrestricted freedom without disrupting your pace. Moreover, the intuitive leash attachment comes with an easy-release mechanism providing swift disconnection during sudden breaks or off-leash playtime with fellow furry friends at the park.
Overall, the RUFFWEAR Trail Runner System makes it easier than ever for pet parents to engage in outdoor activities while ensuring their beloved pets are secure and contented. We love how it prioritizes human comfort while never compromising on functionality – truly reflecting the essence of top-tier pet gear delivered by Ruffwear.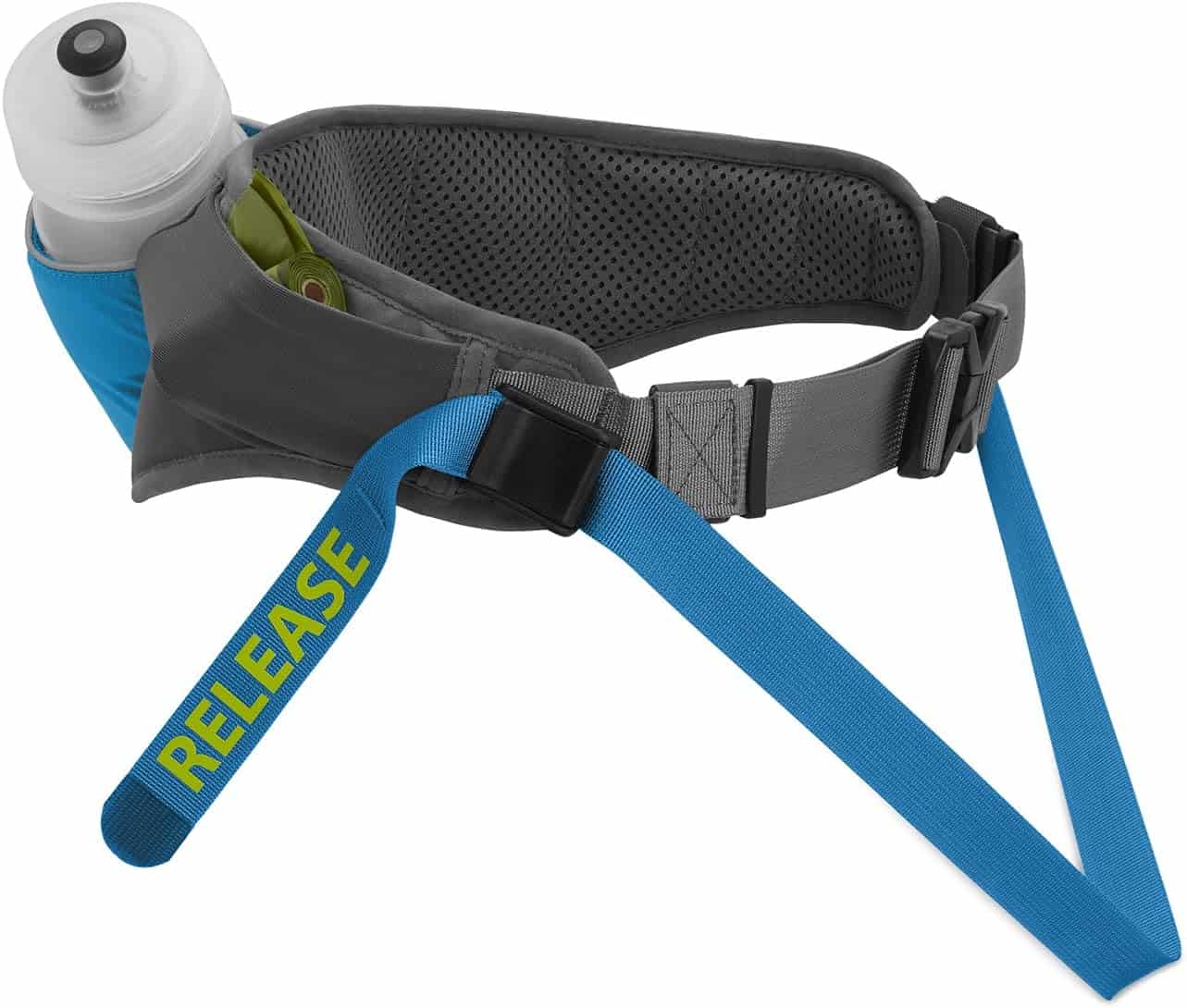 Pros
Convenient zippered pocket for storing small essentials
Includes a BPA – free water bottle for hydration on the go
Comfortable and load-dispersing hip belt for both human and dog
Shock-absorbing and bounce-free leash for freedom of movement during activities
Cons
Limited color options
The water bottle may not be large enough for longer runs or hikes
Some users may find the leash attachment release mechanism to be challenging to use at first.
The Tuff Mutt Hands-Free Dog Leash for Running is a complete game-changer when it comes to spending quality outdoor time with your furry friend.
Not only does this leash provide safety and control, but it also offers flexibility during both day and night walks or runs. 
With its reflective stitching that runs the length of the leash, visibility in low-light conditions is considerably enhanced ensuring you remain safe on evening strolls.
One standout feature of the Tuff Mutt Hands Free Dog Leash is its double handle design, which allows for better control over an excitable dog without interrupting stride.
Its shock-absorbing bungee mechanism significantly reduces strain on your arms and back especially if you have a medium to large size breed.
The easy glide belt clip ensures seamless movement as your pet zigzags around.
Despite its impressive list of features, Tuff Mutt loses out slightly on versatility compared to our number 1 pick due to its tailored nature towards larger breeds.
Owners with smaller pets might want something less robust. 
However, as our second-tier choice, it still provides exceptional value considering its durable materials paired with smart design choices such as adjustable waistbands and dual handles.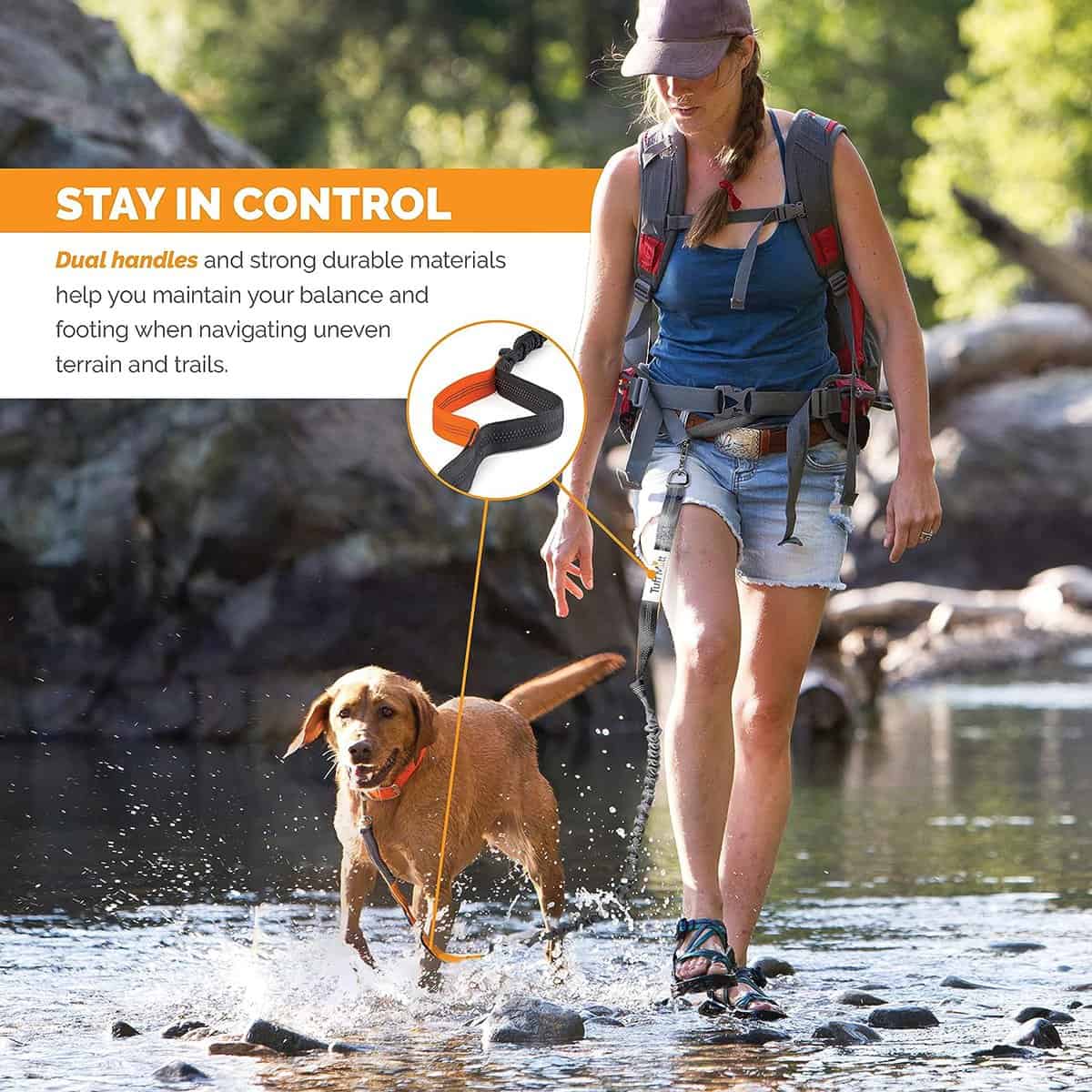 Pros
Increased safety and visibility with reflective stitching
Dual handles for easy control and guidance of your dog
Designed for medium to large dogs that tend to pull
Comfortable and hands – free running or walking experience
Cons
The belt clip may not be as durable or secure as some users would prefer
Some users may find the waist belt to be uncomfortable or difficult to adjust for a proper fit
The leash length may not be suitable for all types of runs or activities, particularly if you need more control over your dog's movements.
Using the SparklyPets Hands-Free Dog Leash provides a convenient way to exercise and control your medium or large-size dogs.
The leash is made of high-quality materials, ensuring its durability while still offering flexibility with its unique bungee design. 
Whether you're training, walking, jogging, or running with your pet, this hands-free dog leash allows you to maintain perfect control.
The key feature that sets this product apart is the option to switch from hands-free to hands-on usage in just seconds using a comfortable rubber handle.
This gives pet owners greater versatility and ensures they can quickly intervene when necessary. 
Another standout aspect is its security clips on the belt and stainless-steel clasps which distribute pulling force evenly across both sides of the buckle.
We've selected SparklyPets as number 3 on our list as it combines safety features like reflective stitches for increased visibility during late walks and an innovative support mechanism that lessens strain when your dog pulls suddenly.
With such thoughtful design elements, it's clear why this product ranks highly among users who appreciate both utility and durability packed into their pets' accessories.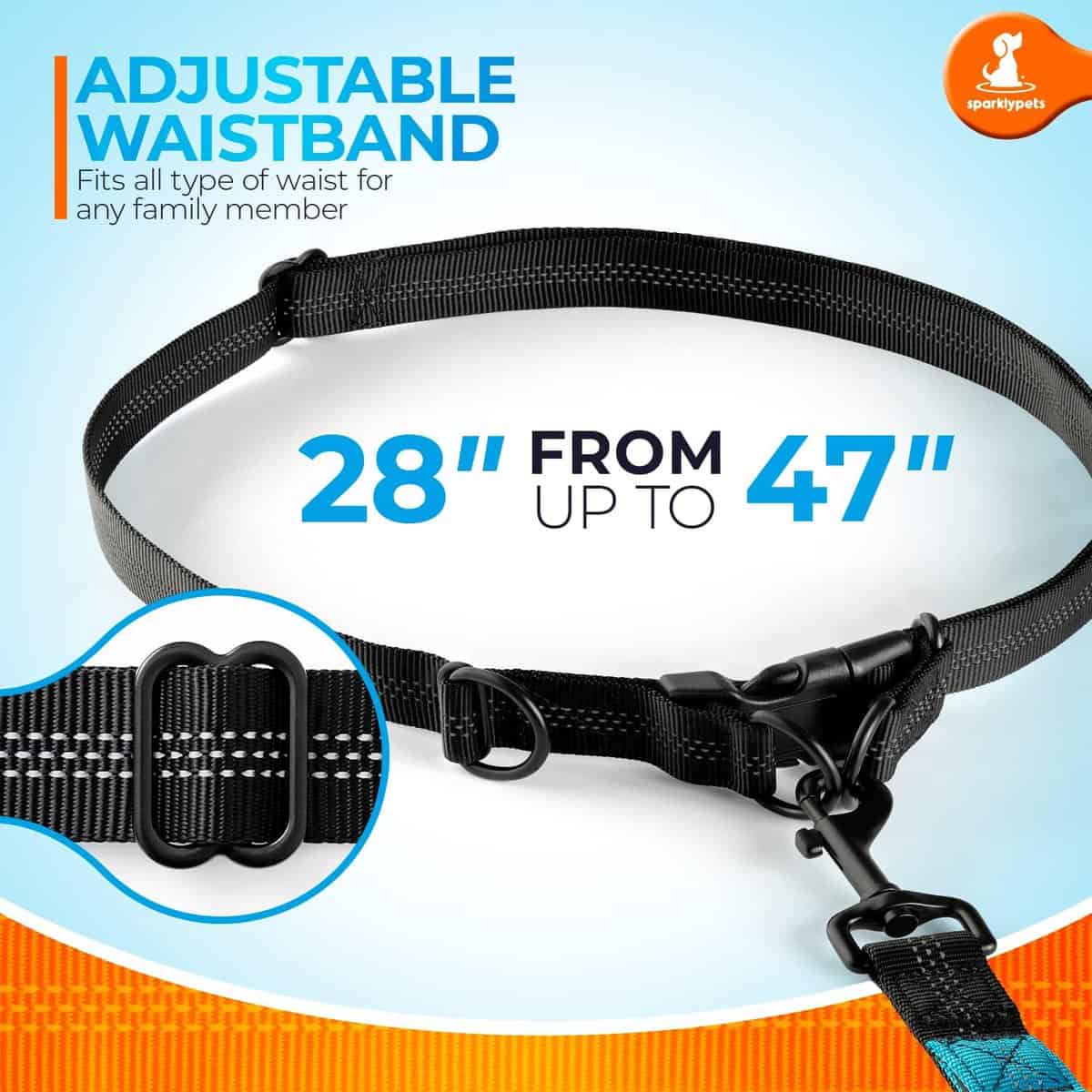 Pros
High-quality materials for durability
Easily switch between hands-free and hands-on use
Easy grip control handle for full control of your dog
explicitly designed for medium and large dogs with a strong, flexible bungee leash.
Cons
Limited color options (only available in blue)
May not be suitable for small dogs
Some customers may prefer a leash with more features or accessories
The Paw Lifestyles Retractable Hands-Free Dog Leash, is a game-changer for active dog owners.
Its design allows for enhanced freedom and flexibility during jogging, hiking, or even walking. 
The leash conveniently attaches around your waist, liberating your hands to hold other items like water bottles or cell phones.
More than just a typical dog leash, it includes dual expandable pouches that accommodate your smartphone, keys, and dog treats – handy features that enable you to maintain an active lifestyle without compromising pet care.
Impressively sturdy yet comfortable, the Paw Lifestyles Waist Dog Leash shows remarkable resilience against weather elements owing to its robust nylon construction. 
One of the standout components is the shock-absorbing bungee which absorbs sudden jerks when your curious pup spots an exciting distraction.
This feature enhances comfort by preventing harsh tugs on both ends of the leash. 
In addition, this smartly designed product incorporates two handles offering superb control over larger dogs up to 150 lbs.
Lastly but importantly, safety isn't overlooked in this product's design; reflective stitching ensures visibility in low light conditions while an extra D-ring offers convenience for hanging poop bags or clickers. 
Wrapped with a 100% satisfaction guarantee promise from Paw Lifestyle brand, this retractable hands-free leash stands out.
Not only due to its feature-rich nature but also its thoughtful approach towards facilitating easy pet management for modern lifestyles.
Pros
Convenient hands-free design allows for a comfortable and enjoyable walking experience with your dog
Dual handle bungee waist leash provides added control and flexibility while walking large dogs up to 150 lbs
Built-in smartphone pouch keeps your phone securely in place, allowing you to access your apps or take calls on the go easily
Durable construction ensures long-lasting use, making it perfect for daily walks or outdoor activities with your furry friend
Cons
May not be suitable for small or lightweight dogs as it is designed for large dogs up to 150 lbs
The retractable feature may jam or malfunction over time with heavy use
Some users may find the waist leash design uncomfortable or restrictive
The EzyDog Road Runner Leash, redefines what convenience and safety mean for our furry friends. This hands-free leash is particularly helpful for people who enjoy staying active with their dogs. 
Whether you jog or walk, the adjustable waist belt ensures comfort on your outings while providing superior control over your pet.
Its ingenious design includes a 'Zero Shock' bungee system that diminishes any unexpected strain when your dog pulls or lunges unexpectedly. 
Reflective stitching integrated into the leash significantly enhances visibility at night, guaranteeing both you and your pup are safe during those early morning runs or late-evening strolls.
This leash takes the lead (pun intended!) regarding versatility and durability.
The Ezy Dog Road Runner Leash features soft-touch webbing and a neoprene-lined handle for extra comfort, even on prolonged walks or runs.
But perhaps its most appealing feature lies in its convertible capabilities. Unclip to quickly transform it from a standard dog lead around the wrist to wearing it around your shoulder or waist whenever needed! 
Moreover, by incorporating quick-release buckle technology, adjusting leash length becomes simpler.
Pros
Adjustable length for ease of use
Patented Zero Shock Technology cushions and eases jolts and pressure
Highly reflective threads for improved night safety
Versatile design allows for hands-free walking or running experience
Cons
Price may be too high for some customers
The adjustable waist belt may not fit all sizes comfortably
Some users may find the leash to be too long or bulky
The High Sierra Walk-A-Belt Heavy Duty Dog Leash, stands out for its multifunctional design, strength, and robust effectiveness.
This leash is a lifesaver for large dog owners, accommodating up to 150 lbs with ease. 
Its nylon material offers unparalleled density and resistance against wear; your nightly walks are safe as this leash comes embedded with reflective stitching on both sides.
One of the innovative features of this heavy-duty Leash is its shock-absorbing bungee design intended primarily for strong pullers.
It remarkably cushions pulls while improving control over your furry companion's movements—no more tussle or struggle when they're eager to explore. 
The two padded handles also provide an extra layer of comfort and control. One 18 inches from the clasp ensures easy steering in crowded areas or training sessions, while another at the end keeps your wrist comfortable during long walks.
The addition of a car safety buckle takes versatility a notch higher by doubling as a dog seat belt keeping them secure during drives.
Not forgetting, it incorporates a rotating solid carabiner clip constructed from aviation zinc alloy that can withstand high tension force.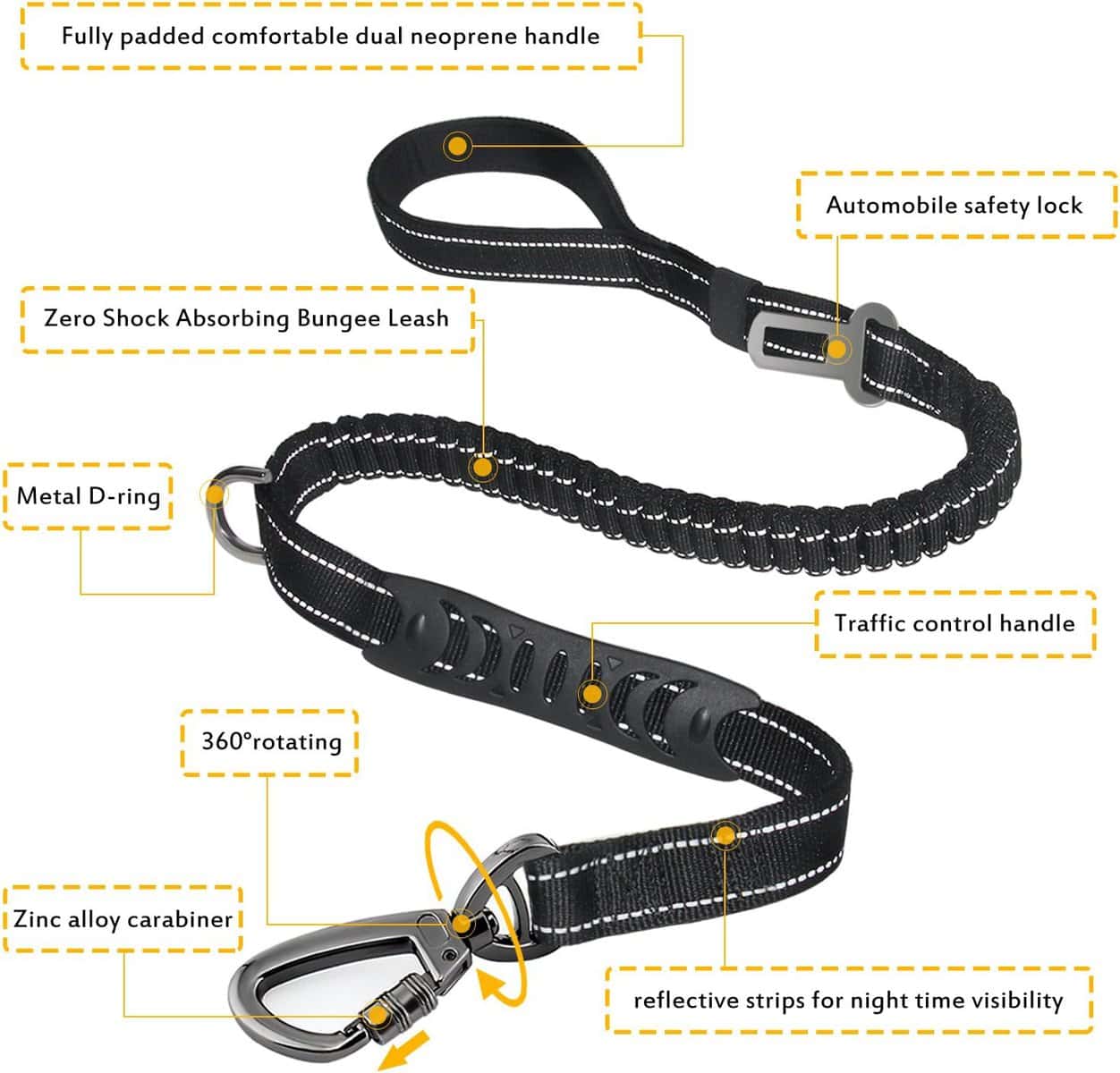 Pros
Multifunctional leash: Can be used as a dog seat belt and to hang accessories
360° rotating carabiner clip: Prevents twisting and tangling, provides freedom of movement for the dog
Comfortable and controlled handling: Two soft padded handles for guidance and control in busy areas or training sessions
Shock absorbing bungee leash: Cushions pulling, making walks more enjoyable for both the dog and the owner
Cons
The carabiner clip may be difficult to open and close, especially for those with limited hand mobility.
The leash can be heavy and bulky, making it less comfortable to hold for extended periods.
Some users have reported that the shock-absorbing bungee feature is less effective than they had hoped, especially for powerful pullers.
The Orvis Personalized Reflective Harness stands out in the sea of dog accessories with its customizable and safety-conscious design. 
One of the most significant selling points is its breadth of choice, allowing you to pick from 10 collar colors and 9 thread colors, enabling a personalized look.
This isn't just about style, though – it's also about safety. 
The harness includes embroidered personalization with your dog's name and phone number, offering peace of mind knowing that if your pup ever gets lost, it can be safely returned.
Made in the USA, this product boasts superior quality with sturdy nylon material featuring sonic-welded seams, which are reported to be 80% stronger than stitched ones.
The heavy-duty side-release buckle and steel D-ring add further security while being user-friendly enough to snap on or off quickly when needed. 
As it adjusts easily without leaving loose ends around, this Orvis Collar-Leash set is also an ideal choice for growing puppies. It is practical and easily washable, making it a convenient option overall.
Considering some limitations, although praised for durability under general use, the manufacturer does not recommend these collars for tying out dogs.
This small setback notwithstanding, the impressive balance between aesthetics, safety,and durability makes Orvis Dog Adjustable Collar-with-Leash an excellent investment to ensure comfort and safety for your beloved pooch.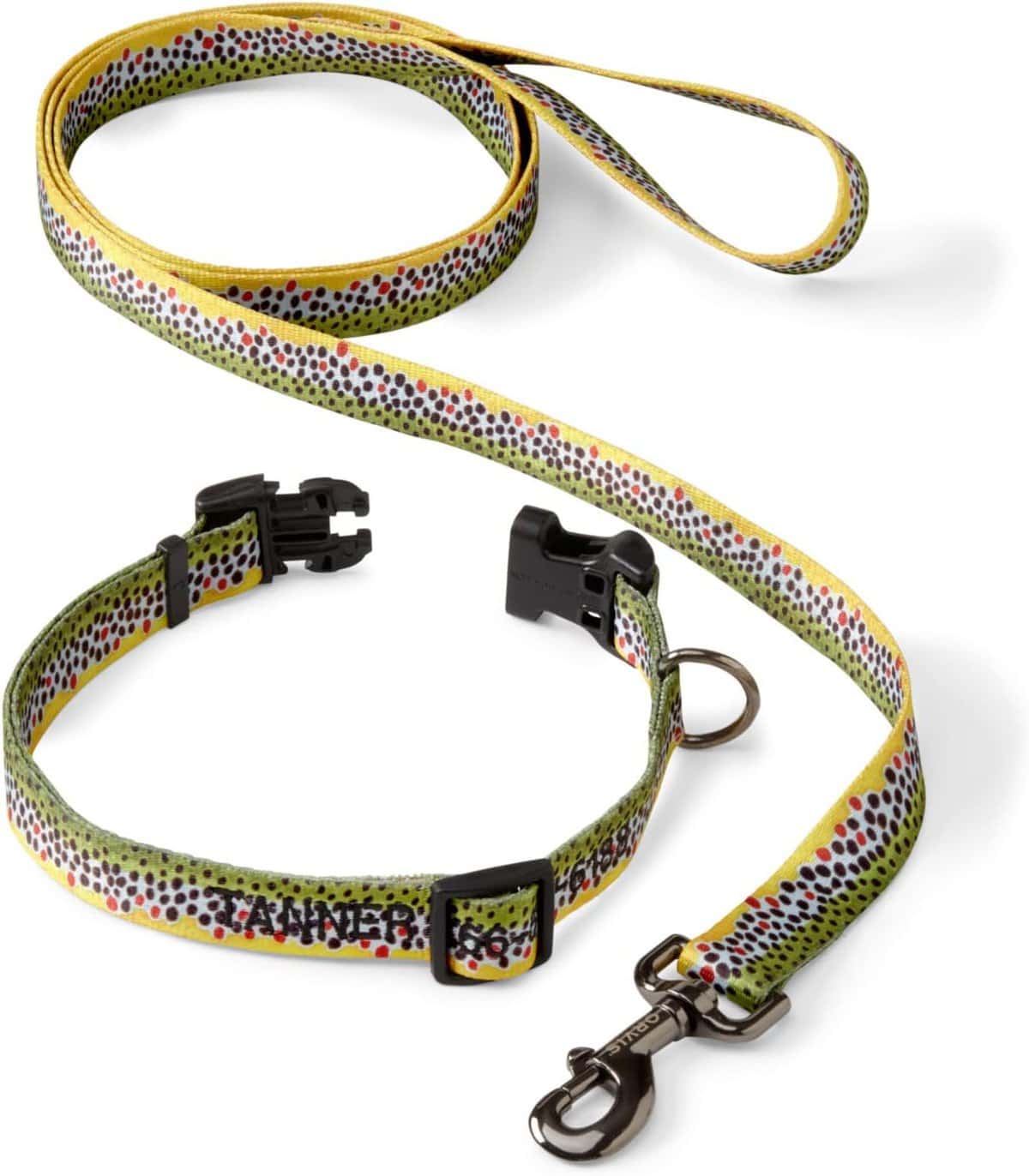 Pros
Personalized color combo options for a unique look
Heavy-duty buckle and steel D-ring for durability
Sturdy nylon material with sonic-welded seams for added strength
Embroidered personalization enhances visibility and safety for your dog
Cons
Limited color options compared to other harnesses on the market
The heavy-duty side-release buckle may be difficult for some users to open and close
The price point is higher than similar personalized harnesses available.
The Neewa Adjustable Racing Harness is a top-tier product for dog lovers looking to engage with their pets in outdoor activities actively.
Made entirely of non-allergenic and breathable materials, this harness guarantees comfort for your pet even during strenuous pulling. 
The padding on the neck and rib cage areas provides additional safety features that ensure your dog feels secure while taking part in canoeing, sking, or biking. 
Notably, the reflective stripes add an essential safety feature by making your dog highly visible at night, thus ensuring you can enjoy evening outings without any concerns.
This H-shaped harness stands out because it offers freedom around the belly area.
An aspect that is extremely beneficial for dogs who prefer unrestricted movement while participating in active sports like sledding or trekking. 
You may also combine it conveniently with a hands-free leash for seamless operation during these activities.
For instance, I used the Neewa Adjustable Racing Harness on my beagle puppy during a recent skateboarding trip and was impressed by how well he adjusted to it quickly! 
Pros
Highly visible at night with reflective stripes
Made with non – allergenic and breathable materials for extreme comfort
Padded neck and rib cage areas ensure perfect comfort during pulling activities
Designed for sprint races and ideal for dog sledding, canicross, skijoring, bikejoring
Cons
May not be suitable for dogs with specific body shapes or sizes that do not fit the adjustable sizing options of the harness
Some users have reported that the padding on the neck and rib cage areas may not provide enough comfort during intense pulling activities
The harness may not be as durable as some other racing harness options on the market, leading to potential wear and tear over time.
The PetSafe Nylon Hands-Free Dog Leash offers unparalleled convenience and flexibility for all dog owners.
This product stands out due to its adjustable belt that ranges from 31″ to 53″ and a similarly adjustable leash, making it highly versatile for various user heights and pet sizes. 
As USA's industry leader in pet lifestyle products since 1991, PetSafe showcases its expertise through this high-quality nylon leash, designed specifically for on-leash training, jogging, or hiking.
One of the standout features of PetSafe's hands-free accessory is the Velcro closure incorporated in the belt design. It allows quick and safe release if required.
The hands-free option liberates your hands by securely attaching the leash to your waistbelt.
In sum, owning the PetSafe Nylon Hands-Free Dog Leash provides greater freedom while ensuring safety during walks, hikes, or runs with your dog. 
Coupled with durability synonymous with PetSafe products plus expert US-based customer care available six days a week ready to assist with any queries, this practical device elevates comfortability without compromising quality control.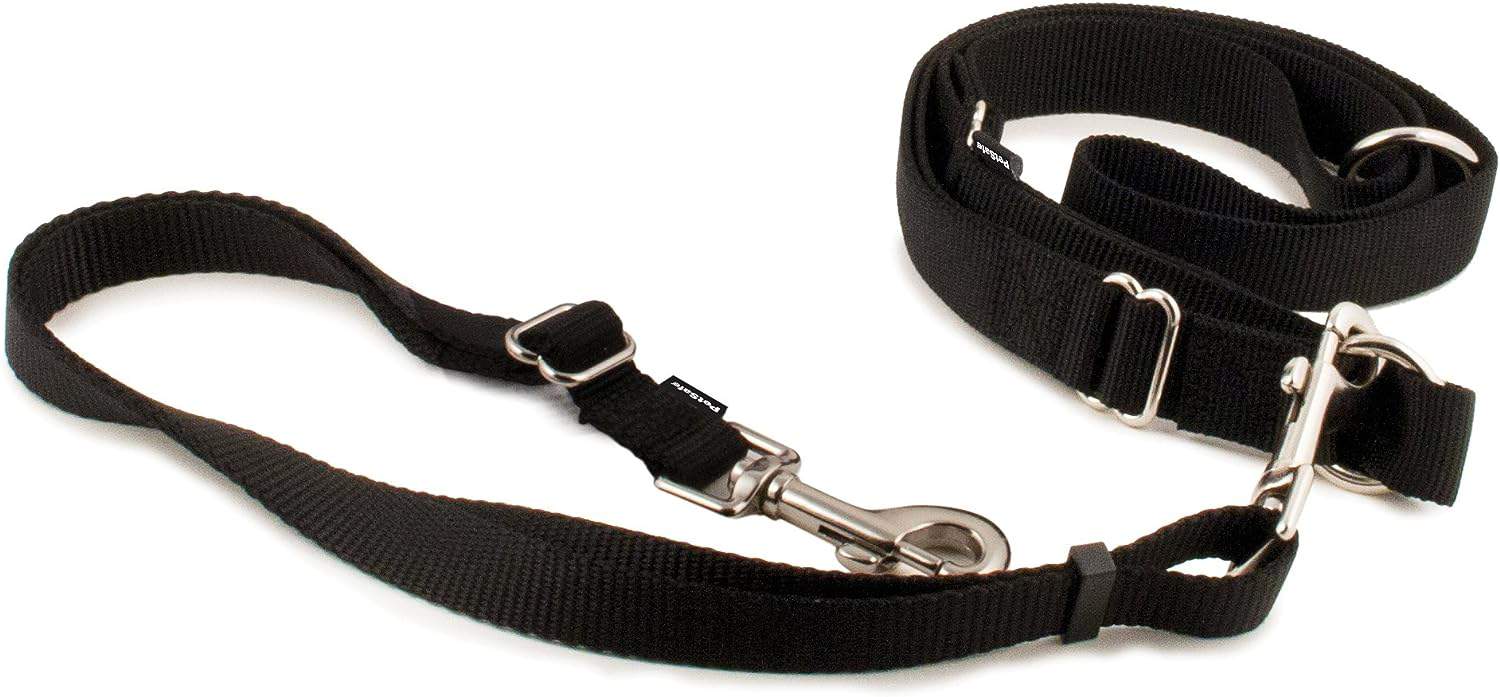 Pros
Hands-free convenience for walking, training, jogging, and hiking
Adjustable belt and leash length for a customizable fit
Quick and safe release with Velcro closure on the belt
Durable and comfortable nylon material for long-lasting use
Cons
Limited adjustability in belt and leash length
Velcro closure may not be secure enough for some users
Not suitable for larger or stronger dogs as the nylon leash may not be durable enough
The Zee.Dog Hands-Free Leash sets a new standard for convenience and versatility. This 3-in-1 leash is a dream come true for dog owners, with its innovative design that allows you to go hands-free. 
With an adjustable length of up to 7 feet, it can be worn crossbody or around the waist, depending on your preference.
Using the intuitive E.Zee Lock mechanism means you can effortlessly tether your furry friend to table legs or benches when necessary.
In terms of durability, this leash outperforms most competitors in its category – all thanks to its robust metal hook designed for easy opening and closing. 
But what makes the Andromeda stand out is how light it feels on the wrist, making long walks more comfortable than ever before.
It's obvious that Zee.Dog has gone overboard in ensuring user experience stays uncompromised whether you're using a regular long leash or have chosen the hands-free option.
All in all, if comfort and flexibility are top decision-making factors when choosing a dog leash, then Zee.Dog Hands-Free Leash ticks all boxes effortlessly. 
Not only is it well-designed for ease of use but also ranks high on adaptability – making every walkies less cumbersome and more enjoyable!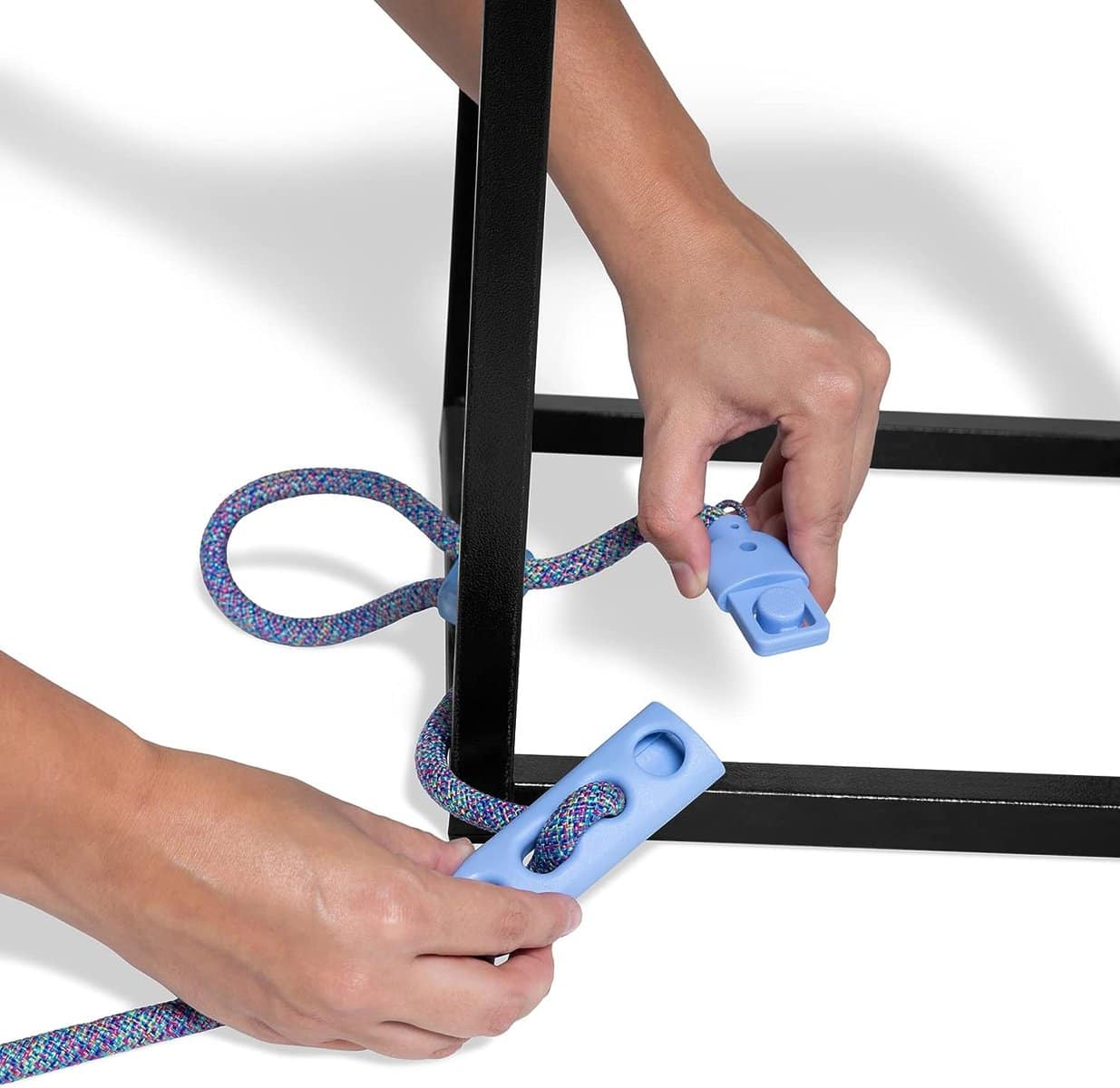 Pros
Hands – free walking experience
Versatile and adjustable design
Durable metal hook for easy attachment
Allows for tethering to various objects
Cons
Limited color options
Some users may find the metal hook difficult to open and close
May not be suitable for very small or large dogs
Riddick's Hands-Free One & Two Dog Leash is a highly rated product that enhances comfort during walks, runs, jogs, hikes or any outing with your furry friends. 
This leash stands out from others in the market due to its premium quality materials, such as high-grade tubular nylon webbing with reflective stitching for visibility at night and rust-proof shiny nickel fittings for longer durability. 
The shock-absorbing bungee leash offers excellent no-pull resistance, particularly useful when dealing with energetic or strong breeds.
The dual handle system is an innovative design feature that provides increased control over your pet.
The top handle can be unhooked and used like a standard leash, while the lower handle allows for more direct command in hostile situations or crowded streets. 
But their convenience features truly set Riddick's hands-free dog leashes apart.
The double zipper pouch ensures you're never without poop bags, and there's even a water bottle holder so you and your pet stay hydrated on long treks.
In short, whether you're training puppies or taking your pets out for daily exercise sessions, Riddick's Hands-Free Leashes help create worry-free experiences.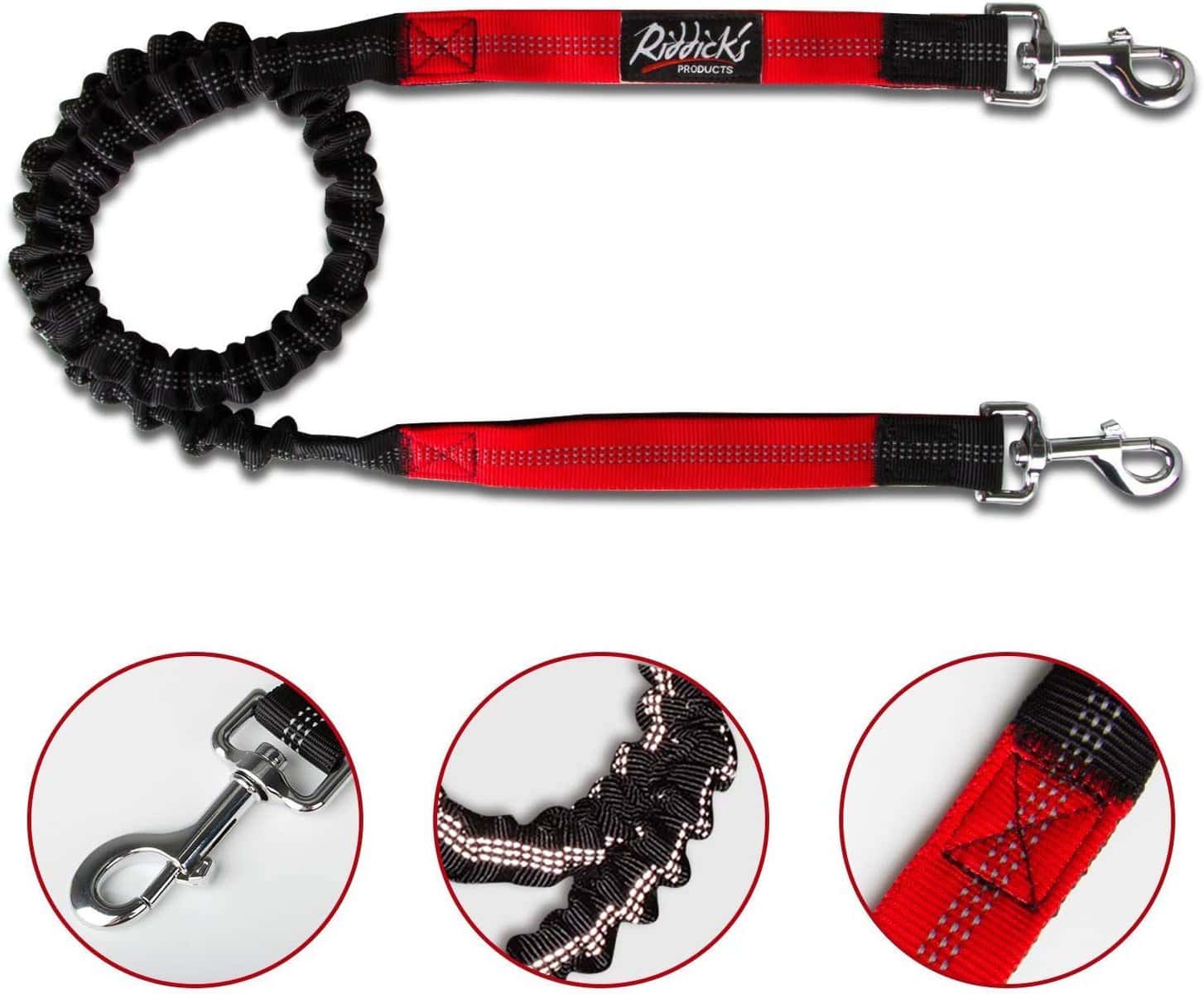 Pros
Allows for hands-free walking, running, hiking, and training of one or two dogs
Features a shock-absorbing bungee leash to prevent pulling and jerking on the leash
Includes a 4ft premium quality double handle for added control and versatility
Comes with accessories specifically designed for two dog walking convenience
Cons
Limited adjustability may not fit all body sizes comfortably
Bungee leash may be too stretchy for some dogs, leading to sudden jolts
Double handle design may not be necessary or preferred by all users
The Petter Bungee Retractable Hands Free Dog Leash & Body Strap is a versatile and reliable product that delivers safety, comfort, and convenience for pet owners and furry friends. 
Designed with active dog owners in mind, this leash is made from strong ballistic nylon durable enough to last through years of running, jogging or casual strolls. 
Its lightweight construction ensures you're not slowed down on your adventures together; its anti-tangling feature is a blessing when you've got an energetic pup pulling you all over the place.
One of the standout features of this Tuff Pupper item is the shock absorbing bungee that stretches 3 to 6 feet.
This clever addition mitigates sudden pulls or jerks which can lead to harmful situations for both parties involved. 
The leash also includes a reflective padded handle for those late-night wasuring maximum visibility so that both dogs and humans are spotted easily by vehicles on road. 
Furthermore, it transforms into a hands-free waist leash within seconds providing a stronger connection while leaving your hands available for multitasking tasks like juggling coffee cups or answering text messages!
In essence, The Petter Bungee retractable leash is every active dog owner's dream – it's convenient, robust and thoughtfully designed towards safety precautions during night time usage as well! 
With top-notch customer service offered by Tuff Pupper and their hassle-free Lifetime Guarantee against manufacturer defects, investing in this leash is one worthwhile decision!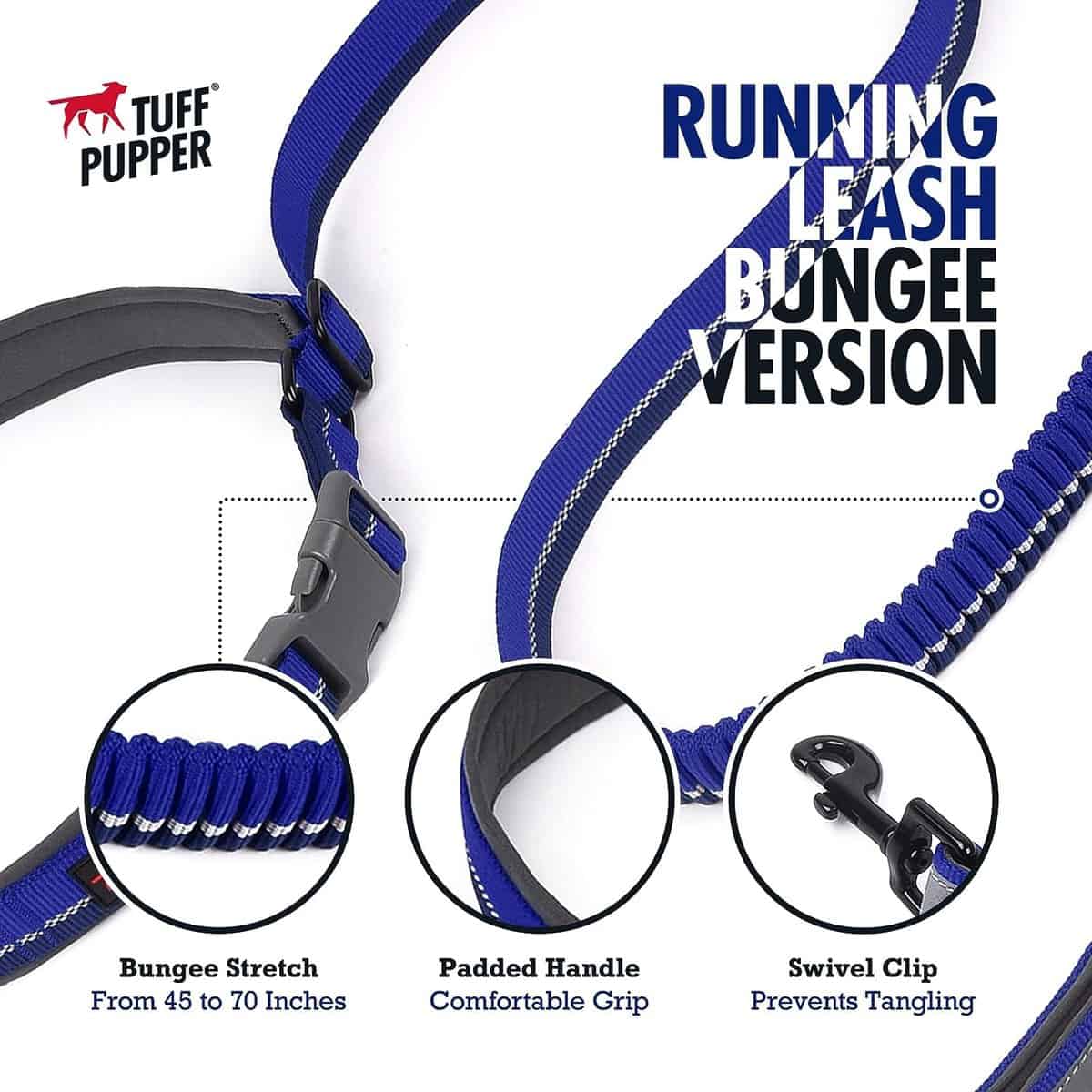 Pros
World-class customer service & 100% satisfaction guarantee
Designed for nighttime safety with reflective stitching and strips
Heavy-duty yet lightweight construction for durability and ease of use
Shock-absorbing bungee stretch for added safety and control
Cons
The waist belt may not fit all sizes, as it is adjustable from 24 – 50 inches.
The leash does not have multiple length options, limiting versatility for different situations.
The reflective strips may wear off over time and lose their effectiveness.
Features to Look For in Hands-Free Best Dog Leash For Running
Hands-free dog leashes should have multiple configurations, shock absorbers, LED lights, reflectors, and accessory pockets.
Multiple Configurations
Hands-free dog leashes designed for running and jogging come with multiple configurations.
These leashes are not limited to a single style but rather offer various options to suit different preferences and activities.
Some hands-free leashes feature waist belts combined with bungee cords, providing a secure and comfortable fit while allowing for flexibility and movement during your run. 
Others may have additional grabbing points or traffic handles for quick access and maximum control.
With these multiple configurations, you can choose the leash that best fits your needs and ensures a safe and enjoyable running experience with your dog.
Shock Absorbers
Shock absorbers are an essential feature to look for in hands-free dog leashes designed for running.
These shock-absorbing leashes help absorb impact and jarring movements, providing a more comfortable experience for both the dog and the runner.
Reducing strain on the dog's neck and joints can minimize the risk of injuries during runs. 
They are particularly beneficial for dogs that tend to pull or have a lot of energy, as they prevent sudden jerks or pulls that could throw off balance.
With shock absorption, runners will have improved stability and balance while enjoying their favorite activity with their companions.
LED Lights
LED lights on hands-free dog leashes are valuable, especially for those who enjoy running with their dogs at night or in low-light conditions. 
These lights increase visibility and make it easier for passing motorists to spot you and your furry companion.
They are handy when jogging on dark roads where visibility may be limited. LED lights on hands-free dog leashes are considered safe for pets and help alleviate anxiety during nighttime walks.
So, if you're an avid runner who likes to hit the pavement after sunset, consider investing in a hands-free dog leash with built-in LED lights for added safety and peace of mind.
Reflectors
Reflectors are an important feature when choosing a hands-free dog leash for running. These reflective materials or piping can significantly improve visibility and safety, especially during nighttime or low-light conditions.
With reflectors on the leash, drivers and pedestrians will easily spot you and your dog, reducing the risk of accidents or collisions. 
Whether you prefer early morning runs or evening workouts, reflectors on hands-free dog leashes provide added peace of mind by increasing your visibility to others.
Stay safe and enjoy your favorite activity with this important feature.
Incorporating reflectors into hands-free dog leashes is common in designing these running essentials. The purpose is simple: to enhance visibility during nighttime or low-light situations so that you and your furry friend remain safe while enjoying outdoor activities together.
Accessory Pockets
Hands-free dog leashes for running often come equipped with accessory pockets. These handy pockets provide a convenient way to carry essential items while out on your run. 
Whether it's a water bottle, treats, or waste bags, you can easily store them in these pockets and have them readily accessible when needed.
Some hands-free leashes even have a specific pocket designed to hold a water bottle securely during your workout. 
The size and number of accessory pockets may vary depending on the leash model, but they are typically attached to the waist belt or harness of the hands-free leash.
With these accessory pockets, you can keep your hands free and focus on enjoying your run with your furry companion.
Other Features to Consider for Best Dog Leash For Running
Runner-friendly dog leashes often come with additional features that can enhance your running experience with your furry companion. 
One important feature to consider is the presence of an accessory loop or pocket, which allows you to conveniently carry essentials such as treats, keys, or waste bags during your run.
Another useful feature is a water bottle holder, especially for longer runs in warmer weather when you and your dog need hydration.
In addition to these practical features, it's also beneficial to look for leashes with reflective materials or trim. This ensures better visibility during low-light conditions like early morning or evening runs.
Reflective elements make you and your dog more visible to others on the road, enhancing safety while running together.
Furthermore, some runner-friendly leashes offer adjustable lengths, allowing you to customize the control over your dog depending on the situation.
Shortening or lengthen the leash as needed can be particularly helpful when encountering other dogs or pedestrians during your run.
By considering these additional features alongside factors like shock absorption and durability mentioned earlier, you can find a runner-friendly dog leash that meets all your needs.
FAQ about Best Dog Leash For Running
Do dogs need water while running?
Dogs need water while running to replenish the fluids lost through panting and sweating. Just like humans, dogs can get thirsty during physical activity, especially in warmer weather or if they are running for extended periods.
To ensure that your dog stays hydrated while on the run, it is a good idea to bring an extra water bottle and pour a stream of water for them to drink from.
You can also train your dog to drink from a water bottle while running, which can be convenient and practical when you're out on the trails or taking long runs together.
How to run safely with your dog?
To run safely with your dog, choosing the right leash system and harness is important. Make sure to select a hands-free dog leash that allows you to keep your hands free while still maintaining control over your pup.
Look for features like a shock-absorbing bungee or reflective trim for added safety.
Additionally, invest in a running-specific dog harness that provides comfort and support for your furry companion.
Train your dog to run with a loose leash to prevent pulling and ensure a smooth running experience. Keep both you and your dog hydrated during the run, especially in warmer weather, by bringing along water for both of you.
Do dogs need to run every day?
Dogs do not necessarily need to run every day, but regular exercise is important for their physical and mental well-being.
The amount of exercise a dog needs depends on factors such as their breed, age, and overall health.
While some high-energy breeds may require more daily runs or vigorous activities, other dogs may be content with shorter walks or play sessions.
It's essential to provide them with opportunities for physical activity to prevent obesity and promote a healthy lifestyle.
What age should dogs stop running?
There is no set age at which dogs should stop running, as it varies depending on their individual health and fitness levels.
However, it is generally recommended for puppies to wait until they are at least 10-12 months old before introducing them to running.
Remember that not all dogs are suitable for running, so consider factors such as breed, size, and pre-existing conditions before embarking on a regular running regimen with your furry friend.
What type of leash is best for running?
The best type of leash for running with your dog is a hands-free leash.
Hands-free leashes allow you more mobility and freedom while maintaining control over your dog.
These leashes typically come with a waist belt that securely attaches to your body, leaving your hands free to focus on your stride.
Experts highly recommend the Kurgo 6-in-1 Hands-Free Dog Leash as the best overall leash for running.
It provides multiple configurations and features, such as shock absorption and reflective trim, making it perfect for keeping you and your furry friend safe during your runs.
Is it better to run with a dog in a harness or collar?
Using a harness is generally better than using a collar when running with your dog. A harness provides better control and reduces strain on the dog's neck compared to a collar. It is especially recommended for dogs that pull or have respiratory issues.
While a collar may be suitable for well-behaved dogs, opting for a harness ensures a safer and more comfortable experience for the dog and the owner during their run.
What is the difference between a training leash and a regular leash?
Training leashes and regular leashes serve different purposes when it comes to walking our furry companions.
A training leash is designed to help owners teach their dogs proper leash etiquette, while a regular leash is commonly used for everyday walks.
Training leashes often come with additional features like adjustable lengths, extra handles for better control, and reflective materials for increased visibility.
On the other hand, regular leashes can be made of various materials such as leather or nylon but typically lack these specific training-focused elements.
The goal of a training leash is to assist in teaching dogs how to walk without pulling, staying close to their owner, and responding to commands effectively.
Are bungee leashes good for running?
Bungee leashes are excellent for running with your dog. These special leashes have built-in shock absorbers that help reduce the impact of sudden pulls or tugs.
They give dogs extra inches of flexibility, allowing them to move freely without feeling restricted.
Bungee leashes are also adjustable to customize the length and tension based on your dog's size and running style.
Whether going for a jog or hitting the trails, bungee leashes are great for active pet owners who want to enjoy their favorite activity with their four-legged companion.
Why are rope leashes better?
Rope leashes are considered better than other types of leashes for several reasons. Firstly, they allow dogs to move freely without feeling restricted.
This is particularly important during running or any high-energy activity, as it allows the dog to maintain their natural movement and stride.
Rope leashes provide shock absorption while running on trails or uneven terrain. The flexibility and adjustability of rope leashes make them preferred over flat leashes for active dog owners.
Moreover, long rope leashes offer proper control and prevent injury during runs or chasing activities when used with a harness. 
One popular option is the bungee leash Ruffwear offers, which integrates elastic for an even force dispersion during dynamic movements.
Overall, rope leashes are a great choice for pet parents who want to ensure their dog's safety and comfort while engaging in outdoor activities like running and hiking.
What kind of leash do vets use?
Vets often use standard leashes when handling dogs in their clinics. These leashes provide a secure and reliable way to control the dog without any additional features or fancy designs.
Standard leashes are made of sturdy materials and typically have a comfortable handle for the vet to hold onto. They allow vets to guide dogs during examinations, procedures safely, or walks within the clinic premises.
With a standard leash, vets can easily attach it to the dog's collar or harness and have full control over their movements.