Owning a dog means making it as comfortable as possible – especially when they age or have mobility issues. One surprising solution? A dog ramp. This review will guide you through 12 best dog ramps and help you pick one that fits your pet's needs and size. Get ready to let dog freely access their favorite spots without discomfort!
The PetSafe Happy Ride Folding Dog Ramp is a top-tier choice that takes convenience and functionality to new heights.
Weighing a mere 10 lbs, it's lightweight yet strong enough to support larger dogs up to 150 lbs.
Its high-traction surface ensures your furry friend can confidently walk up and down without slipping or falling. This safety feature is particularly appreciated on our road trips with Sammy, our golden retriever.
The ramp's foldable design is another major plus point. Simply fold it halfway between car stops or when you're back home. It is stored away easily thanks to its compact size and safety locks.
This hassle-free storage solution saves precious space in cars, trucks & SUVs. The trusted PetSafe brand leading pet lifestyle innovations since 1998, assures quality and reliability.
It is no. 1 on our list due to its unrivaled mix of durability, practicality, and excellent customer care.
Highlights
Compact and portable pet ramp for easy transportation and storage
Made of durable plastic material to withstand wear and tear
Designed to provide a safe and secure ramp for dogs to access vehicles easily
Measures 62 inches in length, providing ample space for dogs of all sizes
Suitable for indoor or outdoor use, offering versatility in various settings
Manufactured by a trusted American company with proven expertise in pet products
Pros
Portable and foldable design for easy storage and transportation
Non-slip surface and side rails provide slip safety for pets
Lightweight yet durable construction supports pets up to 150 pounds in weight
Enables pets to independently get in and out of cars, trucks, and SUVs
Cons
Not a suitable dog ramp for very small canines
Some customers reported ramp is not too sturdy and may flex under heavier dogs
The ramp may take up significant space in smaller vehicles when folded
The Pet Gear Bi-Fold Half Ramp sets an industry standard for pet safety reasons and convenience. It's a standout product, the perfect pet ramp for cats or dogs up to 200 lbs.
It enables easy access to your SUVs and vans with minimal effort. The is a lightweight dog ramp, making it effortlessly transportable at a mere weight of 12 lbs.
Its bi-fold feature enables compact storage, while the built-in handle aids portability.
The Pet Gear Travel Lite Bi-Fold Ramp combination is remarkable due to its attention to pet safety reasons and owner convenience.
Rubber grippers on the bottom keep the ramp steady during use, delivering additional stability and securing pets' footing.
Its SupertraX tread provides further footing security by protecting pets' paws from rough surfaces. This tread is removable and machine-washable- a testament to how thoughtfully designed this product is.
We've chosen the Pet Gear Ramp as second on our list for its quality design and value for money. It is perfect for pet parents seeking a lightweight, stable, and reliable ramp for dogs.
Highlights
Bi-fold design for easy storage and transportation
Has up to 200 pounds of weight limit
Dimensions: 42″L x 16″W x 4″H when unfolded
Made with durable carpet material in a stylish tan color
Suitable for use as a dog car ramp
Available since December 14, 2009, without any discontinuation.
Pros
Lightweight and portable pet ramp
Safety tether included for added security 
Rubber grips on the bottom provide further stability level
SupertraX tread protects pets' paws and ensures a secure grip
Cons
Limited maximum weight capacity of 200 lbs may not be suitable for heavier pets
Rubber grippers on the bottom may not provide enough stability level on certain surfaces
SupertraX tread may require frequent cleaning to remove dirt and debris
Efficiency and convenience merge flawlessly in the PetSTEP Original Folding Pet Ramp. Its robust composite plastic construction can hold up to 500.
It makes this ramp suitable for animals of all sizes. The design incorporates unique non-slip rubberized walking surfaces, providing superior traction in wet and dry conditions.
This thoughtful feature reduces the risk of slips or falls while being gentle on your pet's paws.
This folding ramp reduces arthritis in dogs and hip dysplasia pain due to less jumping or struggling.
This product is portable and easy to store owing to its folding capability and molded ergonomic handles.
It showcases unmatched user-friendliness, placing it firmly on our list at No.3 . Cleaning is also no hassle.
You only need soap and water to keep it spotless. Besides, it doesn't trap odors like some carpeted surfaces do!
The PetSTEP Original Folding Pet Ramp blends practicality with durability perfectly. Its features cater directly to anyone seeking comfort for their four-legged companions.
This lightweight, foldable pet ramp is perfect for pet owners wanting to make traveling with their furry friends easier.
Highlights
Portable and collapsible design
A safe and convenient ramp for vehicles or elevated surfaces
Made of durable plastic material
Suitable for both indoor and outdoor use
Can support up to 500 pounds of weight
Non-skid feet ensure secure footing for pets
Pros
Rust-proof and easy to clean
Helps reduce pain for dogs with arthritis or dysplasia
Durable construction holds up to 500 lbs
Convenient folding design with ergonomic carry handles makes it easy to store and transport
Cons
May be too heavy for some pet owners to handle
Not suitable for very small or lightweight pets
Some customers reported that the anti-skid surface wore down over time
The WeatherTech PetRamp is hailed as a highly functional solution for pet owners across the USA.
It provides safe and easy access for your furry friends to hop in and out of cars, trucks, and high furniture items like beds and couches.
This ramp for bed has a non-slip design that ensures maximum safety and comfort for your pets while ascending or descending.
This foldable ramp supports up to an impressive 300 lbs. It also incorporates a textured surface providing superior traction, making it ideal even for older pets.
Conveniently lightweight at just 16 lbs., this portable ramp can be easily transported anywhere.
The integrated handles further enhance the portability quotient while allowing compact storage. It is durable and made from proprietary resin and stainless steel connecting rods.
It effortlessly accommodates both small dogs and larger breeds alike. This made-in-USA product from WeatherTech guarantees top-notch quality and is backed by a Lifetime Limited Warranty.
The WeatherTech PetRamp is a perfect pet ramp for owners who want their furry friends to access hard-to-reach areas safely.
Highlights
Durable rubber construction for long-lasting use
Compact and foldable design for easy storage and transport
Can support up to 300 pounds of weight
Suitable for use with dogs of all sizes
Helps pets safely access cars, trucks, SUVs, and more
Made in the USA by WeatherTech, a trusted brand in pet products.
Pros
Made in the USA with a Lifetime Limited Warranty
Safe and easy to use with an anti-skid surface and rubber feet
Lightweight and portable design
Supports up to 300 lbs. for use with small and large dogs
Cons
May not be suitable for very large dogs or pets over 300 lbs
May take up some space in your car or home when it is unfolded
Anti-skid surface on the ramp can become less effective over time
The Solvit Deluxe Telescoping Pet Ramp, brought to you by PetSafe, is a game-changer for pet owners.
This lightweight yet robust ramp provides an innovative solution for pets needing assistance in and out of vehicles.
Weighing only 13 pounds, this aluminum ramp can support up to 400 pounds of large dogs. Its adjustable telescoping dog ramp feature extends from 39-72 inches. 
Its ease of use and the high-traction surface and side rails give your fur baby confidence. The safety latch locks the ramp when stored away, preventing sudden extension during travel.
It protects your pet's joints from unnecessary strain and gives them the independence they relish. Especially if they are too short or old to hop into vehicles independently.
Take it from someone who has seen firsthand a senior Golden Retriever joyfully adapt using this ramp. 
It is a lightweight, adjustable dog ramp for furry friends to access their cars, minivans, or SUVs. Try it today!
Highlights
The telescoping dog ramp design allows for easy extension and retraction
No assembly is required, saving time and hassle
Made from durable aluminum material that can support up to 400 pounds
The foldable design makes it convenient for storage and transportation
Suitable for use with vehicles
Positive customer reviews highlight the product's effectiveness
Pros
Easy to store and transport
Provides a safe and secure broader walking surface for pets
Adjustable dog ramp size to fit different vehicles
Allows pets to independently enter and exit vehicles
Cons
May not be suitable for very small vehicles with limited space
The high-traction surface may require regular cleaning to prevent the buildup
The weight capacity of 400 lbs may not be sufficient for larger dog breeds
The SASRL Adjustable Portable Dog and Cat Ramp offer versatility, durability, and convenience.
Crafted with sturdy solid wood construction, this ramp works well for pets up to 100 pounds. It offers four adjustable heights – 9.3", 15.3", 19.6", and 24". 
A unique feature of this dog ramp is the non-slip rug surface that includes grooves designed. It prevents accidents during your pet's transitions from one level to another, even with heavier breeds like St Bernards or Newfoundlands!
The environmentally friendly plastic layering makes it scratch-resistant, ensuring long-lasting use despite sharp claws and rough play sessions.
The portability factor cannot be overstated. Whether storing it under a couch at home or packing it into a car – folding it takes seconds!
The free-standing design also adds value, as no vehicle attachment is needed.
I have watched my senior golden retriever navigate levels smoothly, aided by the SASRL ramp. He felt confident transitioning between floors independently, reducing both our stresses.
It is perfect for pet owners who want to give their furry friends an extra helping hand. It is strong, sturdy, and has adjustable height settings making it ideal for accessing couches, beds, or cars. 
Highlights
Adjustable and portable couch ramp for dogs and cats
No batteries are required for the operation
Supports a maximum load of 100 pounds
Lightweight design weighing only 1.6 ounces
Foldable for easy storage and transportation
Made with durable materials, including wood, stainless steel, and plastic
Pros
Easily adjustable ramp for a perfect height
Collapsible ramp design for easy storage and transportation
Non-slip rug surface provides safety and comfort for pets
Sturdy construction can support pets up to 100 pounds
Cons
Shorter ramp for larger or taller pets
Non-slip carpet surfaces may need frequent cleaning
Some customers have reported difficulty in height adjustments
Snoozer Pet Products Orthopedic Scalloped Dog Ramp is highly functional and aesthetically pleasing.
It can accommodate pets weighing up to 100 lbs. The beauty of this product resides in its thoughtful design.
The scalloped pet steps offer stability, simplicity, and easy climb for small and large dogs.
Its sturdy construction and high-density polyurethane foam ensure durability while remaining light.
This Snoozer ramp is available in various micro-suede fabrics and adds an elegant touch to your home décor.
It has a machine-washable cover, so you won't have any trouble keeping it clean and fresh.
One customer whose elderly dog initially feared ramps found that their dog used it surprisingly quickly. It was due to its unique design offering additional grip compared to conventional ramps or pet stairs.
This Small Anthracite version exhibits utility and subtle style that blends well within your space. It has a strong support structure and is compatible with all-size pets.
An appealing look combined with a user-friendly cleaning process makes Snoozer's Scalloped Pet Ramp an excellent choice. 
This product is ideal for pet owners looking for a soft, supportive ramp solution. The Snoozer Scalloped Pet Ramp offers orthopedic cushioning and a range of micro-suede fabrics.
Highlights
Supports dogs up to 100 pounds
Orthopedic design for added comfort and support
The scalloped shape provides easy access to the ramp
Made from durable polyurethane material
Compact size: 20″L x 21″ W x 14″H
Stylish anthracite color complements any home decor.
Pros
Provides easy access for small and elderly dogs to bed height, couches, and other elevated surfaces
Prevents joint and muscle strain by providing a gradual incline for pets to climb
Made with high-quality materials that are durable and long-lasting
Easy to clean with machine-washable micro-suede cover
Cons
Limited weight capacity of 100 lbs may not be suitable for larger dogs.
Only available in a limited variety of micro-suede fabrics, limiting customer options.
Comes with a washable cover to maintain cleanliness and hygiene.
The PetSafe CozyUp Sofa Ramp is an exceptional solution to aid furry friends in accessing the couch.
This durable wooden design ramp blends aesthetics and functionality and supports pets up to 100 pounds.
Its cherry wood finish adds a decorative flair to your home, while the non-slip carpet tread ensures safe ascends and descends.
The thoughtful design extends beyond its usability features. It folds the ramp flat, making storage incredibly simple when not in use.
This feature distinguishes it as a user-friendly product designed with practical space-saving considerations. PetSafe's commendable U.S.-based customer care provides reassurance by offering expert assistance whenever needed.
This sofa ramp can improve your pet's joint health by reducing strain caused by jumping onto high or low-height furniture.
This aspect is often overlooked but crucially beneficial for older or arthritic pets.
The PetSafe CozyUp Sofa Ramp provides a durable, decorative, and non-slip ramp.
Highlights
Helps pets safely and easily access sofas or bed height
Made with high-quality materials for durability
Designed with an anti-slip surface to prevent accidents
Compact size makes it easy to store when not in use
Can support up to 100 pounds 
Pros
U.S. – based customer care for expert assistance
Folds down for easy storage
Heavy-duty carpet cover prevents slipping
The decorative cherry finish adds style to any home
Cons
It may not be suitable for larger or heavier pets
The carpet tread may wear down over time and need to be replaced
The ramp may take up space in smaller living areas
The Pet Gear Easy Step Bed Stair is a top-tier accessory catering to smaller pets. Its unique design accommodates low-step height climbing and includes deep stair landings.
With 75 lbs capacity, you can rest easy knowing this sturdy construction is built for pet safety.
Its ingenious blend of practicality and aesthetics sets the Pet Gear Easy Step Bed Stair apart.
The "L" shaped stair layout wraps snuggly around furniture, conveniently optimizing room space. This bed stair also features a hinged back panel that lifts, revealing ample storage space.
The removable carpet treads are easily washable, maintaining cleanliness. A smart feature worth mentioning is the rubber grippers at the bottom.
These ensure that even when your pet's enthusiasm gets bouncy, there won't be any slip-ups.
It is among the effective options for your small or medium-sized pets to navigate high beds or couches safely.
Highlights
Easily access ramp with stairs for pets
Made of durable plastic material
Color: Chocolate
Compact size: 31 x 14 x 25.5 inches
Lightweight: weighs only 20 pounds
Designed by Pet Gear, a reputable brand in pet supplies
Pros
Easy access to the bed for small and medium pets
Adjustable to either side of the bed for convenience
Removable washable carpet treads for easy cleaning
Storage compartment for keeping pet essentials organized
Cons
Not suitable for large pets over 75 pounds
Limited storage space in the compartment
The carpet treads may need frequent washing to maintain cleanliness
The Pet Gear Travel Lite Tri-Fold Ramp is a godsend for pet owners on the go. Small to X-Large dogs or cats that weigh up to 200 pounds will find this product beneficial.
The design incorporates lightweight durability and portability into one essential pet accessory.
Its rubberized bottom grippers offer immense stability even as your pet moves around energetically.
These built-in grips also ensure the safety of your animal companions by preventing slipping off the sides. The easy-fold feature allows you to store it compactly when not in use.
Its textured footing provides reliable traction. It is indispensable, considering pets can be quite energetic and unexpectedly agile!
Whether heading out for a trip or visiting the vet, this accessible ramp from Pet Gear adds convenience. It's an affordable tool that makes life easier for you and your beloved four-legged friends.
Its lightweight design and easy fold make it ideal for busy people. Its rubber grippers and slip-resistant surface ensure your furry friend's safety. 
Highlights
Tri-fold design for easy storage and transportation
Lightweight and durable, weighing only 15 pounds
Made with rubber material for excellent grip and traction
Chocolate color adds a stylish touch to your pet's accessories
Designed by Pet Gear, a trusted brand in the industry
Suitable for travel and outdoor adventures with your pet
Pros
Easy and convenient for travel with a built-in carry handle
Lightweight and portable design for on-the-go use
Supports heavy pets up to 200 pounds
Slip-resistant surface ensures your pet has sure footing
Cons
May not be suitable for very small pets or pets with mobility issues
Some users have reported that the rubber grippers on the bottom of the ramp do not provide enough traction
The compact size, when folded, may make it difficult for some users to carry or store it in limited space.
The PetSTEP Folding Pet Ramp is a durable, high-quality pet accessory. This all-weather ramp, made from reliable plastic materials, brilliantly supports pets with height-related challenges.
Whether helping them climb into the truck or onto low-height furniture, this ramp eliminates jumping and lifting.
The unique non-slip ridged surface is a standout feature, providing excellent traction. It does not trap in odors like some carpeted options.
One of the significant advantages of the Folding 70″ Pet Ramp is its portability. At just 18.5 lbs, it's designed for easy transport and storage by simply folding it in half.
Made with versatility in mind, this Khaki/Beige colored ramp can even convert into a grooming table.
Pets will love this smooth transition tool, which helps reduce their arthritis pain and dysplasia symptoms. These thoughtfully designed elements make PetSTEP's Original Folding Pet Ramp an invaluable addition.
This PetSTEP Folding Pet Ramp is best for pet owners who want to reduce their furry friends' discomfort. It is a safe and secure way to get into vehicles.
Highlights
Foldable design for easy storage and transport
Made of durable plastic material
Supports pets up to 500 pounds
Provides a safe and secure way for pets to access vehicles or elevated surfaces
Lightweight at only 22 pounds
Available in a khaki/beige color option
Pros
Reduces arthritis and dysplasia pain in pets
Durable construction holds up to 500 lbs
Promotes pet safety with unique dimensions and non-slip grip mat
Easy storage and portability with a foldable design
Cons
Limited color options (only available in khaki/beige)
May be too bulky for smaller vehicles
Some customers have reported difficulty with folding and unfolding the ramp
The Prairie View Industries Dog Ramp is invaluable for helping older or injured pets navigate elevated areas.
The PVI Lightweight Portable Foldable Aluminum Pet Access Ramp provides a versatile, secure solution.
It has a grit surface designed to ensure traction and prevent slipping. You can be confident that your pet is safe even in wet weather.
The ramp's lightweight yet robust construction supports pets up to 250 lbs. Other features include a built-in handle and foldable design for easy transport and storage.
This aluminum access ramp is available in various sizes (8′ x 15″, etc.). So you can easily find a perfect match for your needs.
Aside from mobility aid usage, this product is an excellent support during grooming sessions. The large platform minimizes strain on animal paws — no more hassles during nail trims! It's also super easy to clean; just some mild soap & water.
Whether you have aging pets or active ones needing safer ways up high spots, Prairie View Industries Dog Ramp has you covered!
This lightweight, portable dog ramp is perfect for pet owners who need a reliable way to help their furry friends.
Whether your pup weighs just 10 pounds or up to 250 pounds, it will make transporting them easy and stress-free.
Highlights
Prairie View Industries Dog Ramp is made of durable aluminum.
The ramp has a generous length of 96 inches, allowing easier access to elevated surfaces.
Its width is 15 inches, providing enough room for dogs of various sizes.
The ramp is only 1.25 inches thick, making it lightweight and easy to transport.
Its brown color blends well with outdoor surroundings.
The product has been available since January 2011 and is still in production.
Pros
Easy to clean with mild soap and water or a garden hose
Provides great traction for pets and will not hurt their paws
Conveniently portable with a built-in handle and foldable design
Able to assist pets weighing up to 250 lbs. in various access situations
Cons
Can be heavy to carry for some individuals
May not be suitable for small pets or animals with mobility issues
The large size may make storage difficult for those with limited space
The Importance of Dog Ramps
Dog ramps are essential for several reasons. They prevent joint stress and injury by providing a gradual incline or decline.
It is much easier on a dog's joints than jumping up or down from heights.
Best-selling dog ramps facilitate access to cars, a piece of furniture, and beds. Dogs of all sizes can reach these areas without straining themselves.
Dog ramps are especially beneficial for older dogs and those with mobility issues. They provide support and additional stability when moving around.
Prevents Joint Stress and Injury
Utilizing a dog ramp greatly diminishes the likelihood of joint stress and associated injuries.
These handy tools alleviate pressure on their bodies, providing an easier method to navigate heights or distances.
Particularly beneficial for small dogs with jumping or climbing issues, ramps help protect their physical health.
Older dogs with arthritis also find relief through ramps. This makes these accessories a crucial aspect of pet care.
Like humans, pets can sustain serious harm from falls or jumps. Proactively safeguarding them against such risks is always advisable.
Facilitates Access to Cars, Furniture, and Beds
Dog ramps provide an efficient solution for pups struggling to access a hangout spot like cars, beds, and furniture items.
This is especially true when your four-legged friend faces age-related stiffness or joint pain.
A well-designed ramp eases this struggle by offering a low-incline design leading them to their desired destination.
Dogs also appreciate the comfort of a cozy sofa or a soft bed after a long day. With a bedside ramp in place, favorite spots are no longer off-limits due to reduced mobility.
These ramp for cars make rides more accessible and less stressful for you and your pet. Jumping into the backseat or snoozing on the couch, everything can be within reach when using these traditional ramps!
Assists Older Dogs and Those With Mobility Issues
Best-selling dog ramps provide much-needed support for older dogs and those with mobility issues.
As our canine companions age, they may experience difficulty moving around. It is due to health issues like arthritis in dogs or after succumbing to an injury.
The gentle incline of a dog ramp can ease the strain on their bodies. A simple fixture like a dog ramp can ignite new life into your pet's daily routine.
Short-legged breeds and senior dogs significantly benefit from these ramps as regular activities become less challenging.
Traditional ramps are more than just convenience tools. They represent comfort and sustained independence for canines dealing with the realities of aging or recovery.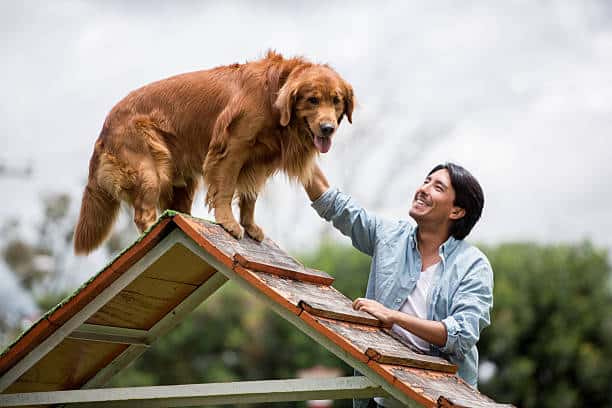 Factors to Consider When Choosing a Dog Ramp
Consider the size, weight capacity, material and durability, portability, and storage options.
Size and Weight Capacity
Dog ramps come in various sizes and have maximum weight capacities. The weight capacity of a dog ramp can range from as low as 20 pounds to over 150 pounds.
Consider the size and maximum weight of your canine companion when choosing a ramp.
For larger breeds or vehicles like pickup trucks, opt for a ramp with a higher weight capacity, around 250 pounds.
Certain ramps are designed specifically for older dogs with an even higher weight capacity, up to 500 pounds.
Material and Durability
Dog ramps come in various materials, each with benefits and durability. Ramps are made from aluminum, plastic, or real wood to withstand your furry friend's weight.
Metal and real wood are durable, making them great choices for outdoor use. Some ramps have non-skid surfaces like carpets or specially designed paw traction mats. It provides a firm grip for your dog while using the ramp.
Portability and Storage Options
Portable and easy-to-store dog ramps are a smart choice for dog owners who want flexibility and convenience.
Look for a lightweight ramp that can be folded or collapsed easily. It will make them simple to transport and store when not in use.
A portable pet ramp is handy if you plan to use it indoors and outdoors or take it on trips or visits. Some ramps are designed for RVs, offering an ideal solution for senior dogs with mobility issues during travel.
FAQ
What Is The Best Ramp For Dogs?
The Petstep Original Folding Ramp, PetSafe CozyUp Bed Ramp, and PetSafe Happy Ride Deluxe Telescoping Pet Ramp are some of the best ramps for dogs.
These ramps are highly recommended for their durability, stability, and ease of use.
The Petstep ramp is suitable for accessing cars, furniture, and beds. The PetSafe CozyUp ramp provides a gentle incline making it perfect for older dogs or those with mobility issues.
The Happy Ride Deluxe Telescoping dog ramp is great for steeper inclines like SUVs or trucks. When choosing a dog ramp, consider the size, weight capacity, material durability, and portability options.
What Is The Best Slope For A Dog Ramp?
The best slope angle for a dog ramp is between 18 and 26 degrees. This range ensures your dog can navigate the ramp safely without putting too much stress on their joints.
Avoid ramps with angles greater than 18 degrees, as these may force your dog's paws to flex at unnatural angles.
Younger and healthier dogs can handle a steeper slope angle, but it's recommended to stick within the 18-26 degree range. Larger dogs may require a sturdier and wider ramp than smaller breeds.
Are Dog Ramps Good For Dogs?
Dog ramps are good for dogs, providing numerous benefits and ensuring their safety and comfort. These ramps prevent joint stress and injury by offering a gentle incline for dogs to walk up.
They also facilitate access to cars, furniture, and beds. This makes it easier for dogs to climb in without jumping or causing unnecessary stress on their bodies.
Dog ramps benefit older dogs and those with mobility issues, providing a convenient way to navigate heights.
What Is The Best Material For An Outdoor Dog Ramp?
Solid hardwood is considered the best material for an outdoor dog ramp. It provides a sturdy and durable surface that can withstand various weather conditions, including rain, snow, and heat.
Solid hardwood ramps are also less likely to warp or break under the weight of larger dogs. Solid hardwood also has excellent traction, preventing slips and accidents.
Plastic ramps are only suitable for toy breeds due to their limited weight capacity. While they may be lighter and affordable, plastic ramps do not offer the stability and strength needed for larger dogs.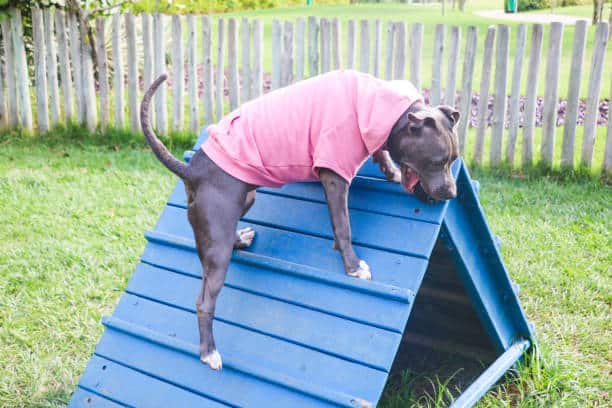 What Are The Different Types Of Dog Ramps?
There are different types of ramps available on the market. These variations in ramps cater to dogs' and their owners' specific needs and preferences. Here are some common dog ramps: 
Folding Ramps: 
These can be folded for easy storage and transportation. Folding ramps are often made of lightweight materials like aluminum or plastic.
Telescoping Ramps: 
Telescoping ramps have sections that slide into one another, allowing for adjustable length options. This feature makes them versatile and suitable for various surfaces and heights.
Step Ramps: 
Step ramps combine steps and a ramp, providing multiple options for dogs to access higher surfaces.
Car Ramps: 
These ramps are designed to help dogs safely get in and out of vehicles. They often have an anti-slip surface and adjustable heights.
Bed Ramps: 
A bed ramp is designed to help dogs climb onto beds comfortably. They typically have a gradual incline, making it easier for dogs with mobility issues to reach elevated sleeping areas.
Outdoor Ramps: 
Outdoor ramps are designed with weather-resistant materials to withstand outdoor conditions. They can access porches, decks, or other outside areas.
Dog Staircases: 
While not technically a ramp, dog staircases provide an alternative option to access higher surfaces for dogs.
What Is The Most Comfortable Ramp Slope?
The most comfortable ramp slope angle depends on the size and mobility of your dog. For small dogs, a slope between 18 to 20 degrees is recommended.
Medium-sized dogs typically find a gentle slope of 22 to 25 degrees comfortable.
A moderate inclination of around 24 degrees can be suitable if your dog has minor mobility issues. Avoiding steeper angles as they can make it more difficult for dogs to use the ramp.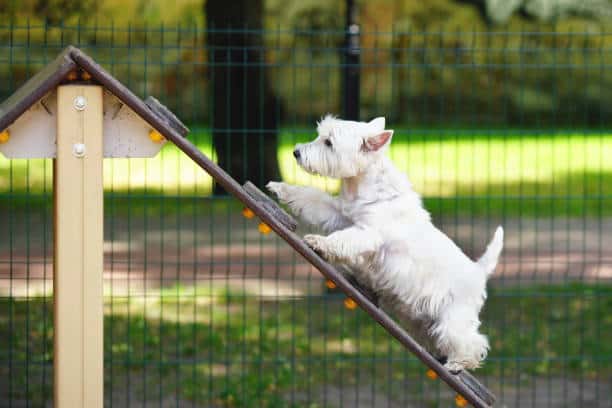 How To Design A Dog Ramp?
Designing a dog ramp requires careful consideration of several factors. Here's a step-by-step guide to creating an effective and safe ramp for your furry friend:
Measure the height: Determine the height of the surface you want your dog to access, like a bed or car. This measurement will determine the length of your ramp.
Calculate the slope: Consider the length and height measurements to determine the ideal slope for your ramp. A gentle incline is recommended, ensuring it is not too steep or too shallow for your fur baby.
Choose the material: Select a sturdy material for your dog's weight that can withstand regular use. Wood, plastic, or metal are common choices, but ensure it is not slippery to prevent accidents.
Add traction: Ensure that the surface of the ramp provides a variety of grip patterns for your dog's paws. Use rubber, carpet, or textured paint to provide traction and prevent slipping.
Consider safety features: Install side railings on both sides of the ramp to give your dog security and prevent accidental falls. These railings can be made from wood or metal, depending on your preference.
Test stability: Once you have built the ramp, check its stability by placing weight on it. Ensure it does not wobble or flex excessively.
Train your dog: Gradually introduce your dog to the new ramp using positive reinforcement techniques like treats and praise. 
What Can I Use To Make A Dog Ramp?
You can make a dog ramp using various materials. Here are some options to consider:
Foam: Foam is lightweight and easy to work with, making it a popular choice for DIY dog ramps. It provides cushioning and support for your dog's joints.
Plywood: Sturdy and durable, plywood is another commonly used material for building dog ramps. It can withstand the weight of your dog and is easily customizable.
Pine: If you're looking for an affordable option, pine boards can be used to construct a dog ramp. They are readily available at most home improvement stores.
Wood casing: Wood casing, typically used for framing around windows and doors, can also be repurposed. Its smooth surface allows your dog to grip it easily.
Can You Put A Ramp Over Stairs For A Dog?
Dog owners often wonder if it's possible to put a ramp over stairs. The answer is yes! Dog ramps can be a great solution for dogs with difficulty navigating stairs or outside steps.
Not only do ramps provide a more stable surface compared to stairs, but they also prevent stress and injury. Ramps benefit dogs with mobility issues or older dogs.
Are Ramps Better Than Stairs?
Ramps are considered better than stairs for dogs. This is because ramps provide a more gradual incline.
It is easier on a dog's joints compared to climbing up and down stairs. Walking on an inclined surface, like a ramp, is often more comfortable for dogs. It puts less stress on their bodies. 
Is A Ramp Safer Than Steps?
Dog ramps are considered to be safer and more reliable than steps. They provide a more stable and secure surface for dogs to walk on, reducing the risk of slips and falls.
Stairs can be challenging for dogs with limited mobility or balance. Ramps offer a smoother and easier ascent or descent.
This is especially beneficial for older dogs or those with joint issues. Ramps are often recommended for dogs with arthritis or other joint conditions. 
Why Won't My Dog Use A Ramp?
Some dogs may hesitate to use a ramp. But they can overcome their fear with the right training and patience. Dogs won't use a ramp because they are unfamiliar with it or unsure about its stability.
Introduce the ramp slowly and positively. Use treats and praise as rewards for taking a couple of steps or sniffing the ramp.
Another reason could be that the surface of the ramp feels slippery or uncomfortable on their paws.
A non-slip mat or carpeting can provide more traction and make them feel secure. Some dogs may simply prefer jumping or climbing over using a ramp due to habit or personal preference.