Diamond Pet Foods Inc. makes Diamond Naturals Dog Food. Schell & Kampeter Inc. owns this pet food maker. It is a family business, not owned by big stocks or outside people. The base for this company is in Meta, Missouri.
This firm ranks high in the quality pet food world in the USA. They make other dog foods also, like Taste of the Wild and Kirkland dog foods.  All these brands come from one place – Diamond Pet Foods Inc.! So when you feed your pup Diamond Naturals, just think about all the love and care that goes into each bag!
Diamond Naturals Dog Food Guaranteed Analysis
Diamond Naturals Dog Food balances proteins, fats, carbohydrates, vitamins, and minerals. Here is the general guaranteed analysis of several Diamond Naturals Dog Food formulas:
| | | | | |
| --- | --- | --- | --- | --- |
| Formulas | Crude Protein | Crude Fat | Crude Fiber | Moisture |
| Diamond Naturals Small Breed Puppy | 32% | 22% | 3.5% | 10% |
| Diamond Naturals Large Breed Puppy | 27% | 15% | 4.5% | 10% |
| Diamond Naturals All Life Stages | 26% | 16% | 3.5% | 10% |
| Diamond Naturals Adult Beef & Rice | 25% | 15% | 3.5% | 10% |
| Diamond Naturals Small Breed Adult | 25% | 16% | 3.5% | 10% |
| Diamond Naturals Large Breed Adult Dog Chicken & Rice | 23% | 13% | 3.5% | 10% |
| Diamond Naturals Grain-Free | 24% | 14% | 5% | 10% |
| Diamond Naturals Senior | 25% | 11% | 4% | 10% |
Discussion of Most Important Ingredients – Good and Bad
Some quality ingredients in Diamond Naturals dog food help dogs grow strong and healthy. Others might not be as good.
Whole Meat: It is often the first or second piece in most meals. This is an excellent source of proteins.
Meat Meals: They also add high-quality protein to your dog's bland diet.
Fruits and Vegetables: Blueberries, cranberries, and kale are in the food. They give your dog important vitamins and mineral supplements.
Superfood Ingredients: They boost the health benefits of your dog's meal.
Corn and Wheat Gluten Meal: These can sometimes upset a dog's stomach.
Artificial Flavors: These do not add any source of nutrition to the food.
Animal Fat or Poultry By-Product Meal: Those may not provide a rich source of nutrition as chicken fat.
Diamond Naturals Dog Food Recall History
Diamond Naturals had a few recalls in the past. In March 2013, they took back their cat food from stores. Low levels of thiamine were in it.
Then, in April and May of 2012, Diamond Naturals and other brands were taken off the shelves. This was one big event. In December 2012, some Diamond Naturals dog food also got recalled. 
They might have had aflatoxin in them, which is harmful to dogs. At a different time, their Lamb and Rice Formula for Adult Dogs was pulled away, too. Due to these events, there has been worry about how safe Diamond Naturals dog food is.
Formulas Diamond Naturals Offer
This specially formulated dog food for small and medium breed puppies. It contains K9 Strain Probiotics to support their digestive and immune systems. This formula also includes superfoods and guaranteed probiotics for balanced nutrition and digestive health.
The main food ingredients are cage-free chicken, vitamin E supplement, L-carnitine, and Omega-6 fatty acids. Your furry friend can grow strong and healthy with Diamond Naturals Small Breed Puppy foods. Besides, they enjoy delicious meals with high-quality ingredients.
Diamond Large Breed Puppy formula meets the balanced nutritional needs of large breed puppies. This formula includes lamb and rice as primary ingredients. They are a source of proteins and carbohydrates for their healthy growth and development in puppies.
For dogs with food sensitivities, Diamond Naturals offers grain-free formula and gentle options on their stomachs. They have a variety of formulas available for different life stages, including puppy, adult, and senior formulas. Diamond Naturals ensures that your dog's nutrition is important and in good hands.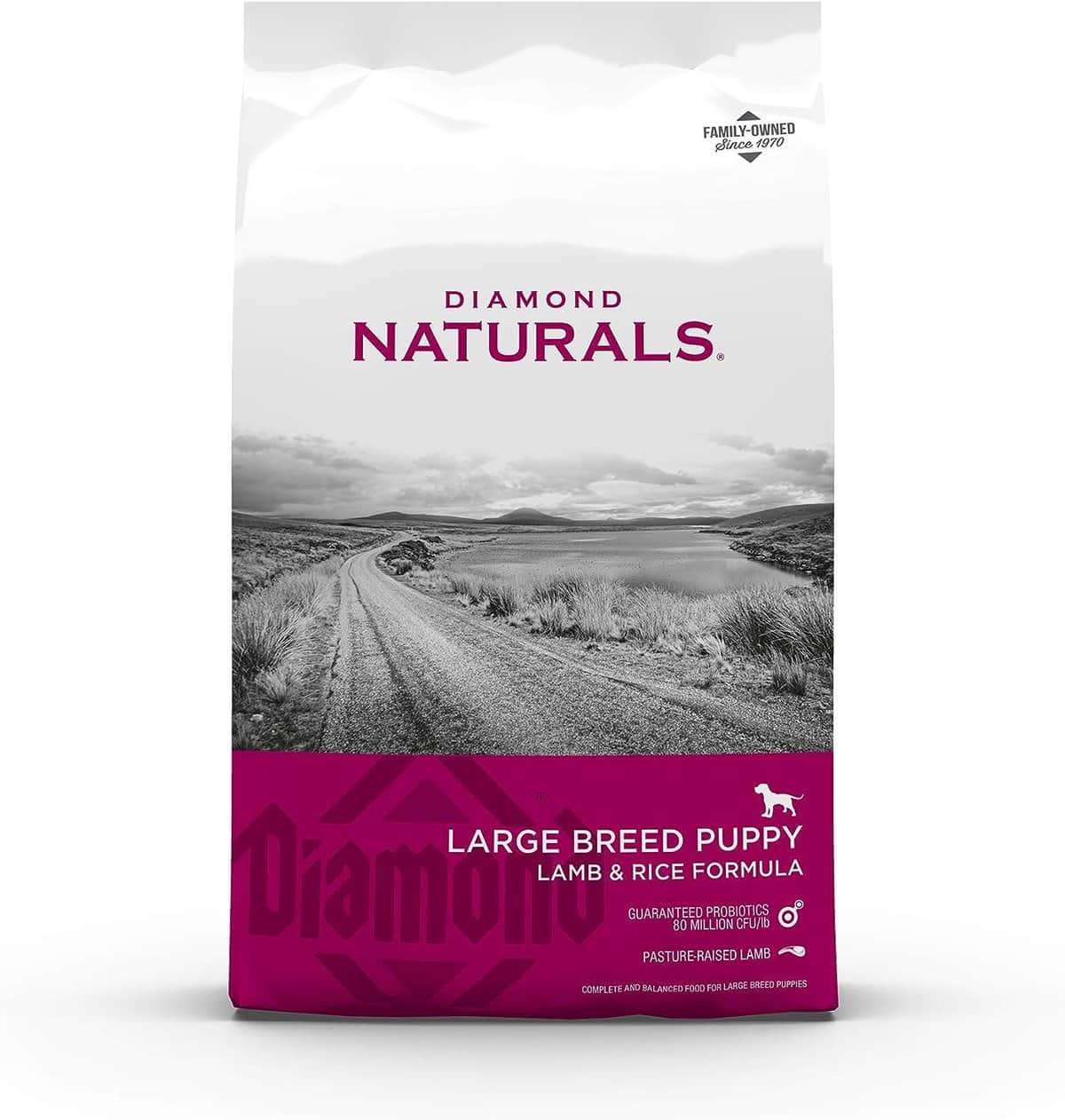 This dry dog food formula offers a balanced and nutritious diet for dogs of all ages. This formula comes in grain-inclusive and grain-free diets. The main source of animal protein in Diamond Naturals All Life Stages is named meat meals. They ensure a high-quality protein content to support muscle health and energy levels.
With 26% protein levels and 16% fat levels, this formula provides the right balance for your dog's overall health. Thanks to its grain-free recipe and salmon-based formula, it is also suitable for dogs with food-related skin sensitivities.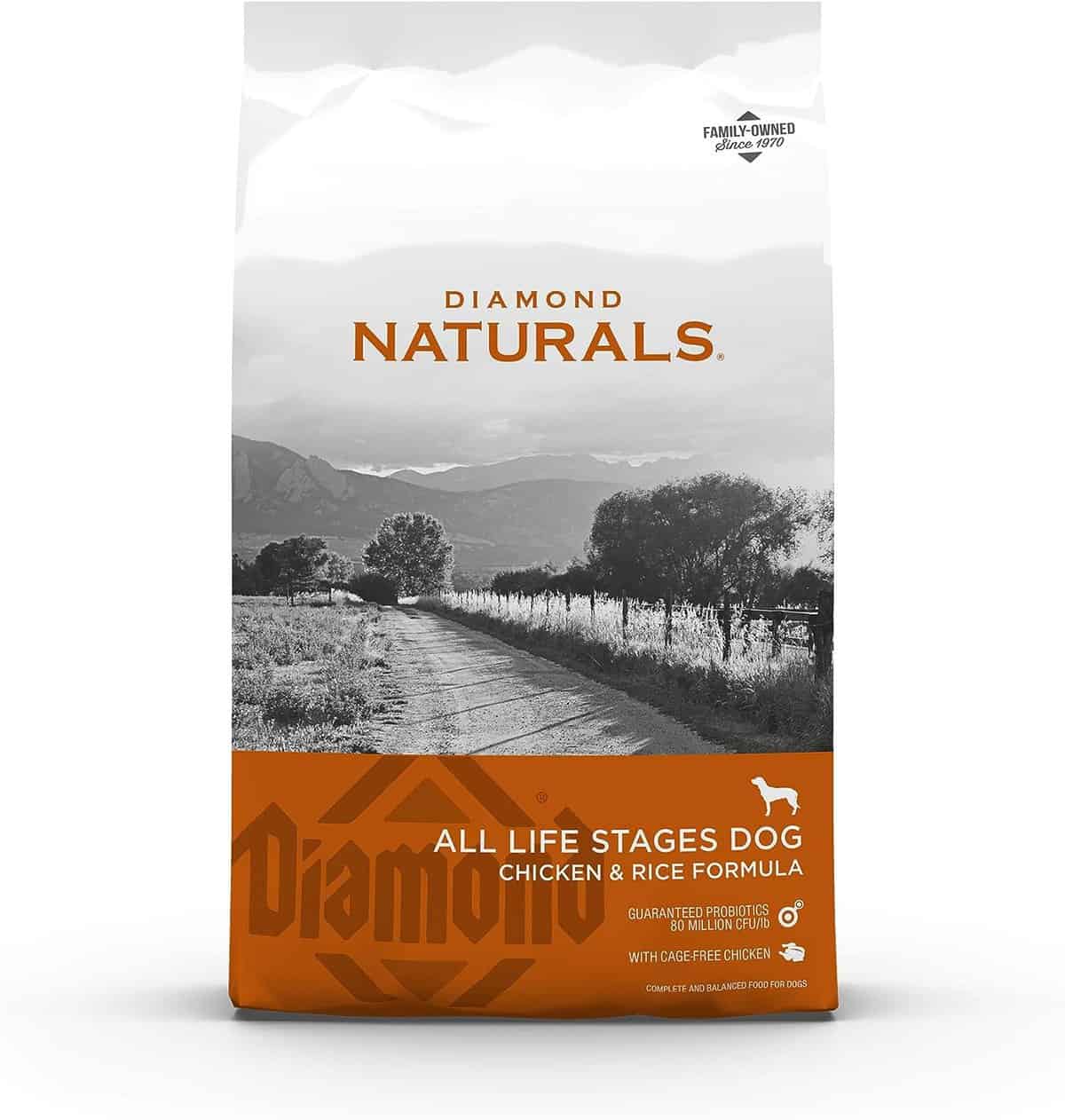 Diamond Naturals Adult Beef & Rice is a high-quality dry dog food formula. It offers real beef meal protein for sustained energy and muscle building in adult dogs. 
This formula also contains added superfoods, which enhance the nutritional profile of the food. It is an upgrade over standard Diamond dog food. It supports ideal body conditions in adult dogs. Diamond Naturals Adult Beef & Rice provides a balanced diet, promoting overall health for your furry friend.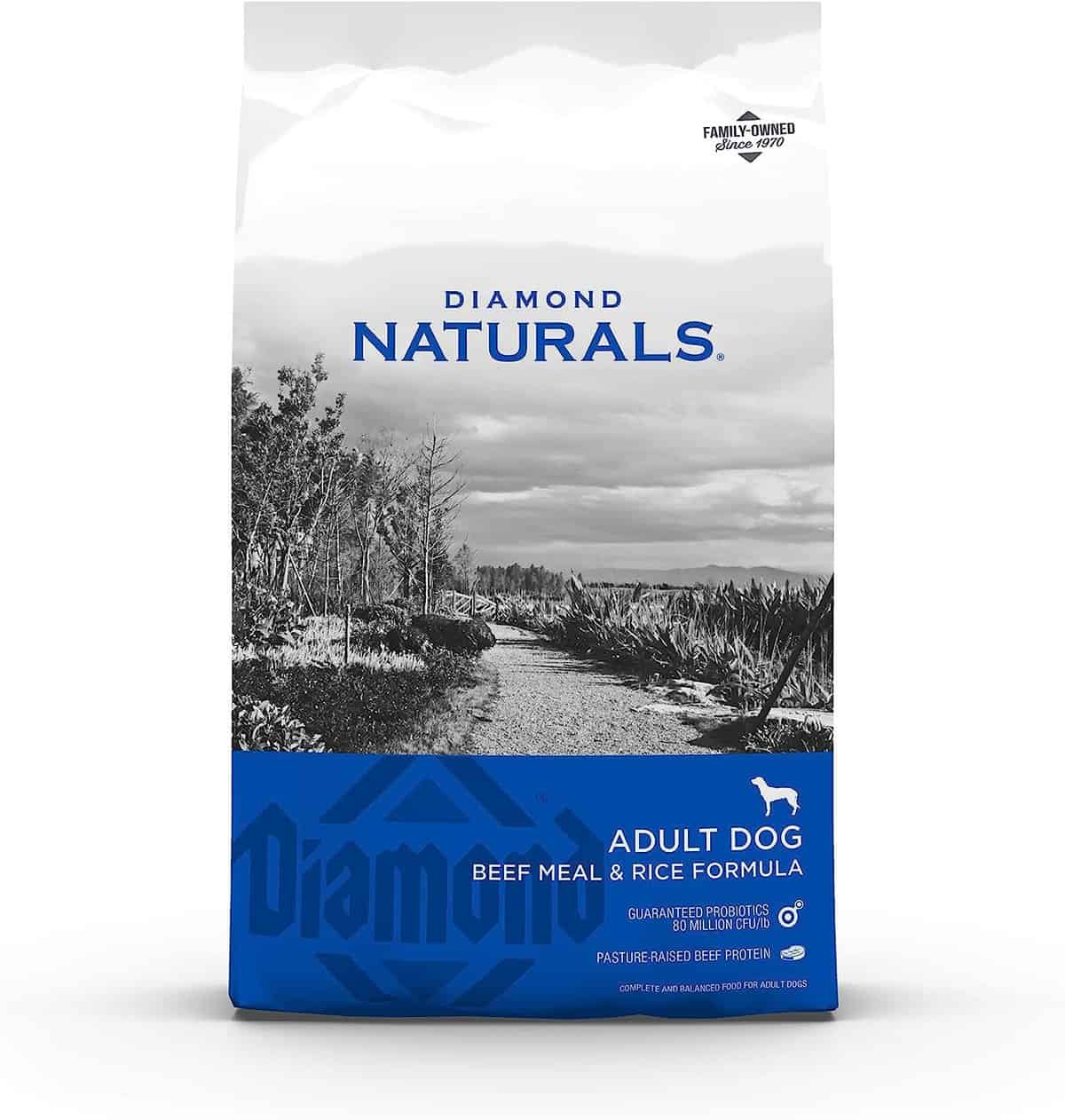 This is a high-quality dog food for small breed dogs. It contains healthy ingredients for small dogs with the right balance of essential nutrients. This formula is designed to meet the unique nutritional needs of small breeds. It ensures they get all the essential vitamins and mineral supplements they need to thrive. 
Diamond Naturals Small Breed Adult Formula has received a positive food review from pet owners. They have seen improvements in their dogs' overall health and well-being. Diamond Naturals Small Breed Adult Formula is popular among dog owners, focusing on food quality and tailored nutrition.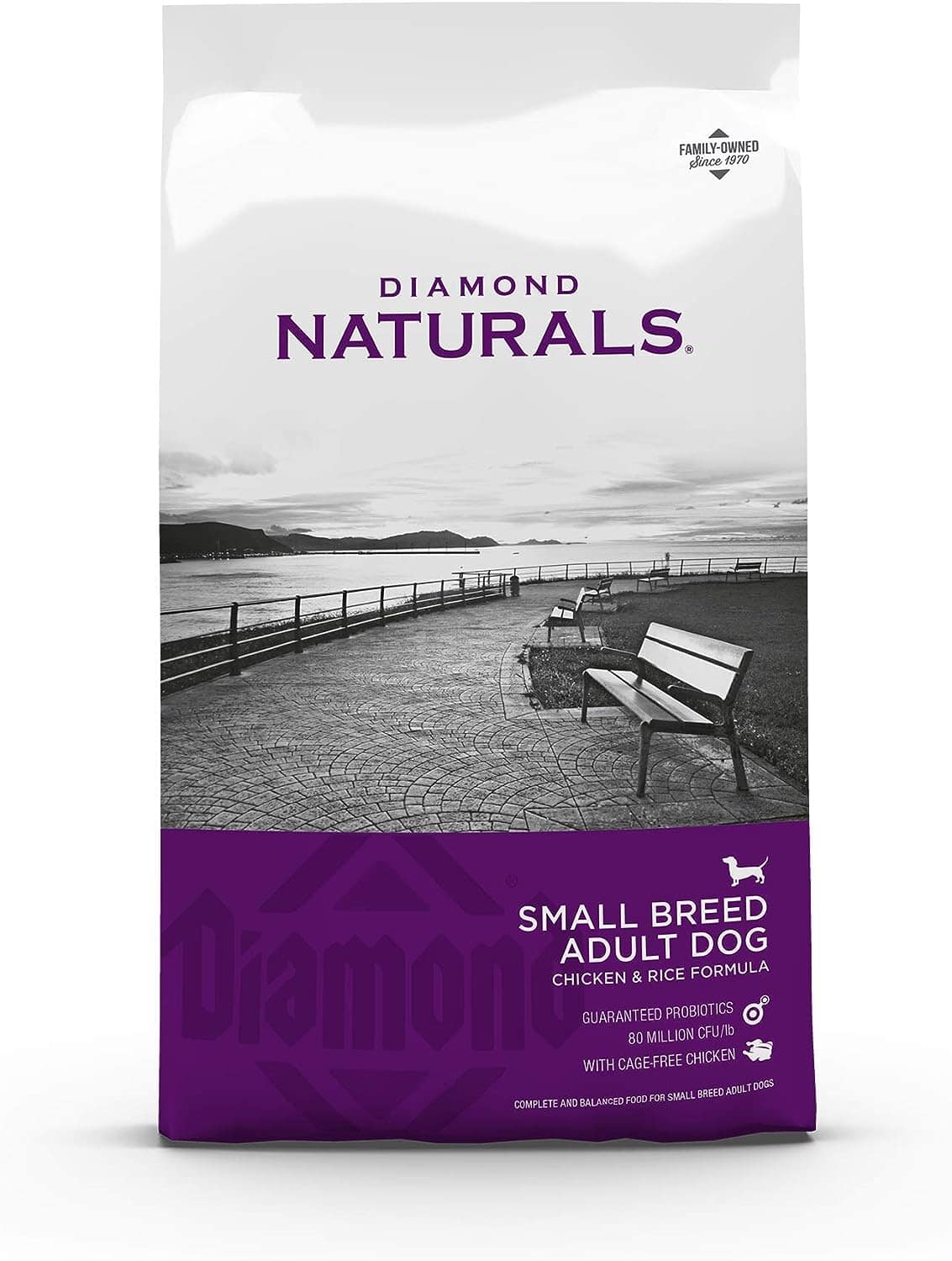 This is a dog food formula for large adult dogs. It contains high levels of protein (26.7%) and adequate fat (15.3%). The carbohydrate proportion is balanced at 47.8%, while essential calcium (1.2%) and phosphorus (1.0%) support bone health. 
This formula meets nutritional standards established by AAFCO. Diamond-brand foods include joint support ingredients like glucosamine and chondroitin to promote healthy joints. Omega-6 and essential omega-3 fatty acids from nutrient-rich superfoods maintain a shiny coat and healthy skin for your pet.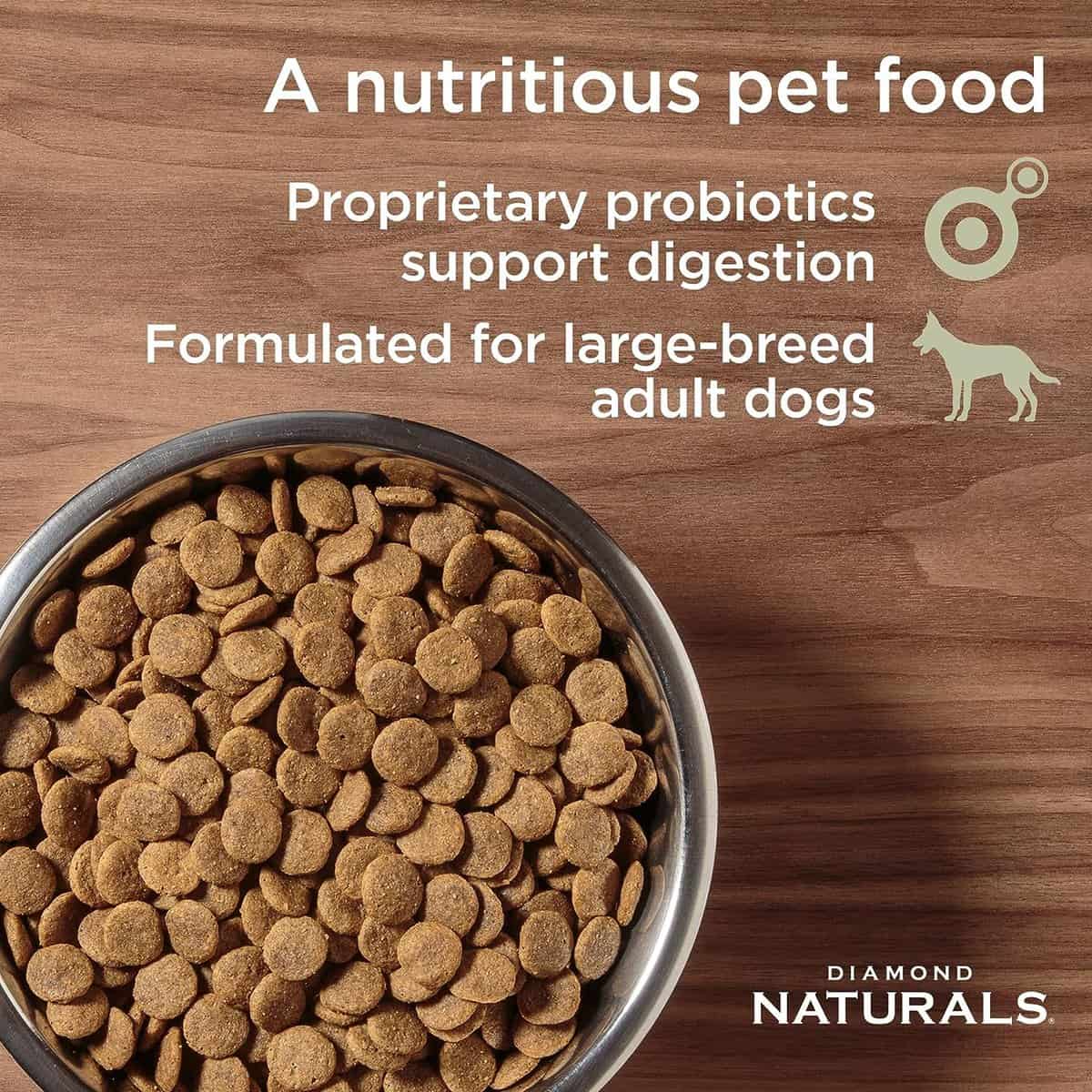 Diamond Naturals Grain-Free is a popular dog food choice with a meat-based protein source. This formula is for dogs who need a grain-free kibble.
It is suitable for those with certain allergic reactions or sensitivities. It includes omega fatty acids to promote healthy skin and shiny coat, helping your dog look their best. With four different recipes, you can find the right option that suits your dog's taste preferences and dietary needs.
Diamond Naturals Senior Dog Food is for aging dogs. It has the right balance of protein and fat to help senior dogs maintain a healthy body condition. 
This formula also includes glucosamine and chondroitin supplements to support joint health in older dogs. Diamond Naturals Senior Dog Food contains guaranteed probiotics and dietary fiber to aid healthy digestion. With 13 adult kibble size options, including grain-free, Diamond Naturals offers various formulas to suit every dog's needs.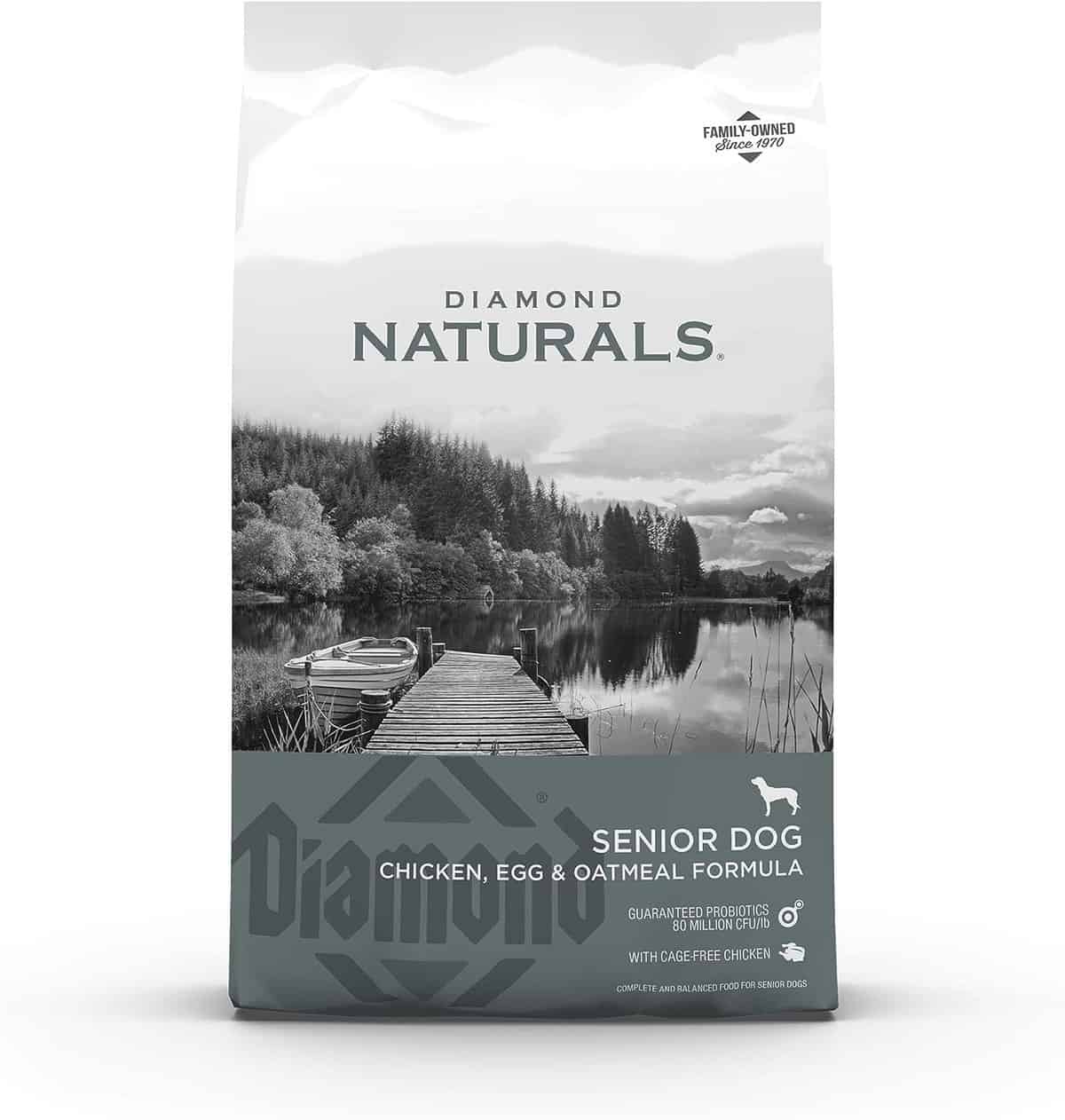 Diamond Pro89 is a high-protein and high-fat dog in the Diamond Naturals line. It is specially formulated for dogs that need a diet with concentrated nutrition. This formula provides fuel for their daily activities, whether work or play. It also helps maintain strong muscles. 89% of its protein comes from animal sources.
Diamond Pro89 uses real meat, vegetables, and fruits as quality ingredients. If you're looking to give your dog a high-protein diet, Diamond Pro89 could be a good choice.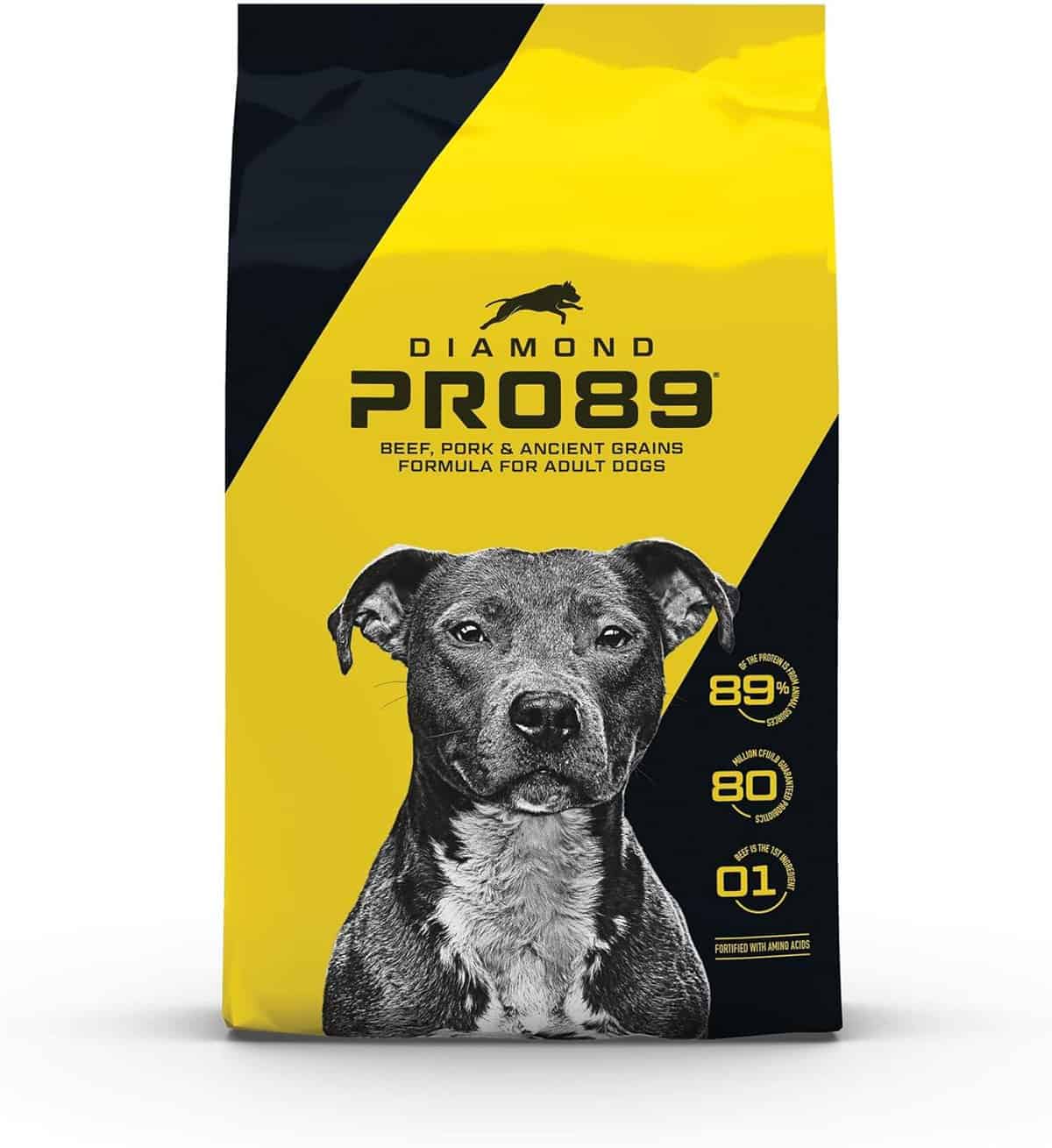 Diamond CARE is another dog food formula offered by Diamond Naturals. These formulas are designed to meet the special dietary needs of dogs with specific health concerns.
They have a natural flavor and are recommended by veterinarians for maintaining optimal health in dogs. Diamond CARE focuses on key areas, including digestive, skin, and coat health. There is no specific information regarding the quality or reputation of Diamond CARE. The same commitment to product safety and nutritional excellence backs these formulas.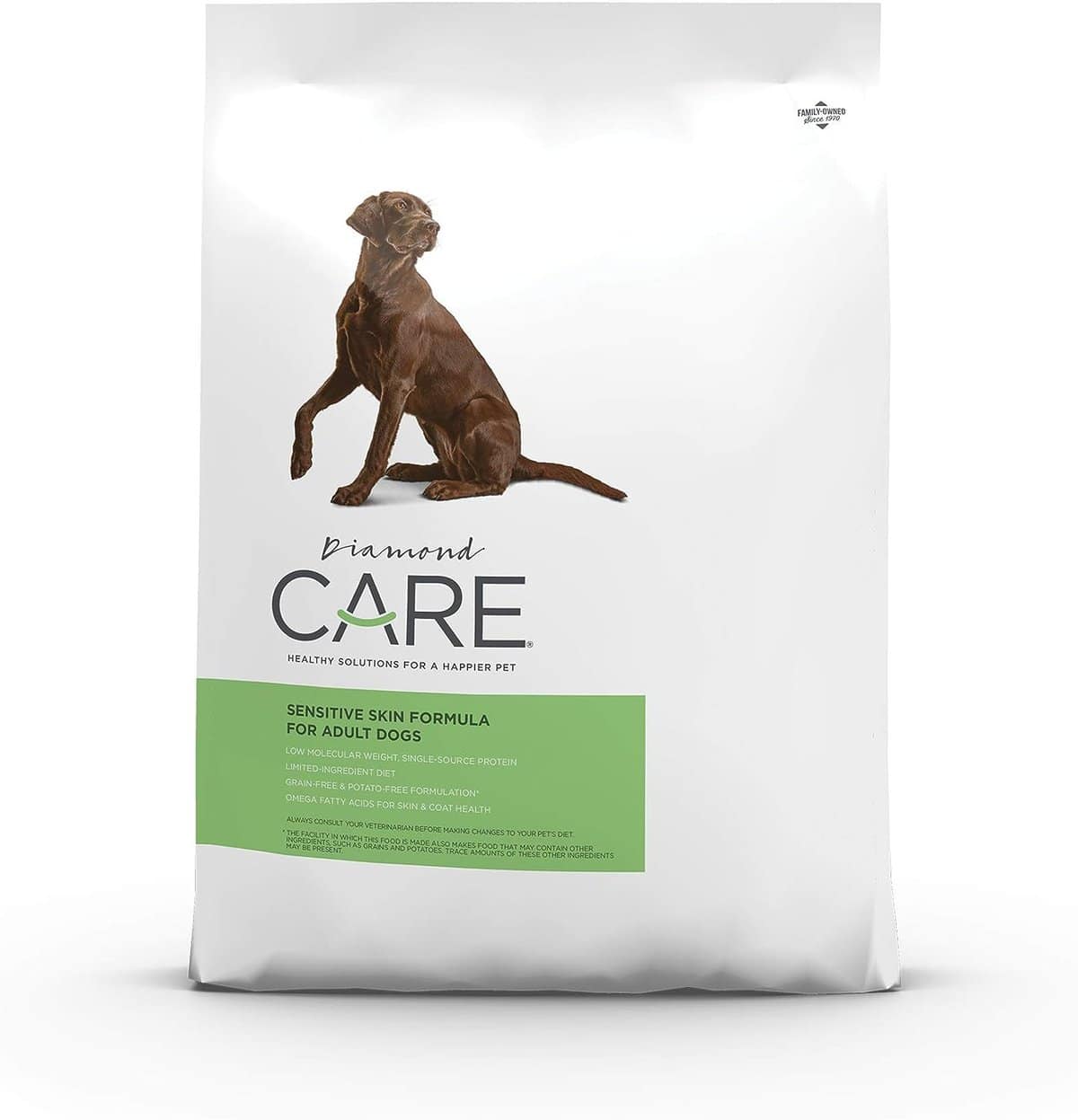 Diamond Naturals offers a canned wet pate beef formula for dogs. It comes in a 12/13.2oz size, making it convenient for pet owners. This formula is suitable for dogs of all ages. High-quality beef is the main ingredient in the canned wet pate beef meal formula. It provides plenty of protein for your dog's lean muscle development. 
Diamond Foods understands the importance of nutrition and uses nutritious ingredients that support the energy needs of active dogs. With Diamond Naturals Canned Wet Pate Beef, ensure your furry friend gets a delicious and healthy meal.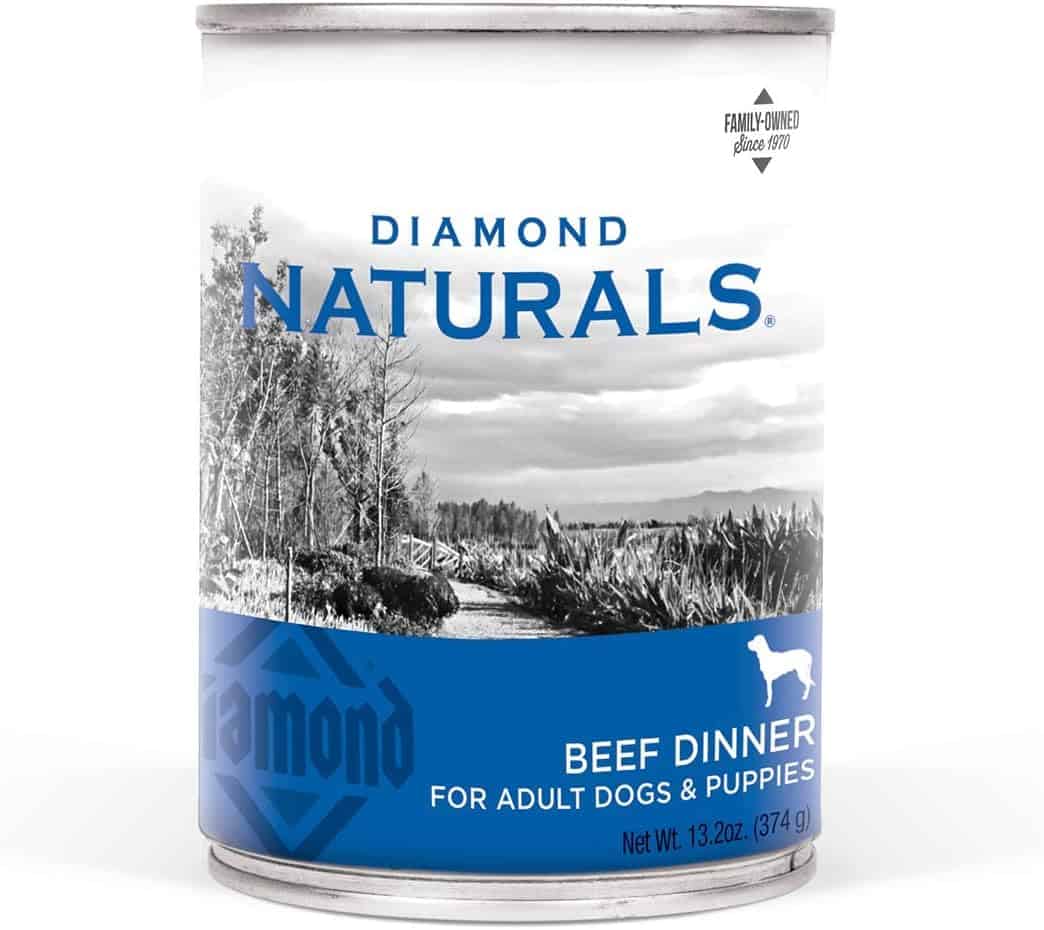 Why Is Diamond Naturals So Popular?
Diamond Naturals is extremely popular because it offers a wide range of products like Grain-inclusive and grain-free options. Its proprietary probiotic technology ensures optimal digestive health for dogs.
Wide Variety Of Products
Diamond Pet Company is a popular dog food brand. They offer various food products to meet dogs' different needs and preferences. They have an extensive selection that includes both grain-inclusive and grain-free kibble options. Diamond Naturals has you covered whether your furry friend prefers dry formulas or canned food. 
Their nutrient profile includes superfoods like blueberries, cranberries, and kale. They provide essential vitamin supplements and minerals for your pup's health.
Proprietary Probiotic Technology
Diamond Naturals dog food is popular because of its proprietary probiotic technology. Every formula of Diamond Naturals dry food contains their exclusive K9 Strain Probiotics. They are live microorganisms that support digestive health in dogs. These probiotics help with smoother digestion and promote a healthy gut.
They balance beneficial bacteria in the digestive system. This means that dogs can better absorb healthy nutrients from their food and have a stronger immune system. The inclusion of this innovative technology sets Diamond Naturals apart. It makes it a top choice for pet owners who want to ensure their furry friends receive optimal nutrition and good health.
Commitment To Product Safety
Diamond Naturals dog food is known for its strong commitment to product safety. The brand has maintained a solid reputation regarding safety standards and product quality. It is popular among dog owners across the USA. The reliability and trustworthiness have led many veterinarians to recommend Diamond Naturals to pet owners.
Affordable
Diamond Naturals dog food is highly regarded for its quality. What sets it apart is that it's also affordable. Pet owners can provide their dogs with a high-quality diet without breaking the bank.
Diamond Naturals' commitment to producing premium dog food at reasonable prices has made them a popular choice among pet owners in the USA. Trust that your furry friend will receive complete nutrition without compromising your budget when you choose Diamond Naturals.
Family-Owned
Diamond Pet Foods, the brand behind Diamond Naturals, is a family-owned company. They are independent and privately owned.
It means they have a personal touch and traditional values in their operations. Being family-run, they believe in hands-on management and have a close-knit team. This family-owned approach sets them apart from larger corporations. It allows them to maintain strict quality control over their products.
What Others Are Saying
Many dog owners have positive things about Diamond Naturals Dog Food. They appreciate the decent options, including grain-inclusive and grain-free formulas.
The use of natural ingredients, including superfoods like blueberries and kale, is also praised by reviewers. Some customers have mentioned that their dogs' coats appear healthier and shinier after switching to Diamond Naturals.
While there have been recalls in the past due to contamination concerns, know that all pet food brands can face such issues. Diamond Naturals has received favorable reviews for its commitment to product safety and balanced formulas. However, consult with a veterinarian before changing your dog's diet.
FAQ
What Dogs Is Diamond Naturals For Or Suited To?
Diamond Naturals dog food is suitable for dogs with potential food sensitivities, especially those allergic to chicken fat. Diamond Naturals offers grain-free options if your furry friend has dietary restrictions or allergies.
They are free of grains and other common allergens. If your dog has a high energy level and leads an active lifestyle, Diamond Naturals has a blend designed to meet their nutritional needs. With real meat sources, Diamond Naturals provides quality nutrition for your beloved canine companion.
What Dogs Might Do Better On A Different Brand?
Some dogs might do better on a different brand of dog food if they have specific dietary needs or preferences. Does your dog require an average protein content or has allergies to certain ingredients found in Diamond Naturals? 
In that case, they may benefit from switching to a different brand offering decent options. Another brand may be more suitable if a dog prefers a smaller kibble or requires a higher fat content. 
Is Diamond Naturals A Good-Quality Dog Food?
Diamond Naturals is a good-quality dog food. It offers an upgrade regarding ingredients and nutritional value compared to standard Diamond dog food. 
It is made with premium ingredients, including real meat protein, providing complete nutrition for your furry friend. With a holistic approach and positive reviews from dog owners, Diamond Naturals delivers quality and value for money. Whether you prefer dry food formulas or canned food options, Diamond Naturals ensures your dog receives the best care.
Is Diamond Naturals A Safe Brand For My Dog?
Diamond Naturals is considered to be a safe brand for dogs. It has received a high rating from the Dog Food Advisor, indicating its quality and safety. While there have been some recall issues in the past, incidents of illness or death are rare.
However, consult your veterinarian to determine the best dog food brand for your furry friend's needs. Diamond Naturals is a trusted choice for many dog owners looking for a safe and reliable option.
How Do I Transition From My Dog's Old Food To A Diamond Naturals Product?
Transitioning your dog's diet to Diamond Naturals food must be done slowly and gradually for digestive health. Here are some steps to help you transition:
Mix a small amount of Diamond Naturals with your dog's current food. Use a ratio of 25% Diamond Naturals and 75% old food.
Over four days, gradually increase the amount of Diamond Naturals and decrease the amount of old food. For example, on day two, use a 50/50 ratio. Use 75% Diamond Naturals and a 25% old food ratio on day three.
By day four, your dog should eat only Diamond Naturals.
Pay attention to your dog's response to the new food during this transition period. Slow the transition process if they experience digestive issues or refuse to eat. Consult with your veterinarian for guidance.
Once fully transitioned to Diamond Naturals, continue feeding according to the recommended serving size based on your dog's weight and activity level.
What Should I Do If My Dog Doesn't Like A Diamond Naturals Product?
If your dog doesn't like a Diamond Naturals product, you can try mixing it with their regular food. It will gradually transition them to a different brand. 
Consult your veterinarian if your dog refuses to eat a Diamond Naturals product. They may have specific dietary needs or preferences. Monitor your dog's health and well-being when introducing new food or changing their diet. If you suspect your dog has an adverse reaction, contact the company and report your concerns.
Where Is Diamond Naturals Dog Food Made?
Diamond Naturals dog food is proudly made in the United States. Diamond Pet Foods, the company that manufactures Diamond Naturals, has production facilities in Missouri, South Carolina, and California. You can trust when you feed your furry friend Diamond Naturals, you're giving them a high-quality American-made product.
Author Profile
Aritra, the founder of Labradorandyou.com, is a lifelong dog lover whose passion ignited for Labradors for their loyalty and intelligence. With extensive research and personal experiences, Aritra has become a Labrador expert, offering a rich resource on the breed. Labradorandyou.com provides reliable, timely, and evidence-based information, including Labrador-specific product reviews, training techniques, and care tips.

Labradorandyou.com was born out of Aritra's passion and his desire to share his profound knowledge about the breed. The site serves as a comprehensive resource, offering a wealth of up-to-date information for Labrador owners and enthusiasts alike