Choosing the right brush for your Golden Retriever isn't just about keeping their coat looking good. It's also critical for their overall health and comfort.
Did you know certain brushes are better suited to golden retrievers because of their double coat? This review will guide you through picking out the best brush for golden retriever.
Importance of Choosing the Right Brush for a Golden Retriever?
Selecting the correct brush for your Golden Retriever is a crucial aspect of your pet care routine. It's not just about maintaining that luscious golden coat and making them look their best, but it also has deeper implications.
A high-quality grooming tool like Hertzko Slicker Brush or FURminator de-shedding tool effectively removes loose fur from the undercoat, lessening shedding around your home.
Furthermore, regular brushing with a suitable instrument, such as an undercoat rake or slicker brush, helps prevent matting in long-haired breeds like Golden Retrievers.
This contributes greatly to dog health by promoting air circulation to the skin beneath the thick double coat, preventing skin conditions.
The Hertzko Self-Cleaning Slicker Brush is a dream tool for every pet owner, making grooming more than just a chore.
Its thoughtful design includes fine-angled bristles that detangle and remove dirt from long and short furs, making your pets' coats healthy and visibly shiny. 
The ergonomic comfort grip ensures the process is stress-free not only for the pets but also for you as well. Its unique self-cleaning feature sets this product apart from other pet brushes. Hit the retract button to pull back the bristles, allowing fur to be wiped effortlessly. 
This easy-to-clean functionality saves time and prevents unnecessary mess during cleanup. It's no wonder Spruce Pets voted it Best Overall for 2022.
Choosing Hertzko Self-Cleaning Slicker Brush was easy because of these fantastic features and positive customer feedback. This combination makes it our number one choice in grooming tools, perfect for all pets.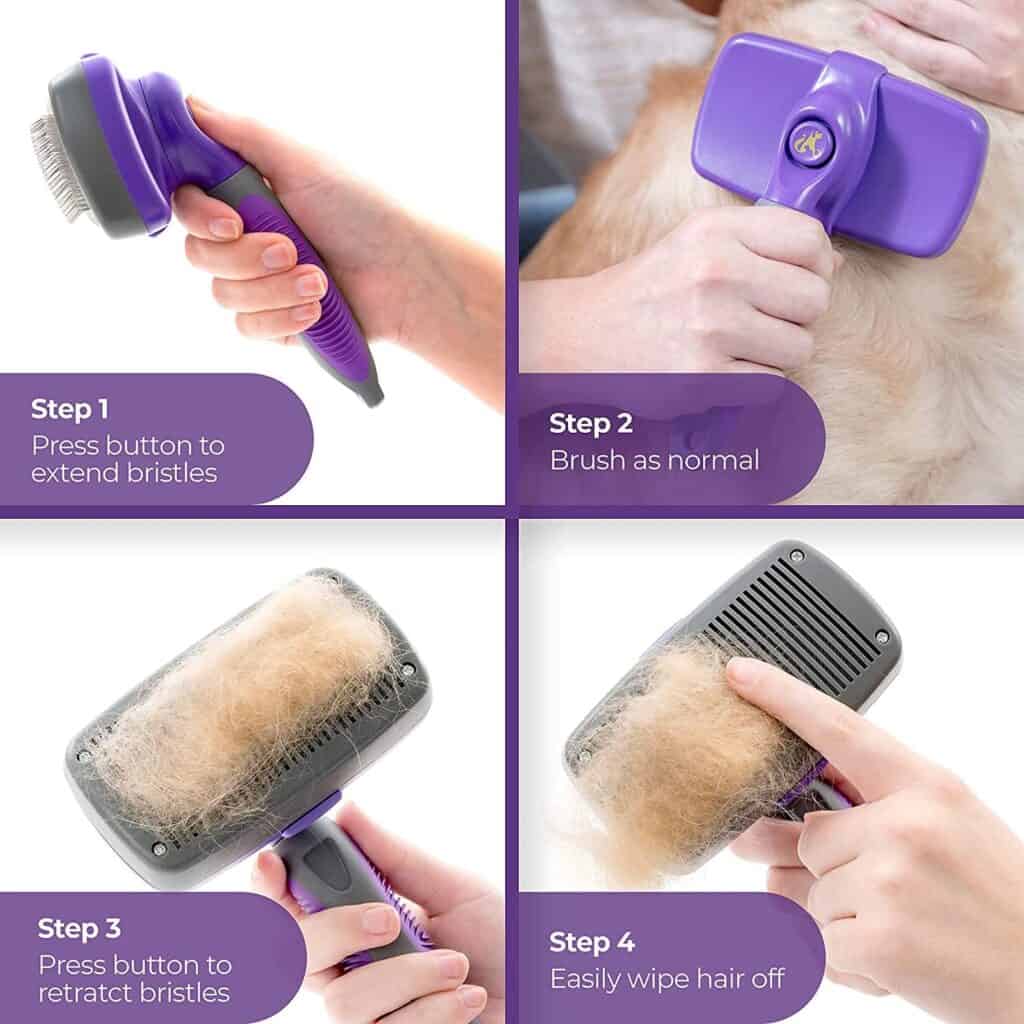 Highlights
Self-cleaning brush: This innovative feature allows easy hair removal from the brush with just a button, saving you time and hassle.
Detangles fur effortlessly: The Hertzko Slicker Brush gently removes tangles, mats, and knots without causing any discomfort to your pet.
Convenient travel size: Perfect for on-the-go grooming, this compact brush is great for trips or grooming sessions away from home.
Rectangular shape: The ergonomic design fits comfortably in your hand, providing precise control and reducing wrist strain during use.
Pros
Fine, angled bristles and ergonomic comfort grip for easy grooming
Push-button retraction allows for effortless fur collection and fast cleanup
Versatile comb suitable for all types of pets with long or short fur
Effectively detangles fur and removes dirt and debris, leading to a shiny and healthy coat
Cons
Can be too harsh for sensitive pets
May not be suitable for very fine or curly fur types
The retraction button may become less effective over time
The Maxpower Planet Pet Grooming Brush, secures the second position on our list with its exclusive double-sided design and efficiency in handling pets with thick or dense coats. 
This top-notch groomer stands out mainly for its dual functionality. It includes a 9-teeth side to manage stubborn mats and tangles, along with 17 teeth side that contributes to thinning and deshedding.
As an effective de-shedding tool, it successfully removes loose hair, leaving no room for knots, dander, or trapped dirt.
What further escalates its appeal is its user-friendly approach. The product's lightweight nature, complemented by a non-slip rubber handle, ensures a comfortable grip.
Additionally, this must-have brush exhibits utmost care toward your pet's skin by integrating sharpened but fine-rounded teeth to avoid irritation or scratches.
Notably chosen as No. 2 due to these features and positive user reviews stating easier grooming sessions.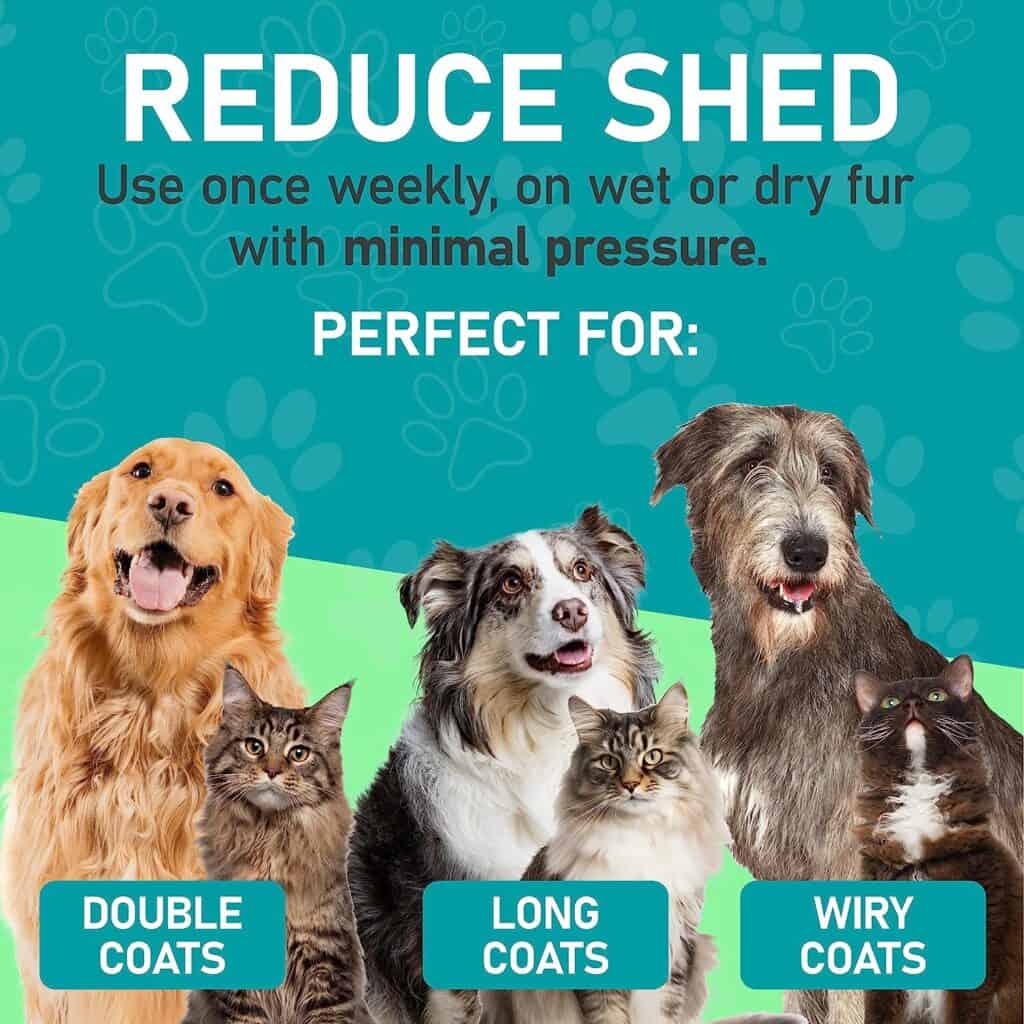 Highlights
Large size and blue color for easy visibility and handling.
Suitable for all hair types, making it versatile and convenient.
Made from high-quality stainless steel and rubber for durability.
Manufactured in China with careful attention to quality control standards.
Compact dimensions of 6.6 x 3.9 x 2 inches and lightweight at just 4 ounces for effortless use.
Pros
Efficiently removes loose hair, tangles, knots, and trapped dirt
Suitable for dogs and cats with thick fur or dense double coats
Gentle on your pets' skin without causing irritation or scratching
Dual-sided design provides fast and professional grooming results
Cons
The teeth may become dull over time and require sharpening
Some users may find the brush to be too large or bulky for their liking
Straight off the bat, the Andis 65730 Stainless-Steel Comb commands attention with its robust yet gentle design, ideal for any pet owner. This comb is a game-changer with its dual functionality – coarse teeth tackle tough knots and mats, while fine teeth are adept at removing loose hairs. 
Built from sturdy stainless steel, this tool is durable enough to last through countless grooming sessions. This comb doubles as a massager, fostering better health.
The rounded pin ends aren't just comfortable; they promote blood circulation. Its lightweight design adds to its usability.
In our list of top dog grooming tools, we rank this product at No. 3 – given how efficiently it performs all-around care: detangling, dematting, and fluffing! 
Highlights
Suitable for all hair types: This grooming brush and metal comb is designed to work effectively on any dog hair, making it versatile and convenient for all pet owners.
High-quality materials: Made with stainless steel, this brush and comb set is durable and long-lasting, ensuring it can withstand regular use without losing effectiveness.
Compact size: With dimensions of 7 1/2″, this grooming tool is compact enough to be easily handled while providing ample coverage for efficient brushing and combing.
Gentle on your pet's skin: The bristles are designed to be gentle on your dog's skin while still effectively removing loose fur, tangles, and mats. This ensures a comfortable grooming experience for both you and your furry friend.
Versatile usage options: Combining a brush and metal comb in one set offers versatility in handling different grooming needs, from detangling knots to smoothing the coat.
Pros
Gentle on your pet's skin, preventing snagging and harm
Conveniently portable, it fits in a handbag for grooming on-the-go
Leaves your pet's coat soft, sleek, and shiny
Easily removes knots, mats, and loose hair while promoting blood circulation for better pet health.
Cons
Pin ends may still cause slight discomfort to pets with sensitive skin
May not be suitable for pets with extremely thick or matted coats, requiring additional tools for effective grooming
Some customers have reported that the comb's teeth may become loose or fall out over time
The FURminator is a wonderful tool for maintaining your dog's coat. Designed specifically for pets with medium, long, or curly coats, this brush effortlessly removes surface mats and detangles hair without pulling. 
This slicker brush shines in its ability to finish coats to a natural shine. The design choice of using straight bristles on one side and bent bristles on the other allows this tool to follow the contours of your pet's body effectively.
Its dual flex head design is one outstanding feature that sets the FURminator apart from others. It complements the natural contours of your dog's body while keeping the bristles in an ideal working position.
It offers professional results and features an ergonomic handle, providing superior grip. What truly makes this product stand out, though, are user experiences backing up these claims- stories about how it glides through fur and leaves dogs' coats shiny.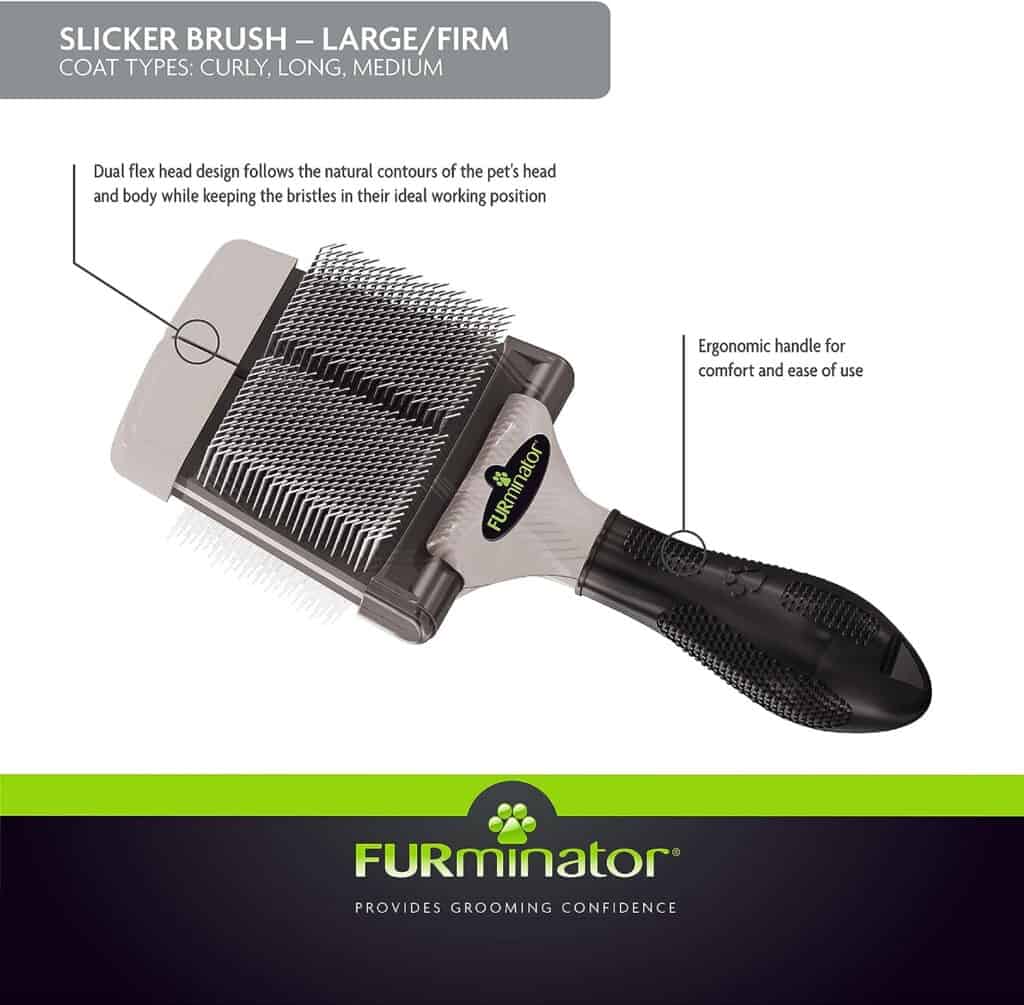 Highlights
Detangles fur efficiently and effortlessly
Flexible design allows for easy grooming in hard-to-reach areas
Oblong shape provides an ergonomic grip for comfortable use
Can be shipped internationally to select countries outside of the U.S.
Pros
Removes mats and tangles: Say goodbye to pesky knots and snarls in your pet's fur with the FURminator Firm Grooming Slicker Brush.
Promotes a healthy coat: By gently brushing away dead hair, this brush helps stimulate natural oils, giving your furry friend a lustrous and shiny coat.
Ideal for different coat types: Whether your pet has curly, long, or medium hair, this versatile brush is designed to work effectively on all types of coats.
Comfortable grooming experience: The brush's unique design reduces pressure on your pet's skin, making grooming sessions more enjoyable for you and your four-legged companion.
Cons
May not be suitable for pets with short or fine coats
The brush may feel too firm or uncomfortable for some sensitive pets
It requires regular cleaning to maintain its effectiveness
The HappyDogz Deshedding Tool is a reliable solution for pet owners grappling with excess fur. Its primary advantage lies within the stainless-steel shedding blades, which are proficient at getting to grips with all kinds of fur.
 The non-slip handle ensures firm control, making grooming a breeze even amidst matted or coarse hair. Plus, tough strands do not compromise its durability – it's engineered to withstand harsh tugs.
This tool makes light work of de-shedding tasks. Reaching under the undercoat stimulates blood flow, contributing to better skin health and reduced shedding. An added benefit is that most pets seem to love the sensation delivered by these brushes. 
Add a quick-release button for easy blade removal and cleaning; indeed, we have an excellent grooming tool here: versatile yet simple, functional yet gentle.
Many other dog brushes for shedding on the market fall short compared to Anshar Dog Brush's efficiency and user-friendly features.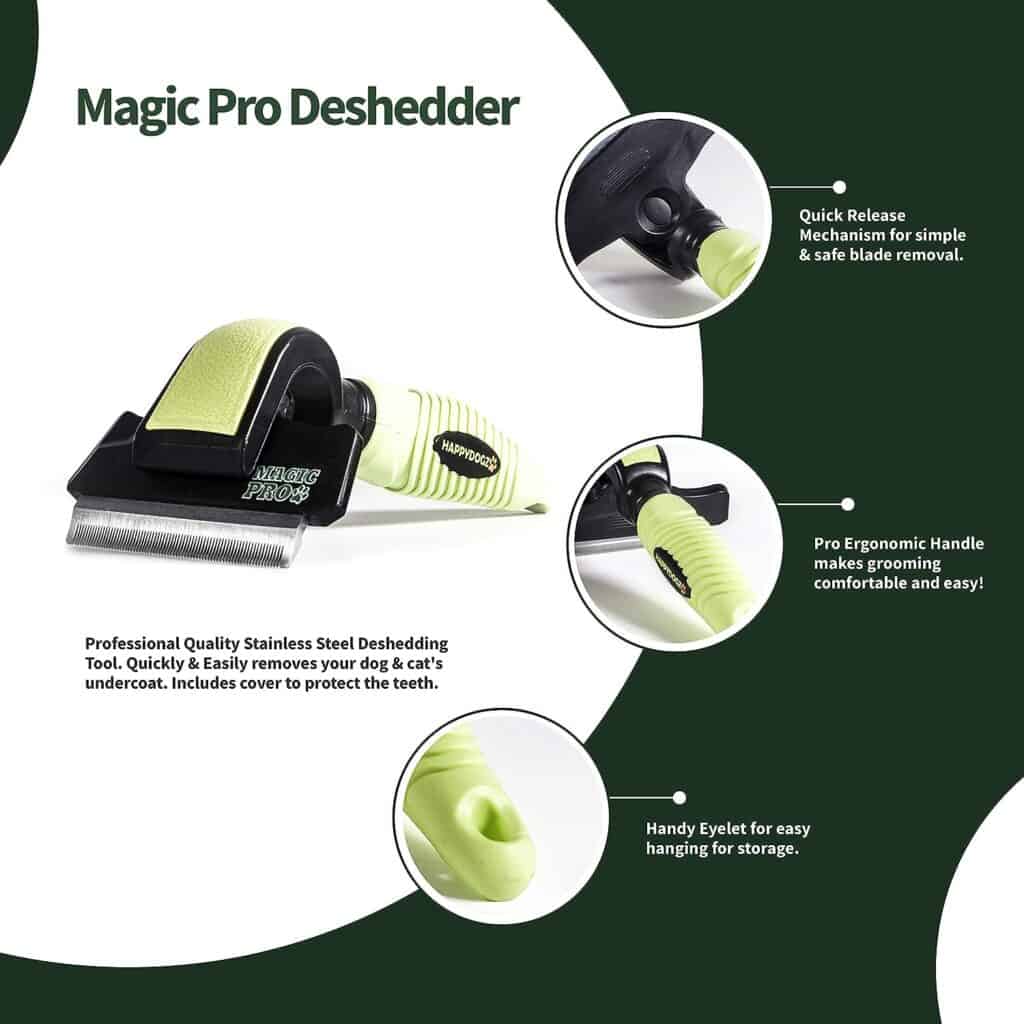 Highlights
Non-slip handle for easy and comfortable grip
Oblong shape for efficient and effective deshedding
Durable metal construction for long-lasting use
Compact dimensions of 5.51 x 2.36 x 9.05 inches
Lightweight at only 4.66 ounces
Pros
Effective on all pets with fur
Quick-release button for easy blade removal and cleaning
Non-slip handle for easy grooming through long or short hair
Durable and built to last, even on course, matted hair
Cons
Not suitable for pets with sensitive skin or allergies.
The brush size may be better for larger pets with thicker coats.
Some customers have reported difficulty in removing the blades for cleaning.
The CONAIRPRO Brush with ergonomic design is an everyday pet grooming miracle. Palm-Petting Grip Technology fits seamlessly into your palm and replicates a natural petting motion.
It reduces hand fatigue and ensures more controlled brushing sessions. This metal pin brush can tackle it all while reducing shedding effectively. The stainless-steel pins equipped with comfortable tips safely penetrate your pet's coat.
The durable material makes it versatile enough to suit animals of different sizes, eliminating tangles while providing a shiny, healthier-looking coat.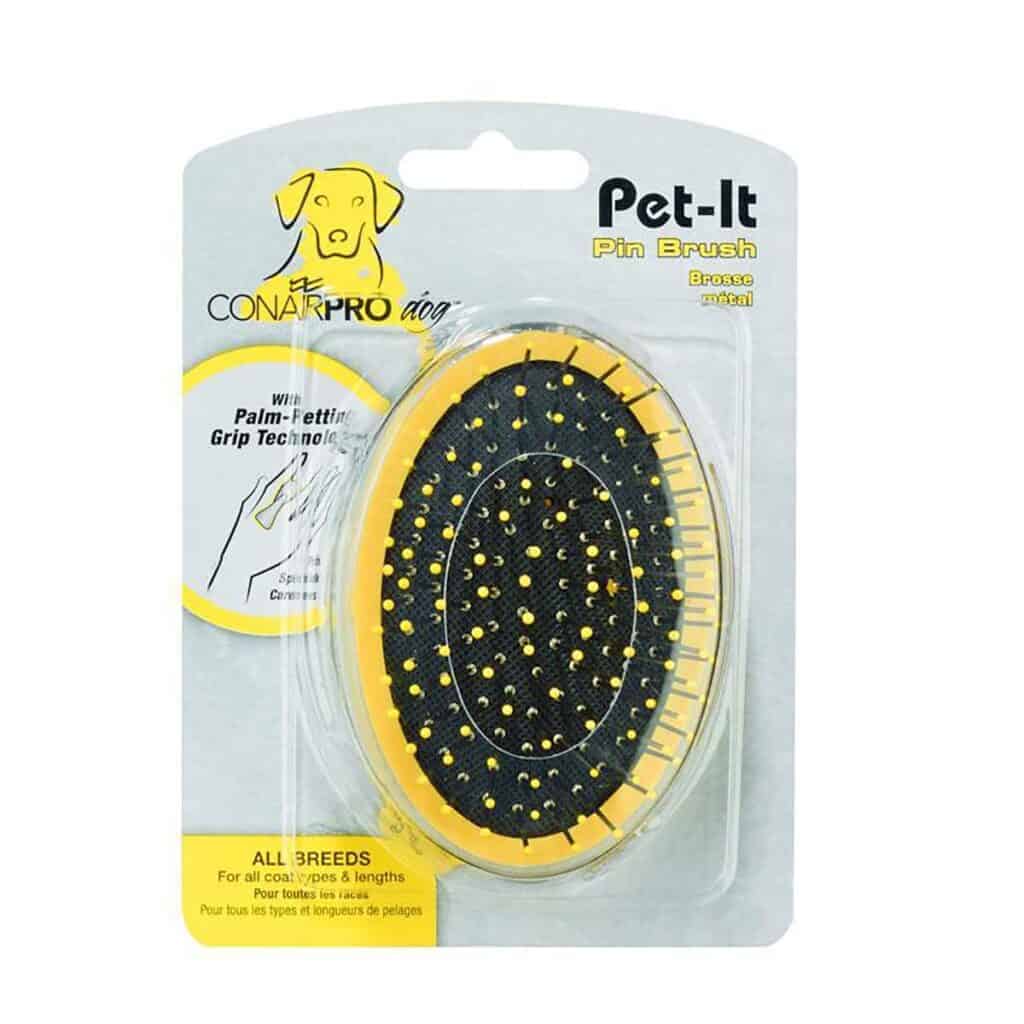 Highlights
Innovative design with a metal handle for easy grip and control
Oblong shape for efficient brushing and smoothing of your dog's coat
High-quality brand trusted by professionals in the pet industry
Made with durable materials for long-lasting use
Compact size makes it convenient to take on the go or store easily.
Pros
Reduces shedding and promotes a healthy-looking coat
Fits comfortably in your palm for better control and less hand fatigue
Gentle on your pet's skin with reinforced coated tips
Ideal for detangling snags and knots in both short and long coats
Cons
The brush may not be suitable for dogs with extremely thick or coarse fur, as it may not effectively penetrate the hair.
The brush size may be better for larger dog breeds, making it less convenient for owners of big dogs.
This comb's standout features are its stainless steel teeth that promise ultra-durability and its soft anti-slip rubber handle, guaranteeing effortless control.
Deshedding with this tool isn't just an aesthetic transformation and promotes healthy skin by facilitating better blood circulation. What sets this product apart is how it addresses two common concerns of every pet owner: minimizing hair around the house and ensuring comfort.
With regular brushing sessions lasting around 5 minutes, the Pet Comb Rake removes dead undercoats, reducing hair shedding. Meanwhile, the thoughtful design featuring no scratch rounded outside teeth proves to be gentle on your pet's skin, eliminating all tangles and knots.
Lastly, riding high on customer service ethos, OCTCHOCO provides lifetime quality assurance. There's swift help, including options for a full refund or replacement.
Highlights
Extra-large size (5.9×6.7 inches) ensures thorough grooming
Designed for all hair types, making it versatile for all pets
Made with titanium steel material for durability and longevity
Vibrant red color adds a touch of style to your pet's grooming routine
Easy to use and handle, providing comfort during grooming sessions
Pros
Lifetime quality assurance for peace of mind
Easy to use with a soft anti-slip rubber handle
Promotes healthy skin and better blood circulation through gentle massage
Effectively removes dead undercoat, reducing hair around the house
Cons
Not suitable for small dogs or short-haired coats
May not be effective in removing stubborn mats or tangles
The rubber handle may feel uncomfortable for some users
This pet grooming tool ensures that your golden retriever enjoys each grooming session. It features soft, angled bristles designed to be gentle on your pets' skin and coat.
What sets this dog brush apart is its self-cleaning feature – no more dreading the clean-up! Simply push a button and wipe away collected fur.
This time-saving attribute benefits regular pet owners, professional groomers, and vets.  Moreover, the slicker brush is ideal for long or short-haired pets—5 inch and 3/4 inches.
Its unique design choices put users' perspectives at the forefront while determining product effectiveness, quality, and convenience.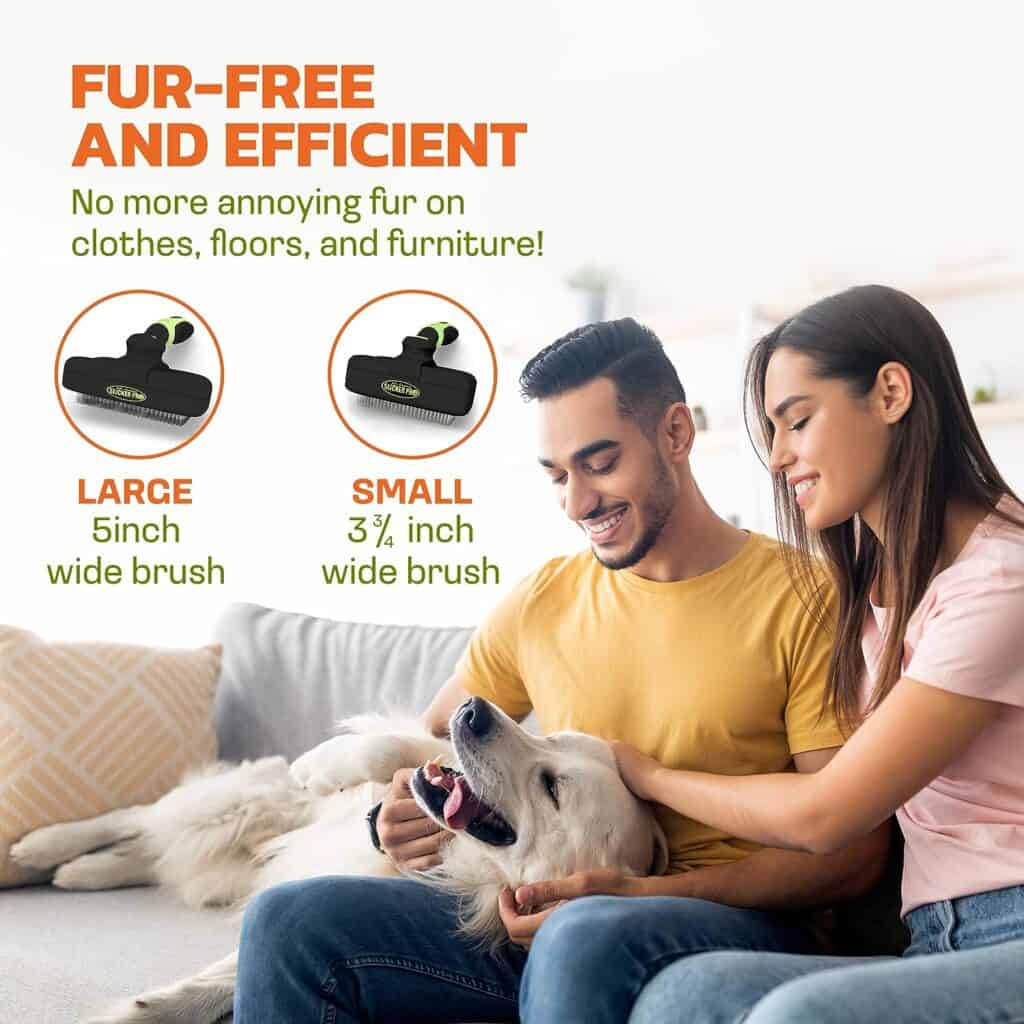 Highlights
Self-cleaning design: The Pet Portal brush cleans itself, making it easy to maintain and reduce mess.
Durable materials: Made with a metal handle and stainless steel bristles, this brush is built to last.
Convenient shape: With its rectangular shape, the brush covers more surface area for efficient grooming.
Sleek black color: The stylish black design enhances the overall aesthetic of the brush.
Trusted brand: The Pet Portal is a reputable manufacturer that produces high-quality pet grooming products.
Compact size: The brush's compact dimensions make it easy to store or take.
Pros
Effortlessly removes excess hair and fur from your pet's coat
Gentle on your pet's skin and coat, preventing any discomfort or pain during grooming sessions
Versatile design suitable for both dogs and cats with long or short hair
Self – cleaning feature saves you time and hassle by easily removing trapped fur with a push of a button
Cons
The self-cleaning feature may not always remove all of the hair, requiring additional cleaning
Not suitable for small pets or those with sensitive skin, as the bristles may be too harsh
The Undercoat Rake for Dogs is an innovatively designed dematting brush that takes pet grooming to the next level. Built with high-quality, non-toxic silicone and stainless steel pins, this rake ensures a pain-free grooming session.
Its double row of pins reduces shedding by up to 90%, making it a valuable tool for breeds prone to heavy shedding. The contouring handle ensures strong grip and comfort during prolonged grooming, while the unique structure stimulates hair follicles.
Furthermore, using this deshedding tool can minimize irritation from build-up, protecting your pets from skin allergies. Endorsed by veterinarians, groomers, worldwide reiterates its effectiveness in promoting better coat health. It's perfect for Golden Retrievers!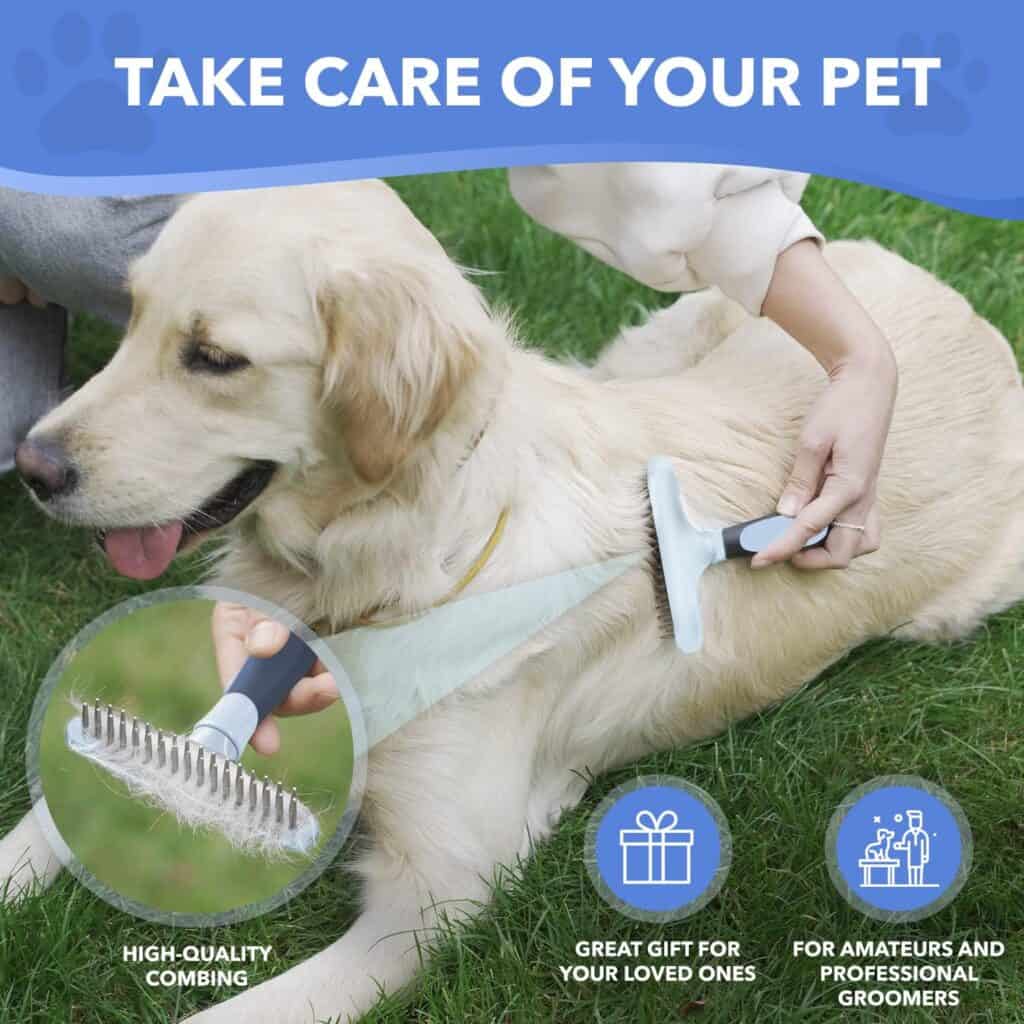 Highlights
Designed specifically for dogs to remove loose undercoats and reduce shedding effectively.
Features stainless steel teeth that reach deep into the coat without scratching or irritating the skin.
An ergonomic handle provides a comfortable grip and easy maneuverability during grooming sessions.
Helps promote healthy skin and coat by stimulating natural oil production and improving circulation.
Compact size makes it convenient to store or take on-the-go for grooming anytime, anywhere.
Pros
Reduces shedding by up to 90%
Promotes healthy skin and a shiny coat
Minimizes irritation and allergic reactions from build-up
Suitable for dogs, cats, rabbits, and horses with short, medium, or long hair
Cons
May require frequent cleaning and maintenance to prevent a build-up of fur and debris in the brush
The undercoat rake size may differ for small or toy-sized pets.
Factors to Consider When Choosing a Brush
When choosing a brush for your golden retriever, consider factors such as coat type and length, comfort and safety for the dog, ease of use and maintenance, durability and quality, and suitability for the type of brushing needed.
Coat type and length
The coat of a Golden Retriever is more than just about beauty. It's an essential factor to consider when choosing the right brush.
Known for their gorgeous, dense double coats, Goldens have longer hair that can easily mat or tangle without proper care.
They also shed profusely, particularly during transitions between seasons. The most suitable brushes for them are slicker brushes and undercoat rakes.They effectively remove loose fur and prevent matting in this breed's thick fur.
Many Golden owners highly praise the FURminator de-shedding tool due to its proficiency in managing shedding. 
Comfort and safety for the dog
Ensuring your Golden Retriever's comfort and safety during grooming sessions is paramount.
Opt for a brush with smooth, rounded bristles, such as the Hertzko Slicker Brush or the Horicon Pet Premium Dog Brush Set to avoid scratching their sensitive skin.
These brushes efficiently remove loose fur without causing any discomfort or injury. An undercoat rake like the FURminator De-shedding Tool can gently remove tangles and mats for dogs with thick coats.
Equally important is a non-slip handle on your grooming tool to guarantee firm control, preventing accidental slips. 
Ease of use and maintenance
Choosing a brush that is easy to use and maintain is essential when grooming your Golden Retriever. Look for brushes that have ergonomic handles, making them comfortable to hold during brushing sessions.
Additionally, brushes with self-cleaning mechanisms or removable bristle pads can make cleaning quick and hassle-free. For maintenance, opt for brushes made from durable materials resistant to bending or breaking.
This ensures the brush lasts longer and continues to groom your Golden Retriever's coat effectively.
Durability and quality
Durability and quality are crucial when choosing a brush for your golden retriever. Golden retrievers have thick coats that can put a lot of wear and tear on grooming tools, so it's important to invest in brushes that are built to last.
Look for brushes made with high-quality materials like sturdy bristles or stainless steel pins that won't bend or break easily. Durable brushes should withstand regular use without losing effectiveness.
Suitable for the type of brushing needed
Golden retrievers have a double coat, which means they have a soft undercoat and a longer topcoat. To effectively groom their fur, you'll want to use a brush that can penetrate through both layers of hair. 
A slicker brush is an excellent choice as it has fine bristles that can easily reach the undercoat while gently removing loose hair and preventing mats.
Additionally, a de-shedding tool like the FURminator can help reduce shedding by removing loose hair from the undercoat and topcoat. 
Tips for Brushing a Golden Retriever
Brush your Golden Retriever regularly following a schedule to maintain their coat's health and prevent matting.
Regular brushing schedule
Brush your golden retriever at least once a week to keep its coat clean and healthy.
Regular brushing helps remove loose hair and prevent mats from forming.
Brushing also stimulates the skin and improves blood circulation, promoting a healthier coat.
Pay attention to seasonal shedding, as golden retrievers tend to shed heavily twice a year.
During shedding seasons, increase the frequency of brushing to minimize loose hair around the house.
Proper brushing techniques
Proper brushing techniques are essential to ensure the best results when brushing your Golden Retriever. Here are some tips to help you groom your furry friend effectively:
Start combing through your Golden Retriever's fur with a wide-toothed comb or a dematting tool to remove tangles or mats.
Use a slicker brush gently to remove loose hair and prevent matting. Be sure to brush in the direction of hair growth to avoid causing discomfort or irritation.
Pay special attention to areas where mats are more likely to form, such as behind the ears, under the tail, and on the chest and belly. Use a dematting tool or a slicker brush with longer bristles to gently work through any knots or tangles.
If your Golden Retriever has a dense undercoat, use an undercoat rake or deshedding tool to help remove loose hair and reduce shedding. Work from the skin outward in small sections, careful not to pull too hard on the hair.
When using a deshedding tool, be cautious not to apply too much pressure as it may cause discomfort for your dog. Gently glide the tool over your pet's coat, removing excess hair without irritating their skin.
Use gentle yet firm strokes while brushing your Golden Retriever's coat. This helps stimulate their natural oils and promotes healthier skin and fur.
Frequent brushing is key to maintaining your Golden Retriever's coat health, so aim for at least once or twice a week, depending on their shedding patterns.
Start with a detangling spray.
A high-quality detangling spray can help loosen any knots or tangles in your dog's fur, making it easier to brush through without causing discomfort for your furry friend.
It also adds moisture and leaves the coat feeling soft and shiny. Look for a detangling spray specifically formulated for dogs with long or dense hair, as these are usually more effective in gently untangling stubborn mats.
Using a detangling spray before brushing can maintain your Golden Retriever's gorgeous coat and prevent unnecessary pulling or discomfort during grooming sessions.
Brush in the direction of hair growth.
To properly brush a golden retriever, always brush in the direction of their hair growth. This technique helps prevent any discomfort or potential harm to your furry friend.
By brushing in the same direction as their hair grows, you effectively remove tangles and mats while keeping their coat smooth and healthy.
Brushing against the grain can cause unnecessary pulling and damage their delicate skin.
Be gentle and avoid pulling.
When brushing your Golden Retriever, it's essential to be gentle and avoid pulling on their coat. Golden Retrievers have sensitive skin, so excessive force or tugging can cause discomfort and even lead to skin irritation.
Instead, use a light touch when brushing through their fur, being mindful of any tangles or mats that may require extra care. Using the right brush for your golden retriever's needs will help minimize pulling.
Opt for a slicker brush with soft bristles that can easily glide through their coat without causing pain or discomfort. Being gentle and avoiding pulling ensure a positive grooming experience for you and your furry friend.
Pay attention to problem areas.
Golden Retrievers have certain areas where mats and tangles are more likely to occur, so paying attention is essential. The longer feathering on their legs, neck, and tail are common trouble spots.
Regularly checking and gently combing through these areas will help prevent discomfort for your furry friend. Also, inspect their ears for any debris or signs of infection as part of your grooming routine.
By diligently addressing problem areas, you can keep your Golden Retriever looking healthy and happy.
FAQ on best golden retriever brush
What Is The Best Type Of Brush To Use On A Golden Retriever?
The best brush for a Golden Retriever is a slicker brush and an undercoat rake. Slicker brushes are fine wire-angled teeth that remove tangles, mats, and dead fur.
Undercoat rakes are designed to help remove the loose undercoat fur, which helps to reduce shedding.
What Should I Brush My Golden Retriever With?
In addition to a slicker brush and an undercoat rake, you may also want to use a pin brush or a grooming glove.
Pin brushes are good for distributing natural oils throughout the coat, while grooming gloves are gentle on the skin and help to remove loose hair.
How Often Should You Brush Golden Retrievers?
You should brush your Golden Retriever at least once a week but more often during the shedding seasons. Brushing helps to remove dead hair and prevent mats, which can be uncomfortable for your dog.
How Can I Make My Golden Retriever Hair Silky?
You can do a few things to make your Golden Retriever's hair silky:
Brush your dog regularly with a slicker brush or grooming glove.
Use a high-quality shampoo and conditioner designed for dogs with long hair.
Apply a leave-in conditioner after bathing.
Avoid bathing your dog too often, as this can remove natural oils from the coat.
Can we apply coconut oil on Golden Retriever hair?
Yes, you can apply coconut oil on Golden Retriever hair. Coconut oil is a natural moisturizer that can help to keep the coat healthy and shiny. You can apply coconut oil to your dog's hair after bathing or simply rub it into the coat before brushing.
Is Coconut Oil Good For Golden Retriever Hair?
Yes, coconut oil is good for Golden Retriever hair. It is a natural moisturizer that can help to keep the coat healthy and shiny. Coconut oil can also help to prevent mats and dandruff.
Can Golden Retriever Drink Coconut Water?
Yes, golden retrievers can drink coconut water. Coconut water is a healthy and refreshing drink that is a good source of electrolytes. It is also a good source of potassium, which is vital for dogs with heart problems.
Can I Put Coconut Oil Directly On My Dog?
Yes, you can put coconut oil directly on your dog. However, it is crucial to start with a small amount and gradually increase the amount as needed. Coconut oil can be a bit greasy, so you may want to wipe it off your dog's fur after a few hours.