Labrador Retrievers' friendly and affectionate nature makes them perfect family pets. Maryland is home to various reputable breeders prioritizing labrador health, temperament, and quality. The best Labrador breeders in Maryland include Boynton's Best Labradors, Shadyside Labradors, and Bachman Mill Labradors. Keep reading to find your ideal breeder, and welcome an adorable labrador puppy to your family!
Top Labrador Retriever Breeders In Maryland
Here are some of Maryland's top-rated Labrador breeders.
Boynton's Best Labradors
Boynton's Labradors is a highly-rated Labrador Retriever breeder in Maryland. It provides healthy, well-socialized labrador puppies for sale coming from top bloodlines.
The breeder focuses on breeding American-style Labradors to be used as working dogs.
Boynton's Best Labradors perform genetic health testing on their dog breeds.
The breeder socializes their labrador puppies before they go to their new house. They are introduced to children, other dogs, and everyday household noises.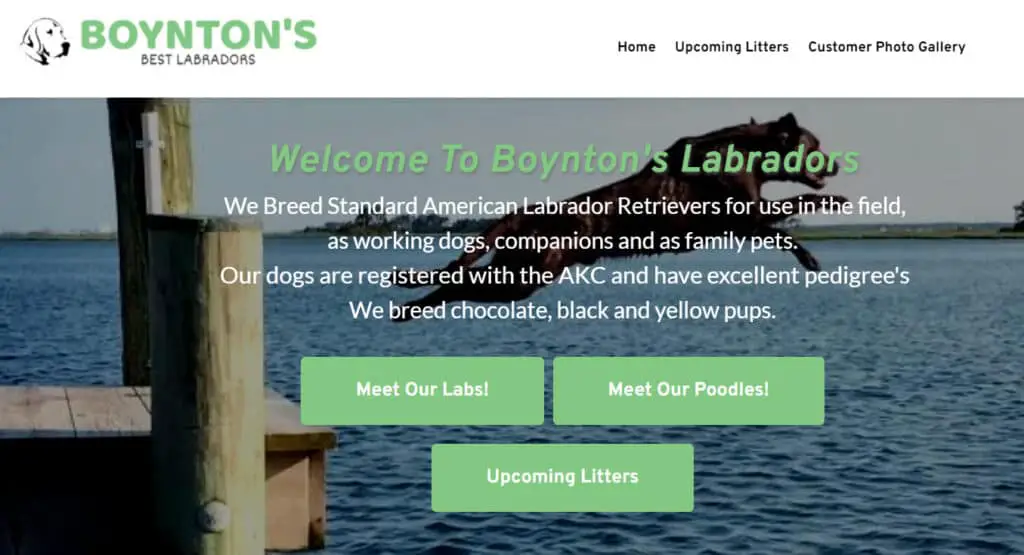 Shadyside Labradors And Bachman Mill Labradors
Shadyside focuses on breeding high-quality, healthy puppies with excellent temperaments.
Their Labradors have undergone extensive health testing.
Their facilities provide a comfortable and safe environment for labrador retriever puppies.
Bachman Mill is another reputable breeder that focuses on socializing their puppies early.
Two sisters, Roberta Spicer and Stephanie Martucci own it. They breed Labrador retriever puppies on the Shadyside acres farm.
They bred English-style labradors with stocky bodies and are AKC registered.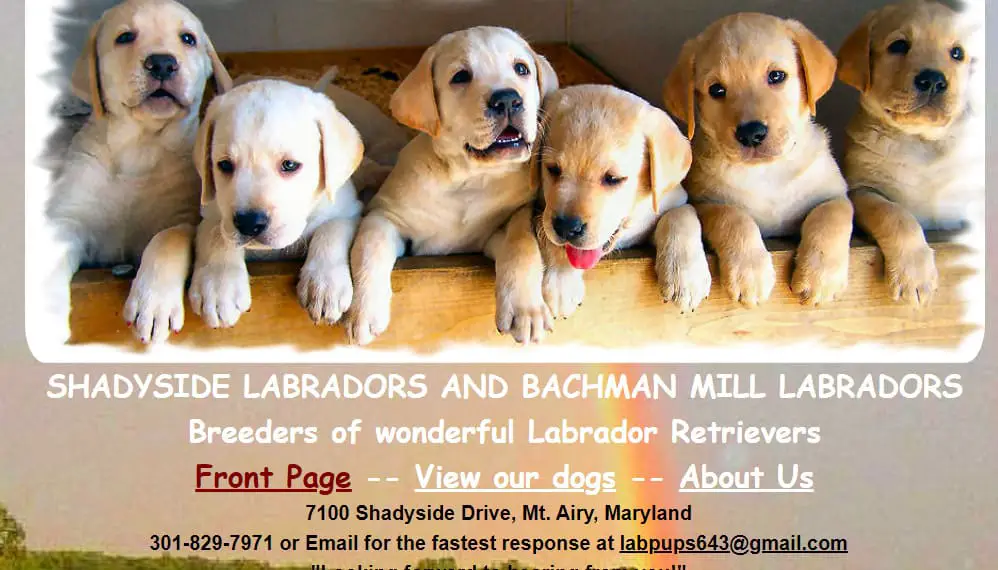 Deep Hollow Labrador Retrievers
The breeder is located in Sharpsburg, Maryland, nestled in the rolling hills of Western Maryland.
All labrador retriever puppies for sale are born and raised on the farm with plenty of room to run and play.
Deep Hollow conducts health testing on all dogs.
The breeder offers English and American black, yellow, and chocolate labs.
Puppies experience socialization from birth to ensure they are well-rounded pets.
Deep Hollow provides ongoing support and guidance for puppy buyers throughout their dog's lifetime.
They also offers stud services with AKC-registered male Labrador retrievers for approved females.
They have been producing Labrador Retrievers for over 20 years.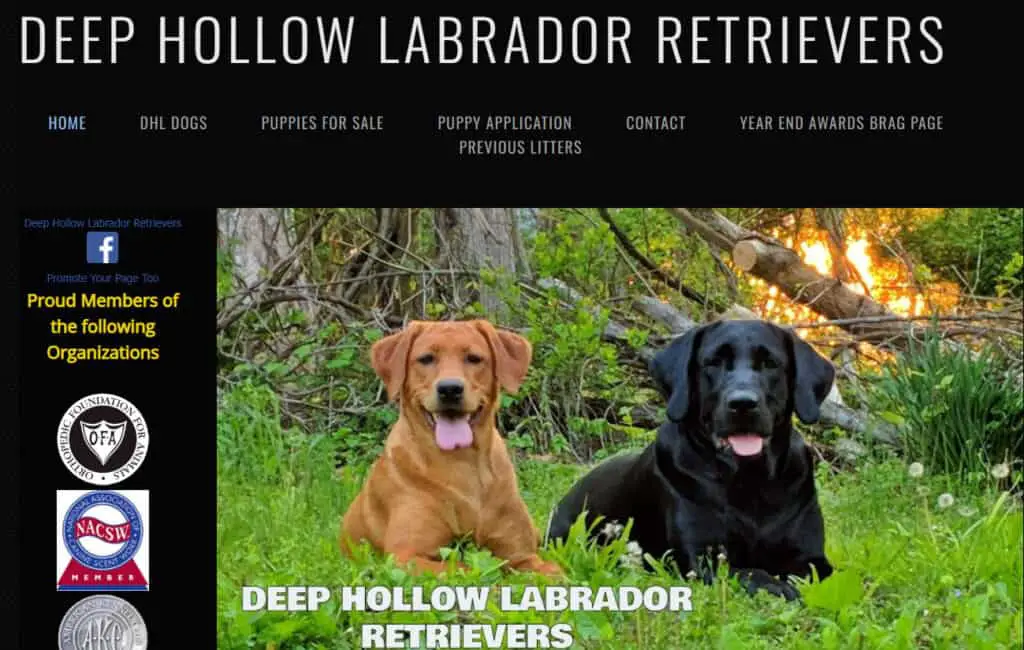 Bold Bay Retrievers
Bold Bay Retrievers specializes in a puppy that excels in field trials and hunting.
Bold Bay Retrievers breed quality Labradors with excellent temperament and health.
Bold Bay Retrievers has a strong reputation due to their exceptional customer service.
Their Labs come from champion bloodlines and undergo rigorous health testing.
Bold Bay Retrievers also provides socialization training for their puppies.
They excel in producing working dogs with outstanding AKC pedigrees. Their breeding program is for Master Hunt Test Dogs and Field Trial Champions.
Mount Airy Labradors
They raise their dog in a family environment to ensure proper socialization.
Mount Airy Labradors conducts health testing on their breeding dogs to ensure they are free from genetic diseases.
They offer black, yellow, and chocolate Labrador Retriever puppies for sale in Maryland.
Mount Airy has been producing quality labs for over 50 years.
Their dog comes with a one-year health guarantee. They are up to date on vaccinations and worming before going to their forever homes.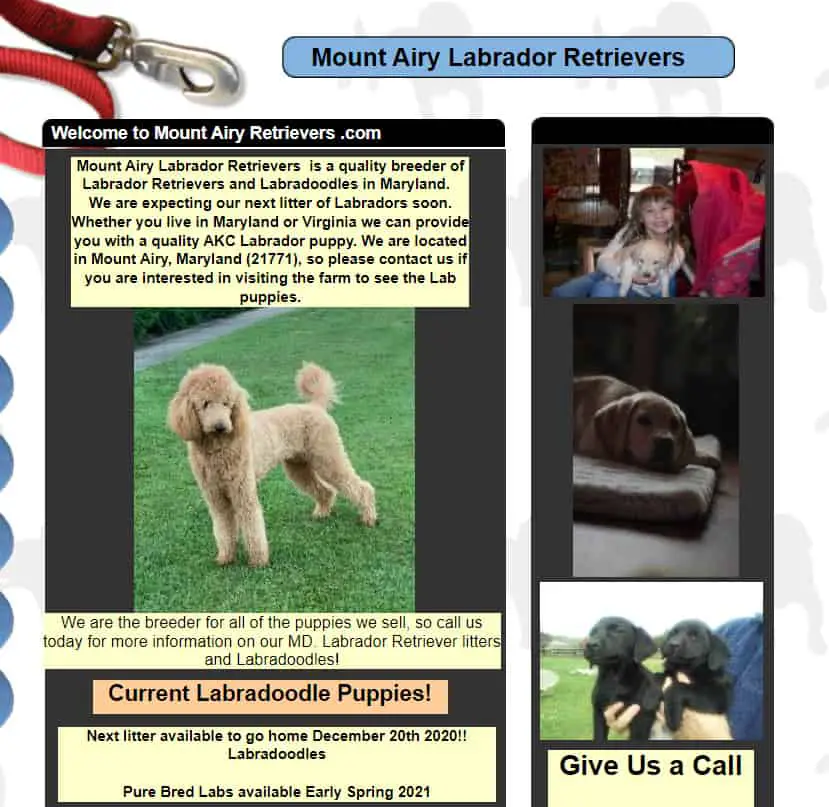 How To Choose The Best Labrador Breeder In Maryland
To choose the best Labrador breeder in Maryland, consider factors like health testing, ethics, socialization, breeder reputations, reviews, etc. Visit breeder facilities to meet the potential parents of your dog.
Factors To Consider: Health Testing, Ethics, And Socialization
Responsible breeders prioritize the well-being of their dogs by conducting thorough health tests before breeding. These tests identify potential genetic issues that may affect offspring. They ensure the birth of healthy Labrador pups.
Shadyside and Boynton's Best Labradors have a strong reputation for prioritizing labrador puppies' health by performing routine vet checks.
Ethics is also essential in selecting a reputable Labrador breeder. A trustworthy breeder operates with transparency and integrity. They provide parentage information to address your concerns.
Look for breeders who avoid overbreeding. Puppy mills must also be avoided due to poor living conditions and compromised animal welfare. Socialization ensures labrador puppies grow into well-adjusted adult dogs. It makes them capable of forming positive relationships with humans and other animals.
Researching Breeder's Reputations And Reviews
Researching a Labrador breeder's reputation and reviews is crucial. You can ask other dog lovers, friends, or family members. Search online on websites like Yelp, Facebook, and Google to find reviews from previous customers.
Read positive and negative reviews for insight into the breeder's practices, customer service, and overall reputation. If possible, reach out to some of the reviewers for more information.
Reputable breeders will be registered with organizations like American Kennel Club (AKC), Maryland SPCA, etc. Local breed-specific clubs like Maryland Labrador Retriever Club also ensure their dogs meet certain health standards.
Visiting Breeder Facilities And Meeting Parents
Visit the facilities and meet with the parents of your potential litter. It will give you a good idea of the provided pet care. Reputable breeders will welcome you to their facilities and introduce you to both parent dogs.
Boynton's Best Labradors provide a clean and safe dog environment on their farm near Baltimore. They encourage prospective owners to visit them to witness their friendly and healthy parent dogs.
Golden Moon Labradors in Maryland uses Early Neurological Stimulation (ENS) techniques to socialize labrador puppies for sale. It produces a calm and confident dog that integrates quickly into family life.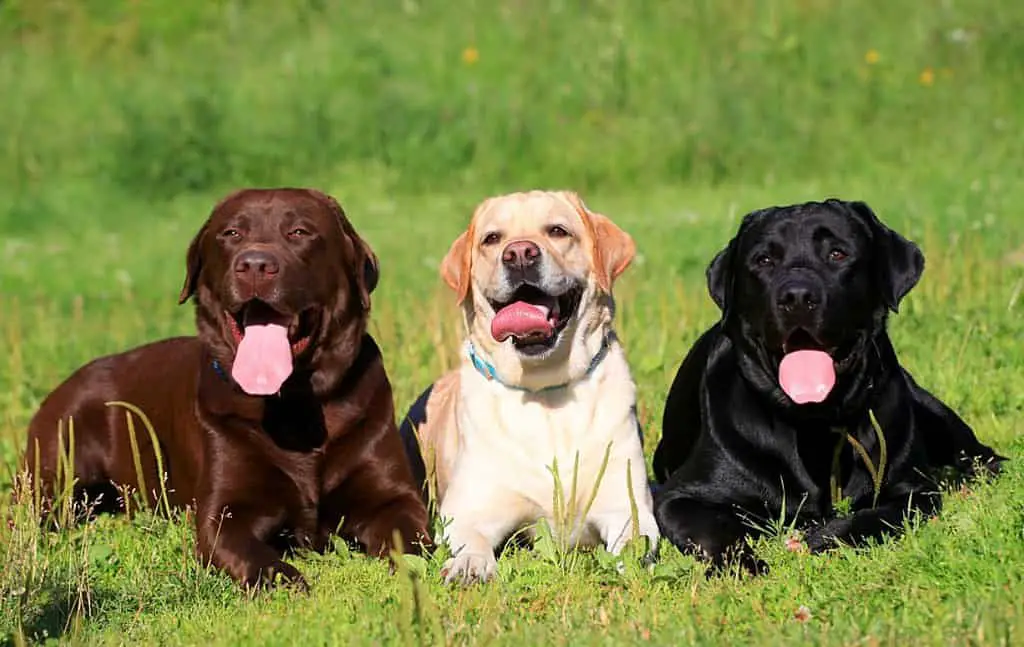 Breeder Reviews And Testimonials: Labrador Retriever Puppies
Customers have raved about their positive experiences and recommendations of Maryland's top Labrador Retriever breeders. Considering any negative feedback is equally essential.
Positive Experiences And Recommendations
Labrador Retriever owners in Maryland have shared many positive experiences and recommendations. Many owners have praised Boynton's Best Labradors for their high-quality puppies. Great temperament and excellent health are top features.
Shadyside Labradors have received recommendations for producing beautiful, well-socialized puppies that make great family pets.
Deep Hollow Labrador Retrievers are known for their friendly, intelligent dogs that excel in hunting and competition.
Owners have noted Bachman Mill's attention to detail and dedication to producing healthy, happy puppies.
Customers have recommended Golden Moon Labradors for outstanding customer service.
Maryland SPCA has been praised for its adoption program. They allow families to provide a loving house to rescued Labs in need.
Hillcrest Retrievers has received praise for their commitment to ethical litter breeding practices.
Bold Bay Retrievers is recommended for a hunting retriever who excels in field trials and competitions.
Several owners have spoken highly of Mount Airy Labradors' friendly, outgoing litters with excellent temperaments.
Liberty Run Golden Retrievers is another breeder appreciated for their compassionate dog breeding and adoption approach.
Steele Labradors are popular for providing working labrador retrievers. Pups from Steele Labradors actively participate in hunting competitions.
Any Negative Feedback To Be Aware Of
Some breeders may have been criticized for not adequately socializing their dog or neglecting health testing. Others may have unclear pricing, hidden fees, or unresponsive customer service. Some customers have reported that PuppySpot's puppies arrived sick with undisclosed medical conditions.
While Boynton's dogs are generally well-regarded, some have noted concerns over their puppy adoption contracts and communication. Do thorough research before committing to a breeder. Look for transparent breeders in Maryland. Reading online reviews from multiple sources helps identify potential problems.
Final Thoughts: Finding The Perfect Labrador Breeder In Maryland
Maryland has many reputable Labrador Retriever breeders offering high-quality puppies and dogs. Choosing an AKC breeder that focuses on health testing, ethical breeding practices, and socialization is crucial.
Research the breeder's reputation and reviews, visit their facilities, and meet prospective puppy's parents. With so many options in Maryland, you will surely find a labrador retriever that suits you best!
Author Profile
Aritra, the founder of Labradorandyou.com, is a lifelong dog lover whose passion ignited for Labradors for their loyalty and intelligence. With extensive research and personal experiences, Aritra has become a Labrador expert, offering a rich resource on the breed. Labradorandyou.com provides reliable, timely, and evidence-based information, including Labrador-specific product reviews, training techniques, and care tips.

Labradorandyou.com was born out of Aritra's passion and his desire to share his profound knowledge about the breed. The site serves as a comprehensive resource, offering a wealth of up-to-date information for Labrador owners and enthusiasts alike