Searching for the perfect Labrador breeder in Michigan can be quite a challenge. Did you know that Labrador Retrievers are the most acclaimed breed in America? We'll cover the top breeders, aiding your quest for your wonderful companions. Don't miss out; your companion is just a read away!
Labrador Retrievers as a Breed
Labrador Retrievers are more than just a popular pet choice. They're renowned for their friendly demeanor, sharp intellect, and endearing personalities.
Their origin traces back to Newfoundland in Canada, where Labrador Retrievers were originally trained to retrieve ducks and fish. These dogs shine through with their quick learning abilities, making them the preferred breed for service and mid-michigan therapy dogs.
Bred with an all-purpose retriever style, Labradors possess excellent temperament suitable for family living and show or field abilities. Distinctly noticeable in three colors–Black, Yellow, and Chocolate. Each hue has a unique charm but shares the same loveable traits typical of Labs.
An essential aspect of Labs is ensuring their good health. Genetic disorders such as hip and elbow diseases or heart conditions may affect this breed, so reliable breeders prioritize health clearances. This includes OFA-certified elbows and hips exams alongside eye tests like CERF-OPTIGEN screens.
13 Top Labrador Retriever Breeders in Michigan
Michigan Elite Labs is a prominent Labrador breeder with its roots planted firmly in the heart of Michigan since 2005.
As a devoted family breeder in the United States, they're committed to breeding high-quality  "all-purpose" retrievers that suit every need. From therapy dogs and show dogs to loyal family companions.
Widely recognized by the American Kennel Club (AKC), their pursuit of excellence never ceases. Before the sale, this quality breeder ensures all their pups are OFA-certified through comprehensive health screenings, including hip, elbow, and cardiovascular examinations.
As a member of the esteemed Bred with H.E.A.R.T program by AKC, Michigan Elite Labrador prioritizes genetic soundness and produces labs with a calm demeanor. They are the best in West Michigan.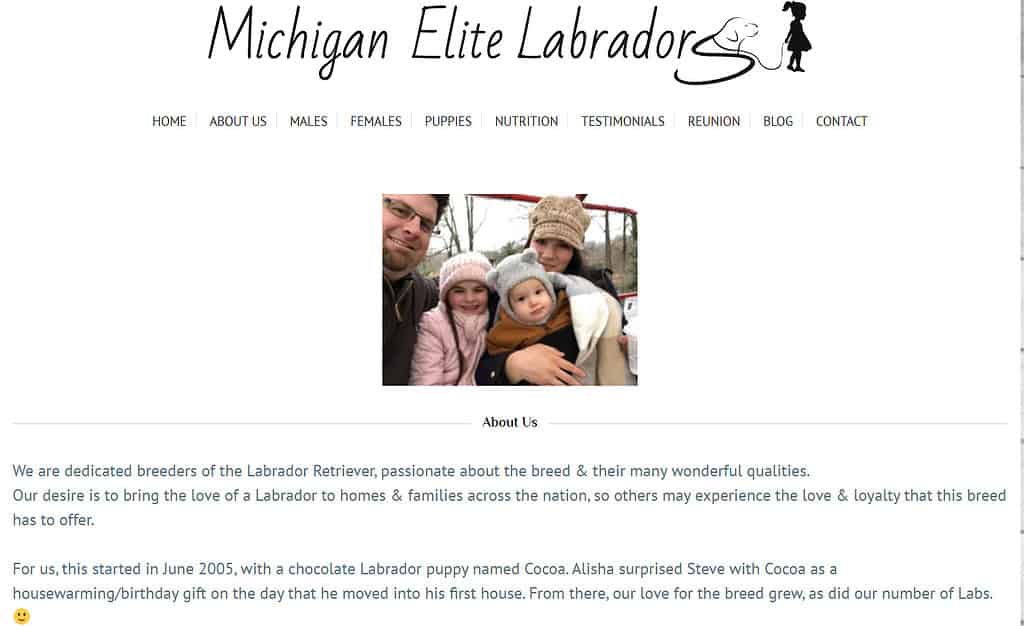 Established in 2004, Cherryacre Labradors is one of the top Labrador breeders in Michigan. They specialize in breeding Black, Yellow, and Chocolate Labradors with exceptional temperaments and structural soundness.
As a Breeder of Merit with the AKC and a proud Huron River Labrador Retriever Club member, Cherryacre Labradors is dedicated to producing high-quality puppies with wonderful temperaments.
Their commitment to optimal health testing is evident through their extensive OFA certifications for hips, hearts, and elbows and annual eye exams conducted by CERF and OFA eye clearances.
Cherryacre Labradors, ensure responsible breeding practices by selling them on limited AKC registration to prevent overbreeding and showing them in puppy rings.
Oldsquaw Kennel is a well-established Labrador Retriever breeder in Michigan with over 50 years of experience. They specialize in breeding field champion sired retrievers, ensuring their puppies come from exceptional bloodlines.
Health is a top priority for Oldsquaw Kennel. Their Labrador Retrievers undergo extensive health screenings, including OFA hip and elbow tests, CERF eye exams, CNM tests for myopathy, and Exercise Induced Collapse (EIC) clearance.
When you choose fabulous puppies from Oldsquaw Kennel, they come with a 26-month health guarantee and limited AKC registration.
With their dedication to breeding  Labrador Retrievers with friendly personalities, Oldsquaw Kennel is one of the top breeders to consider.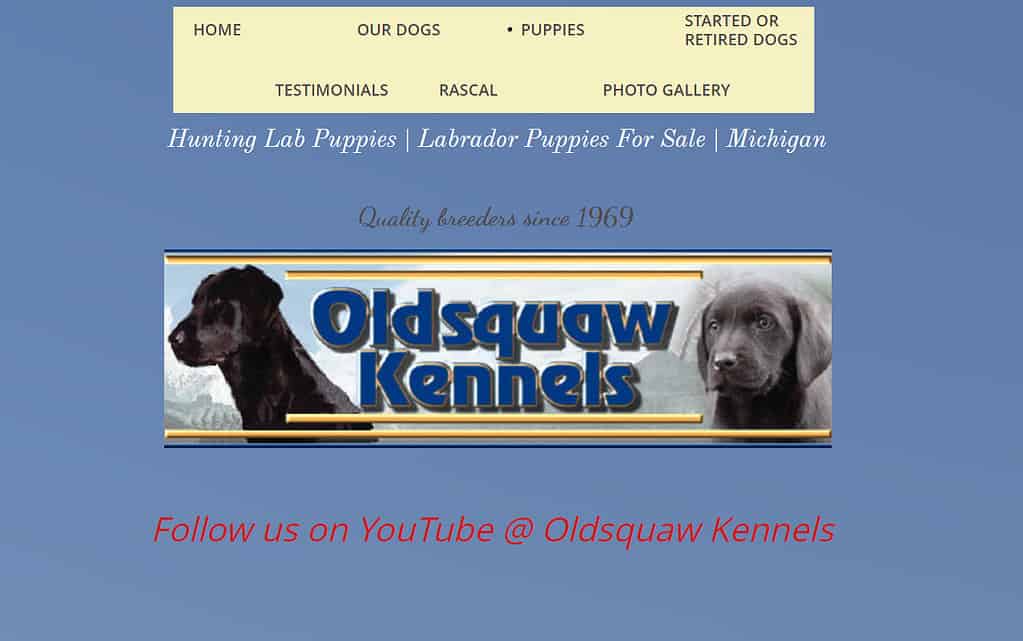 Rozey K9 Farm is a well-respected breeder of champion-pedigreed Chocolate, Yellow, and Black Labradors in Michigan. With their dedication to producing high-quality puppies, Rozey K9 family farm ensures that all their dogs undergo thorough health testing before they are sold with a health certificate.
This commitment to health guarantees that the perfect puppy you bring home will be strong and healthy companions for years. In addition to focusing on health, many of Rozey K9 Farm's Labradors are involved in various activities and compete in dog shows.
This means that when you choose a puppy from Rozey K9 Farm, you get an adorable new family member and a potential show or obedience star!
ChockLabs Kennel is one of the top responsible breeders in Michigan that should be on your radar. They specialize in breeding English-type Labrador Retrievers with yellow, black, and chocolate coats.
What sets ChockLabs Kennel apart is their commitment to producing puppies with strong lineages and excellent health records. Each Labrador Retriever puppy they sell comes from champion bloodlines and has passed rigorous health tests for hips, elbows, eyes, and more.
When you choose a puppy from ChockLabs Kennel, you can rest assured knowing you're getting a happy and healthy furry friend.
They also provide comprehensive health and vaccine records and thorough information about the buyer's experience and living environment to ensure a good match.
Endeavor Labradors are top responsible breeders in Michigan. They are a proud Huron River Labrador Retriever Club member, demonstrating their commitment to breeding high-quality Labradors.
With over 35 years of experience, Endeavor Labradors has established itself as an expert in producing healthy and well-tempered puppies.
Their breeding program focuses on English-style Labradors that excel in various areas, including service dogs, therapy dogs, show and obedience dogs, and family companions.
All their Labradors undergo health clearances, including OFA-certified elbows, hips, and heart exams through the Orthopedic Foundation for Animals (OFA). This ensures that every wonderful puppy from Endeavor Labradors comes from parents free from genetic disorders and illnesses.
Kelrobin Labradors is a highly regarded Labrador Retriever breeder in Michigan with decades of experience. Since 1985, Kelrobin Labradors has been dedicated to producing high-quality Labrador Retrievers with excellent breed standards.
What sets them apart is their commitment to treating their dogs as beloved family pets. All of their dogs live inside their home, ensuring they receive the love and attention they deserve.
With a focus on excellent bloodline and comprehensive health testing, you can have peace of mind knowing that you are getting a healthy and well-bred Labrador puppy from Kelrobin Labradors.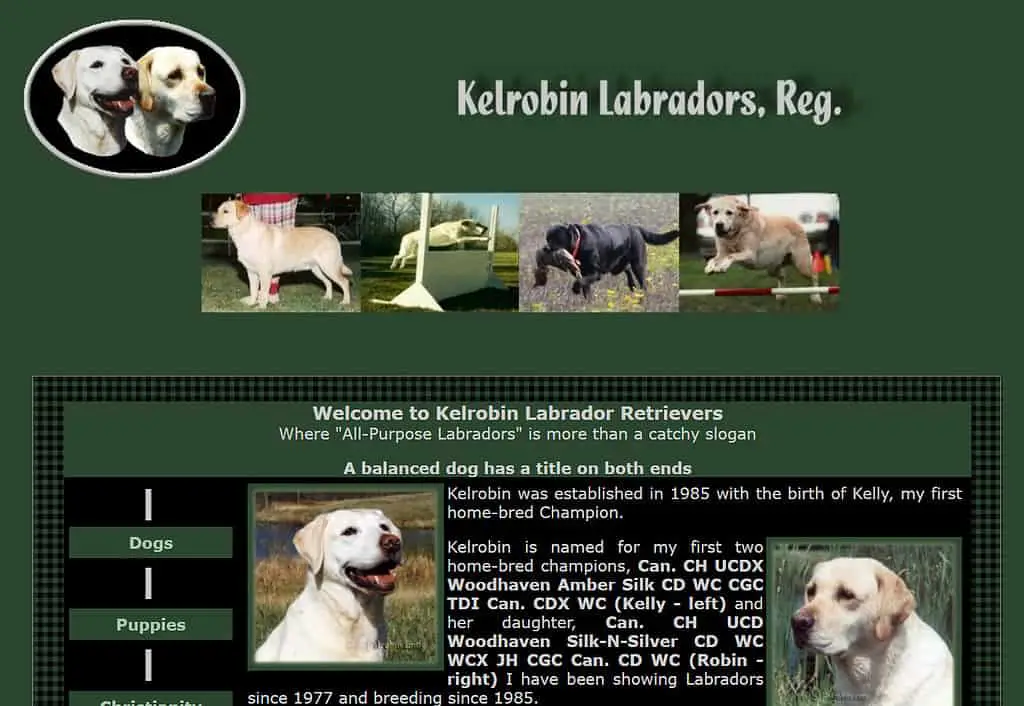 Superior Labradors is a highly regarded breeder in Michigan affiliated with some of the top Labrador breeders in the state. What sets Superior Labradors apart is their commitment to producing healthy and well-bred Labrador Retriever puppies.
They carefully select their breeding dogs, ensuring they have proper hips, hearts, and elbows certifications from the Orthopedic Foundation for Animals (OFA). They also conduct annual eye exams through CERF to ensure the overall health of their breeding dogs.
With an emphasis on fabulous bloodlines, Superior Labradors takes pride in delivering puppies with excellent genetics and rich bloodlines. They focus on English-style Labradors in yellow, black, and chocolate coats.
Tall Pine Labradors is renowned as one of the top Labrador breeders in Michigan, offering exceptional Chocolate, Yellow, and Black Labradors with gentle temperaments.
This dedicated mother-daughter team at Tall Pine Labradors prioritizes the overall health and temperament of their Labrador Retrievers.
Before being sold, all Labradors from Tall Pine undergo thorough health testing to ensure their well-being. Families looking for a new furry friend can find suitable companions among the well-socialized and genetically healthy Labrador Retrievers bred by Tall Pine.
With a focus on breeding for quality and care, it's no wonder that Tall Pine Labradors is recognized as one of the best breeders in Michigan for those seeking high-quality Labrador Retrievers.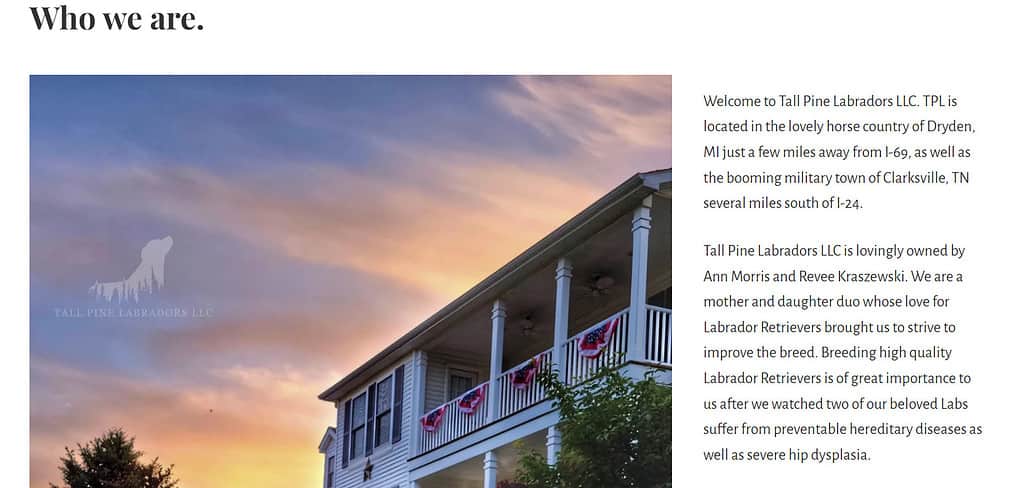 Blackwoods Labradors is a highly reputable and well-established Labrador Retriever kennel in Michigan.
With over 25 years of experience, Blackwoods Labradors has earned a strong reputation for breeding AKC-standard Labrador Retrievers with excellent temperament and conformation.
They specialize in producing Labradors in various colors, including black, white, brown, yellow, and fox red. What sets Blackwoods Labradors apart is their dedication to socializing their puppies from an early age by providing them with ample opportunities to interact with children.
Located on a serene 40-acre ranch in Otisville, Michigan, Blackwoods Labradors ensures their puppies have plenty of space to play and explore.
If you're looking for a high-quality Labrador puppy from breeders who prioritize love and commitment in their breeding program, look no further than Blackwoods Labradors.
Ranked as the fifth top Labrador Retriever breeder in Michigan, Mother Pupper Labradors is a reputable and trusted resource for finding your new furry friend. With over ten years of experience, they prioritize breeding Labrador Retrievers with exceptional temperaments and overall health.
They are associated with other reputable Labrador breeders in Michigan and offer their puppies on limited AKC registration. At Mother Pupper Labradors, socialization and regular exercise are integral to their puppy care program, ensuring your new Labrador Retriever will be well-rounded and happy.
They provide extensive health and vaccine records for each puppy they sell, giving you peace of mind. Their selling process includes thorough buyer interviews to ensure each puppy finds the perfect home.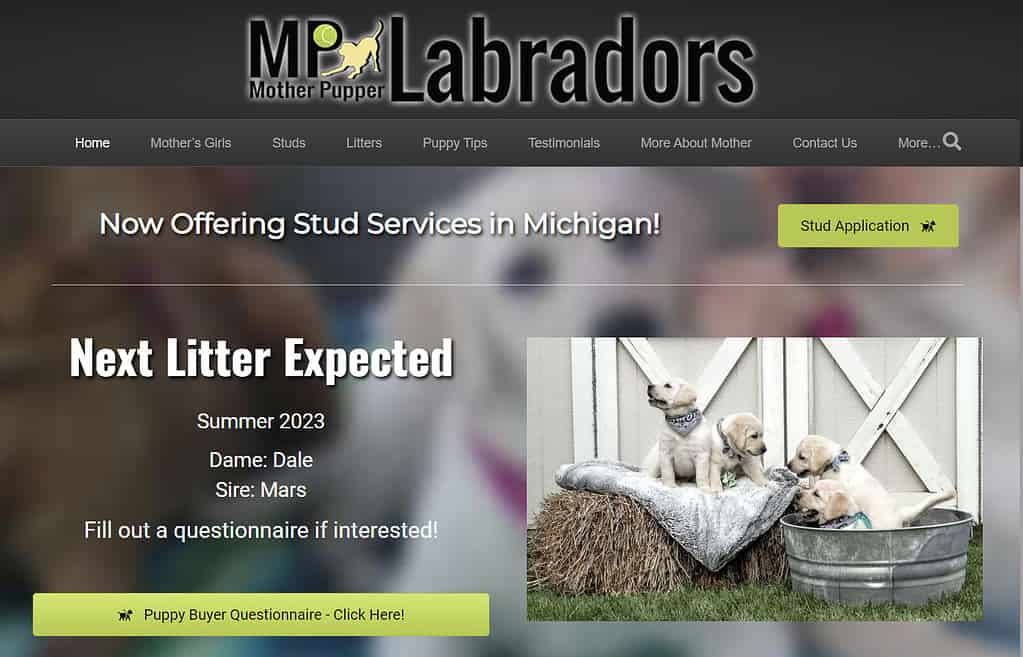 Redwood English Labradors, ranked number 6 among Michigan's top Labrador Retriever breeders, is dedicated to breeding healthy AKC standard yellow, chocolate, and black Labrador puppies.
With a focus on raising their pups in a loving environment with plenty of socialization opportunities, Redwood English Labradors ensures that each puppy receives the care and attention needed for proper development.
They also understand the importance of exercise in preventing obesity and providing appropriate physical activity for puppies and adults.
To ensure the quality of their litter, Redwood English Labradors carefully select parent dogs based on extensive investigation and testing. This guarantees that every Labrador Retriever puppy they produce embodies beauty, health, and intelligence.
Located in Sheridan, Michigan, Redwood English Labradors can be contacted at 989-763-5955 or via email at SavanahWood@gmail.com. For more information about their breeding program and available puppies, visit the Redwood English Labradors website.
Crest Kennels is an established breeder of English Labrador Retrievers in Michigan. With over 35 years of experience, Crest Kennels takes pride in breeding high-quality Labrador Retrievers that meet the American Kennel Club (AKC) standards.
Their Labradors have excelled as service dogs, therapy dogs, show and obedience dogs, and excellent companions. Crest Kennels prioritizes the health and well-being of their breeding dogs, conducting extensive research and testing to ensure they are free from genetic diseases such as elbow, hip, and heart conditions and various genetic disorders.
All their Labrador Retriever puppies are home-raised with love and care to provide a stable environment for optimal socialization. Before going to their forever homes, each puppy undergoes thorough health checks by a licensed vet.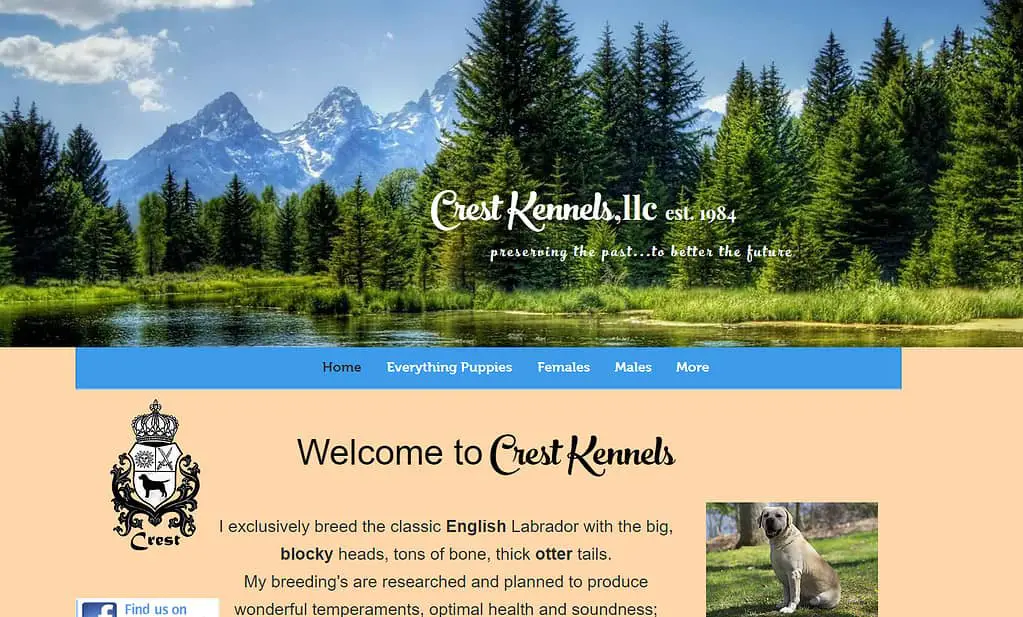 How To Choose an Experienced Lab Breeders?
Finding an experienced breeder for your Labrador Retriever is crucial. Here are vital factors to consider:
Check if they're registered with recognized bodies like the American Kennel Club (AKC). For instance, Michigan Elite Labradors is registered with the AKC, and Cherryacre Labradors is a Breeder of Merit.
Understand their breeding program. Reputable breeders like ChockLabs Kennel, Endeavor Labradors, and Kelrobin Labradors have thorough processes and rigorous health testing.
Learn about the breeders' involvement in dog-related activities like dog shows or clubs. Cherryacre Labradors is part of the Huron River Labrador Retriever Club.
Inquire about health screenings and certifications. Oldsquaw Kennels conducts extensive health tests, including OFA hip and elbow tests, CERF eye exams, CNM tests, and EIC clearance.
Ensure they provide a health guarantee against genetic disorders in Labradors like hip and elbow diseases or heart conditions.
Look up reviews and testimonials from previous customers for a breeder with experience.
Visit their premises if possible to check the puppy's living conditions.
Confirm puppies are socialized early with humans and other dogs for better temperament.
Puppy's medical history should be available – vaccinations, deworming status, etc.
Finally, a dedicated breeder will question you, too – They want to ensure their puppies go to good homes!
What to Expect When Working with a Breeder?
Working with a reputable Labrador breeder is an exciting and rewarding experience. When you find the right breeder, you can expect professionalism, transparency, and support.
First and foremost, a responsible breeder will prioritize the health and well-being of their dogs. They will conduct thorough health screenings to ensure their Labradors are free from genetic disorders or illnesses commonly found in the breed.
A reputable breeder will also provide proper documentation for each puppy, including vaccine records and certificates for health clearances such as OFA hip and elbow tests, CERF eye exams, and DNA tests for specific genetic conditions like Exercise Induced Collapse (EIC).
Furthermore, they may offer micro-chipping services to help identify your new furry friend if they ever get lost. They play an essential role in socializing the puppies during their early development stages.
A good breeder understands early neurological stimulation's importance and exposes puppies to various stimuli like bird wings or different environmental surfaces. This helps prepare them for life outside of their litter.
One crucial aspect of working with a reputable Labrador breeder is ongoing support after bringing your new puppy home. They should be available to answer questions or concerns about caring for your Labrador Retriever.
In addition to providing guidance on nutrition, exercise needs, grooming requirements, crate training methods, and general care tips explicitly tailored for Labradors.
Tips for Caring for Your New Labrador Puppy
Caring for your new Labrador puppy is essential to ensure their health, happiness, and overall well-being. Here are six helpful tips to keep in mind:
Provide regular exercise:
Labrador Retrievers are active dogs that thrive on exercise. Daily walks, playtime, and interactive games will help burn off excess energy and keep them mentally stimulated.
Feeding your Labrador puppy at the same times daily will help regulate their digestion and prevent overeating. Follow the breeder's recommendations for portion sizes and choose high-quality puppy food specifically formulated for puppies.
Positive Socialization with Children And Others
Labrador Retrievers are social animals that enjoy being around people and other animals. Introduce your puppy to different environments, people, sounds, and experiences from an early age to help with their socialization skills
Start training from day one:
Labradors are brilliant dogs that respond well to positive reinforcement training methods. Begin basic obedience training when you bring your puppy home, focusing on commands like sit, stay, come, and leash walking.
Keep up with veterinary care:
Schedule regular check-ups with a veterinarian to ensure your Labrador puppy's vaccinations are up-to-date, and they receive necessary preventative care like flea/tick prevention and heartworm medication. Regular vet visits also allow for addressing any health concerns early on.
Practice proper grooming:
Labradors have a dense double coat that requires regular brushing to keep it clean and free from mats or tangles. Trim their nails regularly, clean their ears gently with a dog-specific ear cleaner, and brush their teeth several times per week using a dog toothbrush and toothpaste.
Conclusion
When looking to bring home a Labrador Retriever in Michigan, always look for a breeder that prioritizes the health and well-being of their dogs.
With breeders like Michigan Elite Labradors and Cherryacre Labradors topping the list, you can feel confident that you're getting a high-quality Labrador puppy. Other notable mentions are Hearthstone Labradors and LaPoe Labradors ( hobby breeder )
Author Profile
Aritra, the founder of Labradorandyou.com, is a lifelong dog lover whose passion ignited for Labradors for their loyalty and intelligence. With extensive research and personal experiences, Aritra has become a Labrador expert, offering a rich resource on the breed. Labradorandyou.com provides reliable, timely, and evidence-based information, including Labrador-specific product reviews, training techniques, and care tips.

Labradorandyou.com was born out of Aritra's passion and his desire to share his profound knowledge about the breed. The site serves as a comprehensive resource, offering a wealth of up-to-date information for Labrador owners and enthusiasts alike