Labrador Retrievers have been popular due to their friendly, intelligent, and versatile nature. The rising popularity led to the growth of puppy mills producing unhealthy pups. Finding the best Labrador breeders in Colorado is vital for securing a healthy and happy pup.
Our top picks for responsible breeders in Colorado have a record of producing healthy, well-socialized puppies with excellent temperaments. With a commitment to breed standards, health testing, and quality care, these breeders are among the best in the state.
Top Labrador Retriever Breeders In Colorado
Some of Colorado's top AKC-registered Labrador Retriever breeders are Heatherdowns Labradors, Bear Creek Labradors, Albrecht Farms Labs, Labalicious Pups, and Whispering Pines Labradors.
Heatherdowns Labradors
Heatherdowns Labradors is one of Colorado's top AKC-registered Labrador breeders in Franktown, Colorado.
They focus on breeding labrador retrievers from champion bloodlines. Their labs display a rich heritage and possess consistent pedigree titles.
They have been permitted in Douglas County as a Dog Breeding Kennel Business.
Parent dogs are certified by the Orthopedic Foundation at Heatherdowns.
Heatherdowns Labradors have been breeding dogs for over 25 years and are committed to producing healthy and well-tempered Labradors.
All their dogs undergo early socialization and are raised in a family environment.
Heatherdowns Labradors also provides ongoing support and training resources for their adoptive families.
Heatherdowns pup makes a loyal companion, family dog, therapy dog, excellent hunter, etc. Some also become service dogs.
Bear Creek Labradors
Bear Creek Labradors specializes in breeding, raising, and training Labrador Retrievers.
They are known for producing healthy and well-tempered Labradors with excellent conformation and versatility.
The breeders at Bear Creek have years of experience and provide customized care for each dog.
With an emphasis on socialization and early training, their puppies are well-prepared.
Bear Creek produce puppies in black, yellow, and chocolate color.
Their dogs come from champion bloodlines and undergo rigorous health testing.
They offer hunting training or agility classes to develop your pup's skills further.
Bear Creek's Labradors become excellent hunting dogs and gun dogs.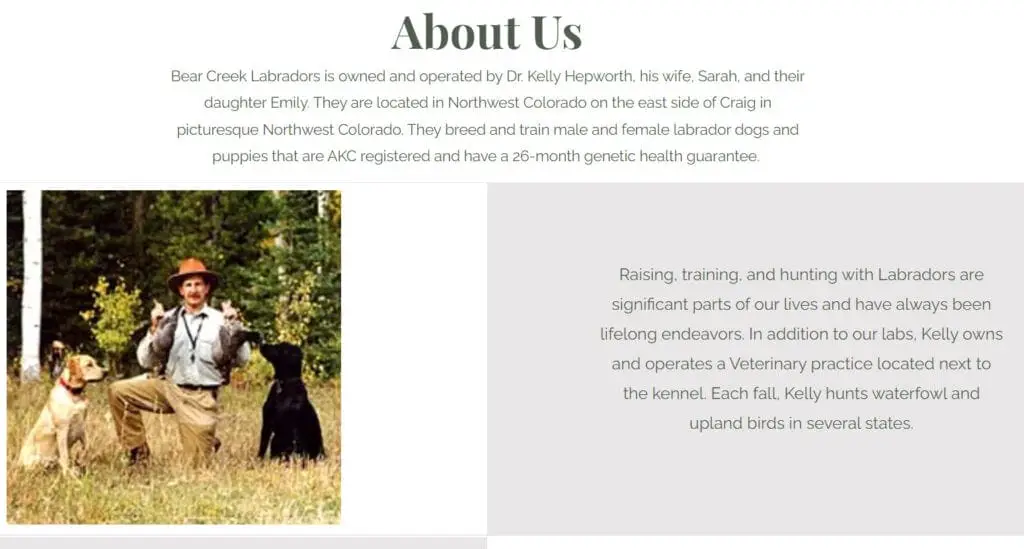 Albrecht Farms Labs
Albrecht Farms Labs focuses on producing excellent family pets with friendly and outgoing temperaments.
The breeder offers AKC-registered Lab puppies from champion bloodlines.
All their puppies undergo early socialization to ensure they develop good behavior and manners.
They provide health guarantees against genetic disorders like hip dysplasia, elbow dysplasia, and eye problems.
Their labradors are raised in a family environment to promote bonding and socialization.
They follow ethical breeding practices and produce not overbred or mistreated puppies.
Albrecht Farms Labs also provides ongoing support to puppy owners to help with training, grooming, or nutrition advice.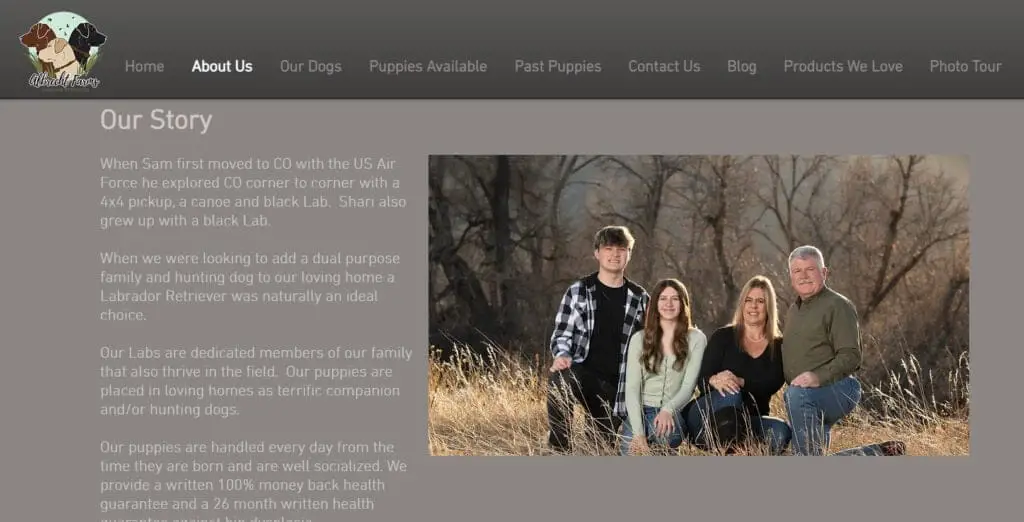 Labalicious Pups
Labalicious Pups is a Colorado-based breeder that raises Labrador Retriever puppies in a family environment.
The breeder ensures early socialization of the pups with people and other animals.
Labalicious Pups emphasizes proper nutrition and healthcare for their dogs.
Labalicious Pups' commitment has earned them an excellent reputation among pet owners in Colorado.
Their happy customers have praised the breeder's dedication to quality care and support after purchase.
It is a reputable breeder that values the breeding dogs' health, happiness, and socialization needs.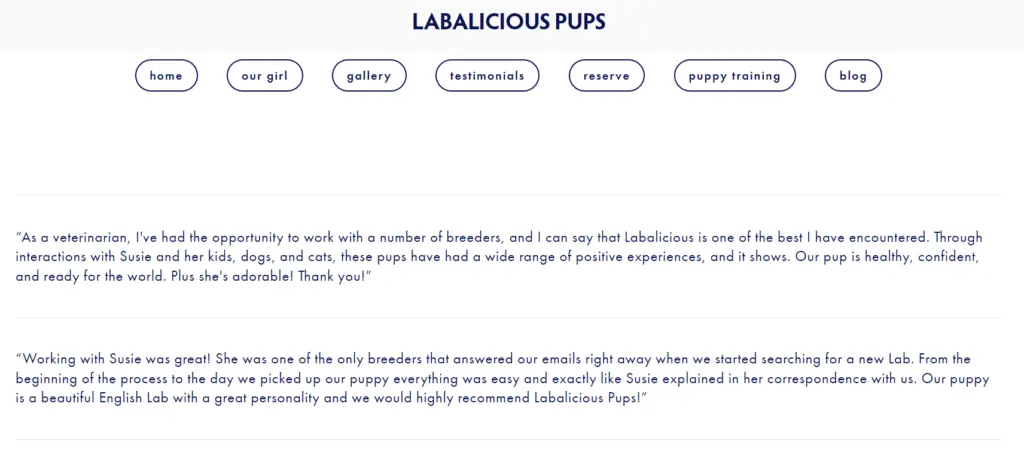 Whispering Pines Labradors
Whispering Pines Labradors focuses on breeding English-style labradors with champion bloodlines.
They specialize in black, yellow, and chocolate labrador retriever breed with excellent temperaments and health.
All their dogs are raised in a family environment and receive early socialization, crate training, potty training, etc.
The breeder offers a 2-year health guarantee for all their puppies.
Whispering Pines Labradors provides ongoing support and training resources for new puppy owners.
Other breeders include Sadona Labrador Retrievers, Colorado Aspen Labs, Tovah Labradors, Columbine Labradors, etc.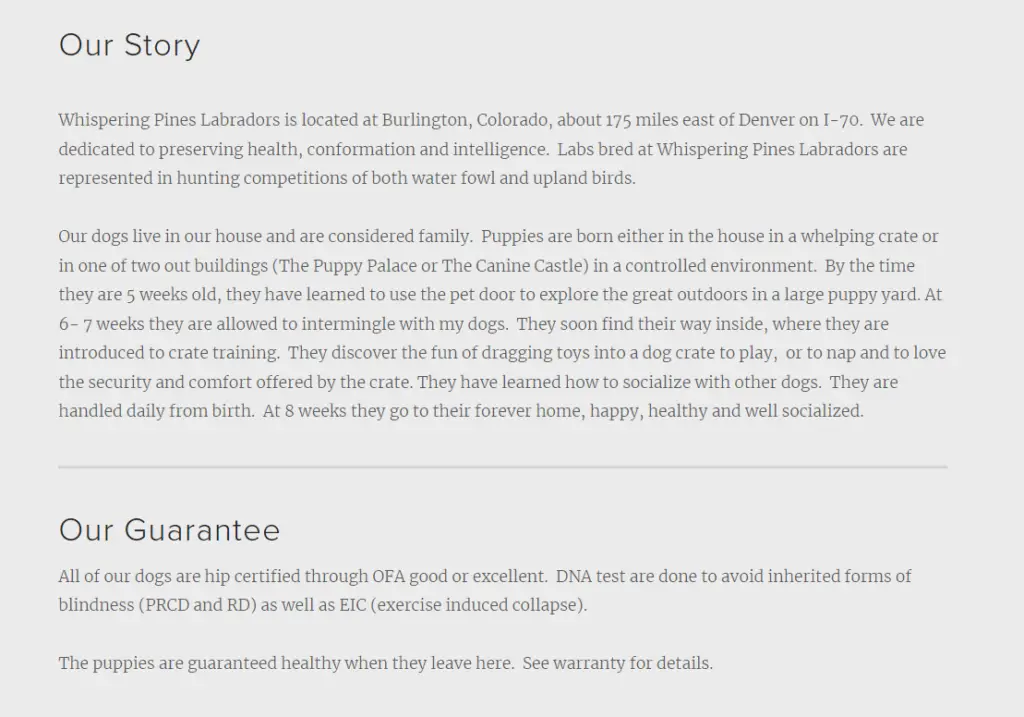 Qualities Of A Reputable Labrador Retrievers Breeder In Colorado
A reputable Labrador breeder in Colorado should offer health certifications and puppy guarantees. They must prioritize puppy socialization and training and have a good reputation and experience. Breeders should be transparent in communication and follow ethical breeding standards.
Health Certifications And Guarantees
An important factor to consider when looking for the best Labrador breeders in Colorado is their commitment to health guarantee. Reputable breeders prioritize the well-being of their dogs by ensuring they are free from hereditary problems.
They include hip dysplasia, elbow dysplasia, heart conditions, and progressive retinal atrophy (PRA). Heatherdowns Labradors is known for its champion bloodlines and excellent health clearances.
Responsible breeders have their dogs genetically tested through organizations like Orthopedic Foundation for Animals (OFA) or Canine Health Information Center (CHIC).
Trustworthy breeders offer a health guarantee that covers specific genetic conditions for a certain period. This reflects their confidence in their breeding program and provides peace of mind to prospective dog owners.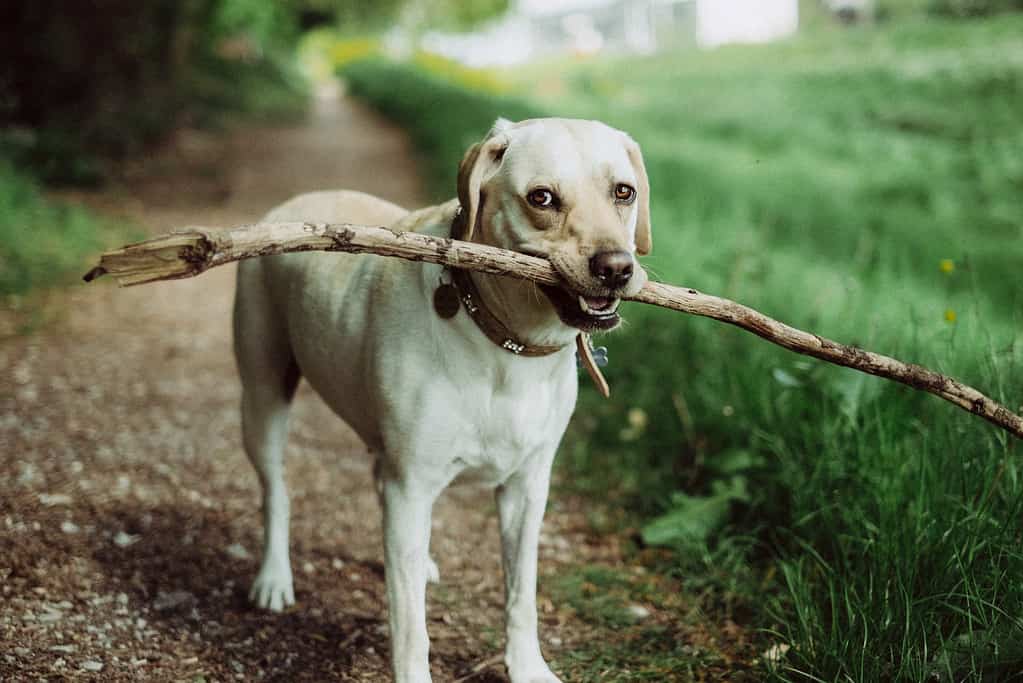 Puppy Socialization And Training
Socializing your puppy early ensures they grow up well-behaved and friendly adult dogs. A good breeder exposes puppies to different environments, people, and animals. It is usually done between 3 and 14 weeks old.
Breeders should also provide basic training before the puppies go home with new owners. It includes teaching basic commands like sit, stay, and come. After adoption, good breeders may offer support or recommendations for continued training.
At Labalicious Pups in Colorado Springs, all puppies undergo early socialization. They are also introduced to sights and sounds like vacuum cleaners and hair dryers.
Their goal is not simply to breed beautiful dogs. They produce versatile pets that can thrive in any environment.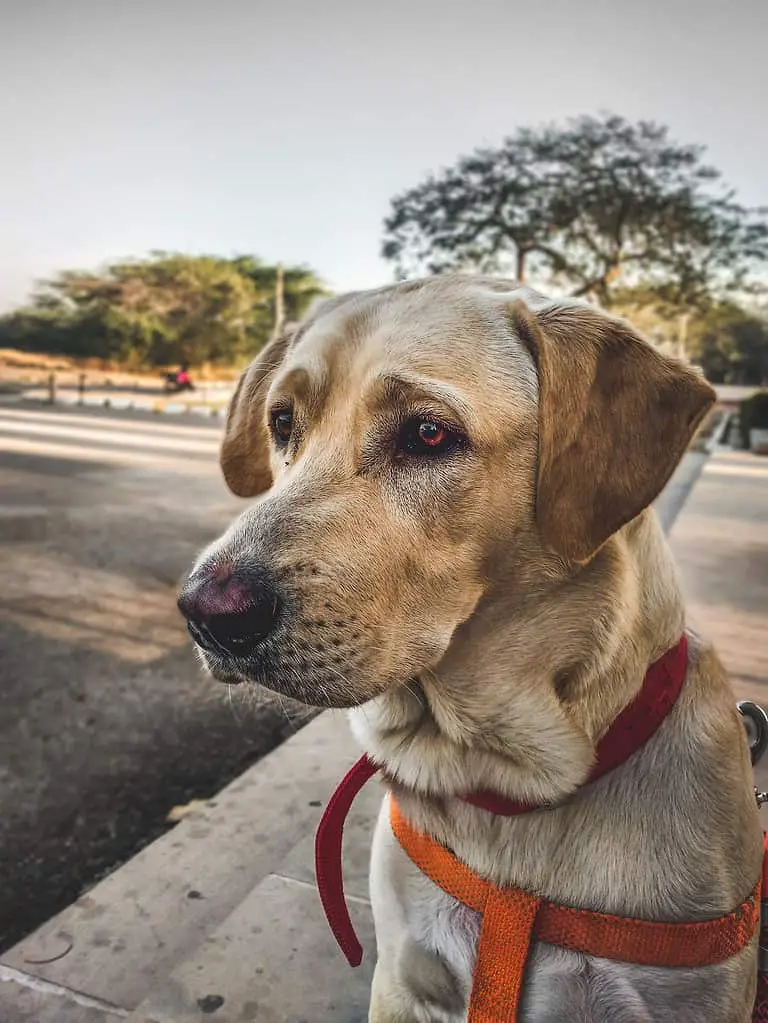 Breeder Reputation And Experience
Find a breeder with an excellent reputation and experience. A reputable breeder will produce healthy, happy pups meeting dog breed standards.
Check online reviews or ask for references from previous customers to understand better.
An experienced breeder will know the breed's characteristics, health issues, training needs, and grooming requirements. They should be able to answer any questions and guide you in choosing the right puppy.
Look for breeders associated with organizations like the American Kennel Club and the Colorado State Department. Take time to interview potential breeders over the phone or in person.
Transparent Communication And Accessibility
Opt for Labrador breeders who prioritize transparent communication and accessibility. They should answer any questions, provide breeding practices information, and offer open and honest adoption processes.
It includes providing regular updates on the puppies' health and progress. They must ensure all necessary paperwork is provided.
Heatherdowns Labradors in Colorado maintains an open line of communication. They offer comprehensive information about their dogs' lineage, health guarantee, temperament, and training.
A breeder known for transparent communication is Albrecht Farms Labs. They make it easy to contact them via phone or email and enquire about Labrador puppies for sale.
Breeding Ethics And Standards
A reputable Labrador breeder must adhere to strict breeding ethics and standards. Breeders certified by organizations like American Kennel Club ensure they maintain high animal care standards.
Whether Chocolate Labradors from Albrecht Farms Labs or Black Labrador Retriever breeders like Colorado Mountain Labradors – select a breeder who prioritizes dogs with exceptional pedigrees.
Tips For Choosing The Right Labrador Retriever For You
Consider your lifestyle and breed's characteristics. Meet the puppies and parents, ask questions of the breeder, and prepare for training and care.
Consider Your Lifestyle
When choosing a Labrador Retriever, consider your lifestyle and what kind of dog will best suit your needs.
Activity level
– Consider how much exercise you can provide for your new furry friend. Labrador Retrievers require regular exercise and playtime to stay healthy and happy.
Living space
– A smaller breed may be better if you live in an apartment or have limited outdoor space. However, a Labrador Retriever is an excellent choice if you have plenty of room to run and play.
Family dynamic
– Are children or other pets in the household? Labrador Retrievers are great family dogs and get along well with others when socialized properly.
Work schedule
– If you work long hours or travel frequently, bringing a dog into your home might not be practical.
Training ability
– Labradors display sharp intelligence. They require consistent training and early socialization. It is essential to prevent behavioral issues down later.
Research The Breed's Characteristics
Research the breed's characteristics to see if this dog is right for you. Labrador Retrievers are friendly and outgoing, intelligent, and loyal. They have specific exercise needs and require regular grooming to maintain their coat.
Labradors are prone to certain health issues like hip dysplasia and obesity. Consider these factors before committing to purchase or adopt a Labrador Retriever puppy.
Labrador Retriever rescues in Colorado also offer valuable insight into the breed's characteristics. They care for abandoned dogs of various ages with different temperaments and medical needs.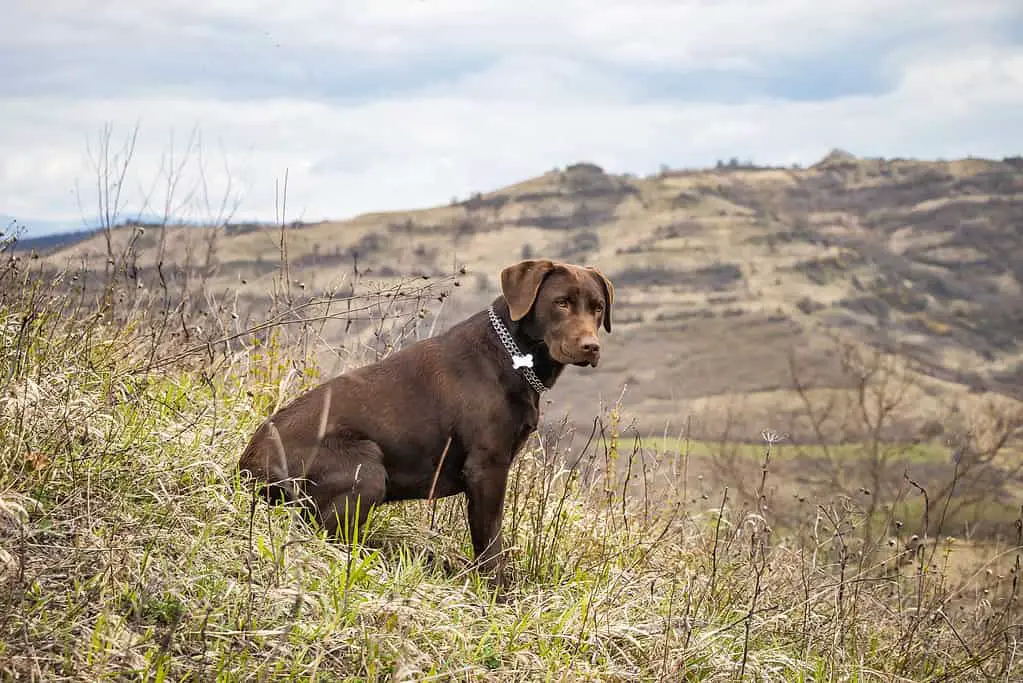 Meet The Puppies And Parents
Meeting the puppies and parents is essential before deciding. Here are some tips to keep in mind:
Schedule a visit with the breeder to see the puppies and adult dogs.
Observe the temperament of the parent dogs as they pass on their traits to their offspring.
Ask about health clearances and past health issues that may affect the puppies' health.
Spend time with each puppy to see their personalities and behaviors.
Watch how the pups interact with each other and with people.
Ask questions about the puppies' training and socialization experiences.
Look for good care signs like clean living conditions and healthy food.
Ask Questions Of The Breeder
Asking the right questions is essential before purchasing a lab. Enquire about health certifications and guarantees.
Reputable breeders should provide hip guarantee and elbow certifications, yearly eye exams record, genetic testing, and exercise-induced collapse reports.
Inquire about how the puppies are socialized and trained before adoption. Don't hesitate to ask questions about breeding ethics and standards.
Ask about dams' ages and how often they have litter. Reputable breeders typically limit litters per year for each dam. Learn about what type of dogs the breeder attends.
Top-tier pups generally come from championship bloodlines!
Prepare For Training And Care
Training and caring for a Labrador Retriever requires commitment and dedication. Here are a few ways you can prepare:
Set up a designated space for your new pup with a bed, toys, and a water bowl.
Purchase necessary supplies like food, treats, collar, harness, leashes, and grooming tools.
Research training techniques and enroll in obedience classes to ensure proper socialization and behavior.
Establish a feeding schedule and monitor your puppy's weight to prevent obesity.
Exercise your dog regularly by taking walks, playing fetch, or engaging in other physical activities.
Monitor their dental health by providing chew toys and brushing their teeth regularly.
Be patient with training and understand that it may take time for your pup to learn commands.
Show affection regularly through playtime or cuddles to establish trust between you and your dog.
[Relevant Fact]: Bear Creek Labradors of Colorado specializes in breeding, training, and raising Labrador Retrievers for various purposes. Their dogs make excellent hunters, great companions, and gun dogs.
Purchasing Labrador From Colorado Dog Breeding Kennel Business
You can expect an adoption process and fees, puppy health, and wellness care, ongoing support and training resources, etc. Travel and shipping options and contract and warranty policies are among other options.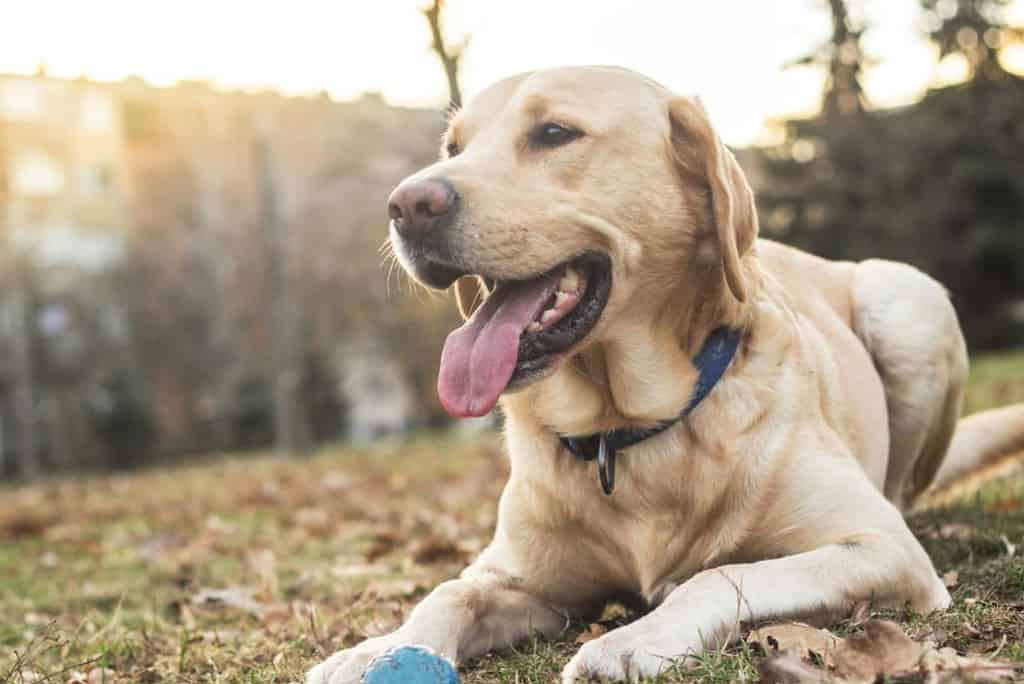 Adoption Process And Fees
Adopting Labrador Retriever puppies in Colorado usually involves an inquiry or application. It is followed by a screening process to ensure owners can provide proper care and attention.
Once approved, a deposit is required to hold the puppy until it is ready for adoption. Adoption fees can vary depending on lineage, health clearances, and training.
Expect to pay anywhere from $1,500 to $5,000 for a healthy AKC-registered Labrador Retriever. Breeders often include initial veterinary care, like vaccinations and deworming, in their adoption fees.
Puppy Health And Wellness Care
Labrador breeders who prioritize the health and wellness of their pups provide them with proper care and attention. Here are some common practices that reputable breeders in Colorado follow –
1. Regular check-ups:
Puppies receive care from a licensed vet to ensure they are healthy and free from underlying medical issues.
2. Vaccinations:
Pups receive necessary vaccinations to prevent infections, like distemper, parvovirus, and rabies shots.
3. Proper nutrition:
Breeders feed puppies with high-quality food formulated specifically for their nutritional needs.
4. Exercise:
Puppies get adequate exercise suited for their age and abilities. It helps develop strong muscles and enhances their overall well-being.
5. Grooming & Hygiene:
Regular grooming sessions keep pups clean and free from infection and parasites like fleas or lice.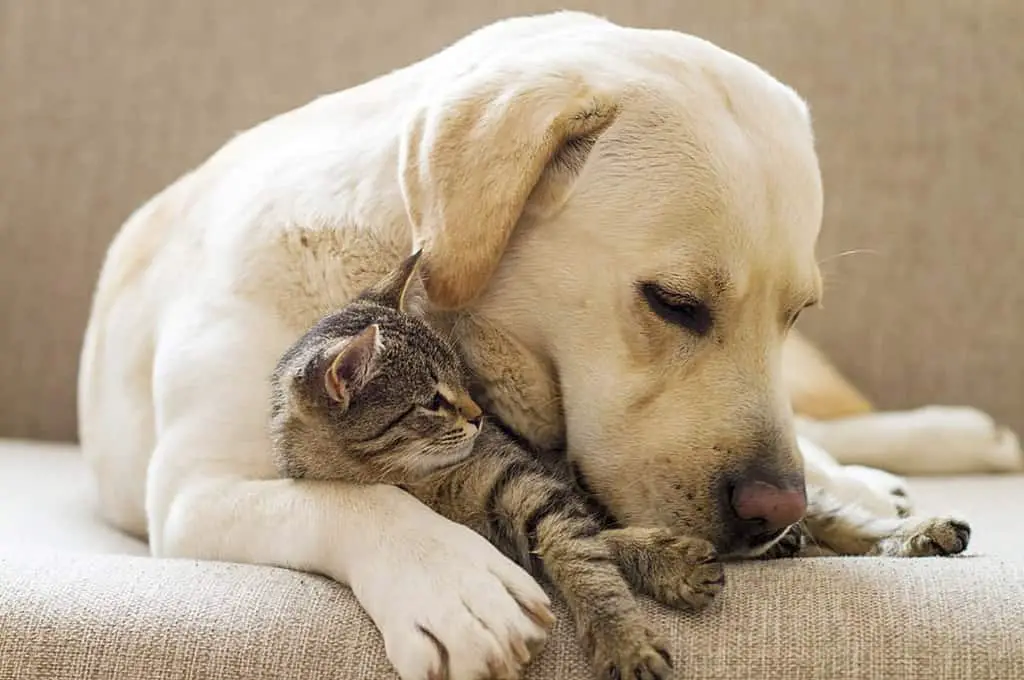 Ongoing Support And Training Resources
Continuing their socialization and training is important once you bring your puppy to their forever homes. Reputable breeders in Colorado should provide ongoing support and resources.
Many breeders offer access to online resources like articles on nutrition, grooming, exercise needs, and behavior tips. They may have a network of other dog owners or trainers for additional advice or assistance.
Whispering Pines Labradors offers lifetime breeder support. It includes a comprehensive guidebook with tips, from crate training to obedience commands. They'll also regularly check in with new puppy parents to answer questions about pet care.
Travel And Shipping Options
You don't live in Colorado but want to bring home a Labrador from the Colorado breeders? You'll be pleased to know that many Colorado breeders offer travel and shipping options.
Some may have transportation arrangements, while others will use pet transport services.
Shipping prices vary depending on distance and mode of transportation. Labalicious Pups offers hand delivery within a 400-mile radius for an additional fee. Albrecht Farms Labs offers air travel with United Airlines or Delta Air Lines at an extra cost.
Contract And Warranty Policies
Before purchasing a Labrador Retriever from a breeder, understand their contract and warranty policies. A reputable breeder provides a written contract outlining the sale terms and any guarantees they offer.
This may include information on what happens if your puppy develops a health issue or genetic condition. And whether they offer any refunds or exchanges.
Conclusion
Whether you are searching for a show ring Labrador or a family-friendly Lab perfect for children, many options are available in Colorado. From Heatherdowns Labradors to Whispering Pines, each kennel business is unique.
With research and consideration, you can find the perfect puppy or adult dog that fits your lifestyle and preferences. Choose one of Colorado's top AKC-registered Labrador retriever breeders, and rest assured.
Your new furry friend will be healthy, well-socialized, and brought up ethically by experienced and certified professionals. So what are you waiting for? Start your search today and join the satisfied Labrador owners across Colorado!