Do you live in California? Thinking of welcoming home a Labrador Retriever puppy? You've come to the right place! We will cover the best Labrador breeders in California and take you on a tour. If you are in a hurry, you may want to check out Stofer's labs or PuppySpot Labradors in Southern California.
Top 5 Best Labrador Retriever Breeders In California (CA)
California has five exceptional Labrador Retriever breeders offer quality labrador puppies and a dedicated breeding program: Kentfield Kennels, Summerland Labradors, Sierra Valley Labs, Castle Creek Retrievers, and Stofer's Labs.
Kentfield Kennels: lab breeders california
They are one of the best labrador breeders in California. An AKC breeder as well, they have specialized in English Labrador Retrievers for over two decades.
Located in Sebastopol, they pride themselves on their exceptional quality and dedication to producing healthy labrador puppies.
Their breeding program involves health testing all parent dogs to ensure that only those with sound genetics are used for dog breeding.
They prioritize socialization and training programs for every labrador puppy before sending them off to their new homes. Like dog training schools
Kentfield Kennels is known for providing ongoing support and resources to new dog owners, making it easier for them.
Overall, Kentfield Kennels is a top choice for anyone looking for an experienced Labrador breeder who prioritizes their dogs' health and wellbeing.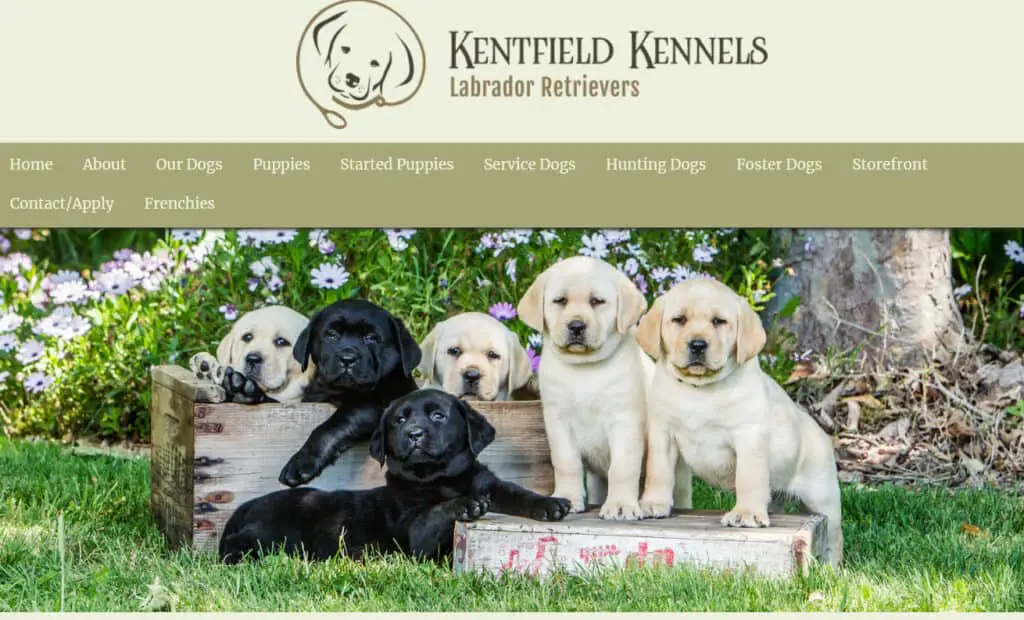 Summerland Labradors california lab breeders
They are one of California's top Labrador Retriever breeders, focusing on show-quality dogs. They are AKC registered. Here are some key facts about this breeder:
– Located in Central California's beautiful Santa Ynez Valley, Summerland Labradors has been breeding exceptional quality Labrador Retrievers for over 25 years.
– They specialize in breeding English-type black Lab puppies with blocky heads, thick chests, and an easygoing temperament that makes them great family pets.
– All of their black labrador retriever puppies are born and raised in their home as part of their family, receiving daily love and attention to help socialize them from an early age.
– Summerland Labradors are the only breeds of dogs that have passed all necessary health clearances for hips, elbows, eyes, and heart.
– Genetic testing for EIC (Exercise Induced Collapse), PRA/PRCD (Progressive Retinal Atrophy), CNM (Centronuclear Myopathy) DM (Degenerative Myelopathy), HNPK(Hereditary Nasal Parakeratosis), RD/OSD (Retinal Dysplasia / Oculoskeletal Dysplasia), SD2 (Skeletal Dysplasia) is done
– They also provide a comprehensive health guarantee for every puppy they sell.
They encourage owners to keep in touch throughout the dog's life and provide advice on training, grooming, nutrition, or any concerns the owners may encounter. As AKC Breeder of Merit since 2020, Summerlands Labradors has earned multiple titles, including Canine Good Citizen Program Titles (CGC), Junior Hunter Titles (JH), Senior Hunter Titles(SH), Master Hunter Titles(MH)from AKC dog shows.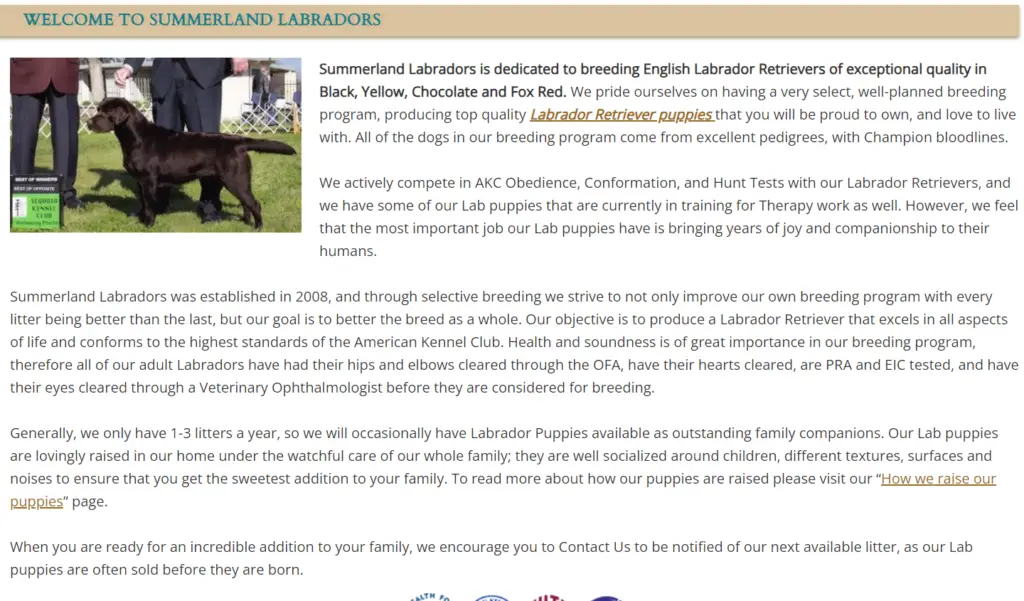 Sierra Valley Labs labrador breeders
Sierra Valley Labs is known for its exceptional breeding practices and high-quality labrador puppies. Located in Northern California, this breeder focuses on producing healthy Labrador puppies with excellent temperaments.
They specialize in breeding Fox Red and Yellow Labradors, which are highly sought after by potential buyers. Sierra Valley Labs provides ongoing support to new puppy owners, even after they take their puppy home.
Their breeding program includes health testing of parent dogs before breeding to ensure that genetic disorders are not passed down to the labrador puppy. They also prioritize proper socialization and training of their puppies from an early age to help them develop a strong bond with their future families.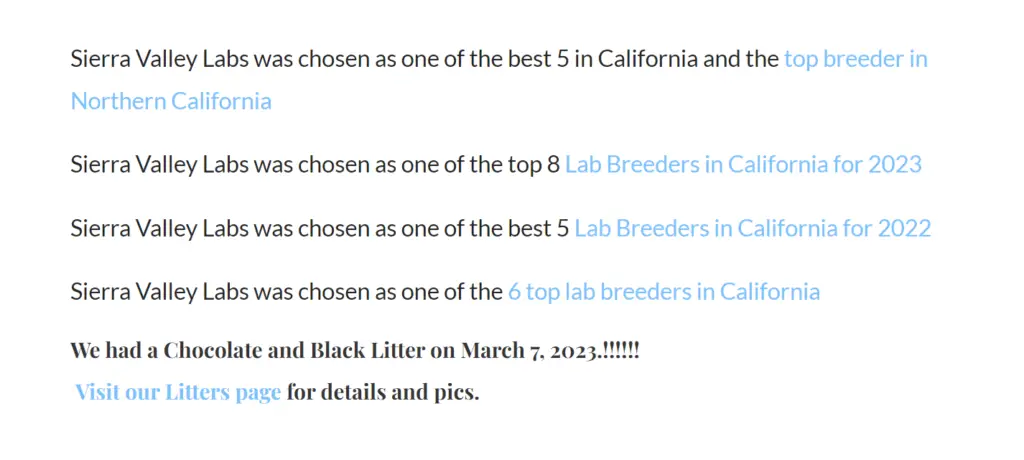 Castlecreek Labradors top labrador retriever breeders
Castlecreek Labradors are among the best in California, producing healthy and happy puppies.
They specialize in breeding black, yellow, chocolate, and fox red English Labrador Retrievers with champion bloodlines.
Castle Creek Retrievers prioritize parent dogs' health and genetic testing, ensuring all puppies are diseases. free
They also emphasize socialization and training, providing a loving environment for puppies to grow and develop.
The breeder offers ongoing support and resources to successfully transition into their new homes.
Castle Creek Retrievers' kennel is located in the beautiful countryside of Northern California, providing ample space for their dogs to run and play.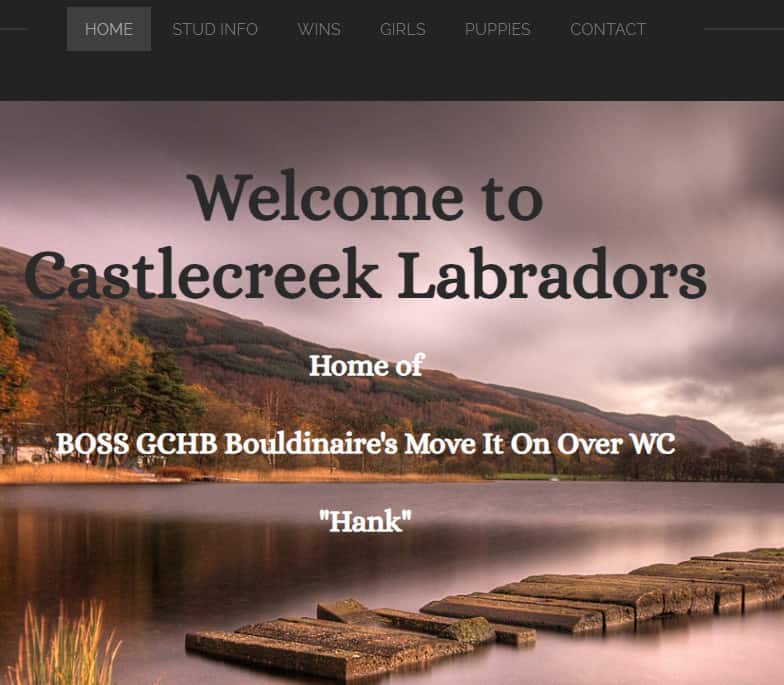 Stofer's Labs reputable labrador breeders
Stofer's Labs is a highly reputable Labrador breeder in the countryside of Northern California. This dedicated hobbyist breeder takes pride in producing exceptional quality puppies with champion bloodlines for sale to loving homes.
Their breeding program focuses on producing English-type Labrador Retrievers that excel as family companions, hunting partners, and show dogs.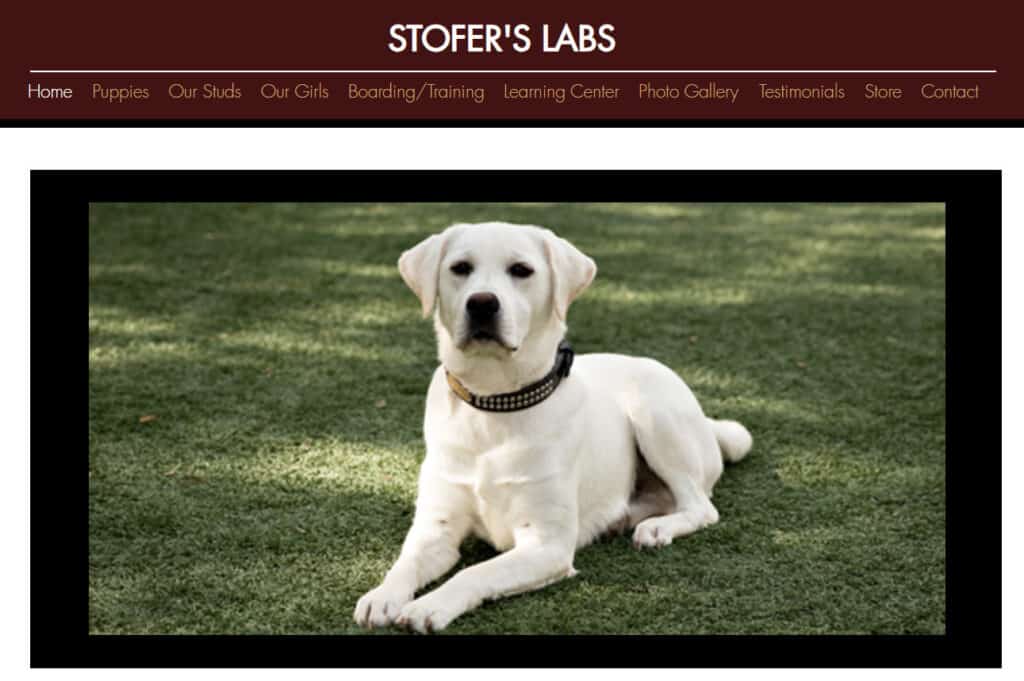 Stofer's Labs ensures the health and well-being of their puppies by conducting genetic testing on their parent dogs before breeding. They also provide training programs. Potential buyers can rest assured knowing that Stofer's Labs offers support and resources to guide them throughout
According to various lists featuring the best Labrador breeders in California, Stofer's Labs has earned a spot among the top 12 breeders in California alongside Kentfield Kennels Labrador and Sterling Labradors & English Setters, amongst others. Sterling lab puppies are one of the best dog breeds ever. You can safely trust sterling labs
What To Check In The Best Labrador Puppies Breeders In California?
When searching for experienced breeders in California, always look for those prioritizing parent dogs' health and genetic testing. Other factors which you should check for in the lab breeder are as follows:-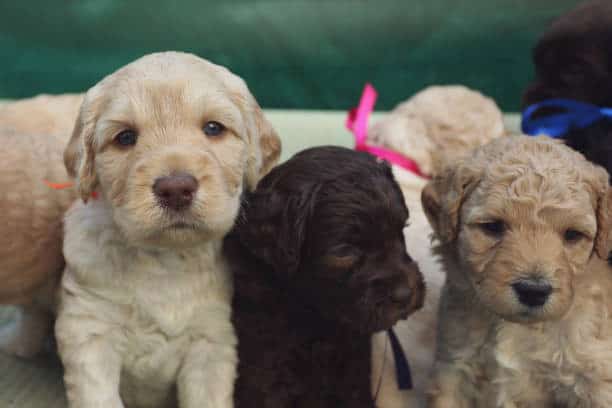 Health And Genetic Testing Of Parent Dogs
Gauging the commitment to the health and genetic testing of parent dogs of breeders is crucial. Famous labrador breeders understand the importance of maintaining a healthy breeding stock. They ensure that both parents are free from hereditary diseases or genetic disorders.
Also, they perform tests such as OFA (Orthopedic Foundation for Animals) screening for hip and elbow dysplasia, eye exams, and DNA testing for various conditions. For conditions like Exercise-Induced Collapse (EIC), Centronuclear Myopathy (CNM), and Progressive Retinal Atrophy (PRA), reputable breeders can provide you with test certificates and more.
For instance, if you were purchasing labrador retriever puppies from Kentfield Kennels or Summerland Labradors(two top-ranked labrador retriever breeders in CA), – they would provide documentation for the process.
 This level of transparency speaks volumes about a breeder's dedication to producing high-quality Labradors. As an informed buyer, you must choose a breeder who values these principles in Northern or Southern California!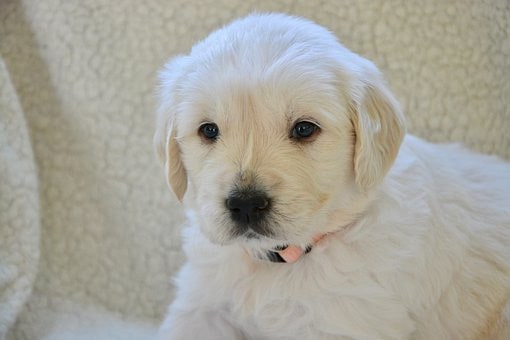 Socialization And Training Of Labrador Retriever Puppies
Proper socialization and training of lab puppies are essential aspects of responsible breeding practices. Most famous labrador breeders invest time, effort, and resources to ensure their puppies have a good foundation before entering their new homes.
This process involves exposing the labrador puppies to sights, sounds, and textures. It helps them become more confident and well-adjusted adult dogs. For example, a top Labrador retriever breeder will introduce lab puppies to various environments. They also provide basic dog training, such as potty-training techniques and command response.
Some even have access to good dog training schools for dog breeds with proven pedigrees. When the puppy goes home with its new family, it already has some foundational training. A healthy puppy can make awesome therapy dogs.
Breeding Practices And Standards
The best Labrador breeders in California adhere to strict breeding practices and standards for dog breeding. Moreover, these breeders follow ethical practices by only breeding dogs with specific temperaments, physical attributes, and medical requirements.
They prioritize quality over quantity and do not overbreed or exploit them for profit. When choosing a breed, look for reviews from previous buyers and references from veterinarians or other reputable sources.
Also, ask potential breeders about their approach to dog welfare, including how they provide ongoing support after you bring your puppy home.
Reviews And Reputation Of The Breeder
A reputable breeder should have a positive history of breeding healthy labrador puppies that meet the American Kennel Club (AKC) standards.
Check online reviews on Google, Yelp, and Facebook to learn about other people's experiences with the breeder. A good breeder will be delighted to provide you with past clients' contact information so you can hear firsthand accounts of their experiences.
Availability Of Ongoing Support And Resources
Top breeders in California usually offer post-adoption assistance or resource for dog owners. Some breeders provide labrador puppies with a caring environment before adoption, while others offer a lifetime guarantee against hereditary defects. Many will also offer dog training, nutrition, and proper grooming techniques.
Questions To Ask A Labrador Breeder In California
How Do You Ensure The Health And Wellbeing Of Your Puppies?
Good Labrador breeders prioritize the health and well-being of their puppies. They take great care to ensure that they are free from genetic diseases. This involves conducting regular health check-ups and genetic testing on the parent dogs before breeding them.
Responsible breeders socialize and train their puppies from a young age to help them develop into well-adjusted adult dogs. They also provide proper nutrition, veterinary care, exercise, and mental stimulation for their puppies as they grow.
Top-quality breeders should also offer a health guarantee at the time of sale. Good breeders will also inform you about common health issues affecting Labradors – such as Hip Dysplasia or Elbow Dysplasia
How To Socialize And Train Your Labrador Retrievers Before They Go To Their New Homes?
Before selling puppies to their new homes, top Labrador breeders in California ensure they are well-socialized and trained. Early exposure to different people, animals, sounds, textures, and environments is crucial for the puppy's development and overall well-being.
Here are some common socialization and training practices among the best Labrador breeders :
Introduce puppies to various stimuli to build confidence and curiosity.
Expose puppies to different surfaces, toys, and objects to develop their motor skills.
Allow puppies to interact with other dogs and people in a controlled environment to teach them proper manners and communication.
Provide positive reinforcement methods such as clicker training or treat rewards for good behavior.
Implement crate-training techniques to help the puppy adjust to its new home and prevent separation anxiety.
Start basic obedience training such as sit, stay, and come when called for better communication between the dog and owner. A must for therapy dogs.
Monitor the puppy's health and provide appropriate veterinary care.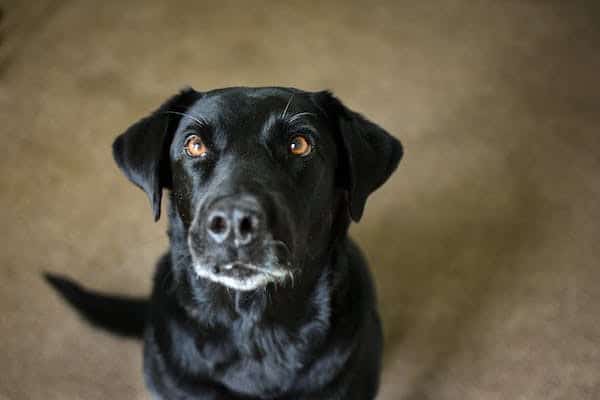 What Is Your Breeding Philosophy And Practice?
A reputable Labrador breeder in California should have a clear breeding philosophy.. This includes carefully selecting parent dogs with good genetic backgrounds, conducting regular health screening tests, and providing proper nutrition and medical care throughout pregnancy and birth.
For example, Kentfield strives to produce exceptional English Labrador Retrievers by focusing on temperament traits such as trainability, intelligence, loyalty, and affection. They only breed from parents who have passed all required OFA clearances for hips/elbows/heart/eyes/thyroid/patella/dentition/genetic panel testing (including PRA-PRCD/EIC/CNM/HNPK/cystinuria).
Similarly, Castle Creek Retrievers follows a Code of Ethics established by the national clubs for labrador retrievers: The American Kennel Club (AKC) & The Labrador Retriever Club (LRC). Their breeding program aims to improve the breed standard through selective mating based on excellence in conformation & working ability.
They also offer lifetime support to puppy buyers and resources regarding training programs & equipment recommendations. It's always recommended that you thoroughly research any potential breeder before purchasing a puppy from them.
Can You Provide References From Previous Puppy Buyers?
Asking for references from previous puppy buyers is essential. Here are some reasons why and questions to ask previous buyers. References provide an unbiased opinion of the breeder's reputation and the quality of puppies. Questions to ask previous buyers may include:
– How was your experience with the breeder?
– How did the breeder handle any concerns or issues that arose after you brought your puppy home?
– Were you satisfied with the health and temperament of your puppy?
– Would you recommend this breeder to a friend or family looking for a Labrador puppy?
Some breeders may also have testimonials or reviews on their websites. Still, it is always best to contact previous buyers directly for a more accurate representation of their experience.
What Kind Of Support And Resources Do You Offer To New Puppy Owners?
Labrador breeders who truly care will offer support and resources to new owners. Some breeders also provide a puppy packet with information on breed characteristics and instructions for caring.
Another important resource is access to a community of other Labrador owners. This can be through online forums or in-person meet-ups. Being able to ask questions and share experiences with other Labrador owners can be incredibly helpful for new pet parents.
Some breeders may facilitate these connections by organizing get-togethers or providing contact information for other puppy buyers in the area.
It's worth asking potential breeders what kind of support they offer before buying a puppy from them. A good breeder should be happy to answer any questions you have and provide ongoing assistance throughout the life of your pet.
Conclusion
There are many factors to consider when finding the best Labrador breeders in California. Some of California's top Labrador Retriever breeders include Kentfield Kennels, Summerland Labradors, and Sierra Valley Labs. 
Some great breeders in Southern California include Puppy spot, Mckenna Creek, and Kingdom acres Labrador. If you are interested in raising dogs, ensure you don't fall prey to a puppy mill.
Author Profile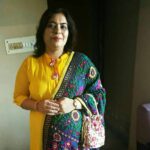 Shradha is a seasoned writer at Labradorandyou.com, an authoritative resource for all things Labrador Retriever. Her experience as a pet owner and dog enthusiast drives her to create meticulously researched and fact-checked content, offering valuable insights on Labrador training, grooming, and health. Each article reflects Shradha's passion and dedication, enriched by personal experiences with her beloved Labradors, Tom, and Kurt. Whether exploring breed-specific training techniques or providing product reviews, Shradha ensures Labrador owners receive the most accurate, up-to-date, and trustworthy information, aimed at enhancing their companions' health and happiness