With so many options, searching for a reputable lab retriever breeders pa can feel overwhelming in Pennsylvania. Did you know Labradors are America's most loved and popular dog breed? This blog post is your comprehensive guide to PA's 20 best lab retriever breeders.  Ready for a journey into the world of these friendly and intelligent dogs? Let's dive right in!
If you're in Pennsylvania and searching for a list of labrador breeders, look no further than PuppySpot. This reliable online marketplace is teeming with high-quality Labradors from highly reputable breeders.
PuppySpot ensures all breeders meet stringent standards. Only those who nurture pups with care and provide optimal health conditions make it on their platform. For potential buyers, this guarantees a wide selection of top-grade puppies. Besides, PuppySpot's intuitive interface makes purchasing your dream dog easy and seamless.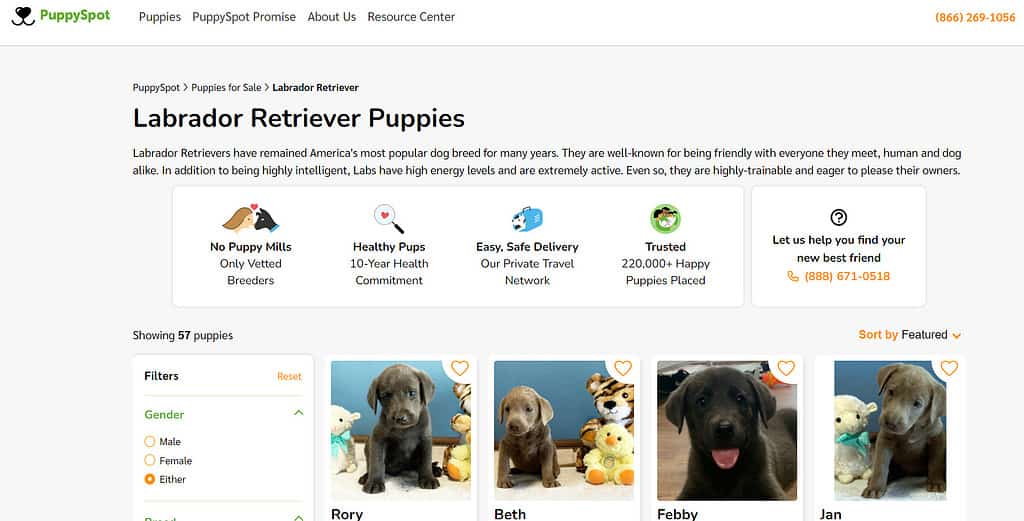 De Soleil Labradors, for its high-quality English style Labrador Retriever puppies, stands out in Pennsylvania state. They've been breeding AKC registered Labs since 2000. Their litter includes yellow, champion black and chocolate Labradors.
They made it to the list of the best breeders because of their commitment to producing friendly and loyal labs. Their puppies seamlessly fit into family life or become a hunting labrador or a show dog. Their dogs often participate in AKC and UKC events. 
Verna Esh runs De Soleil. Known for specializing in White/Yellow English Labs, her contribution has significantly elevated the reputation of this organization. Alongside exceptional labrador pup quality and temperament, they maintain strong ties with reputable breeders like Trendlewood Labradors.
Based out of Luzerne County,  fostering healthy and well-socialized Labrador Retrievers makes them a top pick.
Endless Mt. Labradors, nestled in Columbia Cross Roads, stands tall as one of Pennsylvania's most reputable Labrador Retriever breeders. They've mastered the fine art of breeding AKC Champion English Labs since 1988. They offer puppies for sale with excellent temperaments and authentic traits.
Famed for delivering top-grade quality Labradors, they have earned a strong reputation and a large following. They are committed to preserving this beloved breed's inherent qualities and strengths. It's clear why Endless Mt. Labradors is a go-to source for English Labrador Retrievers in Central PA and beyond.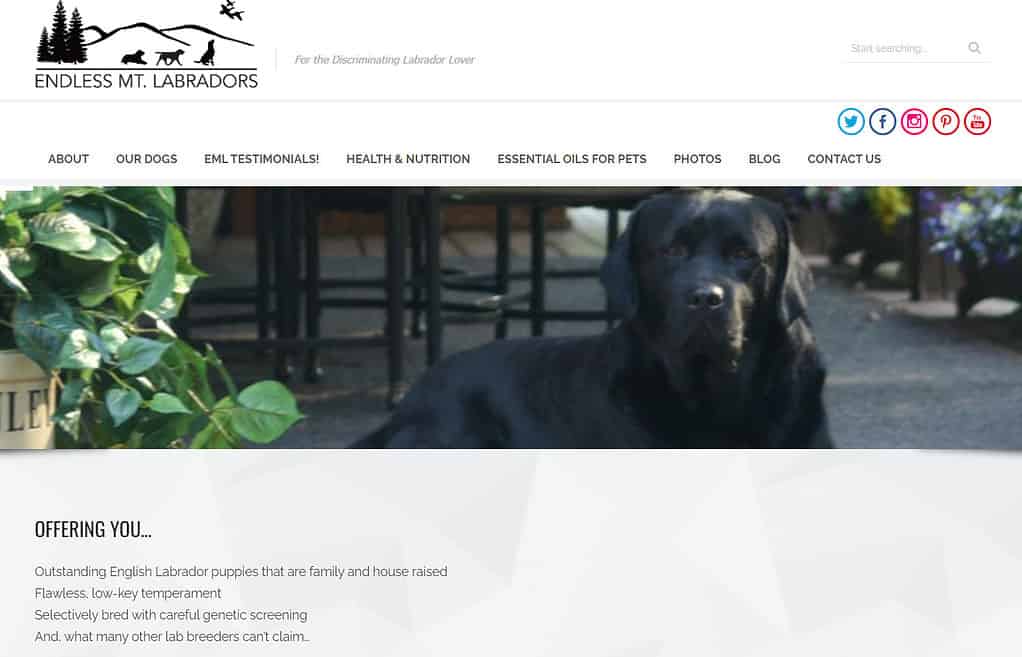 Scarfone Labrador Retriever Breeders In Pennsylvania
With a reputation for providing high-quality Labrador puppies, they have earned the title "Best Labrador Retriever Breeders in Pennsylvania." Scarfone Labradors breed excellent family pets, hunting companions, and show dogs.
They produce Labrador puppies with desirable traits and characteristics, ensuring every labrador excels in various fields. Scarfone Labradors prioritizes the health and well-being of their puppies. They provide ample ground for the puppies to run and enjoy. 
Their dedication to breeding purebred Labrador Retrievers has established a strong reputation within Pennsylvania. Many satisfied customers recommend Scarfone Labradors for a top-notch Labrador Retriever puppy.
Woodland Breeze Labs is a highly regarded Labrador Retriever breeder located in Central Pennsylvania. With AKC standards, Woodland Breeze focuses on producing top-quality Labradors.
Located in Williamsport, this small licensed labrador breeder provides excellent family pets, hunting companions, or show dogs. They offer Lab puppies for sale in Pennsylvania (Lebanon), with AKC limited registration at about $1000.
Woodland Breeze is for dog lovers seeking English Labs or well-bred Labrador Retrievers near Hershey and Western PA. You will love the labrador raised in a healthy and family-oriented environment.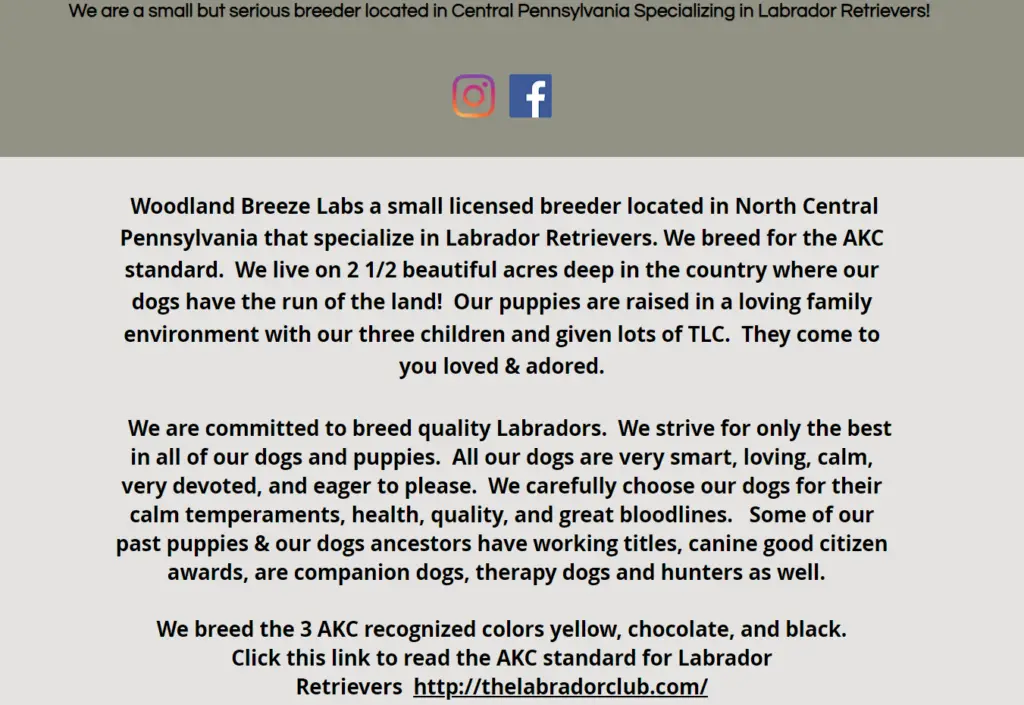 Sideling Hill Labradors is a reputable breeder of English Labrador Retrievers in Pennsylvania. They have been offering high-quality Labrador puppies since 1987. Sideling Hill Labradors specializes in light, almost white Labrador and Yellow, Chocolate, and Black Labs.
Their association with the best Labrador breeders in Pennsylvania has earned a reputation for producing healthy and well-socialized labs. This breeder of labrador offers hip and eye, PRA, EIC, and other health clearances. They breed top-grade English Labs with blocky heads, making them a sought-after breeder.
Want a reliable companion with excellent lineage and characteristics? Sideling Hill Labradors should be at the top of your list.
Close Corters Labs is in Linden, North Central Pennsylvania. They are among the best-quality Labrador Retriever breeders, recognized by reputable sources. The kennel has been breeding labrador retrievers since 1987. 
As an American Kennel Club (AKC) registered breeder, Close Corters Labs specializes in producing silver Labrador Retrievers with blocky heads and beautiful features. Strongly focusing on English Labradors, they maintain breed standards and produce healthy, well-tempered puppies.
Close Corters Labs has built a loyal customer base thanks to its outstanding customer service and support. Their small-scale operation ensures that each puppy receives individual attention. It results in top-quality Labradors that meet the highest standards of excellence."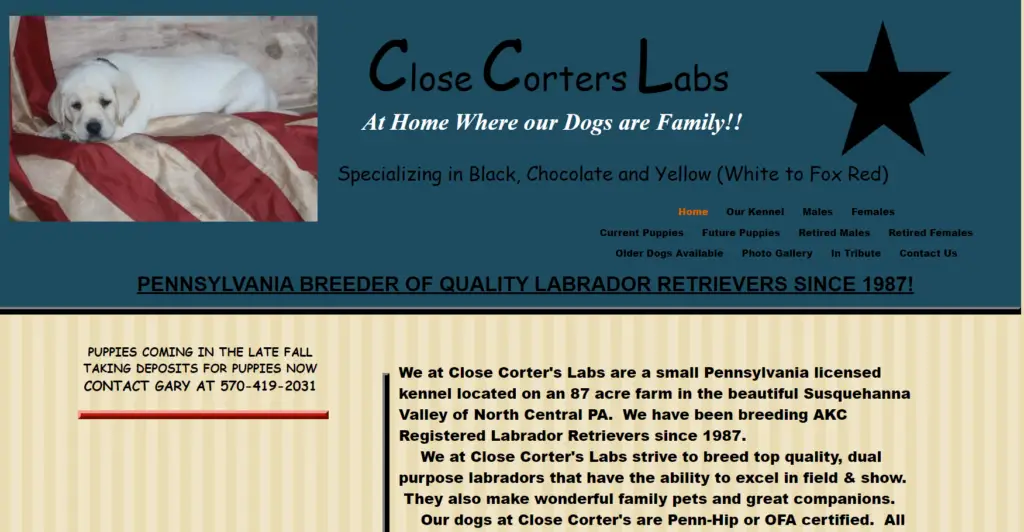 Barnes Puppy Love Kennels, located in Roaring Spring, Pennsylvania, has provided top-quality Labrador puppies since 1996. Their labrador retriever puppies are raised in a lovable environment and are well-socialized.
Associated with Thistleberry Labradors in Lebanon, PA, Barnes Puppy Love Kennels offers various Labrador puppies for adoption. It includes those with limited AKC registration available for $1000. This reputable breeder is committed to their dogs' care and happiness by serving as both a breeder and a retirement home.
Stone Valley Labrador Puppies For Sale In Pennsylvania
Stone Valley Labrador Retrievers is an AKC registered Chocolate, Black and Yellow Labradors breeder. With a strong online presence, they have become one of Pennsylvania's most reputable Labrador Retriever breeders.
Stone Valley Labrador Retrievers ensures that both parents undergo genetic health testing. They aim to produce high-quality puppies with desirable traits like blocky heads and good temperaments. They offer various labrador retriever coat colors and healthy. Their labradors are well-bred for hunting, agility, and obedience. 
Stone Valley Labrador Retrievers maintains the highest standards in their breeding program while prioritizing customer satisfaction.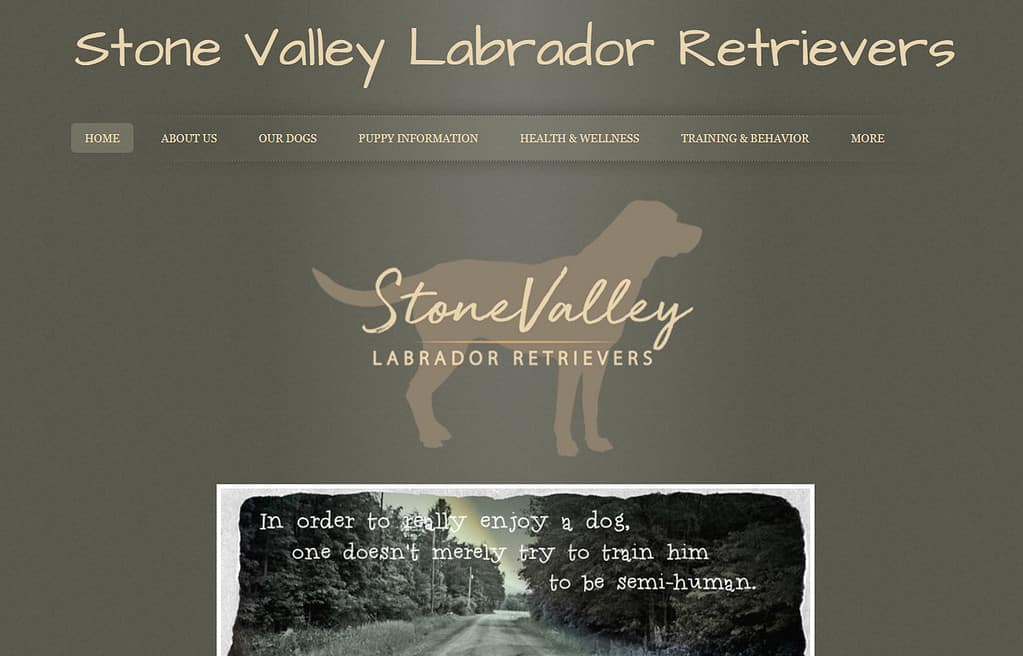 Larke Lab Kennels, located in Williamsburg, Pennsylvania, is a reputable Labrador Retriever breeder. Run by Larry and Linda Mock, they specialize in black, chocolate, and yellow Labs. Focusing on producing beautiful and healthy puppies, Larke Lab Kennels has received awards for its exceptional breeding practices.
They offer a written guarantee for all their Labrador Retriever puppies, ensuring the parent's certification from the Orthopedic Foundation for Animals (OFA). Their adult dogs are cleared for hips and elbows.
Larke Lab Kennels provides puppy photos, reviews, and valuable health information to facilitate adoption. Their puppies are sold after being vet checked, ensuring a health guarantee. Larke Lab Kennels provides reliable, microchipped companions throughout Pennsylvania.
Winchester Labradors, located in Smethport, PA, is a highly regarded Labrador Retriever breeder. This family-owned business has operated since 2015 and become one of Pennsylvania's best Labrador Retriever breeders.
They are in the beautiful Allegheny Mountains, creating an ideal environment for breeding healthy and happy Labs. Winchester Labradors focuses on raising loving, well-rounded companions who excel as show dogs or hunting buddies. Their dogs receive their first dose of vaccination at 8 weeks of age. Their pups come with AKC limited registration, meaning no breeding rights for the new pet owner. 
Your Labrador puppy from Winchester Labradors will bring joy and love into your home. They must be six weeks old before getting adopted. They arrive microchipped with an AKC reunite, a food bag, and a gift. Contact them at (814) 887-2058 to inquire about available puppies.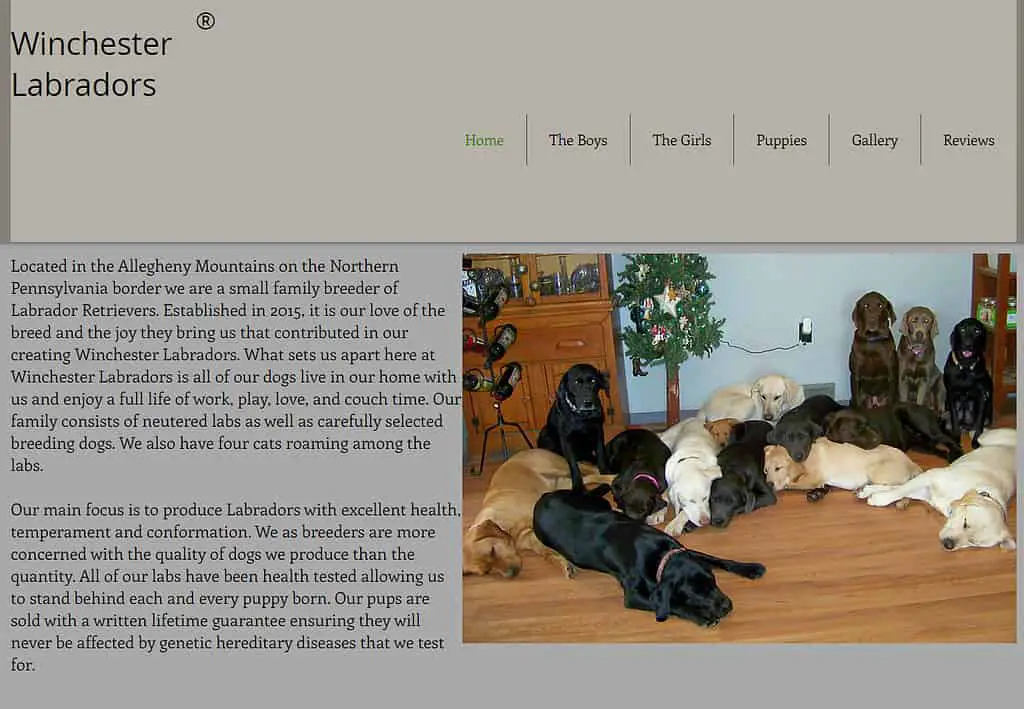 Bowery Run Labradors in Pennsylvania State
Bowery Run Labradors is a highly reputable breeder in Pennsylvania with exceptional Labrador Retrievers. With pedigrees from the best breeders, Bowery Run Labradors produces top-grade English and field Labrador Retrievers.
They focus on the health and temperament of the dogs. Unlike puppies in pet stores, the labs here are examined by a licensed vet before adoption. Whether you're looking for a family pet, hunting companion, or show dog, Bowery Run Labradors can meet your needs.
They offer black and chocolate lab dogs and specialize in silver Labrador puppies for sale in Lancaster, PA. The breeder also sends photos and videos to people on the waiting list once the puppies are born. Trustworthy and reliable, Bowery Run Labradors is your go-to source for high-quality English Labrador puppies in Pennsylvania.
Klondike Best Labrador Breeders In Pennsylvania State
Klondike Labradors is a reputable Labrador Retriever breeder in Pennsylvania. They breed exceptional English Labrador Retrievers, featuring big, beautiful, blocky heads.
With a dedication to breeding high-quality puppies, Klondike Labradors ensures each puppy meets the highest standards. They are also part of PA's 20 best Labrador Retriever breeders. They guarantee top-notch lab puppies for sale in central PA for under $300! Whether you are looking for yellow, chocolate, black, or light-colored Labrador Retrievers, Klondike Labradors have covered you.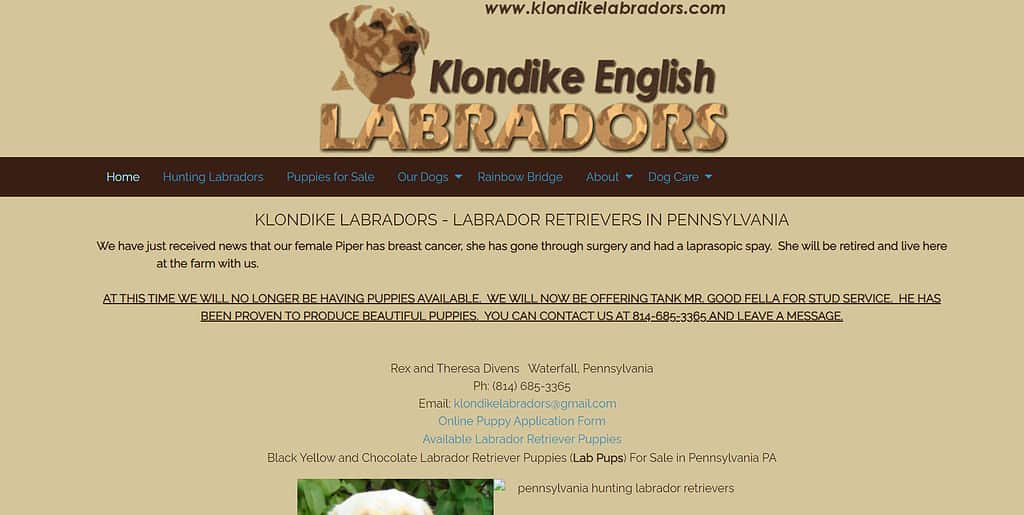 Circle S Labs, located in Kittanning, Pennsylvania, is the right Labrador Retriever breeder. They specialize in breeding English Labs and sell yellow, black, chocolate, and fox red pups. As an AKC-registered breeder, Circle S Labs prioritizes the quality and pedigree of its puppies. They produce Labradors with outstanding health. All are vet-tested.
They operate from Pennsylvania between May and October before moving operations to Florida for the rest of the year. Circle S Labs ensures its breeding program remains strong throughout all seasons. Despite being a small breeder, they hold themselves to high-quality standards. With positive reviews and customer testimonials, Circle S Labs has established its own reputation.
They also maintain a Facebook page, regularly updating followers with adorable pictures and useful information. They not only ship puppies within 48 states but also to Canada, if needed.
Bella Notte Labradors is a reputable Labrador Retriever breeder in Pennsylvania. They produce exceptional yellow lab puppies, which make perfect family pets or hunting companions.
In Lebanon, PA, Bella Notte Labradors sells lab puppies at $1000 with AKC limited registration. Bella Notte Labradors ensures that each puppy is well-socialized and comes from healthy bloodlines. Looking for a sweet and playful companion or a skilled show dog? Consider checking out Bella Notte Labradors in Pennsylvania when getting a labrador.
Wolfpack Labradors breed high-quality English Style Labradors. They have been breeding Labradors in East Greenville, Pennsylvania, for many years.
They specialize in Labrador puppies with the lightest shades of yellow. Wolfpack Labradors has a Facebook page with nearly 1000 likes and positive reviews from satisfied customers. Wolfpack Labradors is worth considering if you're looking for a trustworthy breeder in Pennsylvania.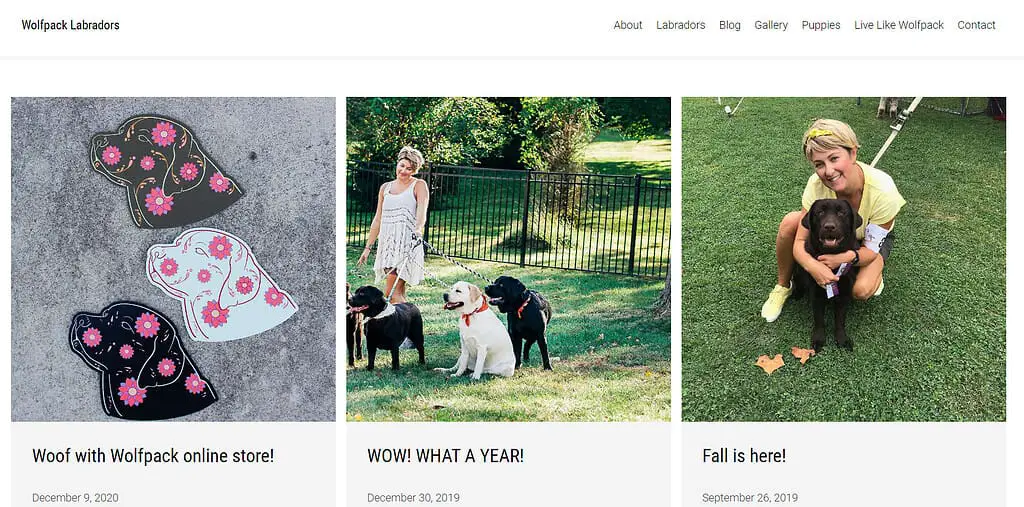 Wages Labs, located in Delmont, Pennsylvania, has over 20 years of experience in breeding AKC registered Labradors. They have been recognized as one of the top 15 breeders in the state. As a licensed and inspected breeder, Wages Labs is committed to high standards of quality and care. Specializing in white English Labradors, they offer unique, beautiful, and well-bred puppies.
Their dedication to preserving this popular breed is evident through their extensive knowledge and expertise. They have a log cabin situated on the property where their family lives. Wages Labs provides a loving environment for both parent dogs and puppies alike.
Retrievers of Millbach is a reputable Labrador Retriever breeder located in Pennsylvania. They breed top-quality AKC Registered Labrador Retrievers, ensuring each puppy comes from an excellent hunting lineage and certifications.
Whether you want a Fox Red, Black, Chocolate, or any other Labrador Retriever, they have a diverse range. With healthy and well-tempered Labradors, Retrievers of Millbach is an ideal choice for a reliable companion or a skilled hunting partner.
Lab in the Sack Labradors is one of Pennsylvania's best Labrador breeders. They have earned a stellar reputation among dog enthusiasts. They focus on breeding healthy and well-tempered labs. Lab in the Sack Labradors takes pride in their breeding program, ensuring each puppy receives proper care and socialization. 
Providing reliable companions, Lab in the Sack Labradors is worthy when searching for a dream lab retriever breeder in Pennsylvania.
Holy Oak Labradors is among the top professional breeders in Pennsylvania. As a small-scale, hobby breeder, they produce healthy and well-mannered Labradors. Holy Oak Labradors has built a strong reputation with over 2,043 likes on their active Facebook page. They offer various Labrador Retriever puppies for adoption and prioritize their health and well-being.
Their adoption process is seamless and straightforward, making it easy for families. Licensed and inspected, Holy Oak Labradors truly stands out as one of Pennsylvania's best breeders.
Author Profile
Aritra, the founder of Labradorandyou.com, is a lifelong dog lover whose passion ignited for Labradors for their loyalty and intelligence. With extensive research and personal experiences, Aritra has become a Labrador expert, offering a rich resource on the breed. Labradorandyou.com provides reliable, timely, and evidence-based information, including Labrador-specific product reviews, training techniques, and care tips.

Labradorandyou.com was born out of Aritra's passion and his desire to share his profound knowledge about the breed. The site serves as a comprehensive resource, offering a wealth of up-to-date information for Labrador owners and enthusiasts alike