Looking for the perfect four-legged family addition can be exciting and daunting. Labradors, known for their vibrant personality and trainability, make a great choice! Consider this piece as your guidebook in navigating through some of the best Lab breeders in Maine.
8 Top Lab Breeders in Maine
Based in the scenic town of Bethel, Maine, Chalk Pond Retrievers stands as a beacon of quality regarding Labrador breeding. This top-notch breeder has gained recognition and accreditation from the Labrador Retriever Club and AKC, setting high standards for Lab puppies for sale in Maine.
Aside from producing amazing Labs with beautiful appearances, they provide an enriching environment that bolsters mental and physical wellness.
They excel in offering obedience training sessions which help foster deep connections between these labs and their pet parents. Chalk Pond is committed to ethical dog breeding practices while ensuring phenomenal customer service at reasonable pricing structures.
Truly embodying what quality Labrador Breeders should be like, their reputation precedes them within the Maine region and beyond.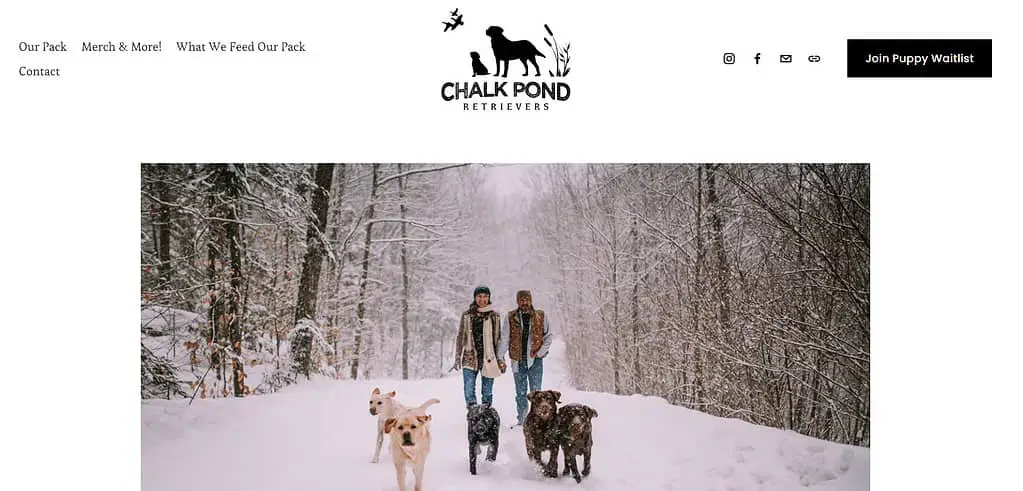 Sevenoaks Labrador Retrievers is a highly reputable lab breeder in Maine that specializes in providing high-quality English Retrievers.
With their expertise and passion for breeding, Sevenoaks Labradors produces labrador puppies that are zealous and energetic and make for fantastic house pets, therapy dogs, and hunting companions.
As an AKC-accredited breeder with over a decade of experience since 2007, they have established themselves as one of Maine's top choices.
Located in Skowhegan, Sevenoaks Labradors offers a healthy and natural environment for their labradors to thrive. They prioritize the well-being of their puppies by providing obedience training, ensuring that they grow into well-rounded individuals.
Sevenoaks Labradors is worth considering if you're looking for a reliable breeder who prioritizes quality breeds suitable as family companions or working dogs.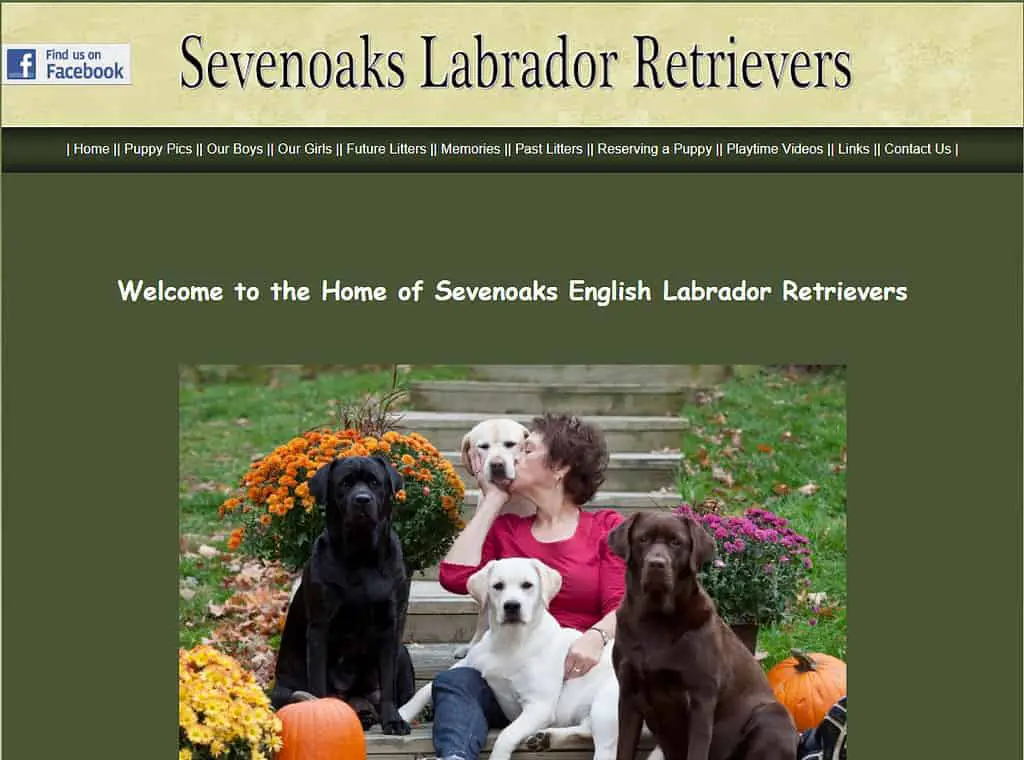 Varney's Labs is a renowned Labrador breeder based in Maine. With over two decades of experience, Varney's Labs has established itself as one of the best lab breeders in the state. They are proud to be AKC-registered and have been breeding Labradors since 1998.
Specializing in yellow, black, and chocolate lab puppies, their dogs come from champion bloodlines, ensuring optimal intelligence and beautiful appearances.
What sets Varney's Labs apart is their commitment to ethical dog breeding. They prioritize their dogs' mental and physical wellness above all else.
If you're looking for a reliable Labrador breeder in Maine who produces high-quality breeds, Varney's Labs should be your top choice!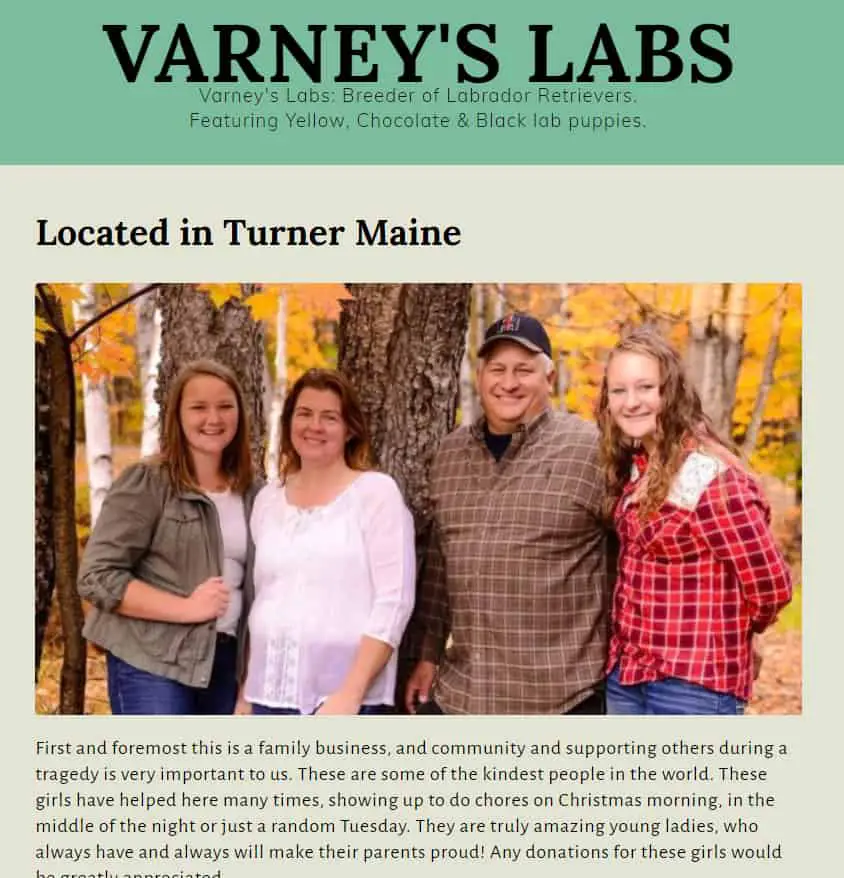 Puddleduck Retrievers, located in Morrill, Maine, is one of the top lab breeders in the state. As an AKC-accredited breeder, Puddleduck Retrievers offers lab puppies for sale with exceptional qualities.
These adorable pups are known for their outstanding temperament, optimal intelligence, beautiful appearance, and mental and physical wellness.
With champion bloodlines running through their veins, Puddleduck Retrievers ensures you get a high-quality Labrador Retriever that will bring joy to your home.
Whether you're looking for a companion dog or a working dog for therapy or hunting purposes – Puddleduck Retrievers has got you covered! So why wait? Visit their website or call them today to learn more about their available lab puppies!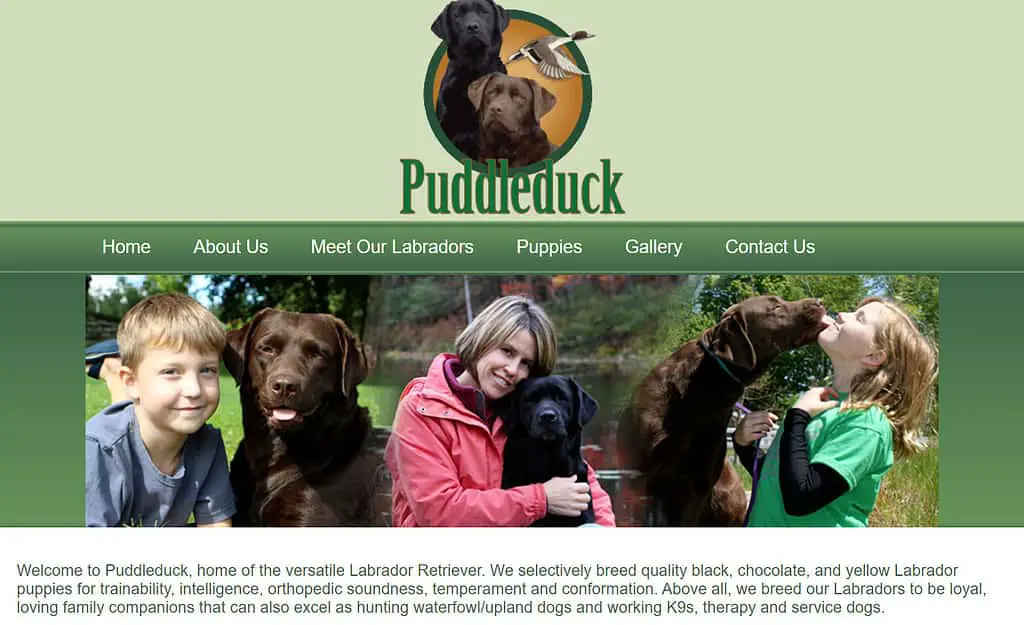 Broadway Acres is a highly reputable Lab breeder based in Maine and is considered one of the top choices for finding the best Lab breeders in the state. They have a remarkable history, starting as a horse farm before venturing into Labrador breeding services in the 90s.
With years of experience, Broadway Acres takes pride in producing structurally sound and genetically healthy Labradors with winning temperaments. Their dedication to producing high-quality Lab breeds has earned them the Labrador Retriever Club (AKC) accreditation.
Cedarwood Kennels is one of the top lab breeders in Maine, with over 25 years of experience breeding and raising Labrador Retrievers. They have a stellar reputation for producing champion labradors in obedience and hunting.
Accredited by the AKC (American Kennel Club), Cedarwood Kennels is known for its expertise and high-quality labrador breeds. Located in Maine, they offer a healthy and family environment for their labradors, obedience training, and bonding experiences.
Their commitment to providing optimal intelligence, beautiful appearance, mental and physical wellness, and championing bloodlines sets them apart from other breeders.
With Cedarwood Kennels' dedication to helping families find the perfect labrador puppy to join their family, residents in Maine can trust them to deliver quality labrador breeds at quality prices.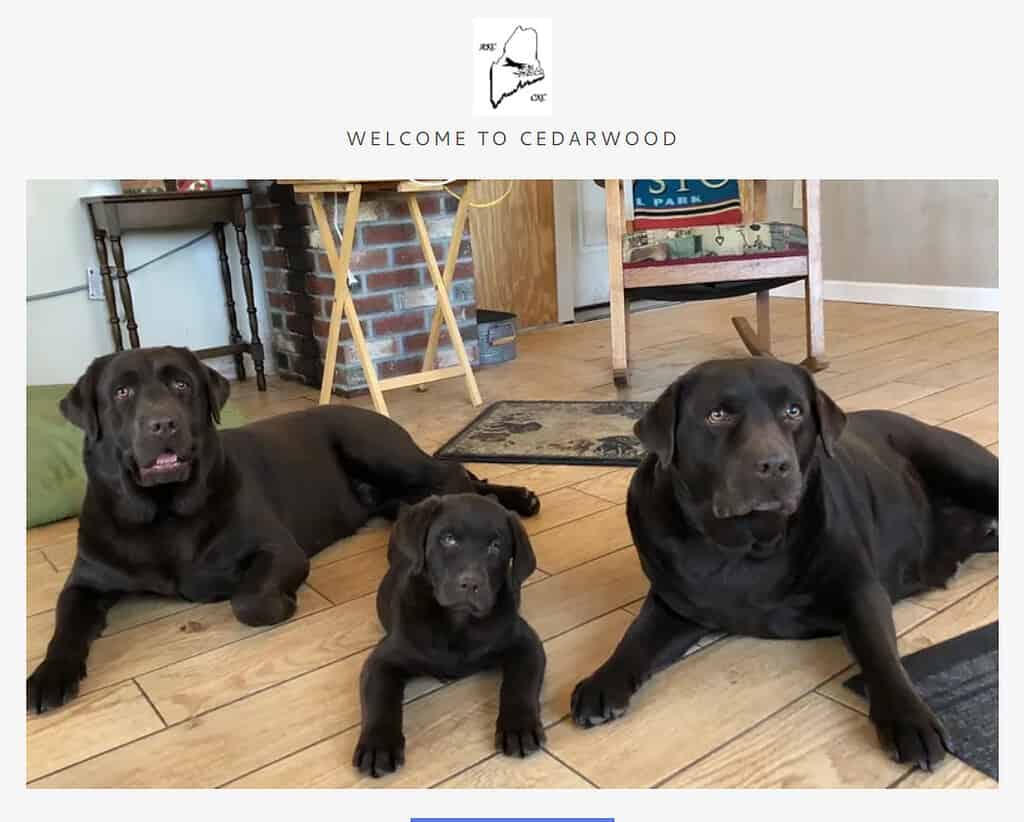 Mill Pond Retrievers is a highly reputable Labrador breeder in Maine, known for producing quality working Labradors. With a focus on fieldwork, water work, and cold weather activities, Mill Pond Retrievers ensures their Labs are well-suited for specific working purposes.
Established in 1998, Mill Pond Retrievers has a long-standing reputation in the industry and is associated with other top Lab breeders in Maine.
If you're looking for a reliable Labrador breeder that prioritizes ethical breeding practices and champions bloodlines, consider contacting Mill Pond Retrievers for your next four-legged family member.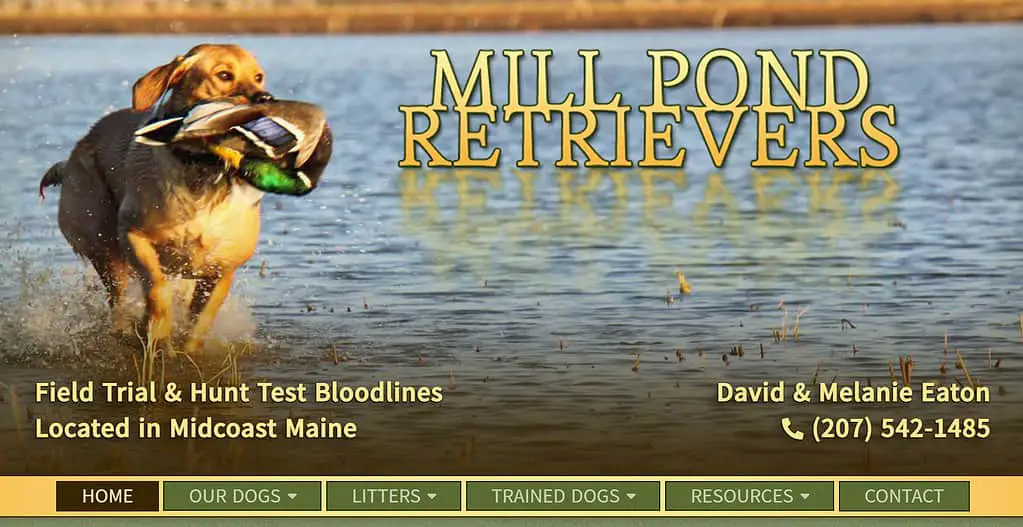 Wassookeag Retrievers is a highly respected Labrador Retriever breeder in Maine, focusing on producing champion pedigrees for the past 36 years. They have earned a strong reputation in the field, hunting, and show arenas.
Specializing not only in Labrador Retrievers but also Nova Scotia Duck Tolling Retrievers, Wassookeag Retrievers consistently delivers dogs of exceptional quality.
With their dedication to breeding champions and commitment to producing only a few litters every couple of years, you can trust that Wassookeag Retrievers prioritizes the health and well-being of their dogs above all else.
Before securing a spot on one of their upcoming litters, thoroughly research and visit Wassookeag Retrievers' premises to ensure they meet your expectations.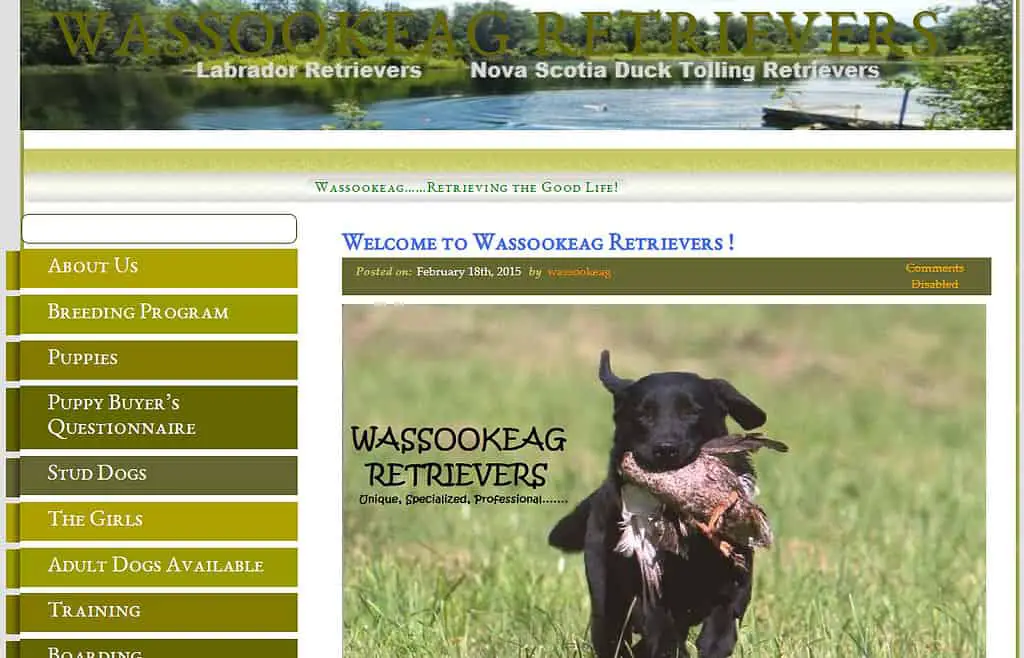 Why Choose a Labrador as Your Next Family Dog?
Choosing a Labrador as your next four-legged family member has several compelling reasons.Firstly, Labrador Retrievers are known for their friendly and outgoing disposition, making them an ideal choice for families with children.
These dogs are great playmates and protective guardians who can even protect you. Labradors are known for being intelligent and easy to train – facts that make them popular among dog owners worldwide.
Their nature and inherent eagerness to please make them quick learners in obedience training. Whether it's therapy work, bird hunting, or simply being an excellent companion at home, these loyal canine pals excel in every area they venture into.
These dogs emanate vitality; their spirit brings lively, infectious joy around any household.
As a beloved breed, Labrador Retrievers are known for their versatility and unique attributes. However, they come in various types, each boasting its distinctive characteristics:
These types are athletic, energetic and work exceptionally well as hunting dogs. American Labradors have slender bodies and longer legs, making them agile in the field.
English Labs excel as show dogs with their blocky heads, strong legs, and shorter bodies. They generally have a calmer temperament than their American counterparts but still hold an exuberant personality.
This type ranges from cream to gold in color. They appeal to families for their friendly and outgoing nature.
Sporting a beautiful brown coat, these labs are beautiful and possess optimal intelligence, making them great service dogs or therapy dogs.
Known for sporting a majestic black coat, Black Labs are immensely versatile. Depending on their training, they make excellent family pets, show dogs, or even working dogs.
A rare variant of the standard lab colors of yellow, chocolate, or black, charcoal labs delights with a dark grey shade that is often mistaken for black until sunlight reveals its true hue.
What to Look for in a Reliable Labrador Breeder?
When choosing a reliable Labrador breeder, there are several key factors to consider:
AKC Accreditation:
Look for breeders accredited by the Labrador Retriever Club and AKC, as this ensures they meet specific standards of quality and ethics.
Health Testing:
A responsible breeder will conduct health tests on their breeding dogs to ensure they are free from genetic diseases that can affect Labradors, such as Exercise-Induced Collapse (EIC) and Centronuclear Myopathy (CNM).
Championship Bloodlines:
Breeders with Labradors with show champion pedigrees often prioritize breeding for conformation and soundness, which can contribute to the overall quality of their puppies.
Socialization and Temperament:
A reputable breeder will focus on the early socialization of their puppies, exposing them to various experiences and environments to help develop a well-rounded and stable temperament.
Parental Temperament and Trainability:
The temperament and trainability of the breeding dogs are essential, as these traits can be passed down to the puppies. Look for breeders who prioritize producing Labradors with optimal intelligence and trainability.
FAQs
1. How do I identify the best lab breeders in Maine?
To find the best lab breeders in Maine, research local breeders and consider their reputation, experience, breeding practices, and health testing protocols. Reading reviews or getting recommendations from trusted sources can also provide valuable insights.
2. What should I look for when visiting a lab breeder?
When visiting a lab breeder, you should pay attention to the cleanliness and condition of their facility. Observing how they interact with their dogs is essential, ensuring proper care and socialization.
Asking questions about genetic health testing and obtaining documentation regarding the puppy's lineage are also essential.
3. Are there any red flags I should know when choosing a lab breeder?
Yes, there are several red flags to watch out for when selecting a lab breeder: inadequate living conditions for the dogs, lack of transparency about health issues or genetic testing results, selling puppies too young or without necessary vaccinations, and reluctance to show proper documentation related to breeding program certifications.
Author Profile
Aritra, the founder of Labradorandyou.com, is a lifelong dog lover whose passion ignited for Labradors for their loyalty and intelligence. With extensive research and personal experiences, Aritra has become a Labrador expert, offering a rich resource on the breed. Labradorandyou.com provides reliable, timely, and evidence-based information, including Labrador-specific product reviews, training techniques, and care tips.

Labradorandyou.com was born out of Aritra's passion and his desire to share his profound knowledge about the breed. The site serves as a comprehensive resource, offering a wealth of up-to-date information for Labrador owners and enthusiasts alike